50+ Best Berry Desserts
You'll want to make our Best Berry Desserts all summer long. These dreamy, seasonal sweets are ideal for casual dining or dinner parties!
Berry Recipes are a delicious way to celebrate any occasion. These Pies, Tarts, Shortcakes, Cheesecakes, and everything in between are the perfect way to end a meal.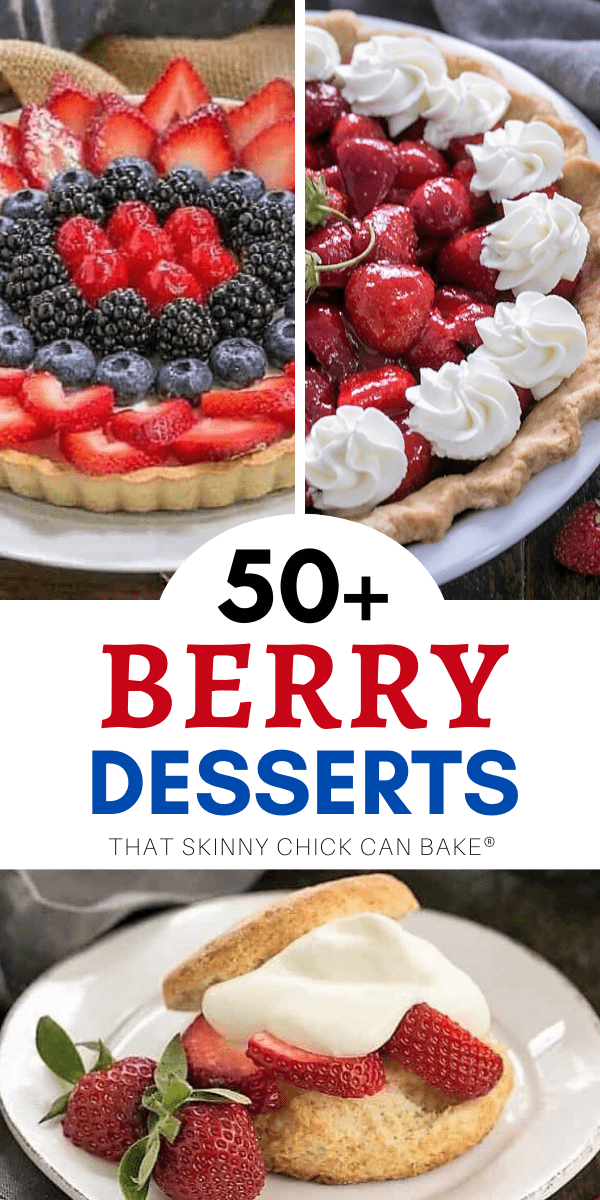 Why You'll Love these Berry Desserts
Strawberries:
Local strawberries are the first to ripen, so a good strawberry shortcake is always on our June menu. From there, I make tarts, parfaits, and even cheesecakes topped with luscious, juicy strawberries. Scroll through and let me know your favorites!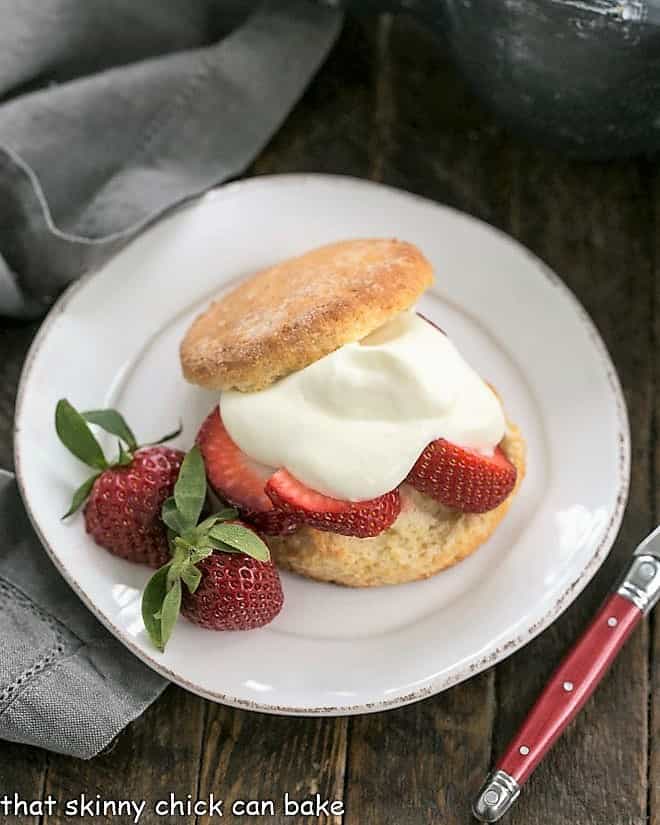 Strawberry Cheesecake Parfaits – Layering sweet berries and a light cheesecake-inspired mixture makes for a terrific summer dessert.
Fresh Strawberry Tartlets – These gorgeous tarts showcase the best of summer strawberries.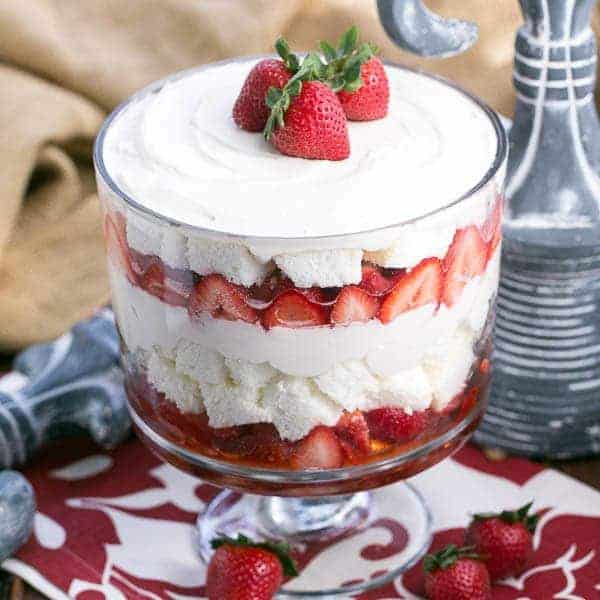 Strawberry Cheesecake Trifle – A showstopping dessert with sweet berries, angel food cake, and a light cheesecake filling.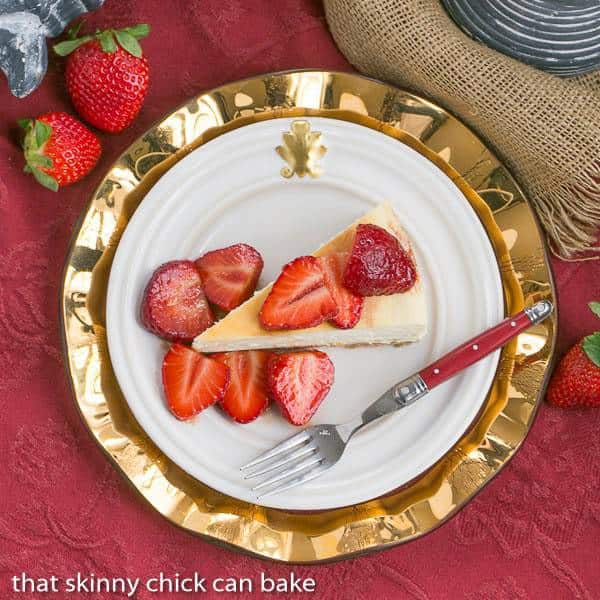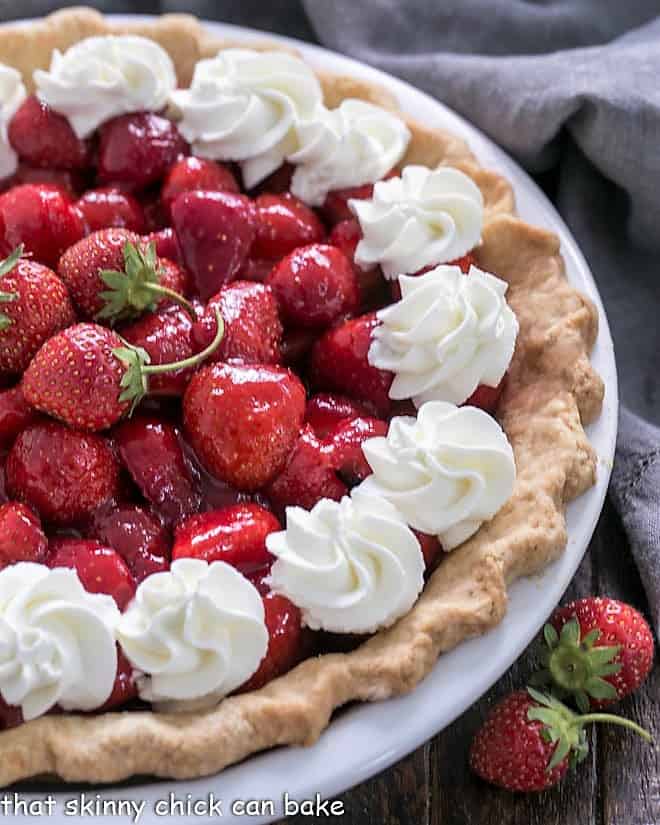 How to Select the Best Strawberries
Use your eyes and nose to pick out perfect strawberries for your desserts. The tastiest strawberries will be totally red, without a green or white area near the stem. The tiny strawberry seeds should not be brown and dried, as this indicates older strawberries. Plus the berries should be glossy, not dull.
If your berries are in a plastic container, check the bottom to ensure there aren't any moldy or bruised berries in the package. And you should also be able to detect the lovely aroma of fresh strawberries when they are fresh and ripe.
What's the Best Way to Clean Strawberries?
Wait until an hour or so before you start cooking to wash off your berries. Moisture will accelerate their deterioration. Gently rinse them off in a colander and after letting them drain, pat them dry with paper toweling.
PRO-Tip: Alternatively, if you're worried about pesticide residue, you can soak them for 20 minutes in a solution of 1 part white vinegar to 4 parts water. Drain and pat dry. This will also keep them fresh longer.
More Strawberry Recipes You'll Love:
Raspberries:
When the raspberries are plump and sweet, it's time to explore all the amazing raspberry-based desserts. A raspberry sauce is perfect with a flourless chocolate cake, but we really love a raspberry pie. What berry recipes do you like to make?
Selecting Raspberries
When picking out berries for your raspberry recipes, look for plump, unmarred berries that are brightly colored with a slightly hazy cast. Like with strawberries, inspect all sides of the packaging for spoiled berries.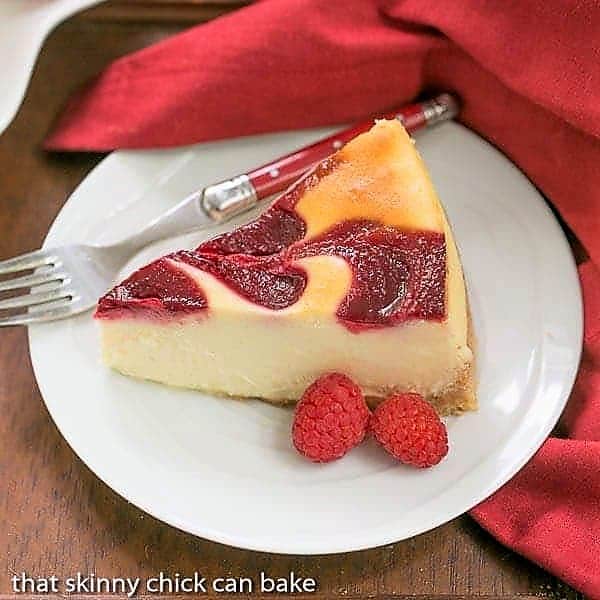 White Chocolate Raspberry Swirl Cheesecake – A swirl of raspberry sauce makes an elegant topping for this white chocolate-infused cheesecake.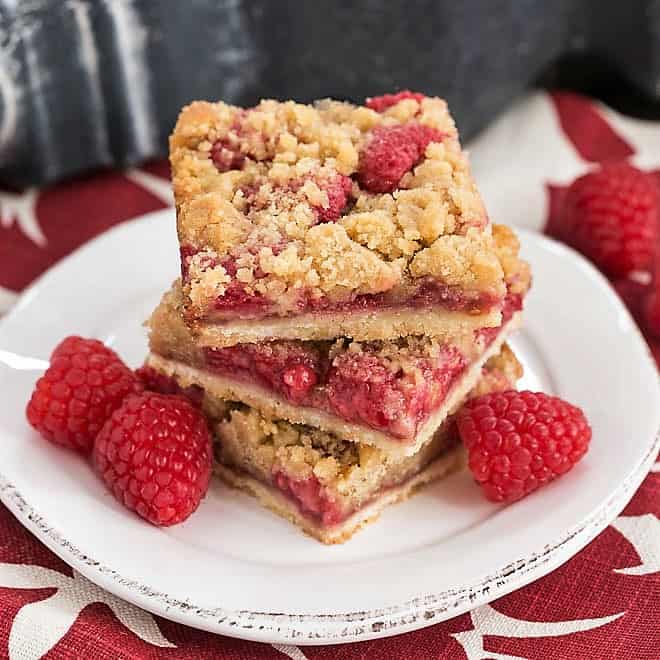 Raspberry Squares – Made with fresh berries and a buttery crumb topping, you'll adore these berry bars!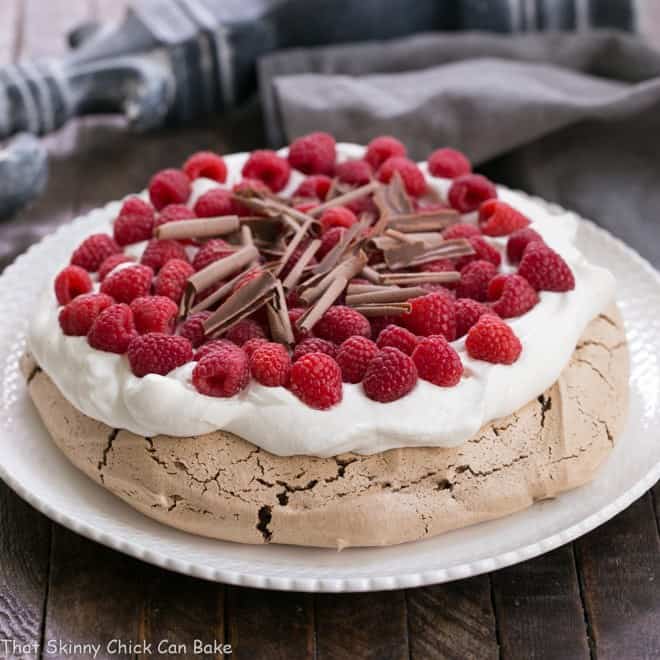 Chocolate Raspberry Pavlova – Many of my friends had not eaten a pavlova until I shared mine. Another gorgeous raspberry dessert!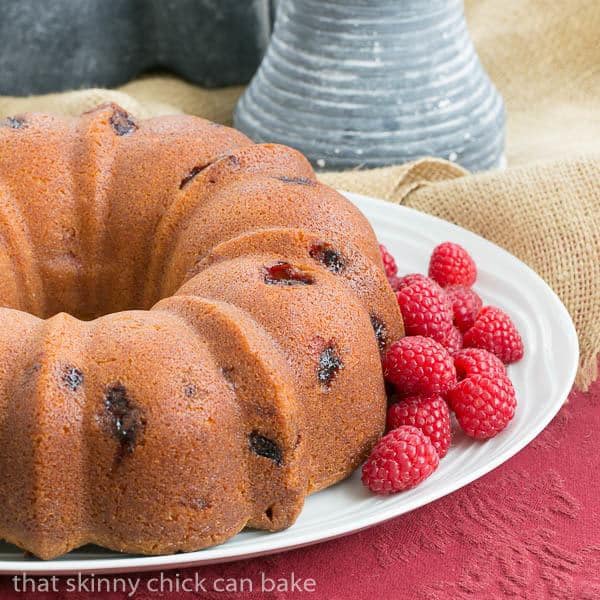 Lattice-Topped Raspberry Pie – My Mother-in-Law introduced me to raspberry pie. Oh, so delicious!!
How to Freeze Raspberries and Other Berries
If you hit a berry patch or a local farmers' market and purchase too many berries, it's easy to freeze them for later. With raspberries, you'll want to rinse them first and let them dry on a dishcloth or paper toweling. I like to first freeze them on a sheet pan, then transfer the frozen berries to a freezer-safe ziptop bag. Like raspberries, blackberries are very fragile and can be frozen in the same manner.
Strawberries can be frozen like raspberries, either whole or cut in half. Blueberries should not be rinsed first, as this can toughen the skins. Note that most frozen berries will be soft and juicy after they're defrosted, but can still be used to make pies, crumbles, crisps, smoothies, fruit sauces, and more.
More Delicious Raspberry Recipes:
Mixed Berries, Blackberry and Blueberry Recipes
To shake things up, use a mixture of berries. Doesn't a tart with concentric circles of gorgeous fragrant berries make a stunning statement? Click through to see what magical mixture of berries is needed to create a wonderful, mouthwatering Razzleberry Pie.
And how about boysenberries? They're a magical hybrid made from crossing raspberries, blackberries, and loganberries! They make a magnificent pie! And my husband adores blueberry desserts—especially a homemade blueberry pie.
Razzleberry Pie – A triple berry winner!! I can never resist a berry pie.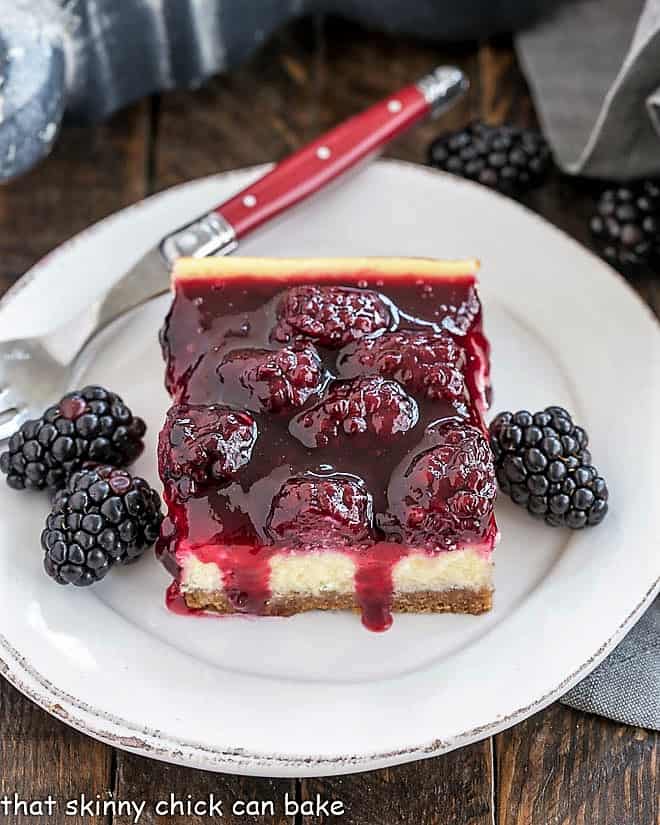 Summer Fruit Tart – Take the time to arrange your fresh berries for a stunning dessert!
Mixed Berry Torte – A simple cake recipe that garners rave reviews!
More Mixed Berry, Blackberry, and Blueberry Recipes
Plus More Berry Recipes You'll Love:
Frequently Asked Questions
How Do You Select the Best Berries?
Use your senses to pick the best berries. They should have a sweet aroma, be bright in color without signs of unripe/green or yellow areas, bruising, or deterioration, and not feel mushy. Toss shriveled or moldy berries.
Should You Wash Berries Before Using?
It's best to give them a quick rinse to remove any dirt, pesticides, mold, or other contamination. A mixture of 1 part vinegar and 4 parts cool water works in two ways.
It cleans the berries plus it helps lengthen the time they stay fresh by killing any mold or bacteria that will accelerate spoiling. Rinse in cool water after soaking and dry thoroughly (use a salad spinner lined with paper towels to minimize bruising) or spread them out on paper toweling.
Stay in touch through social media @ Instagram, Facebook, and Pinterest. Don't forget to tag me when you try one of my recipes! And if you love the results, please give it a 5-star rating in the recipe card. Note: As an Amazon Associate, I earn from qualifying purchases. Visit my Amazon Store for my favorite products.
Note: This post may contain affiliate links; view
my Disclosure Policy
for details. I earn a small percentage from any purchase you make by clicking on these links at no extra cost to you.