S'mookies AKA S'mores Cookies
S'mores + Cookies = S'mookies – every bite of these buttery, graham-infused cookie topped with marshmallows and chocolate bars is a blissful experience! The classic campfire treat is transformed into a delicious cookie that can be enjoyed at any time of year!
I adored s'mores as a kid but now would much rather eat these gooey s'mores cookies with a boost of flavor from graham cracker crumbs, Hershey bar pieces, and mini marshmallows.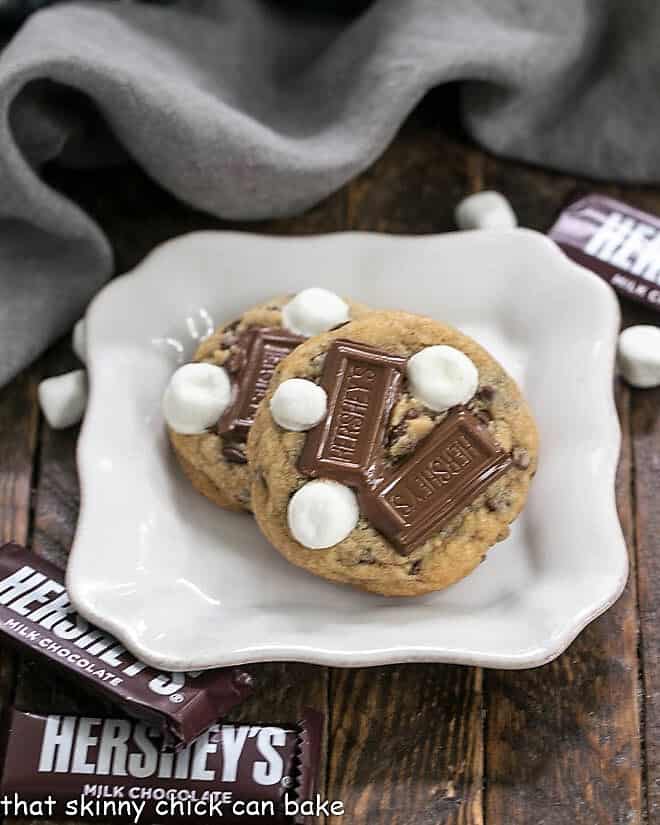 Why You Should Make this S'mores Cookie Recipe
You can enjoy the tasty flavors of S'mores all year round!
These s'mookies are easy to make and everyone who tries them loves them.
Personally, I think they taste even better than the original s'mores.
Typically a summer treat, s'mores are those gooey graham cracker sandwiches filled with a toasted marshmallow and milk chocolate Hershey bars. Indulge on while gathered around a roaring campfire with whittled sticks and big, fluffy marshmallows, they're an iconic camping, picnicking, and grilling dessert.
I was a fan of the traditional s'mores as a child, but as an adult, I prefer having a variety of s'mores inspired desserts from which to choose! One of my favorites is s'mores in cookie form or S'mookies. Add some graham cracker crumbs to your cookie dough along with some mini-chocolate chips, then before they are fully baked, dot with mini marshmallows and chunks of Hershey bars. Voila, gooey s'mores cookies or s'mookies!!
How to Make
These s'mookies or gooey s'mores cookies were a universal hit. I shared some with my sister and brother-in-law in Denver (my BIL is on crutches and, despite post-surgical pain, he made numerous trips to the kitchen to retrieve these cookies), my son's roommate, Allison, declared these the best cookies she's ever tasted (seriously!) and his other roommate, Alex, had them for breakfast.
Preheat the oven and line baking sheets with parchment paper.
Make the dough.
Scoop the dough onto prepared baking sheets.
Bake as directed, pulling the baking sheets out of the oven a few minutes early to garnish.
Carefully, press in a few mini marshmallows and Hershey sections. Remember, the cookie sheets are HOT!
Return to the oven to finish baking.
Cool and dig in!
ExpertTips
This s'mores cookie recipe is mixed together like your typical cookie dough. The sugars and butter are creamed together, eggs are added, then the dry ingredients mixed in. Graham cracker crumbs in addition to the flour, salt, and baking soda, provide the graham cracker component of their namesake.
Mix with a wooden spoon or silicone spatula for the best texture. Do not use a mixer unless on the lowest speed and only until the ingredients are just combined. You want to minimize gluten development as well as avoid beating any air into the dough.
PRO-Tip: Make sure to have some extra Hershey bars and mini marshmallows to press into the warm cookies complete the s'mores trio.
I use a medium cookie disher to make evenly sized cookies.
The chocolate bar pieces and marshmallows would not keep their iconic shapes had they been mixed into the dough, so they are gently pressed into the cookies when they come out of the oven.
Store the cooled cookies at room temperature in a covered container, layered between parchment paper. They can also be frozen for about 3 months.
PRO-Tip: If your cookies are slightly misshaped, they can be made rounder by pressing their sides with a spatula while still hot.
PRO-Tip: Take these S'mookies to your next cookout, picnic, or bonfire and use them instead of graham crackers to make some outrageously decadent s'mores!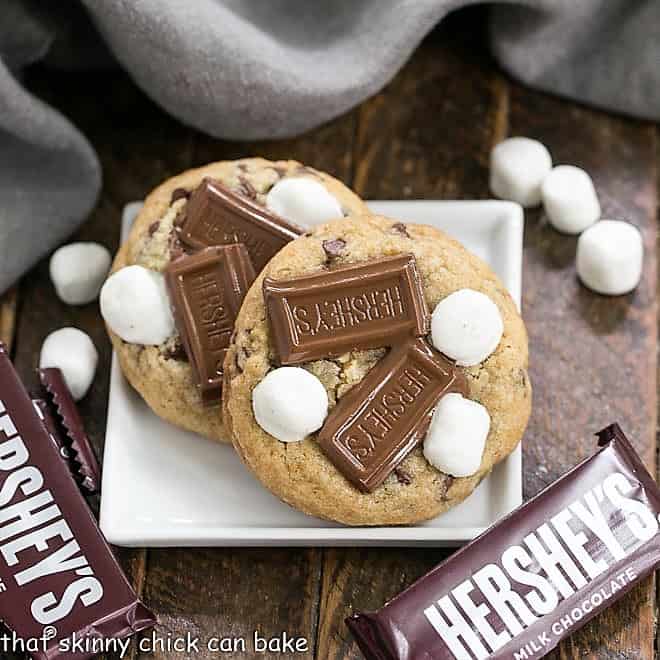 Frequently Asked Questions
What Are S'mores?
Never heard of s'mores? The classic s'mores are composed of a hot, fire-toasted marshmallow sandwiched between 2 graham cracker squares with a square of chocolate. As the hot marshmallow contacts the chocolate, the chocolate melts and forms a heavenly treat requiring no silverware, just napkins.
The word s'mores is a contraction of the words "Some" and "Mores", as fans of these campfire treats always want "some more" after their first indulgence. Possibly first developed by the Girl Scouts, s'mores were in a 1927 publication called "Tramping and Trailing."
How Should You Store S'mores Cookies?
They will stay fresh in an airtight container kept at room temperature for 3-4 days. If your kitchen gets warm in the summer, store them in the refrigerator. Just zap in the microwave for a few seconds to take the chill off and get the chocolate melty and let the marshmallows soften.
Can You Freeze S'mores Cookies?
As mentioned above they will freeze well, but if you're wanting them to be pristine when you defrost them, it might be better to make the cookie dough and freeze that instead. You can freeze a log of the dough or make dough balls, freeze those on a sheet pan, then place the frozen dough balls in a freezer Ziploc bag to store.
Then defrost it overnight in the refrigerator, making it easy to make and garnish the cookies without messing up your kitchen.
You May Also Like:
Stay in touch through social media @ Instagram, Facebook, and Pinterest. Don't forget to tag me when you try one of my recipes! And if you love the results, please give it a 5-star rating in the recipe card. Note: As an Amazon Associate, I earn from qualifying purchases. Visit my Amazon Store for my favorite products.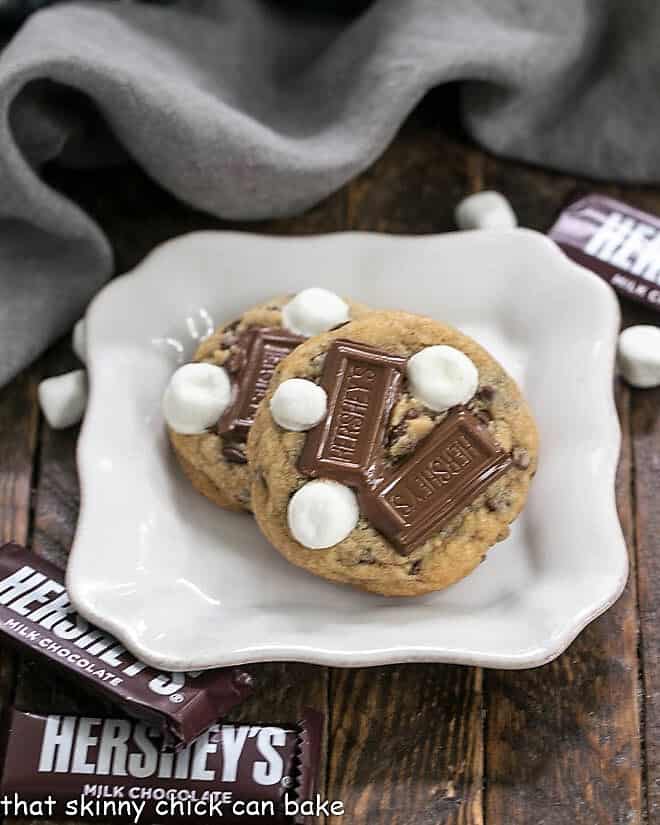 The Recipe:
Gooey S'mores Cookies
Prep Time 20 minutes
Cook Time 13 minutes
Total Time 33 minutes
Yield 4 dozen
All the terrific s'mores flavor in chewy cookie form!
Ingredients
2 cups flour
1 cup graham cracker crumbs
1 teaspoon baking soda
1 teaspoon salt
1 cup butter, at room temperature
¾ cup sugar
¾ cup brown sugar
1 teaspoon vanilla
2 eggs
2 cups miniature chocolate chips
1 ½ cups mini marshmallows
2 Hershey bars, chopped or equivalent amount of snack-sized Hershey bars
Instructions
Preheat oven to 375º. Line baking sheets with parchment paper.
In a medium bowl combine the flour, graham cracker crumbs, baking soda, and salt.
Whisk together. In a separate larger bowl beat together the butter, sugar, brown sugar, and vanilla until creamy.
Add the eggs one at a time, beating well after each addition. Slowly beat in the flour mixture until smooth.
Stir in the chocolate chips.
Drop by large scoop onto a prepared baking sheet.
Bake for 9 minutes, and remove from the oven.
Push 3 to 4 marshmallows and a few pieces of Hershey bar into each cookie.
Return to the oven and bake for an additional 2-3 minutes until fully cooked.
Cool for a couple of minutes on the baking sheet, then remove to rack to cool completely.
Notes
Recipe courtesy of Hugs & Cookies XOXO
Nutrition Information:
Yield:
24
Serving Size:
2 cookies
Amount Per Serving:
Calories: 280
Total Fat: 15g
Saturated Fat: 9g
Trans Fat: 0g
Unsaturated Fat: 4g
Cholesterol: 37mg
Sodium: 234mg
Carbohydrates: 38g
Fiber: 1g
Sugar: 25g
Protein: 3g
Note: This post may contain affiliate links; view
my Disclosure Policy
for details. I earn a small percentage from any purchase you make by clicking on these links at no extra cost to you.