S'mores + Cookies = S'mookies. A buttery, graham infused cookie topped with marshmallows and chocolate bars is a blissful experience!
S'mookies
Did you know you can enjoy the tasty flavors of S'mores all year round? Typically a summer treat, s'mores are those gooey graham cracker sandwiches you indulge on while gathered around a roaring campfire with whittled sticks and big, fluffy marshmallows.
I was a fan of the traditional s'mores as a child, but as an adult, I love having a variety of s'mores inspired desserts from which to choose! One of my favorites are s'mores in cookie form or  S'mookies. Add some graham cracker crumbs to your cookie dough along with some mini-chocolate chips, then before they are fully baked, dot with mini-marshmallows and chunks of Hershey bars. Voila, s'mookies!

Better Than S'mores!
These s'mookies were a universal hit. I shared some with my sister and brother-in-law in Denver (my BIL is on crutches and, despite post-surgical pain, he made numerous trips to the kitchen to retrieve these cookies), my son's roommate, Allison, declared these the best cookies she's ever tasted (seriously!) and his other roommate, Alex, had them for breakfast.
I tell ya, they are THAT good. And you know where I found the recipe? On Danielle's blog, Hugs and Cookies XOXO, as it's that time again. We do our own version of the Secret Recipe Club each month, where we each bake from each other's blogs on the second Monday of the month. I hit the jackpot with these s'mores inspired S'mookies!

Makes sure to check out Danielle on her blog and social media sites:
Thanks, Danielle, for another winner! xoxo Make sure to scroll down to see how you can win a lovely bottle of premium vanilla extract.
More Marshmallow Treats You'll Love:
Print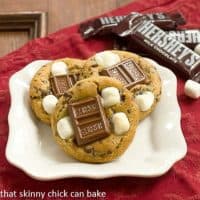 S'mookies
All the terrific s'mores flavor in chewy cookie form! !Recipe courtesy of Hugs & Cookies XOXO
Author:
Prep Time: 20 mins
Cook Time: 13 mins
Total Time: 33 minutes
Yield: 4 dozen
Ingredients
2 cups flour
1 cup graham cracker crumbs
1 teaspoon baking soda
1 teaspoon salt
1 cup (2 sticks) butter, at room temperature
3/4 cup sugar
3/4 cup brown sugar
1 teaspoon vanilla (I used the magnificent organic Lágrima pure vanilla extract)
2 eggs
2 cups miniature chocolate chips
1 1/2 cups mini marshmallows
2 Hershey bars, chopped or equivalent amount of snack sized Hershey bars
Instructions
Preheat oven to 375º. Line baking sheet with parchment paper.
In a medium bowl combine the flour, graham cracker crumbs, baking soda, salt. Whisk together. In a separate larger bowl beat together the butter, sugar, brown sugar and vanilla until creamy. Add the eggs one at a time, beating well after each addition. Slowly beat in the flour mixture until smooth. Stir in the chocolate chips. Drop by large scoop onto prepared baking sheet.
Bake for 9 minutes, and remove from the oven. Push 3 to 4 marshmallows and a few pieces of Hershey bar into each cookie. Return to the oven and bake an additional 3-4 minutes until fully cooked. Cool a couple minutes on baking sheet, then remove to rack to cool completely.


When I was in Seattle for the International Food Bloggers Conference, I was given a sample of pure vanilla extract from a new company, Lágrima. It was made locally using organic vanilla beans. Their tag line, "A Reason for Emotion," rings true. An exquisite vanilla can take a dessert from ordinary to extraordinary…and these cookies flavored with Lágrima pure vanilla extract brought warmth, smiles and contentment to all who sampled them. You can see why their logo is a tear…tears of joy come when eating baked goods made with Lagrima vanilla.  And now you have a chance to win a 200 ml bottle of your own. Just follow the Rafflecopter prompts below. Please note: We'd love the winner to post a photo and link to a recipe made with this superb vanilla on the Lagrima Facebook page.
Note: Giveaway is over.
Note: This post may contain affiliate links; view
my Disclosure Policy
for details. I earn a small percentage from any purchase you make by clicking on these links at no extra cost to you.