Strawberry Cheesecake Trifle
This Strawberry Cheesecake Trifle features layers of sweetened berries doused with Amaretto, angel food cake cubes, and luscious cheesecake filling, lightened with whipped cream.
I was hosting brunch at my house, and that called for a lovely fruit-filled dessert recipe. Adding a homemade cheesecake twist to a Trifle Recipe was brilliant.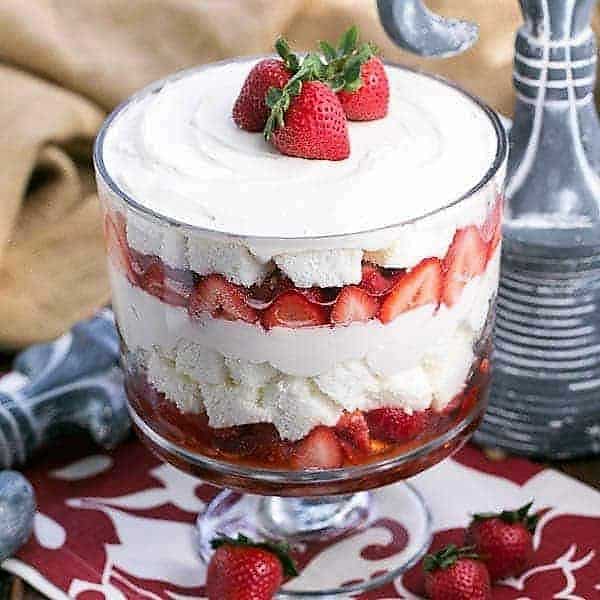 Why You Must Make
A store-bought angel food cake made quick work of the preparation.
Since this is a no-bake trifle dessert, it's perfect for hot summer days when you don't want to turn on the oven as well as holidays when the oven is often filled with turkey and casseroles!
The presentation is absolutely stunning!!!
Not exactly health food, but this strawberry trifle is definitely lighter fare than so many other dessert options! You know it's a hit when the men at the table start inquiring about the ingredients. They do combine beautifully for a delicious party in your mouth with every bite.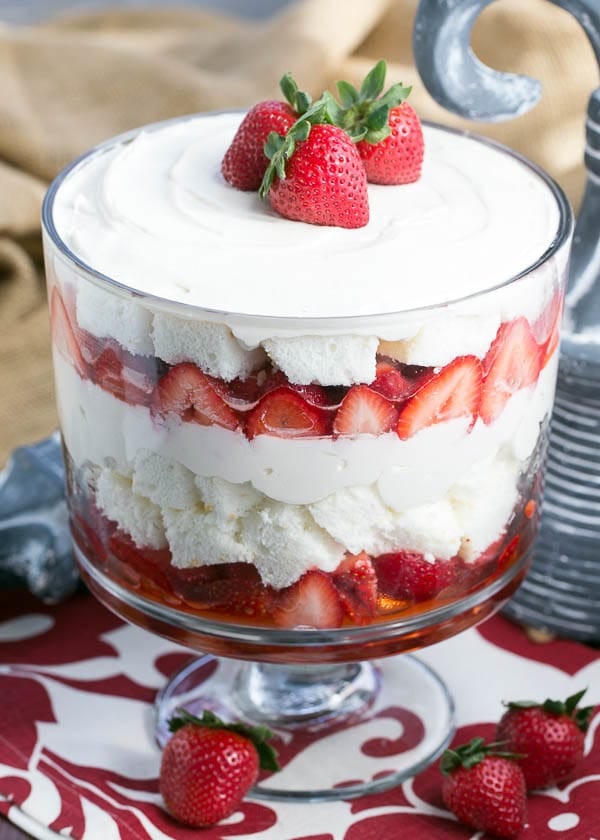 How to Make
PRO-Tip: Save this recipe for strawberry season or around the holidays when you can often find some lovely fresh berries.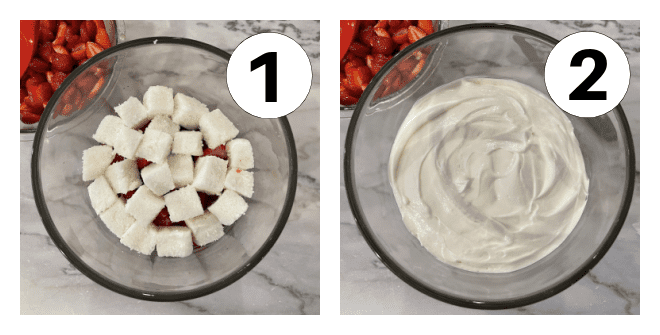 Layer berries, then angel food cake.
Spread the cheesecake layer over the cake.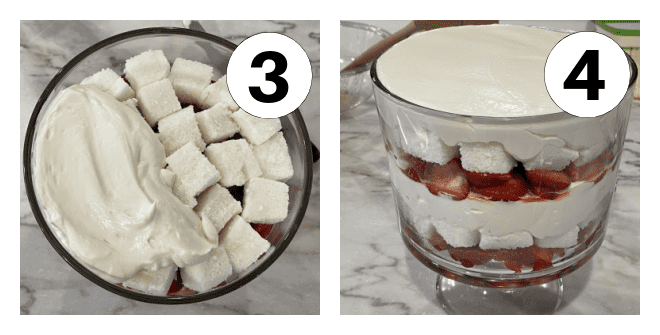 Repeat the layer.
Use an offset spatula to smooth the top. Chill until ready to serve.
Expert Tips:
Since a trifle is made in a special, straight-sided glass bowl, care is needed to make a beautiful presentation. Smears up and down the sides of the container defeat the purpose of using a transparent serving piece.
Carefully layer the bottom layer. First, place the berries in the center of the bowl, and then move them towards the perimeter to avoid spattering the sides.
Since the cake pieces don't leave marks, just layer them, trying to aim for an even top.
The cheesecake, custard, or pudding layer, depending on your recipe, must be added with care. With fat as an ingredient, it's hard to clean marks off the bowl without using Windex, which you don't want to do use around anything edible!
PRO-Tip: Mindfully add the custard to the center and use an offset spatula or spoon to carefully spread it towards the edges to make an even layer.
The servings vary on the size of your trifle bowl, but this does feed a crowd. If you don't have a trifle bowl, any clear container will do. The glorious layers in this strawberry trifle recipe will wow your guests!
Frequently Asked Questions
What is a Trifle?
A trifle is a very forgiving and adaptable layered dessert. Originally from England, trifles were made of sponge cake fingers soaked in sherry and covered with jam, candied or fresh fruit, and custard.

Angel food cake was used in this recipe but trifles are also made with pound cake or ladyfingers.
It's traditionally served in a footed glass trifle bowl that showcases the beautiful layers.

The first mention of a trifle in a cookbook was in the late 1500s. Gelatin made from the bones of calves' feet was utilized to make the jelly or jam back in that era.
How Can You Adapt a Trifle Recipe?
The cake pieces are often soaked with liquor like sweet sherry, port, Madeira, or whiskey, but I love sprinkling in a liqueur such as Chambord, Amaretto, or Grand Marnier for a less boozy taste. In this recipe, the Amaretto was added to the berries to keep the cake nice and white.

Ditch the angel food cake and use sponge cake or ladyfingers instead.

Jam is an ingredient in a classic English trifle, but I did not use any in this Strawberry Cheesecake Trifle. It is spread on the cake pieces for another delicious element. Feel free to add a jam that coordinates with the flavors in your trifle.

Can Trifle Be Made Ahead of Time?
It needs at least 4 hours in the refrigerator so the berry juices can soak into the cake cubes. And it can be made the day before you plan to serve it.
You May Also Like:
Useful Tools:
Stay in touch through social media @ Instagram, Facebook, and Pinterest. Don't forget to tag me when you try one of my recipes! And if you love the results, please give it a 5-star rating in the recipe card. Note: As an Amazon Associate, I earn from qualifying purchases. Visit my Amazon Store for my favorite products.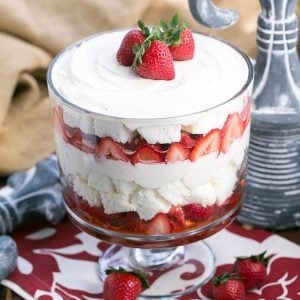 The Recipe:
Strawberry Cheesecake Trifle Recipe
Prep Time 30 minutes
Total Time 30 minutes
Yield 18 servings
A twist on an English trifle featuring angel food cake, fresh strawberries, and a cheesecake filling. Recipe adapted from Country Woman.
Ingredients
Cheesecake layer:
16 oz cream cheese, at room temperature
2 cups powdered sugar
1 cup sour cream
½ teaspoon vanilla extract
¼ teaspoon almond extract
1 cup heavy whipping cream
½ teaspoon vanilla extract (to add to cream)
1 tablespoon sugar (to add to cream)
Cake layer:
1 angel food cake, cut into cubes (I only used half a large bakery angel food cake)
Strawberry layer:
2 pounds of fresh strawberries, hulled and sliced
3 tablespoons sugar
2 tablespoons Amaretto, optional
Instructions
In a large bowl, cream together cream cheese and powdered sugar; add sour cream, vanilla, and almond extracts. Set aside.
In a small deep metal chilled bowl, whip the cream, vanilla, and sugar. Fold whipped cream into the cream cheese mixture. Set aside.
Combine strawberries, sugar, and Amaretto. Layer in a large glass trifle pedestal bowl, starting with half the strawberries, then a layer of cake, followed by a layer of the cheesecake filling. Repeat, ending with the filling.
Cover with plastic wrap and chill well before serving.
Notes
Servings will vary depending on the size of your trifle bowl.
Helpful Tools (As an Amazon Associate and member of other affiliate programs, I earn from qualifying purchases).
Nutrition Information:
Yield:
18
Serving Size:
1
Amount Per Serving:
Calories: 244
Total Fat: 16g
Saturated Fat: 9g
Trans Fat: 0g
Unsaturated Fat: 5g
Cholesterol: 48mg
Sodium: 99mg
Carbohydrates: 23g
Fiber: 1g
Sugar: 20g
Protein: 3g
Note: This post may contain affiliate links; view
my Disclosure Policy
for details. I earn a small percentage from any purchase you make by clicking on these links at no extra cost to you.