Strawberry Cheesecake Trifle features layers of sweetened berries doused with Amaretto, angel food cake cubes and luscious cheesecake filling, lightened with whipped cream.  I was hosting brunch at my house, and that called for a lovely fruit-filled dessert recipe. Adding a homemade cheesecake twist to a strawberry trifle recipe was brilliant.
Note: This post may contain affiliate links; view my Disclosure Policy for details.  I earn a small percentage from any purchase you make by clicking on these links. This helps me keep my kitchen stocked with butter and chocolate!
Strawberry Cheesecake Trifle
A fruit and cream dessert is perfect for a mid-day treat, especially when company is invited. I love sweets featuring berries, like this stunning Strawberry Shortcake Roulade, but sometimes it's nice not to turn on the oven! Sliced berries were sweetened and then dosed with a bit of Amaretto. The cheesecake layer was composed of cream cheese and sour cream, then a billowy cloud of whipped cream was folded in.
A store-bought angel food cake made quick work of the preparation. Since this is a no-bake trifle recipe, it's perfect for hot summer days when you don't want to turn on the oven as well as holidays when the oven is often filled with turkey and casseroles!
Not exactly health food, but this strawberry cheesecake trifle is definitely lighter fare than so many other dessert options! You know it's a hit when the men at the table start inquiring about the ingredients. They do combine beautifully for a delicious party in your mouth with every bite.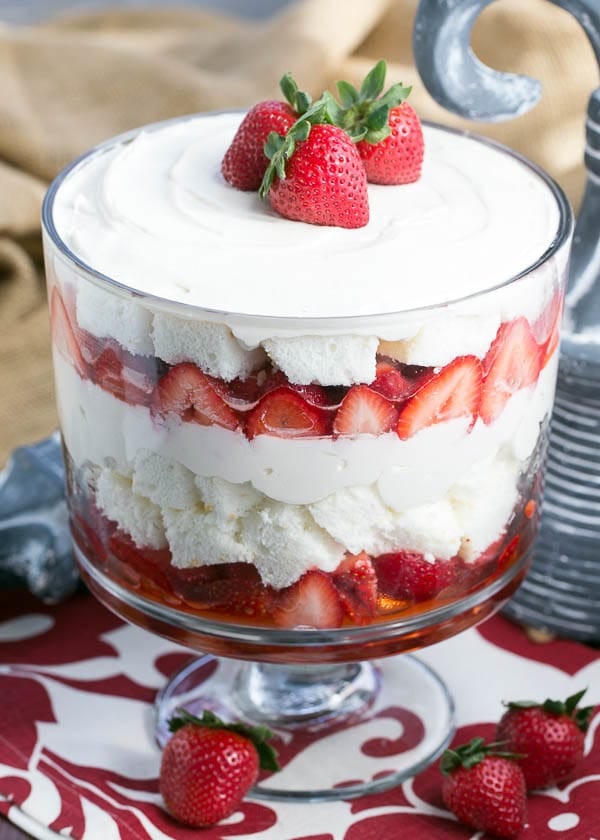 No-Bake Trifle: Perfect for Berry Season
The berries the last few months have been lackluster, but I was thrilled to find some marvelous ripe gems at the market. This no-bake trifle would not be nearly as tasty with frozen or pale tasteless berries. Save this recipe for strawberry season or around the holidays when you can often find some lovely berries.
The servings vary on the size of your trifle bowl, but this does feed a crowd. If you don't have a trifle bowl, any clear container will do. The glorious layers in this Strawberry Cheesecake Trifle will wow your guests!
Kitchen Tools Used in This Strawberry Cheesecake Trifle Recipe:
Print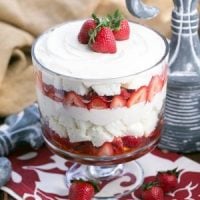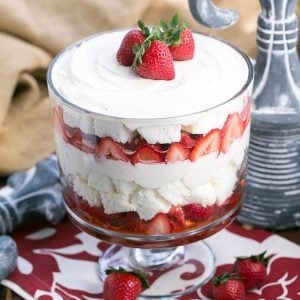 Strawberry Cheesecake Trifle
A twist on an English trifle featuring angel food cake, fresh strawberries, and a cheesecake filling. Recipe adapted from Country Woman.
Author:
Prep Time: 30 mins
Total Time: 30 mins
Yield: 18 servings
Category: Dessert
Method: No-Bake
Cuisine: American, British
Ingredients
Cheesecake layer:
2 packages (8 oz each) cream cheese, at room temperature
2 cups powdered sugar
1 cup sour cream
1/2 teaspoon vanilla extract
1/4 teaspoon almond extract
1 cup heavy whipping cream
1/2 teaspoon vanilla extract (to add to cream)
1 tablespoon sugar (to add to cream)
Cake layer:
1 angel food cake, cut into cubes (I only used half a large bakery angel food cake)
Strawberry layer:
2-3 pounds of fresh strawberries, hulled and sliced (I used about 2 pounds)
3 tablespoons sugar
2 tablespoons Amaretto, optional
Instructions
In a large bowl, cream together cream cheese and powdered sugar; add sour cream, vanilla and almond extracts. Set aside. In a small deep metal chilled bowl, whip the cream, vanilla and sugar. Fold whipped cream into cream cheese mixture. Set aside.
Combine strawberries, sugar and Amaretto. Layer in large glass trifle pedestal bowl, starting with strawberries, then a layer of cake, followed by a layer of the cheesecake filling. Repeat, ending with the filling.
Cover with plastic wrap and chill well before serving.
Notes
Servings will vary depending on the size of your trifle bowl.
More Christmas Week Recipes!
Welcome to Day 2 of Christmas Week. This annual event was started in 2012, and is hosted by Kim of Cravings of a Lunatic. This year we have over 35 bloggers sharing festive sweet recipes for the event. Plus we all chipped in for a huge Amazon Gift Card Giveaway so be sure to enter! Click over to my Mini Red Velvet Cupcakes Post to enter this holiday giveaway. Open to those in the US and Canada. This giveaway is now closed.
Recipes from Day 2 of Christmas Week! Please visit all our talented participants:
More Recipes You'll Love:
Note: This post may contain affiliate links; view my Disclosure Policy for details. I earn a small percentage from any purchase you make by clicking on these links at no extra cost to you.