Strawberry Topped Cheesecake
When luscious, ripe strawberries are in the market, make this exquisite Strawberry Topped Cheesecake! My friends gave it rave reviews!
A buttery, graham cracker crust encases a creamy vanilla cheesecake, which is crowned with fragrant, glazed strawberries for an impressive dessert. When you need a dessert to impress, this strawberry cheesecake recipe will do the trick!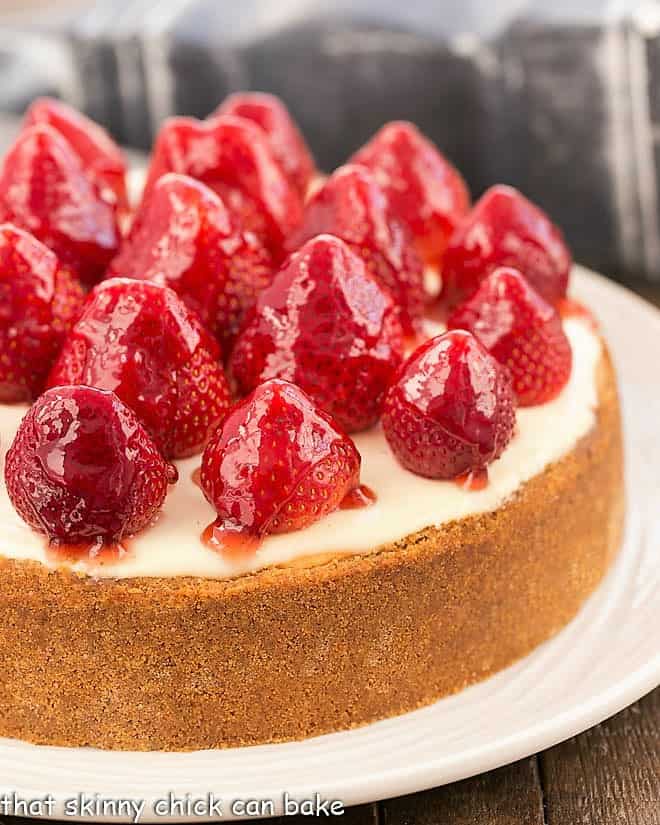 Why You Should Make this Cheesecake
I first tasted this strawberry cheesecake at a teacher's luncheon when my youngest was in high school. I was chairing the event and more than one teacher asked for the recipe. You know I was happy to ask for it!
Since that time, I've made it for a baby shower and just recently for a small dinner party at our home. There were literally swoons and the ultimate compliment when one fellow asked if he could take a slice home (I did offer earlier!). I do recall a "best cheesecake I've ever tasted" comment, too.
It is a show-stopper! Be sure to make it when beautiful, ripe strawberries are available and jaws will drop!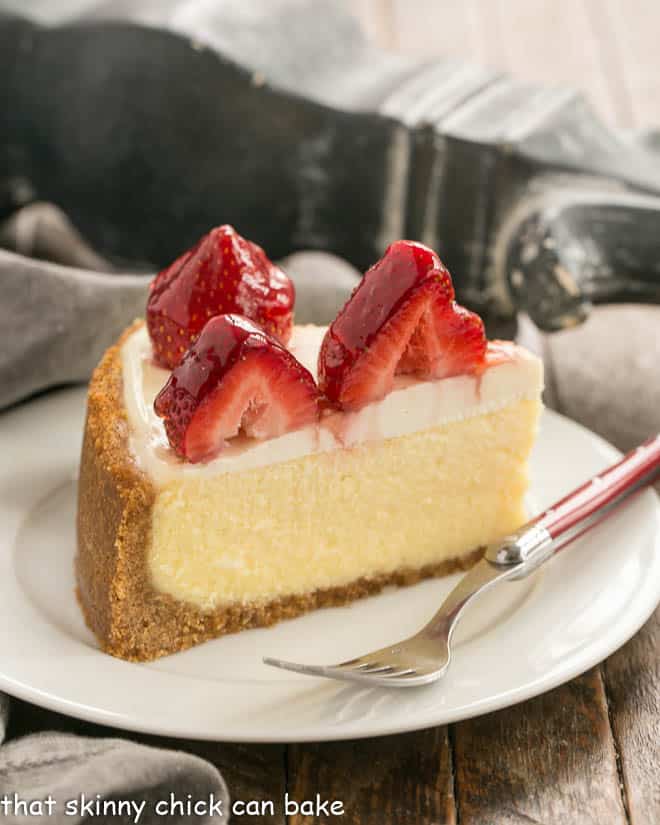 Expert Tips
This strawberry cheesecake didn't become a show-stopping sensation without a few tricks. I'm sharing those tips for making the perfect cheesecake with you today.
PRO-Tip: One of the key points for a luscious, creamy cheesecake filling is to have all ingredients, especially the eggs and cream cheese, at room temperature.
This means taking these ingredients out of the refrigerator an hour before you begin mixing. I like to set my eggs in a bowl of warm water to hurry the process along.
PRO-Tip: When mixing the cheesecake batter, use the paddle attachment, not the whisk. This prevents excess air from making a lighter versus dense filling.
When adding the eggs, add one at a time mixing until just incorporated.
Often a cheesecake is baked in a water bath which keeps the baking temperature stable and is thought to prevent cracking. Since this cheesecake is topped with a sour cream mixture, avoiding cracks is not as crucial.
PRO-Tip: When using a water bath or bain marie, wrap your pan in a double layer of foil to help prevent leakage of water into the springform pan.
You cannot use the same toothpick test to check for doneness as you do with a layer cake. Instead, look for the top to be mostly set. It's OK for a little jiggle in the very center as there will be a bit of residual cooking after it comes out of the oven.
I have a new oven and what used to take 55 minutes in my old oven took an extra 20 minutes in my new (and recently calibrated) oven.
PRO-Tip: Besides the room temperature ingredients, beating with a paddle attachment, the 3rd key tip is to bring the cheesecake out of the refrigerator at least an hour before serving!
Cheesecake absolutely tastes better when it's not cold. But remember, the FDA recommends that perishable foods should not remain at room temperature longer than 2 hours, so tuck leftovers back in the refrigerator after serving.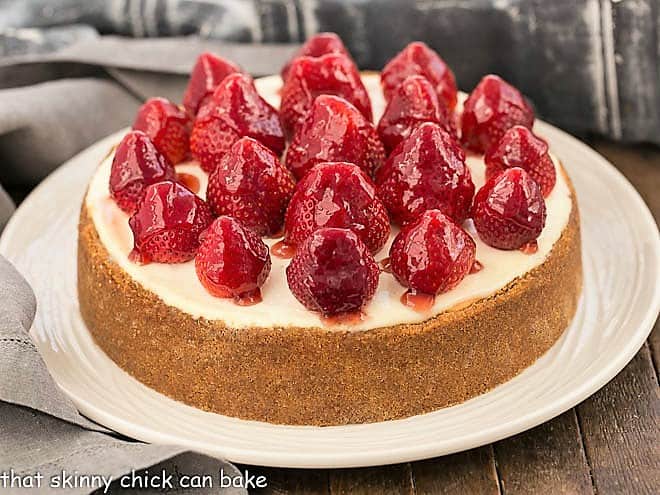 Frequently Asked Questions
How Do You Pick the Best Strawberries?
Since beautiful sweet strawberries are crucial for the best tasting results, make this cheesecake when local or imported strawberries are in season. Look for red strawberries without white or geen areas or blemishes, bright red surface with green, not brown or wilted, leaves, and seeds that aren't dry and brown. You should also be able to smell the sweet fragrance of strawberries when you are near the display at the market.
Why is a Water Bath Not Used?
A water bath, or when you place the cheesecake in a pan of water to bake, helps to minimize cracking while the cheesecake bakes. When a topping, like this sour cream layer, is used, any possible cracks will be covered. So there's no need to bake this cheesecake recipe in a water bath.
Can Other Fruit Be Used to Top This Cheesecake?
Yes! Any berry will work well, like blackberries, raspberries or blueberries. You may want to vary your jelly so it matches or complements the color of your berries. Fruit like peaches will exude too much juice and make a soggy topping.
You May Also Like: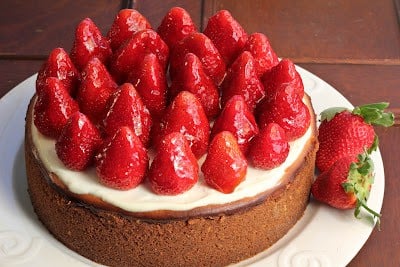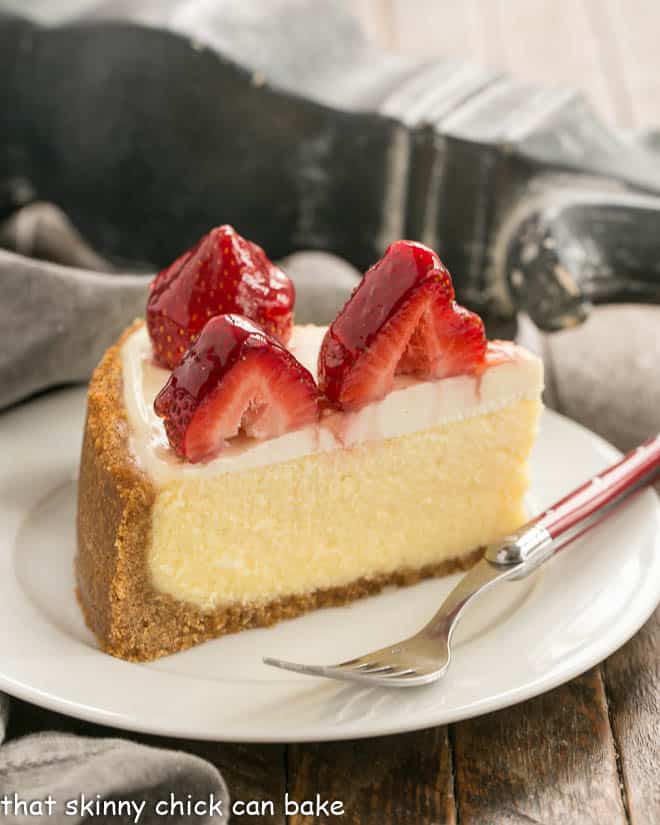 The Recipe:
Strawberry Topped Cheesecake Recipe
Prep Time 30 minutes
Cook Time 1 hour 5 minutes
Total Time 1 hour 35 minutes
Yield 16 servings
A creamy, decadent cheesecake topped with glazed strawberries
Ingredients
Crust:
20 whole graham crackers (10 ounces, broken into pieces)
3/4 cup 1 1/2 sticks cold butter, diced
1/2 cup brown sugar
Filling:
4 8- ounce packages of cream cheese (at room temperature)
1 3/4 cups sugar
3 tablespoons fresh lemon juice
1 tablespoon vanilla
Pinch of salt
3 tablespoons flour
5 eggs (at room temperature)
Topping:
2 cups sour cream
3 tablespoons sugar
1/2 teaspoon vanilla
Fresh strawberries (hulled (I used 32 ounces))
Jar of red currant jelly (or raspberry jelly), you will not need the whole jar
Instructions
Preheat oven to 350º. Add graham crackers, butter and brown sugar to food processor and pulse till crumbs start to stick together. Press crumbs on bottom and most of the way up the sides of a 10 inch springform pan with 3 inch sides. Bake 10 minutes. Cool on rack. Keep oven on while preparing filling.
With paddle attachment, beat cream cheese, sugar, lemon juice, vanilla and salt together till very smooth, scraping down edges of bowl as needed. Add flour and mix till combined. Add eggs, one at a time, just till incorporated, scraping down sides of bowl as needed.
Pour batter into crust and bake about 55 minutes. Center should be just set and top will be puffed and brown in spots. Cool on rack for 10 minutes while preparing topping. Keep oven on.
Mix sour cream, sugar and vanilla. Spread over top of cake, stopping just short of the edge. Bake for 5 minutes. Run knife around perimeter of cheesecake. Allow to cool on rack, then cover and chill overnight.
Before serving, release sides of springform pan. Arrange whole berries, pointed sides up, over top of cheesecake. Gently melt jelly in microwave, then allow to cool to lukewarm. Brush over top of berries to glaze. Berries may be glazed up to 6 hours before serving. May serve with extra glaze if desired.
Nutrition Information:
Yield:
16
Serving Size:
1 slice
Amount Per Serving:
Calories: 566
Total Fat: 37g
Saturated Fat: 21g
Trans Fat: 1g
Unsaturated Fat: 12g
Cholesterol: 155mg
Sodium: 374mg
Carbohydrates: 52g
Fiber: 1g
Sugar: 39g
Protein: 8g
Note: This post may contain affiliate links; view
my Disclosure Policy
for details. I earn a small percentage from any purchase you make by clicking on these links at no extra cost to you.