Grilled Lamb Chops with Mustard, Rosemary and Garlic
These exquisite Grilled Lamb Chops with Mustard, Rosemary, and Garlic are the BEST way to eat lamb!! Lamb stands up to strong flavors beautifully and this marinade creates a match made in heaven.
My mom introduced Bill to lamb one Easter, roasting a garlic-crusted leg of lamb for the holiday. He was an instant convert, but my preference is for a tender, delectable Lamb Chop Recipe when it comes to this lamb.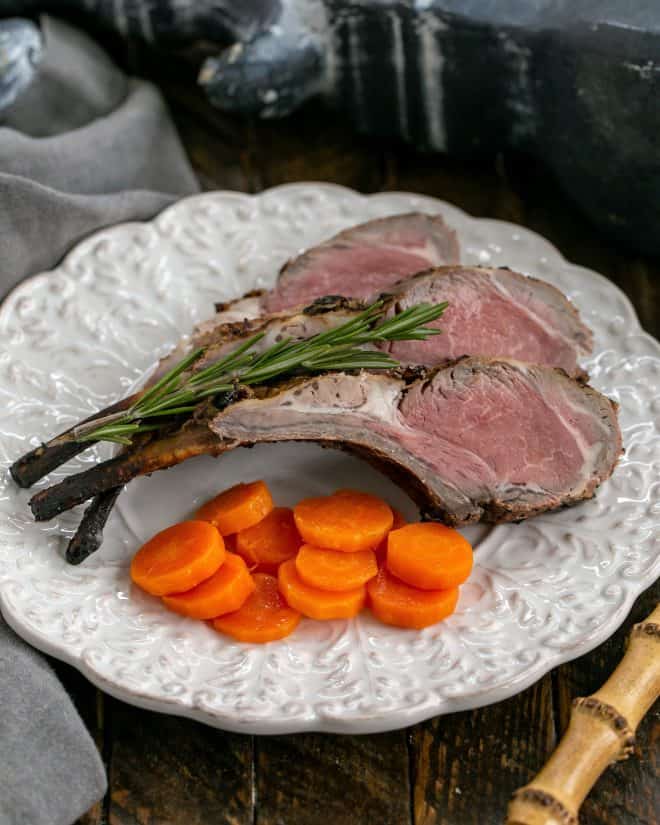 Why You Must Make
This flavorful marinade works perfectly–lemon, garlic, and rosemary are some of the quintessential pairings with lamb.
You can add more garlic and rosemary or substitute another herb like thyme or oregano. It's easy to adapt this to your palate.
One Easter, my mom served us a leg of lamb studded with loads of garlic. Like many of her generation, she served it with a side of bright green mint jelly. Instantly, Bill changed his tune about this cut of meat; he was officially a fan, though I can guarantee there was no mint jelly on his plate. For the record, the only mint that passes his lips is on his toothbrush! Even though we always had that Day-Glo green mint condiment on our table growing up, there's no need with this lovely recipe for Grilled Lamb Chops.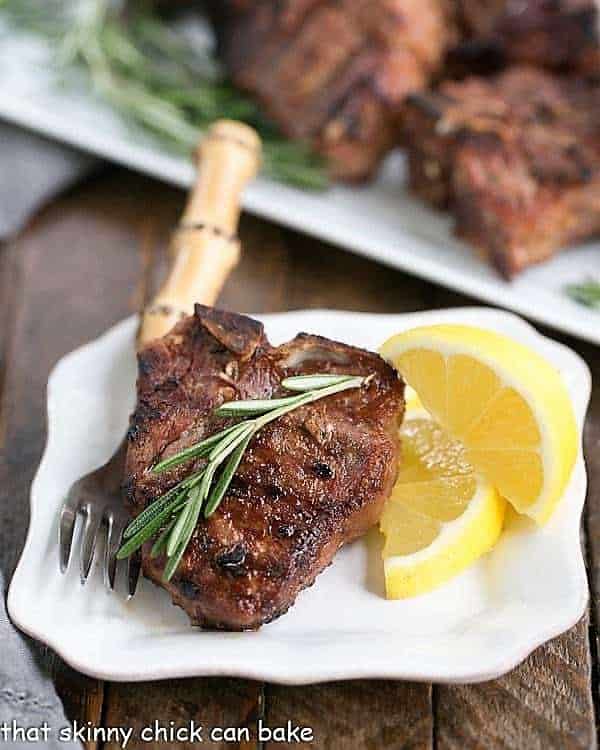 How To Make
I rarely make a leg of lamb, but this Julia Child-inspired marinade would also be perfect on the larger cut. Make a double batch and smear over the lamb the night before you plan to roast it.
First make the marinade, which is more of a paste, by mixing together all the ingredients.
The night before, rub it all over your lamb chops and park them in the refrigerator until you're almost ready to grill.
Bring the chops out of the refrigerator about an hour before grilling time. This will help take the chill off the meat, making them grill more evenly.
When you bring them in off the grill, cover with foil and allow to rest for at least 10 minutes before serving. This allows the meat juices to redistribute in the chops.
Happy Easter to all who celebrate. As Julia would say, Bon appetit!!!
Frequently Asked Questions
Should You Salt Your Lamb Chops Before Grilling?
YES! Salt at least one hour before grilling, though I prefer the night before. The salt will act as a dry brine releasing moisture from the meat along with breaking down the proteins ensuring the moisture is reabsorbed, and keeping your chops moist. The salt also infuses flavor into the meat when done in advance instead of just sitting on the surface.
If you're marinating your chops overnight, as this recipe recommends, there is no need to add additional salt since there is plenty of sodium in the recipe between the soy sauce and salt.
How Long Do Lamb Chops Take to Grill?
They should be quickly seared on the grill, then moved to a cooler spot to finish cooking. It typically takes about 3 minutes per side, but it all depends on the thickness of your chops, the temperature of your grill, and the doneness you desire.
It's best to use an instant-read thermometer and pull them off about 10° before they reach your goal temperature. Cover with foil and let them rest and the internal temperature will keep rising. Here are the recommended temperatures for cooked lamb:
Rare – 120°
Medium Rare – 125°
Medium – 130°
Well Done – 145° (not recommended as lamb can taste gamey at this temperature).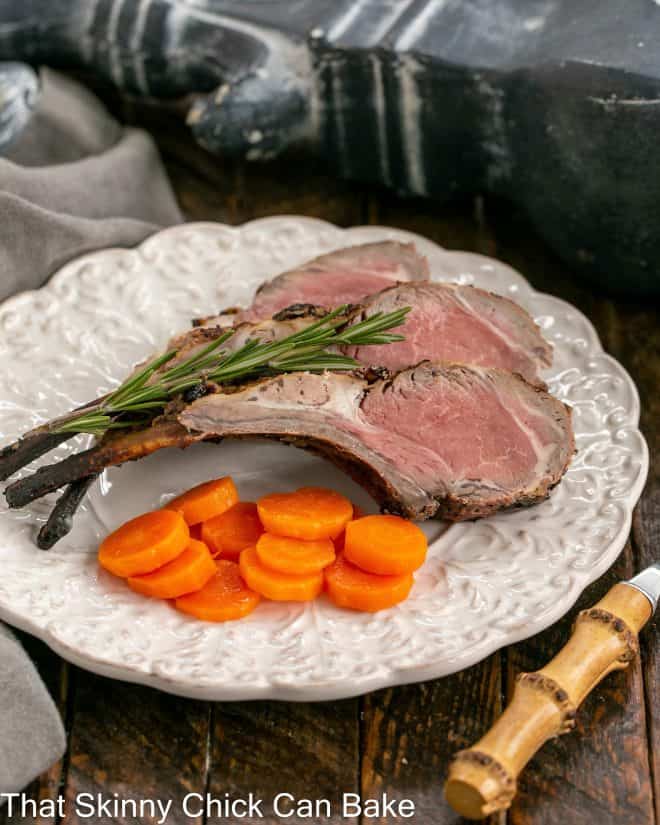 You May Also Like: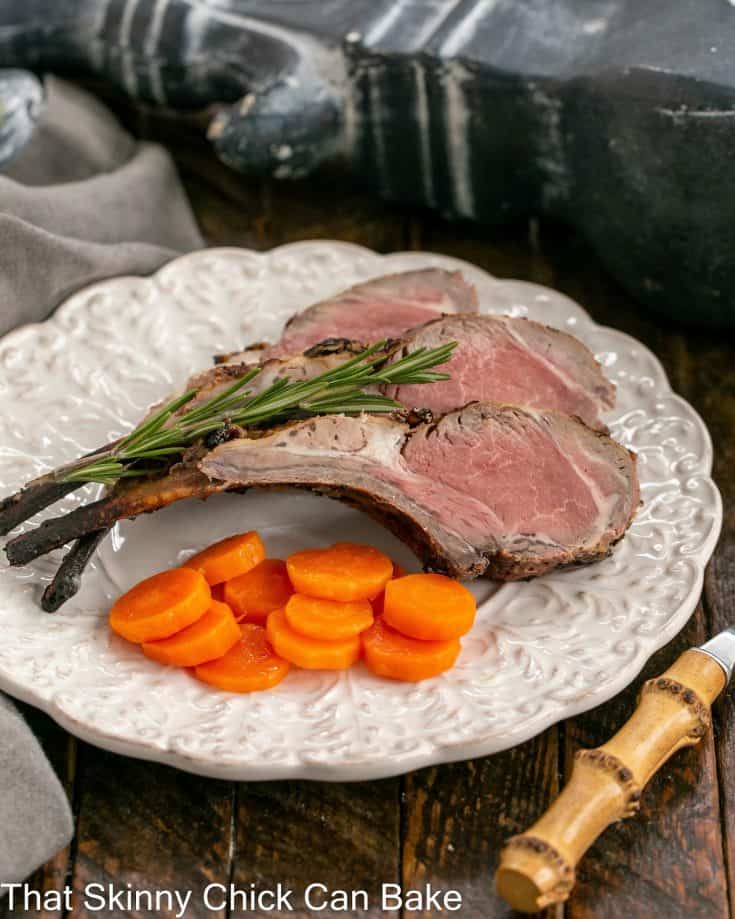 The Recipe:
Grilled Lamb Chops with Mustard, Rosemary and Garlic
Prep Time 10 minutes
Cook Time 6 minutes
Total Time 16 minutes
Yield 3 servings
This marinade of garlic, Dijon, rosemary and lemon is perfect for lamb chops!
Ingredients
Adapted from Julia Child
2-4 cloves of garlic, minced
1 teaspoon salt
2 tablespoons Dijon mustard
1 tablespoon soy
1 teaspoon fresh rosemary, minced
2 tablespoons freshly squeezed lemon juice
Olive oil
6 lamb chops
Instructions
Mix all ingredients with enough olive oil to make a good paste. Cover lamb chops with this marinade and let rest in the fridge up to overnight.
Grill to desired temperature and serve.
Note that there is a marinating time in addition to a cook time
Notes
Total time does not include marinating time.
Recommended Products
As an Amazon Associate and member of other affiliate programs, I earn from qualifying purchases.
Nutrition Information:
Yield:
3
Serving Size:
2 lamb chops
Amount Per Serving:
Calories: 387
Total Fat: 28g
Saturated Fat: 12g
Trans Fat: 2g
Unsaturated Fat: 15g
Cholesterol: 98mg
Sodium: 1071mg
Carbohydrates: 3g
Fiber: 1g
Sugar: 0g
Protein: 31g
Note: This post may contain affiliate links; view
my Disclosure Policy
for details. I earn a small percentage from any purchase you make by clicking on these links at no extra cost to you.