Peanut Butter Chocolate Mousse Cake
This rich, luscious Peanut Butter Chocolate Mousse Cake is perfect for chocolate peanut butter fans! A winning combo of brownies and mousse!
A brownie layer was topped with chocolate and peanut butter mousses for an exquisite dessert! If you love Reeses Peanut Butter Cups, you'll swoon with every bite of this exquisite peanut butter dessert recipe! My book club certainly did!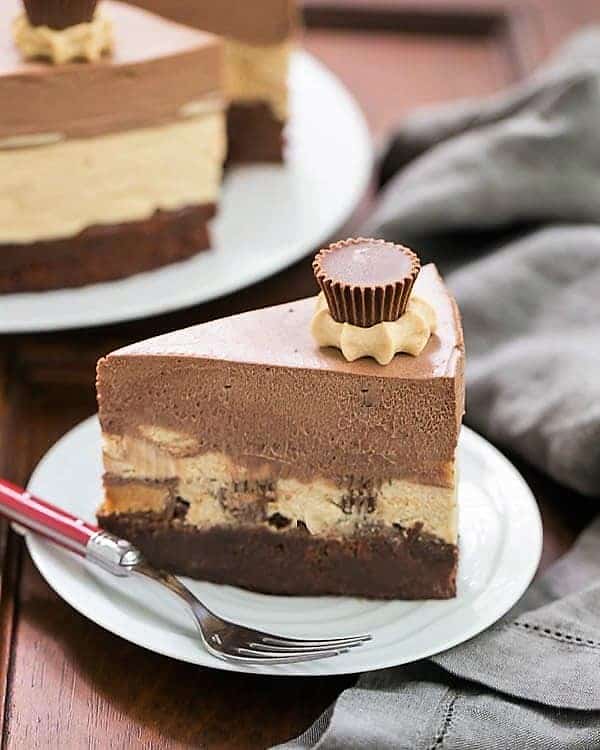 Why You Must Make
If you love Reese's and the combination of chocolate and peanut butter, you'll go crazy for this dessert!
With a brownie base, some mini Reeses cups, and two kinds of mousse, it's one extraordinary cake.
Even my two family members who don't like peanut butter desserts ate a slice!
Ours is a house divided. No, I'm not referring to the Indiana University and Purdue University rivalry between my two sons. I'm talking about the peanut butter division. You see, I love peanut butter in desserts, but never straight up or in sandwiches. Blech.
The hubby is a fan of peanut butter sandwiches but gives a cold shoulder to peanut butter cookies, peanut butter Rice Krispie treats, and all the other peanut butter sweets I adore. My oldest son and daughter are on my team, and our youngest agrees with dad. I save up my most decadent peanut butter creations for when I'm entertaining or bringing a dish to a pitch-in dinner.
Ingredient Notes
Kitchen Staples – Water, Powdered Sugar, Butter, Semisweet Chocolate Chips
1 Box Brownie Mix – or use my One Bowl Fudgy Brownies and bake for 35 minutes
8 ounces Reese's Minis – reserve extras from bag for garnishing
Powdered Gelatin – Look for Knox brand next to the boxes of Jello
Reese's Peanut Butter Chips – Look for these in the baking aisle with the chocolate chips
Heavy Cream – 36% butterfat
Creamy Peanut Butter – I used Jif, but any brand will work. Do not use natural peanut butter as it's not the right consistency.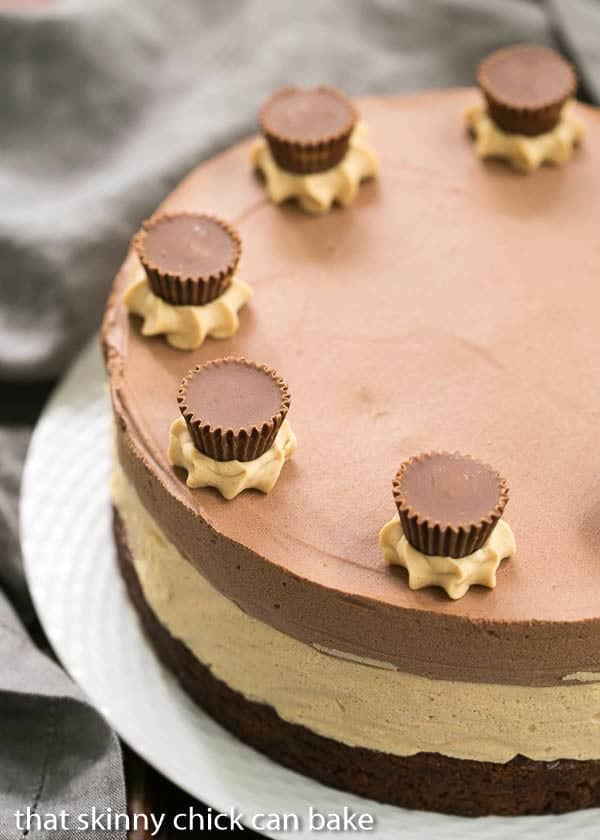 Expert Tips
Make sure to use a springform pan to assemble this dessert. It has removable sides making it perfect for layered desserts.
Bake the brownie layer first and cool completely before continuing.
PRO-Tip: Both the peanut butter mousse and chocolate mousse need 2 hours of chilling time. So even though there's nothing too complicated about this dessert, there's a lot of cooling and chilling time involved. It's best to make it the day before you plan to serve it.
PRO-Tip: If you don't have a (affiliate link) small offset spatula, you may want to purchase one. It's a great tool for spreading and helps makes for smooth and level layers.
Keep your mousse cake refrigerated until just before serving as it's perishable. It will keep well in the refrigerator for up to 4 days as long as it's not left out at room temperature longer than two hours.
To store, it can be set back in the springform pan and covered with plastic wrap or foil. Or wrap the cake on the serving plate with a couple of lengths of plastic wrap, making it airtight.
Even though we were all stuffed to the gills with all the marvelous food at our book club pitch-in dinner, everyone had room for a bit of dessert. There were swoons and groans and slices taken home after I dished up some slivers of this mousse cake.
The biggest surprise of all, though, was at home. Both Bill and Nick had a slice the next night. I told them they could scrape off the peanut butter mousse and focus on the chocolate elements. Well, they both licked their plates clean. Nick commented that the peanut butter flavor wasn't overly intense, though he didn't eat his peanut butter garnish. Baby steps!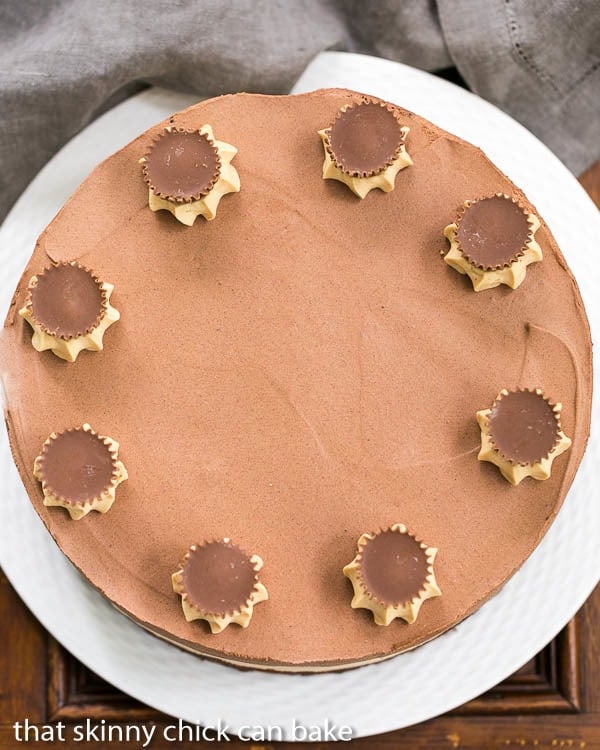 Frequently Asked Questions
How Do You Make Mousse?
A dessert mousse is a rich, light dish commonly made with fruit purees or chocolate. Adding whipped cream or beaten egg whites make them fluffy, and gelatin is often added to stabilize them. Mousse is the French term for froth or foam.
What is a Mousse Cake Made Of?
Most importantly, a mousse cake is made with a layer (or more) of mousse. Other components like a brownie layer, cookie crust, ladyfingers, or cake may be used as a base or layers, providing structure to the mousse cake.
How Do You Make Even Layers?
Use an offset spatula to smooth the surface. You should be able to gauge whether your layer is even by eying the distance from the top surface to the top of the pan. If this isn't your strong suit, you can always pull out a ruler to double-check. Any adjustments need to be done before the mousse is chilled as the gelatin will set it.
How Can You Garnish a Mousse Cake?
Use a simple buttercream frosting and pipe swirls around the perimeter of the cake. Top each swirl with a mini Reeses cup. The iconic shape of these candies gives a clue to the flavor of this dessert. Chocolate curls or shavings over whipped cream roses/swirls would also create a beautiful restaurant-worthy topping.
You May Also Like:
Stay in touch through social media @ Instagram, Facebook, and Pinterest. Don't forget to tag me when you try one of my recipes! And if you love the results, please give it a 5-star rating in the recipe card. Note: As an Amazon Associate, I earn from qualifying purchases. Visit my Amazon Store for my favorite products.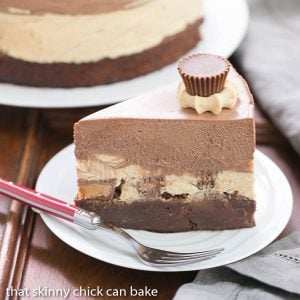 The Recipe:
Peanut Butter Chocolate Mousse Cake
Prep Time 1 hour
Cook Time 35 minutes
Total Time 1 hour 35 minutes
Yield 16 servings
A decadent chocolate and peanut butter dessert.
Ingredients
1 box brownie mix (I used my One Bowl Fudgy Brownies and baked for 35 minutes)
8 ounces Reese's minis (reserve extras from bag for garnishing)
Peanut Butter Mousse Layer:
1 ⅛ teaspoon powdered gelatin
1 ½ tablespoons water
9 ounces Reese's peanut butter chips
2 ¼ cups heavy cream
1/4 cup powdered sugar
Chocolate Mousse Layer:
1 ⅛ teaspoon powdered gelatin
1 ½ tablespoons water
9 ounces semisweet chocolate chips
2 ¼ cups heavy cream
¼ cup powdered sugar
Peanut Butter frosting for decorations:
⅓ cup creamy peanut butter
4 tablespoons butter, at room temperature
1 cup powdered sugar
Instructions
Bake brownies in a greased and parchment-lined 9-inch springform pan. Cool, then remove the brownie from the pan once cooled.
Place the cooled brownie back in the pan but also line the sides all the way around with parchment. It should extend above the pan to "hold" mousse.
Sprinkle the Reese's on the brownie.
Peanut Butter Mousse
To make peanut butter mousse, sprinkle gelatin on top of the water in a bowl and let sit for 5 minutes.
Heat ¾ cup cream in the microwave till boiling and then add the gelatin. Whisk well.
Place the peanut butter chips in a heatproof bowl and pour the cream over the chips. Let it sit for a minute and stir until smooth.
Cool for about 5 minutes. Meanwhile, beat 1½ cups heavy cream on high. Add powdered sugar and beat to stiff peaks.
Slowly fold the cream into the peanut butter mixture.
Spread this over the brownie and Reese's layer.
Chill 2 hours.
Chocolate Mousse
Again, in a bowl sprinkle the gelatin over the water. Let the gelatin dissolve for about 5 minutes.
Microwave ¾ cup of the heavy cream to a boil.
Add the gelatin mix to the hot cream and whisk.
Place the chocolate chips in a bowl and pour the cream over them. Let sit a couple of minutes and whisk until smooth.
Meanwhile, beat 1 ½ cups heavy cream on high. Add the powdered sugar and beat to stiff peaks.
Fold a little cream at a time into the cooled chocolate.
Once all incorporated and smooth, pour this over the peanut butter mousse layer and chill another 2 hours or longer if not firm.
To finish the cake:
Once firm, remove the sides of the cake pan and parchment collar.
To make peanut butter frosting, beat together peanut butter, butter, and powdered sugar till whipped and creamy.
Pipe on rosettes with peanut butter frosting. Top each rosette with a peanut butter cup.
Notes
Total time does not include the 5+ hours of cooling and chilling times.
Recommended Products
As an Amazon Associate and member of other affiliate programs, I earn from qualifying purchases.
Nutrition Information:
Yield:
16
Serving Size:
1 slice
Amount Per Serving:
Calories: 578
Total Fat: 45g
Saturated Fat: 24g
Trans Fat: 1g
Unsaturated Fat: 18g
Cholesterol: 85mg
Sodium: 188mg
Carbohydrates: 43g
Fiber: 2g
Sugar: 36g
Protein: 8g
Note: This post may contain affiliate links; view
my Disclosure Policy
for details. I earn a small percentage from any purchase you make by clicking on these links at no extra cost to you.