Peanut Butter Cheesecake Bars
If you're craving an outrageous peanut butter treat, I've got you covered with these sensational Peanut Butter Cheesecake Bars!
Peanut butter lovers will go crazy for these rich Reese's Cheesecake Bars! You can't beat the combo of peanut butter and chocolate with a few mini Reese's tossed in for good measure!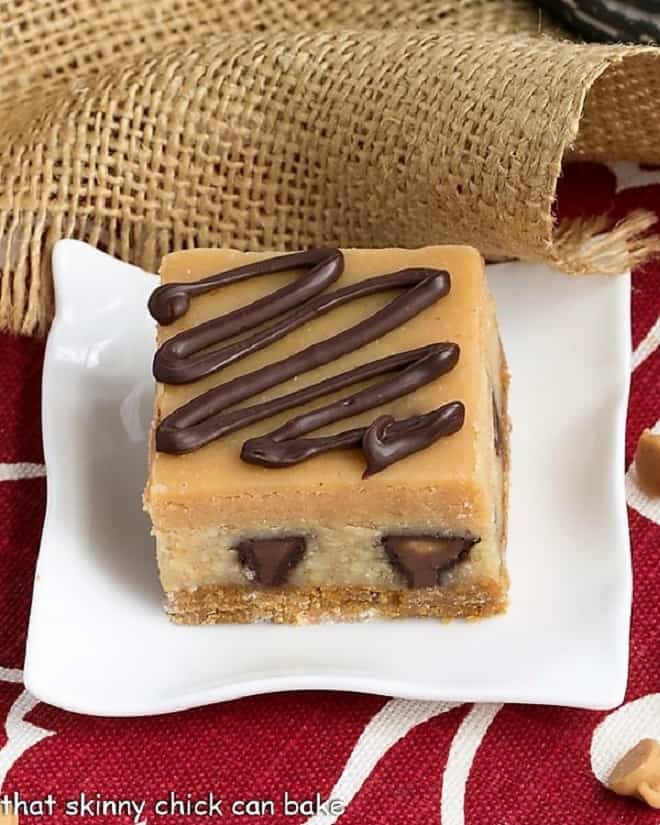 Peanut Butter Cheesecake Bars
My friend, Danielle, has amazing peanut butter dessert recipes on her blog. I happen to dislike peanut butter straight up, but adore it in sweets. I love it so much that my typical super-duper willpower falls to pieces when I have peanut butter desserts in the house.
So I planned to make her Peanut Butter Bars and pawn them off on our oldest, after a bit of quality control testing, of course, since he would be dog sitting Miss Izzy for the weekend. I accidentally purchased mini Reese's instead of the snack-sized, but they were still extraordinary! This peanut butter bars recipe can be described as decadent with a capital "D."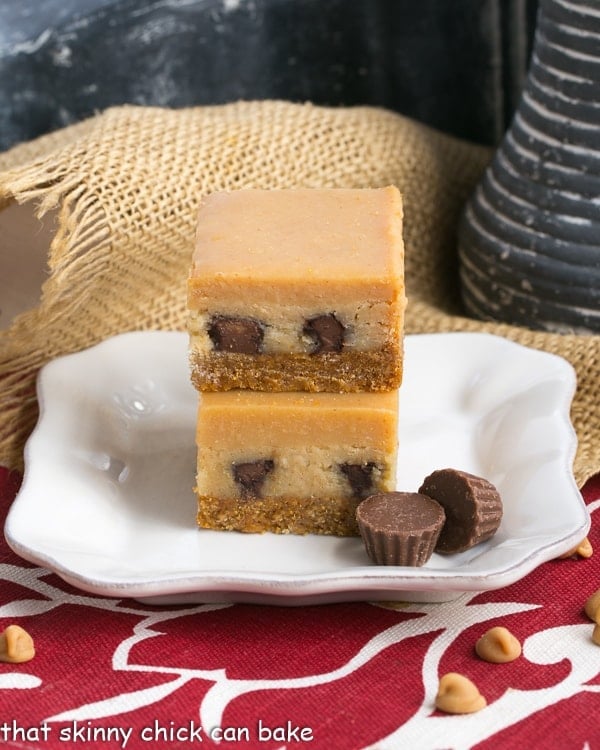 Tips for Making This Peanut Butter Bars Recipe
Have the cream cheese and egg at room temperature for easy blending. Get them out of the fridge an hour or two before mixing. To hurry the process along, you can place the egg and the sealed cream cheese (out of the box) in a bowl of hot, not boiling water for 5-10 minutes.
Wait for the crust to cool before topping.
Chill before slicing for neater pieces.
Drizzle with some melted chocolate to jazz up your bars!
I took junior-sized samples to my knitting group and they were a major hit. I had never used peanut butter chips before, but the resulting peanut butter ganache tasted like incredible fudge. The base was a graham cracker crust which was topped with yummy peanut butter cups, then a peanut butter cream cheese mixture. After baking them off, the ganache was poured over the top.
Drizzling isn't my forte—especially when I'm in a rush, so I bedazzled one with a bit of melted chocolate, but I'd definitely add it for company. These were a fabulous indulgence! If you're like me and love peanut butter desserts, you need to rationalize a reason to make these. You won't be disappointed. I bet you'd love these Better Than Reese's Peanut Butter Bars, too! And cheesecake fans will also love these Caramel Apple Cheesecake Bars.
Two Sweetie Pies
Thanks again to my lovely friend, Danielle, for another magnificent recipe! She is my go-to blogger for decadent treats. I promise you will love whatever you try from her blog!!! We share a recipe from each other's sites every second Monday of the month. These Reese's cheesecake bars were a major hit with my friends and the two other pb lovers at my house! You'll love them, too.
Check out Danielle's take on this recipe as well as her social media sites! Make sure to check out which of my recipes she made this month, too.
Hugs & Cookies XOXO – Facebook – Pinterest – Twitter – Instagram
Plus, if you have a pooch, use some of your leftover peanut butter to make these Peanut Butter Dog Treats.
The Recipe:
Peanut Butter Cheesecake Bars
Prep Time 30 minutes
Cook Time 39 minutes
Total Time 1 hour 9 minutes
Yield 16 bars
Outrageously delicious peanut butter bars.
Ingredients
Graham Cracker Crust:
8 tablespoons (1 stick), butter, melted
1/2 cup sugar
1 1/2 cups graham cracker crumbs
Filling
Snack sized Reese's Peanut Butter Cups (I accidentally used 8 ounces of Reese's Minis)
8 ounces cream cheese, at room temperature
½ cup sugar
1 egg
¼ cup peanut butter
Peanut Butter Ganache:
½ cup heavy cream
8 tablespoons butter
1 cup (6 ounces) peanut butter chips
2 tablespoons powdered sugar, sifted
Instructions
Line an 8 x 8-inch pan with nonstick foil. Preheat oven to 350º.
In a medium bowl, mix the melted butter, sugar and graham cracker crumbs. Press into bottom of prepared pan. Bake 9 minutes, then remove from oven and let cool. Leave oven on.
When the crust is cool, cover bottom with peanut butter cups.
To make the cheesecake layer, mix cream cheese, sugar, egg and peanut butter with an electric mixer. Carefully spread over peanut butter cups. Bake for 30 minutes. Let cool completely.
To make the ganache, microwave the cream and butter till butter is melted. Whisk in peanut butter chips till smooth. Mix in powdered sugar and pour over bars.
Chill firm before cutting. Cut into 16 squares. Drizzle with melted chocolate chips if desired.
Store in refrigerator.
Nutrition Information:
Yield:
16
Serving Size:
1 bar
Amount Per Serving:
Calories: 319
Total Fat: 24g
Saturated Fat: 13g
Trans Fat: 1g
Unsaturated Fat: 8g
Cholesterol: 67mg
Sodium: 222mg
Carbohydrates: 24g
Fiber: 1g
Sugar: 18g
Protein: 3g
Note: This post may contain affiliate links; view
my Disclosure Policy
for details. I earn a small percentage from any purchase you make by clicking on these links at no extra cost to you.