Best Peanut Butter Cookies
Look no further for the BEST Peanut Butter Cookies. With just the right "snap" and texture from extra crunchy peanut butter, they'll instantly become a family favorite!
I've been making this Homemade Peanut Butter Cookie Recipe for years. Once I find a favorite, there's no need to hunt down another. This recipe is the finest!
Why You Must Make
I was heading to Denver to visit my youngest sister, Maddy, who used to eat slice after slice of peanut butter toast when we were children. I knew she'd be thrilled with a special delivery of these Easy Peanut Butter Cookies.
I was not mistaken. She loved how tender and not overly sweet these babies were. Bill shared the family tradition he started years ago in his grandfather's kitchen with Maddy and her husband. Bill's dad caught his middle son eating cookies and milk early one morning during one of their visits. My father-in-law wasn't pleased and started scolding Bill until Bill's Great-aunt Kate intervened with, "It's OK. It's a breakfast cookie." Bill's dad was raised by his aunt and knew immediately he had no retort for any rules put out by the matriarch of the household.
This recipe from Dorie Greenspan makes the BEST peanut butter cookies I've ever eaten.
This recipe uses extra chunky peanut butter to give an added bonus of small bits of peanuts.
Maddy was happy to adopt the idea of breakfast cookies. I did comment that at least a peanut butter cookie contained a bit more protein than the Oreos and chocolate chip breakfast cookies that I'd observed the hubby snacking on for his breakfast cookie!
Recipe Notes
Kitchen staples: All-purpose flour, sugar, salt
Baking soda
Baking powder: Check the expiration date as this product often expires before you use it all. You can check its freshness by putting a spoonful in a cup of very hot water. If it's still active, it will bubble vigorously. If it doesn't, buy a fresh can before making this recipe.
Brown sugar
Eggs: All my recipes use large eggs
Butter: I used salted
Extra Chunky Peanut Butter: Creamy is fine if you don't like the texture of extra chunky. I used Jif brand.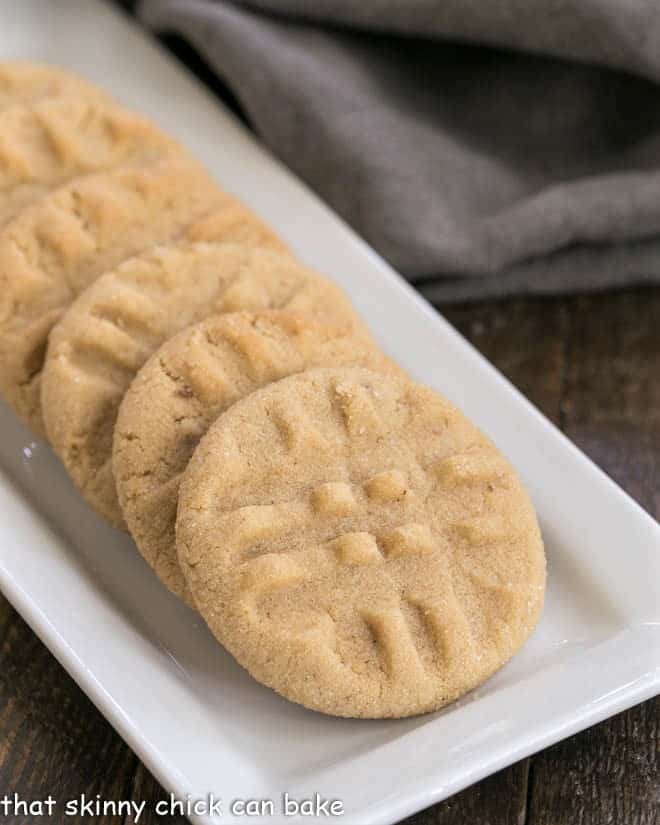 Expert Tips
As with most cookies, have your butter and eggs at room temperature. They'll incorporate into the batter better than when they're fresh out of the refrigerator.
Pro-Tip: Make sure both your baking soda and baking powder haven't expired. Baking powder, in particular, has a shorter life span and since it's used less frequently, it often loses its leavening strength before you even put a dent in the container.
Use extra chunky peanut butter in this peanut butter cookie recipe. It adds some wonderful texture and peanut butter flavor.
If you do not like nuts in your cookies, feel free to use creamy peanut butter instead.
I used Jif peanut butter. This recipe was not tested with homemade or natural peanut butter, which is not as thick as national brands.
PRO-Tip: Spray your measuring cup with non-stick spray before measuring out sticky ingredients like peanut butter or honey. It will release like a dream and make clean-up a lot easier.
Use a cookie disher to scoop out even-sized balls of cookie dough. Roll them between your palms to form dough balls.
PRO-Tip: Roll your dough balls in sugar. The sugar helps prevent the fork from sticking to the dough.
Take a table fork and press down to flatten a dough ball. Rotate the fork and press down to form a hashmark # across the surface. See the photo above for how the markings should look on a batch these easy peanut butter cookies.

Frequently Asked Questions
Why Do Peanut Butter Cookies have Crosshatch Fork Marks?
Peanut butter dough is quite dense. Using a fork to press a hash mark onto the top of each dough ball presses each dough ball into a flat disk. These disks will bake more evenly than a round of dough. Plus, these fork marks have become the iconic symbol of a peanut butter cookie! Those with peanut allergies know to steer clear!
How Long Do Homemade Peanut Butter Cookies Last?
Store your peanut butter cookies in an airtight container. At room temperature, they'll stay fresh for about 4 days. Alternatively, store these easy peanut butter cookies in the freezer for up to 4 months.
You May Also Like
Whether or not you want to legitimize the breakfast cookie at your house, you'll definitely want to bake up a batch of these classic peanut butter cookies.
Stay in touch through social media @ Instagram, Facebook, and Pinterest. Don't forget to tag me when you try one of my recipes! And if you love the results, please give it a 5-star rating in the recipe card. Note: As an Amazon Associate, I earn from qualifying purchases. Visit my Amazon Store for my favorite products.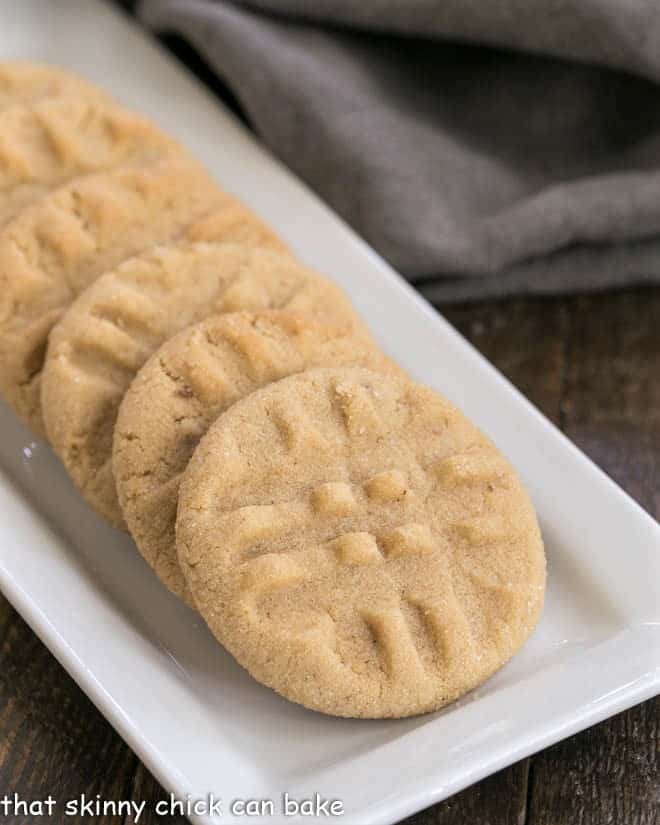 The Recipe:
The Best Peanut Butter Cookies Recipe
Prep Time 20 minutes
Cook Time 12 minutes
Total Time 32 minutes
Yield 36 cookies
Easy, old-fashioned peanut butter cookies!
Ingredients
2 ½ cups flour
1 teaspoon of baking soda
½ teaspoon of baking powder
¼ teaspoon of salt
1 cup butter, at room temperature
1 cup of peanut butter (I used extra chunky Jif)
1 cup of brown sugar
¾ cup sugar
2 eggs
Additional sugar for rolling the dough balls
Instructions
Preheat oven to 350º. Line baking sheets with parchment.
Whisk the dry ingredients together and set aside.
Using a mixer with a paddle attachment, beat the butter till smooth and creamy.
Add the peanut butter and beat for another minute. Add the sugars and beat for a few minutes more.
Add the eggs, one at a time, beating for one minute after each addition. Scrape down the sides of the bowl with a spatula.
On low speed or by hand, add the reserved dry ingredients, mixing only till incorporated.
Put some sugar into a pie plate. Scoop out level tablespoons of dough and roll in sugar to coat. Place dough balls on prepared baking sheets, leaving about 2-inches between them.
To make the criss-cross pattern, dip a fork in sugar and press down on top of the dough balls in one direction, then again in the opposite direction.
Bake for about 12 minutes. Cool on the cookie sheet for about a minute before moving to a cooling rack.
Notes
Helpful Tools (affiliate links)
Recipe adapted from Dorie Greenspan.
Eggs and butter should be at room temperature for easier incorporation. You may use smooth peanut butter if that's your preference.
Recommended Products
As an Amazon Associate and member of other affiliate programs, I earn from qualifying purchases.
Nutrition Information:
Yield:
36
Serving Size:
1 cookie
Amount Per Serving:
Calories: 159
Total Fat: 9g
Saturated Fat: 4g
Trans Fat: 0g
Unsaturated Fat: 4g
Cholesterol: 24mg
Sodium: 136mg
Carbohydrates: 18g
Fiber: 1g
Sugar: 10g
Protein: 3g
Note: This post may contain affiliate links; view
my Disclosure Policy
for details. I earn a small percentage from any purchase you make by clicking on these links at no extra cost to you.