Fudge Topped Chocolate Ice Cream Pie
I have been making this decadent Fudge Topped Chocolate Ice Cream Pie since I was a newlywed! Easy enough for a beginner cook and decadent enough to serve to special company!
A recipe for "Mississipi Mud Pie" was in a cookbook I received at one of my wedding showers. It was a cookie crust, filled with softened chocolate ice cream and topped with fudge sauce. Over the years, I began adding some Kahlua and even a slosh of brandy to enhance the chocolate flavoring. My family has loved this frozen Chocolate Ice Cream Pie since day one!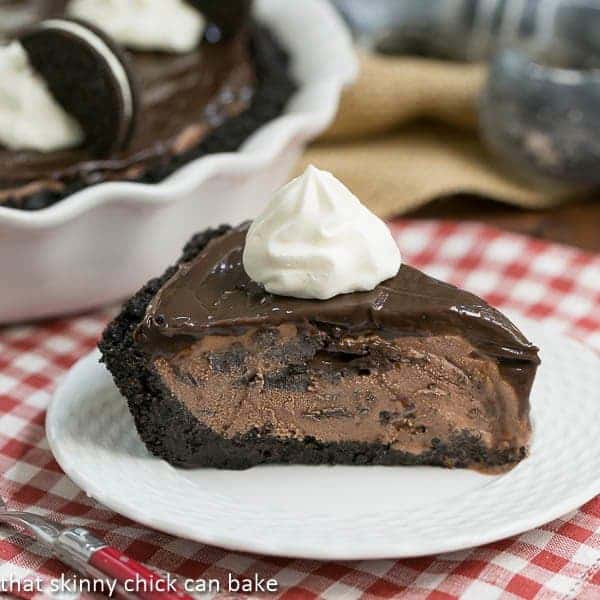 Why You Must Make
This Fudge Topped Chocolate Ice Cream Pie has made an appearance on our summer menu for years. My first few pies were sans a fudge topping, but once my family tasted the upgraded version, there was no looking back.
It's an easy, no-bake dessert recipe.
Ice cream desserts are perfect for summer entertaining and family dinners. Plus, you don't need to turn on the oven to make the crust.
You can make a simple or glamorized version. A few dollops or swirls of whipped cream and some halved Oreos can turn a simple dessert into a company-worthy grand finale.
Ingredient Notes
Kitchen Staples – Butter (salted is fine), Sugar
Chocolate Wafer Cookies or Oreos (chocolate sandwich cookies)
Chocolate Ice Cream (or another favorite variety of chocolate ice cream)
Brandy – The alcohol helps keep the ice cream slightly softer when refreezing.
Kahlua or other coffee liqueur
Fudge Sauce – Good quality like Graeters or Mrs. Richardson's
Expert Tips
No-bake desserts are perfect for summer and your family will love this chocolate ice cream pie. Here are a few tips so the process goes smoothly.
This crust is formed by pressing a mixture of cookie crumbs, melted butter, and a couple of spoonfuls of sugar into a greased pie plate. No baking is necessary; it's just popped in the freezer while you let the ice cream soften on the counter.
I've mixed some booze into the premium chocolate chip ice cream; not enough to make the younger sect cringe, but an ideal amount for flavor enhancement. You may have heard that a bit of coffee helps intensify the chocolate in a dessert, so I always use Kahlua in this recipe. The hubby does not like coffee or anything mocha, but he's never complained about a slosh of coffee liqueur.
Any addition of alcohol will lower the freezing point, keeping the ice cream from becoming rock hard. So having both Kahlua and brandy in small amounts makes for an easy to slice this pie.
PRO-Tip: The alcohol, just like salt, is a flavor enhancer, but can be omitted if that's your preference. It also lowers the freezing point so it doesn't allow the ice cream to freeze rock hard.
Use a jar of the best fudge sauce you can find to cover the ice cream layer. I've utilized homemade before, but this is summer, so give yourself a break!
Spreading on the hot fudge sauce is the hardest part of this recipe. The pie must be frozen solid before you start. If it starts melting during the process, pop the pie back in the freezer and let it harden again before continuing.
How to Make
Serving Recommendations
How to Slice a Frozen Pie
With this fudge topping, it's best to have your fudge-topped ice cream pie well frozen before slicing.
If you're serving an ice cream pie without a sticky topping, you'll want to set it in the refrigerator for about 15 minutes before cutting, so the ice cream softens a bit.
PRO-Tip: To slice an ice cream pie, the key is to use a hot dry knife. Run a long serrated knife or another sharp knife under very hot water, then dry it off before slicing. Repeat this process as often as needed. Note: A serrated knife, like a bread knife, has small teeth like a saw.
I use a paper towel to dry the knife as chocolate stains are often difficult to remove from patterned dish towels.
How to Garnish an Ice Cream Pie
If serving this easy, no-bake chocolate ice cream pie to company, you may want to garnish your dessert. I like to pipe 8 dollops of sweetened whip cream around the perimeter, then insert an Oreo into each mound. This should be done right before serving as you don't want your whipped cream to be frozen.
Since this recipe serves 8 when it's sliced. each piece will look like it's restaurant-worthy without a lot of effort. Use an open star tip and a piping bag or a Pampered Chef Easy Decorator (affiliate link).
This same technique can be used for different flavors of ice cream pies. Just take a cue from the ingredients in your pie when choosing what you insert into the whipped cream. Malted milk balls, other cookies, and candies would work well. M&M's could bleed so I'd avoid using them.
How to Make a Larger Version
This year, for the 4th of July, I made this ice cream pie in a 9-inch springform pan. The same procedure is used except that I used 3 pints of chocolate brownie ice cream for the filling. You may want to buy 2 jars of fudge sauce, too, just in case you need a little more for full coverage.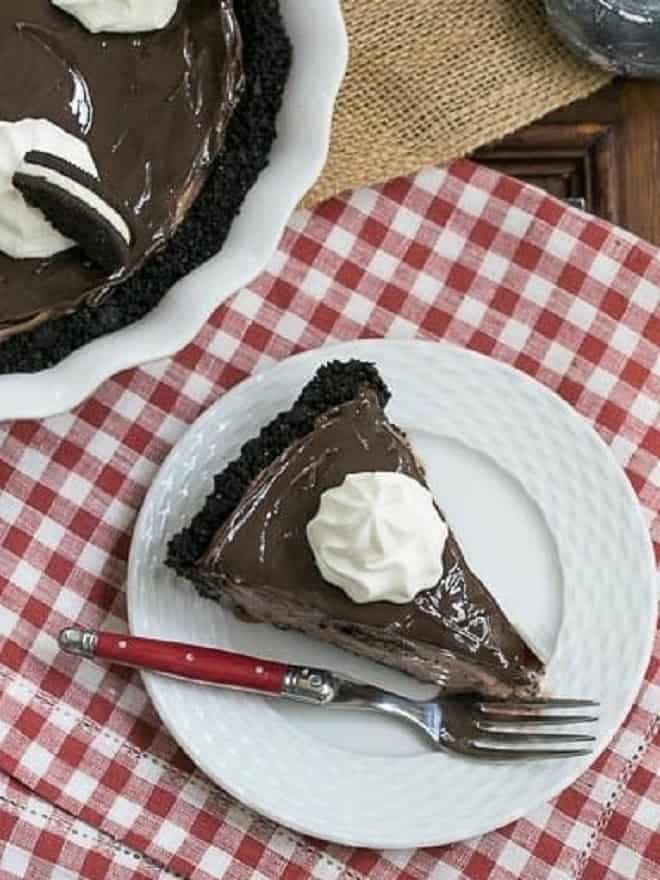 Frequently Asked Questions
Who Invented the Mud Pie?
This dessert is credited to restaurateur Joanna Droeger, who added it to her San Francisco restaurant in 1957. Her version had an Oreo crust, coffee ice cream, and a homemade fudge topping.
Why Is It Called a Mississippi Mud Pie?
This dessert is said to resemble the dark mud along the banks of the Mississippi River.
What Ingredients Are in a Mud Pie?
My recipe is very much like the original, but other ingredients have been used in other versions of mud pies. These include pudding, cake, ice cream, marshmallows, and/or liqueur in a cookie crust.
How Do You Spread the Hot Fudge Topping?
This step can be tricky as the ice cream starts melting during the process, making it tough to spread. Begin by opening your jar of hot fudge and warm it very slightly so it's easier to spread. It should not be hot.

Then remove your pie from the freezer and quickly drop small spoonfuls all over the surface of the ice cream. With a knife or offset spatula, immediately smooth the topping, joining all the dollops of fudge together. Return to the freezer.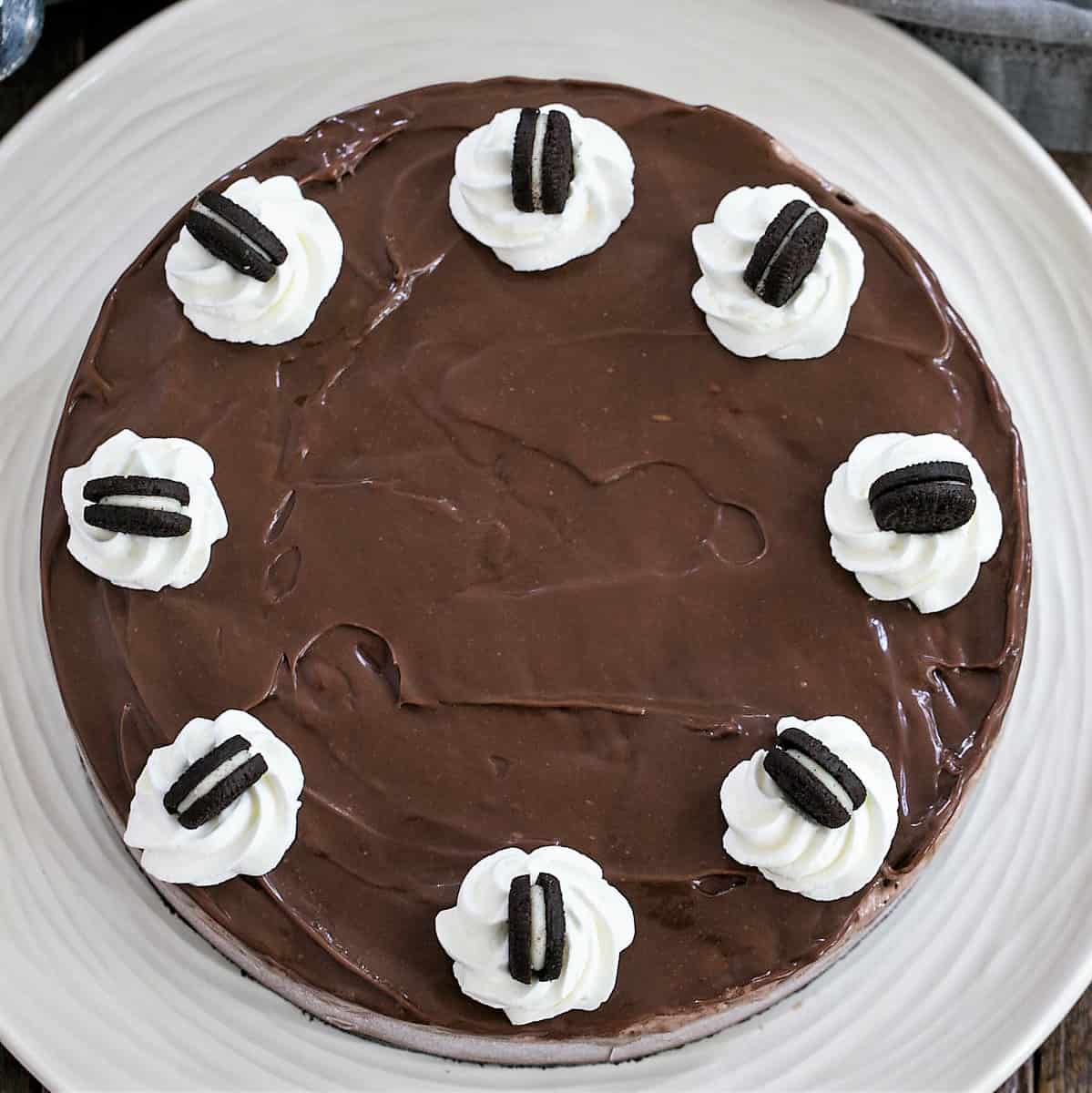 You May Also Like
Stay in touch through social media @ Instagram, Facebook, and Pinterest. Don't forget to tag me when you try one of my recipes! And if you love the results, please give it a 5-star rating in the recipe card. Note: As an Amazon Associate, I earn from qualifying purchases. Visit my Amazon Store for my favorite products.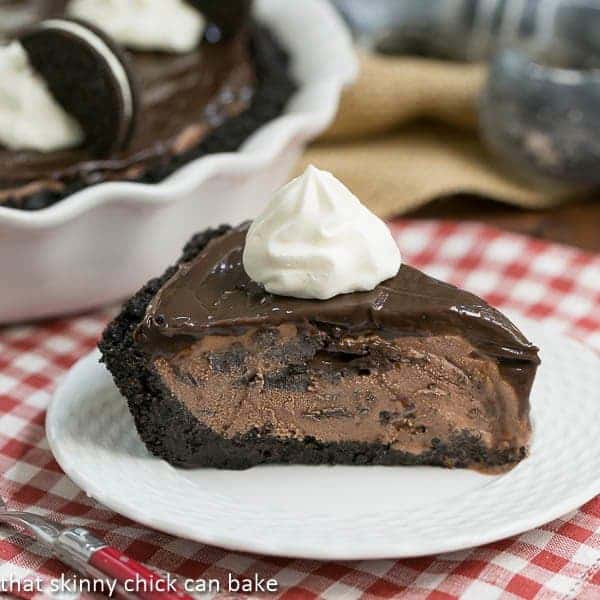 The Recipe:
Fudge Topped Chocolate Ice Cream Pie Recipe
Prep Time 30 minutes
Total Time 30 minutes
Yield 8 servings
An easy peasy ice cream pie with 3 layers of decadent chocolate deliciousness!
Ingredients
1 9-ounce package of chocolate wafer cookies (or 22 chocolate sandwich cookies), processed or crushed into fine crumbs
6 tablespoons melted butter
2 tablespoons sugar (omit if using sandwich cookies)
1-quart premium chocolate-chocolate chip ice cream (or another favorite variety of chocolate ice cream)
2 tablespoons brandy
2 tablespoons Kahlua or other coffee liqueur
1 jar good quality fudge sauce (mine was 12.25 ounces)
Sweetened whipped cream, halved chocolate sandwich cookies to garnish
Instructions
Mix cookie crumbs, melted butter, and sugar (if using) in a medium bowl. Pat into a greased, 9-inch pie plate. Freeze.
Set out ice cream to soften while crust freezes.
Mix softened ice cream, brandy, and Kahlua. Dump into the center of frozen crust and use an offset spatula to smooth the top. Freeze till solid, a few hours.
Put medium spoonfuls of fudge sauce all over the top of the ice cream and quickly spread to cover with an offset spatula. Ice cream will start melting so you may need to patch with more sauce if it breaks through the topping. Place in the freezer.
Whip cream and pipe small swirls around the perimeter of the pie before serving, if desired. Place a half cookie or a mini Oreo onto each whipped cream swirl.
Notes
Use a hot dry knife to cut slices. Wipe off and reheat as needed.
To make in a 9-inch springform pan instead of a pie plate, increase the amount of ice cream to 3 quarts. Pat the crumbs only on the bottom of the springform pan.
Recommended Products
As an Amazon Associate and member of other affiliate programs, I earn from qualifying purchases.
Nutrition Information:
Yield:
8
Serving Size:
1 slice
Amount Per Serving:
Calories: 852
Total Fat: 44g
Saturated Fat: 26g
Trans Fat: 0g
Unsaturated Fat: 15g
Cholesterol: 55mg
Sodium: 419mg
Carbohydrates: 98g
Fiber: 5g
Sugar: 73g
Protein: 11g
Note: This post may contain affiliate links; view
my Disclosure Policy
for details. I earn a small percentage from any purchase you make by clicking on these links at no extra cost to you.