Spinach Salad with Grilled Peaches and Blue Cheese
Spinach Salad with Grilled Peaches and Blue Cheese: A delicious, seasonal salad with juicy, fresh peaches that are caramelized on the BBQ.
Spinach Salad with Grilled Peaches and Blue Cheese
Peach season comes and goes too darn quickly. I need to get my fill of pies, crisps and cobblers while this juicy, fragrant fruit is available at my favorite produce stand. I haven't spotted any local peaches, yet, but the Georgia peaches have been succulent and flavorful. When we had a group of friends over for dinner, I decided to go rogue and make a Spinach Salad with Grilled Peaches and Blue Cheese.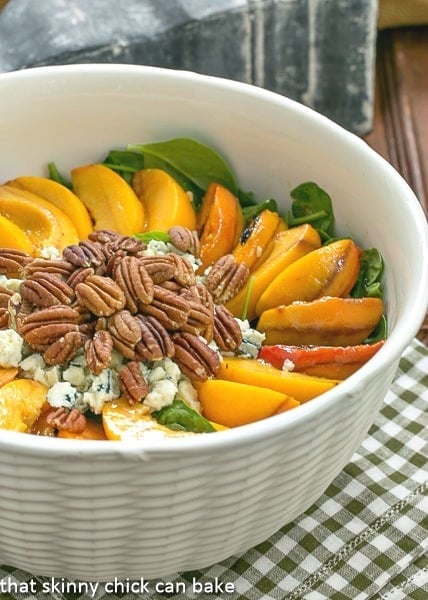 Why Grill Fruit?
I'm sure those of you seasoned cooks out there know how wonderful grilled fruit tastes. The grilling process actually caramelizes the sugars and along with the evaporation of liquid that occurs with cooking, the fruit actually tastes sweeter, even a bit more concentrated in flavor.
Try grilling any stone fruit or slices of pineapple and serving them with a scoop of vanilla for dessert. Mind you, this is much easier if you own a gas grill and can control the heat more accurately.
We, at Chez Skinny Chick, have to deal with a stubborn man who will not give up his charcoal grill nor supplement it with a gas version for his sweet wife to use. So proceed with caution and let your coals die down or set up half your grill with indirect heat if you're in the same boat.
The Recipe:
Spinach Salad with Grilled Peaches and Blue Cheese
Prep Time 15 minutes
Cook Time 5 minutes
Total Time 20 minutes
Yield 6 servings
Recipe adapted from Michael Symon
Ingredients
4 firm peaches, peeled, pitted and halved
¼ cup plus 1 tablespoon extra-virgin olive oil
1 clove garlic, minced
¼ cup sherry vinegar
1 teaspoon Dijon mustard
1 ½ teaspoons honey
Kosher salt
½ cup pecan halves, toasted
4 cups baby spinach
½-1 cup crumbled blue cheese
Instructions
Grill peaches, flat side down over low heat till warmed (may use an outdoor grill or grill pan). Set aside to cool before slicing each half into 4 pieces.
Make the dressing by whisking together the garlic, vinegar, mustard, honey, and salt. Slowly whisk in the remaining olive oil.
For a composed salad, place spinach into a bowl and arrange peaches, nuts, and blue cheese over greens. Drizzle with a bit of the dressing.
To serve, drizzle with more dressing and toss.
Notes
To keep the peaches from browning, coat lightly with salad dressing before arranging over the greens.
Nutrition Information:
Yield:
6
Serving Size:
1
Amount Per Serving:
Calories: 178
Total Fat: 12g
Saturated Fat: 3g
Trans Fat: 0g
Unsaturated Fat: 8g
Cholesterol: 8mg
Sodium: 265mg
Carbohydrates: 15g
Fiber: 3g
Sugar: 12g
Protein: 5g
Note: This post may contain affiliate links; view
my Disclosure Policy
for details. I earn a small percentage from any purchase you make by clicking on these links at no extra cost to you.