Fresh Peach Pie with Lattice Crust
Sweet, juicy Georgia peaches have hit our nearby produce stand, so to appease the family I whipped up a Fresh Peach Pie.
Adding a Lattice Pie Crust makes for a showstopper along with being absolutely delicious! It's the perfect dessert when fresh peaches are in season.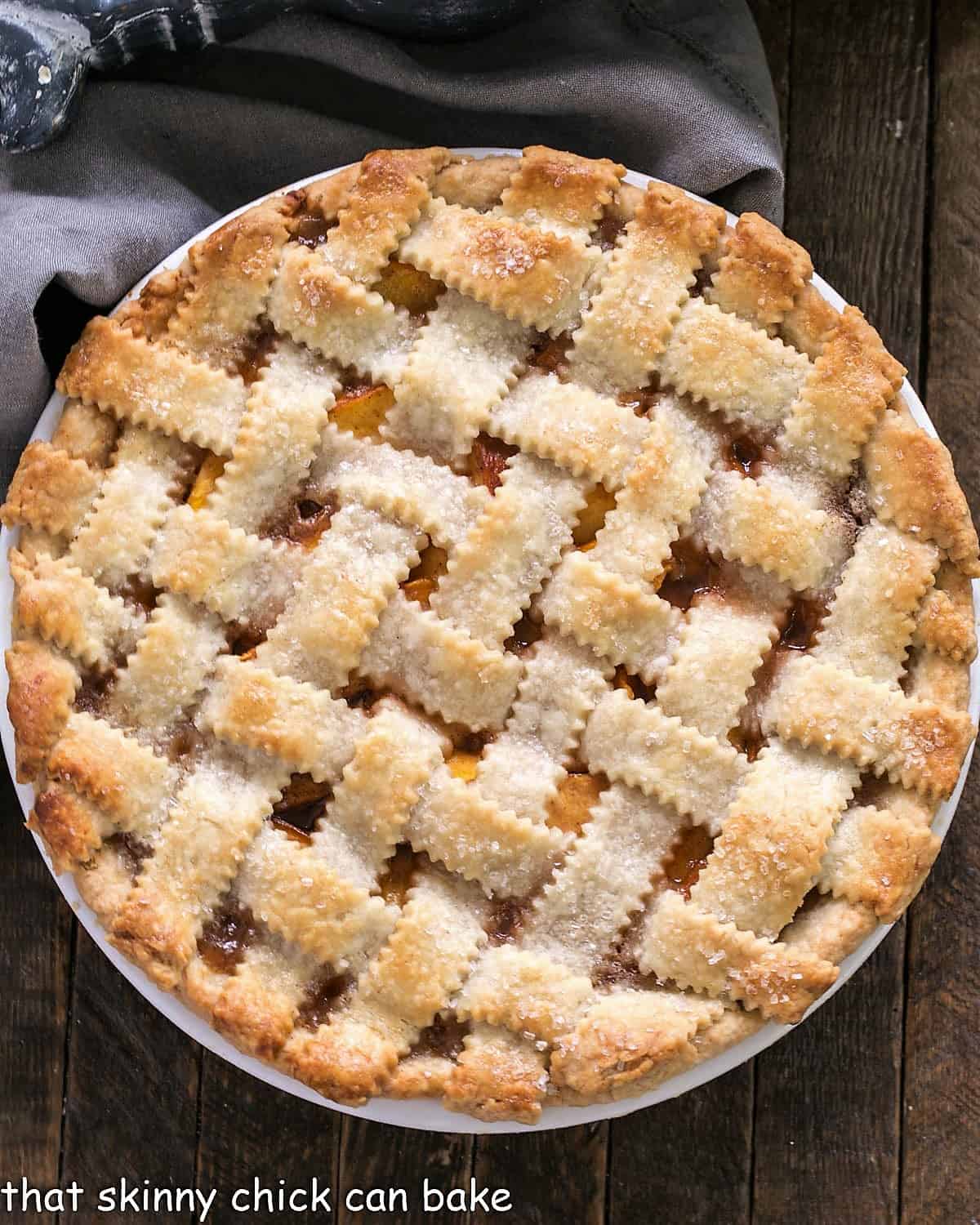 Why You Must Make
Sweet, ripe local or Southern peaches make the most delicious pie!
It may take a little more work than a batch of cookies, but this is the best peach pie recipe and you'll get rave reviews!
The lattice pie crust is always impressive. I started making them as a teenager! It may take some practice, but it definitely makes for a gorgeous presentation.
How to Make a Lattice Crust
I love weaving a lattice crust over a fruit pie. Each little space reveals the fruit and bubbled up juices and it's actually easier, for me than topping a pie with a solid top crust. This recipe for a lattice-topped peach pie is the perfect chance for you to experiment! Practice makes perfect and at my house, nobody cares what a dessert looks like as long as it's tasty.
I'm pretty adept at tearing those or slashing unattractive steam vents. There are those who don't bother with the actual plaiting process, but I like the presentation created by going over and under with each strip of dough. The crust makes this lattice-topped peach pie a special dessert!
To make a lattice crust, first roll out a round of pastry dough as if you were going to make a traditional, solid top crust.
Next, cut the round into strips, about 1/2-3/4-inch wide.
Place half of the strips across the top of the filling in one direction using the shorter strips towards the edges and the longer strips towards the middle.
Next, comes the tricky part. Fold up every other strip over itself so that those strips are half as long as the rest.
Take one of the longest remaining strips and place it perpendicular to the other strips down the middle of the pie.
Then you fold back the strips. See how these strips are now woven?
Repeat the folding back with the strips that were not folded back with the first round. Focus on just one side of the pie for now.
Add another strip of crust next to the one that was just woven. Make sure to leave the same amount of space between your strips as is between those laid out initially.
Repeat until half of the pie is covered with a woven crust, then repeat on the other side.
Be mindful of how many strips you have and space accordingly.
I've referenced Elise Bauer's tutorial on Simply Recipes before, so pop over to her blog if you're interested in giving it a try. She has photos if you need visual guidance.
Of course, you're welcome to use a traditional solid pastry top, and even a store-bought crust if you prefer. I hope you'll take advantage of the glorious fresh peaches available and treat someone you love to a tasty classic peach pie.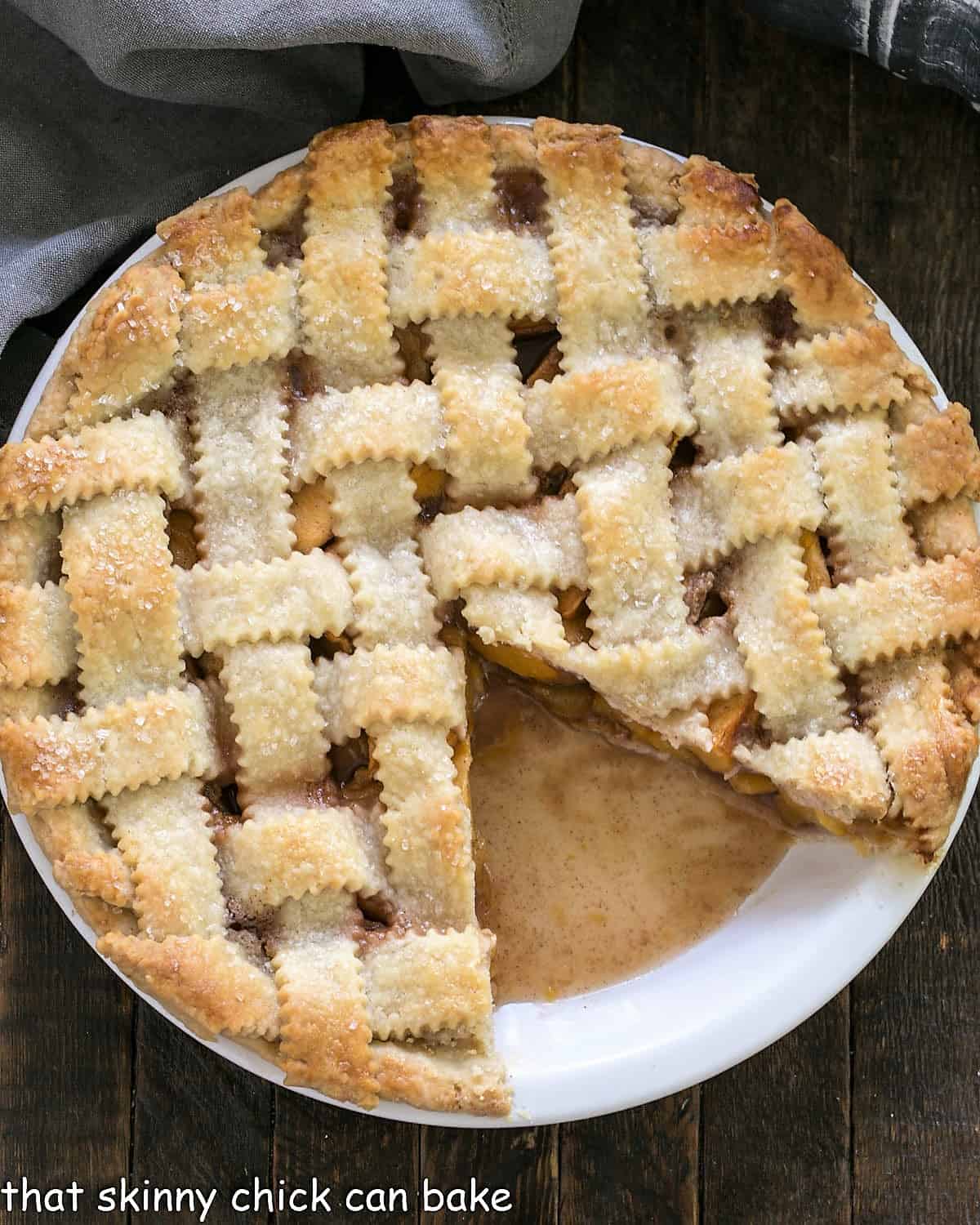 Frequently Asked Questions
How Do You Pick a Good Peach?
First, use your eyes. There should not be any green tinge to the skin, wrinkled skin, or bruises. Green peaches that were picked too early and will not ripen so avoid those.

The darker skin on a peach is the "blush" where it's been sun-kissed. The lighter areas will be yellow or white depending on the variety of peach. These lighter areas, which are most visible around the stem end, are where you don't want to see any green.

Next, pick up a few. They should be heavy for their size and not baseball-hard. A ripe peach should be soft and have some give when gently squeezed in the palm of your hand. Do not press with your finger as you could bruise the peach.

Most importantly, peaches should also smell like a peach, exactly how you want it to taste. Some have less of an aroma than others. No smell at all could mean they were picked too soon and may never ripen.
How Long Do You Bake a Peach Pie?
Use the recipe as guidance, but look for the middle of the pie to start bubbling. This is where having a lattice crust comes in handy. The filling must get hot enough to bubble or boil in order for the juices to thicken.

So even if the timer goes off, it's imperative that you look through the vents to see if it's bubbling.
What is the Best Pie Crust Recipe?
Though I continue to struggle with the perfect pie crust, this one comes darned close. It's made with both butter and leaf lard, which goes through a special rendering process and makes the flakiest most tender crust. I used shortening instead of lard for this pie and it works wonderfully, too.
You May Also Like:
*Those in the Indianapolis area can purchase leaf lard at Moody's Butcher Shops. The lard you find in grocery stores these days is not the same quality as what your grandmother used.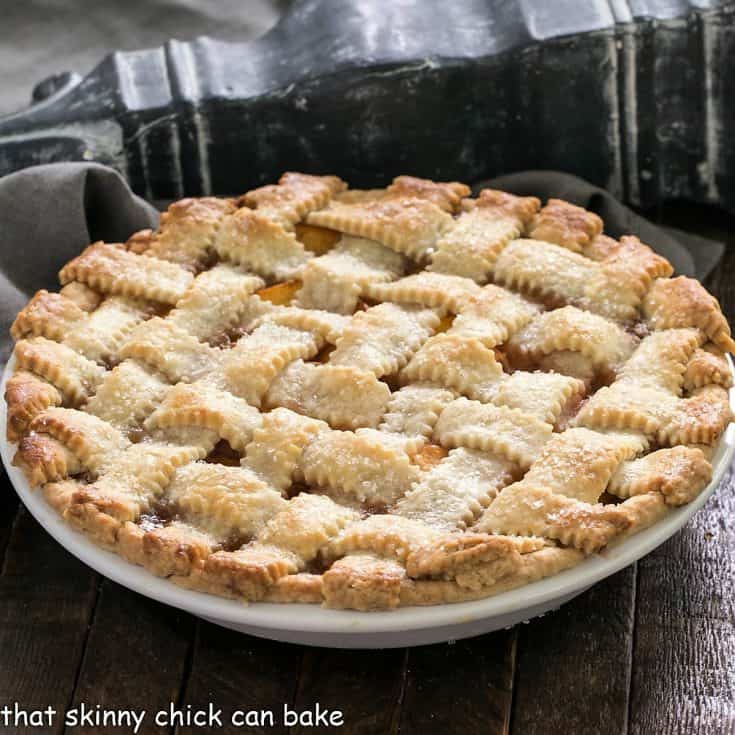 The Recipe:
Classic Peach Pie with a Lattice Crust Recipe
Prep Time 30 minutes
Cook Time 1 hour
Total Time 1 hour 30 minutes
Yield 8 servings
A classic peach pie recipe with fresh peaches and a touch of warm spices! The lattice crust adds an elegant touch.
Ingredients
Pastry for a double crust pie
2 1/2 pounds peaches, peeled and sliced
3/4-1 cup light brown sugar (depending on sweetness of your peaches)
Juice of 1/2 lemon
2 tablespoons cornstarch (or quick-cooking tapioca)
1/2 teaspoon vanilla extract
1/2 teaspoon cinnamon
A few grates of fresh nutmeg or 1/8 teaspoon ground nutmeg
1/4 teaspoon salt
4 tablespoons butter (I forget the butter half the time and consider it optional)
Cream
Sugar
Instructions
Mix sliced peaches with sugar, lemon juice, tapioca, vanilla, cinnamon, nutmeg, and salt. Set aside.
Roll one piece of pastry crust into a 12 inch, ⅛ inch thick circle on a lightly floured surface (refrigerate the other disk).
Fit dough into a 9-inch pie plate, letting it hang over the edge. Fill with peach mixture and dot with butter.
Roll out the other piece of dough and place over the filling (or cut into strips and weave a lattice crust); press the crust edges together and trim, leaving a one-inch overhang.
Flute edges to seal. Using a knife and make a few air vents in the top crust.
Chill for 30 minutes. Preheat oven to 450º.
Reduce the oven to 375º. Place pie on a foil-lined baking sheet. Bake the pie for 30 minutes.
Brush the crust with heavy cream and sprinkle with sugar. Bake another 30 minutes or till filling in the center looks bubbly.
Cool pie on rack. Serve with vanilla ice cream, if desired.
Notes
Recipe adapted from Food Network Magazine.
If your dough gets too soft when rolling, chill it longer. It may also need a little more flour.
Use the pie crust for my Pumpkin Pie Recipe and feel free to substitute shortening for the leaf lard.
Recommended Products
As an Amazon Associate and member of other affiliate programs, I earn from qualifying purchases.
Nutrition Information:
Yield:
8
Serving Size:
1 slice
Amount Per Serving:
Calories: 289
Total Fat: 11g
Saturated Fat: 6g
Trans Fat: 0g
Unsaturated Fat: 4g
Cholesterol: 25mg
Sodium: 203mg
Carbohydrates: 47g
Fiber: 3g
Sugar: 37g
Protein: 3g
I married Mr. Pickypants. After a few decades of marriage, I had all his food idiosyncrasies down pat. There was a container leaf lard* in the freezer, and that mixed with butter makes the flakiest, exquisite crust. And with ripe Georgia peaches at my disposal, it was time for my first peach dessert of the season. So glad that peaches have made it to the local farmstands. Crisps and cobblers will come. Let me tell you, Bill was thrilled after his first bite of this classic peach pie.
Note: This post may contain affiliate links; view
my Disclosure Policy
for details. I earn a small percentage from any purchase you make by clicking on these links at no extra cost to you.