The Best Pumpkin Pie Recipe
This Homemade Pumpkin Pie with a Leaf Lard Crust is a tasty adaptation of the famous Libby's pumpkin pie on their canned pumpkin labels. No other pie will suffice when it comes to my family!
A few simple tweaks push this already delicious Pumpkin Pie from Scratch over the top!! This kicked-up recipe is perfect for your Thanksgiving celebration.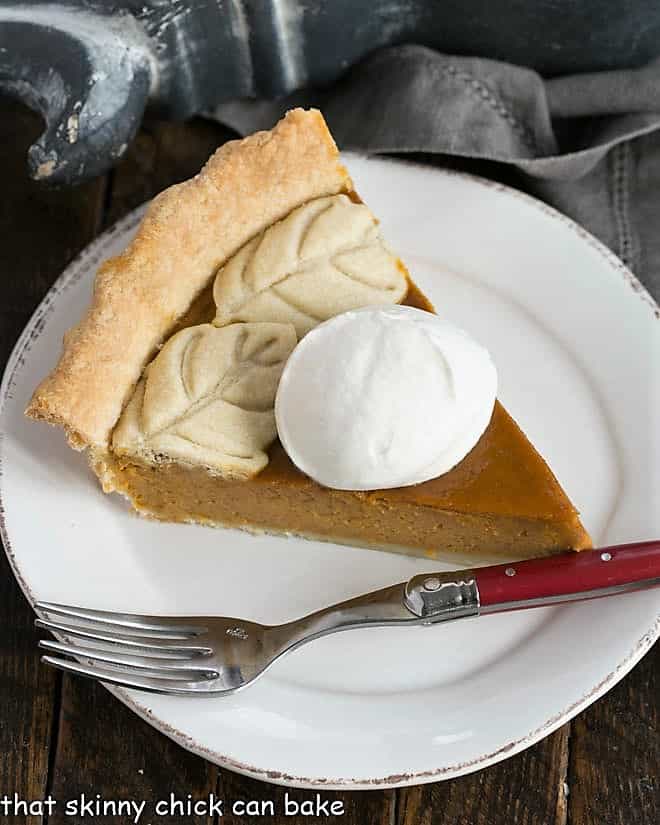 Why You'll Love
It's based on the famous Libby's Pumpkin Pie recipe, but with a few simple updates making it even richer and more delicious!
Using heavy cream instead of evaporated milk and an extra egg makes a rich, delicious filling.
Adding some Grand Marnier, an orange liqueur, to the sweetened whipped cream adds an elegant touch!
The boys and I are heading to Iowa to visit my parents for Thanksgiving. Hubby is staying home with Katie as she recently got a job (hooray!), and needs to be at work at 3:55 AM on Black Friday. I made a turkey breast and stuffing on Saturday night so the two of them would get some traditional holiday food.
Today, I made two pumpkin pies. One to stay and one to go. Around here it must be the classic, traditional pumpkin pie recipe on the label of Libby's pumpkin can. No pumpkin mousse. No pumpkin souffle. No pumpkin chiffon pie. No brûléed topping. But I have snuck in a few tweaks that are subtle enough that the picky ol' husband hasn't noticed.
Ingredient Notes
Kitchen Staples – Sugar, Table Salt
Eggs – Large eggs, have at room temperature for easier incorporation
 Libby's Pure Pumpkin – 15-ounce can of pumpkin puree. Read the label as you do not want Pumpkin Pie Mix as it already has spices, etc, added.
Spices – Ground Cinnamon, Ginger, Cloves. If your spices have been in your pantry for over a decade, consider replacing them. They can lose flavor over time.
 Heavy Cream – This replaces the evaporated milk used in many recipes. The higher fat content will make a richer custard. It should be about 36% butterfat.
 9″ Unbaked Pie Crust – Homemade will be the tastiest, but you can use a storebought crust. Fit it into a deep-dish pie pan, if you own one (if you only have a regular pie plate, you'll have some extra filling).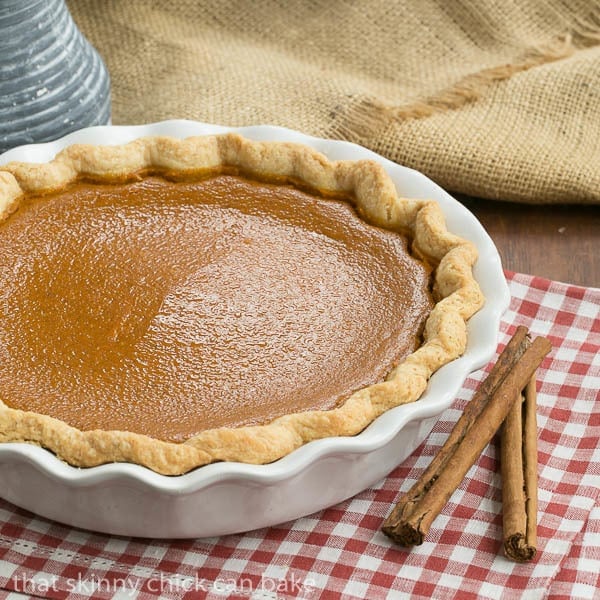 Expert Tips
Libby's pumpkin pie recipe was my go-to Thanksgiving pie recipe for years. But a few tweaks have made it even better!
First up is to swap out the evaporated milk for cream. The cream has a bit more water than evaporated milk but adds a boost of richness and, of course, creaminess.
And to counteract that extra liquid, bump up the number of eggs from two to three per pie. Again, more fat, more richness. It's for Thanksgiving after all!
A touch of bourbon or Grand Marnier in the whipped cream along with pure vanilla extract also makes for a more elegant dessert, just use a quality liquor or liqueur. Or try using this French Chantilly Cream as a topping.
Also, if you can muster the nerve to make a homemade pie crust, it will take your pie to the next level. Using lard makes for the flakiest crust ever, but don't use those boxes of lard you can find sitting on the grocer's shelves. Check your meat market for REAL lard, and even leaf lard if you can find it. That's the absolute best lard for pie crust.
Note that crusts made with all lard are difficult to roll and shape, so I use part lard and part butter. See below for more information on leaf lard.
Or just substitute shortening for the leaf lard as it is difficult to find unless you know a butcher who renders it.
If your pie filling happens to crack, make sure to bake up some pumpkin or leaf cutouts with your extra pastry dough. These can be artfully arranged atop your pie and no one with ever know! Or serve with a big dollop of whipped cream. Plus, if you're new to baking, check out all my Best Baking Tips.
Leaf Lard Crust
I was lucky enough to score some leaf lard for my holiday pie crusts. The last lard I purchased bore no resemblance to the lard my mom used to deep fry the annual Christmas rosettes. The real deal gave the house a vague smell of pork for a couple of days, but the fragile, crispy cookies sprinkled with powdered sugar were worth that inconvenience.
Beware of lard that is sitting on the shelf next to the Crisco. It's not good stuff! My friend, Jill, took me across the Indiana countryside to the Ladoga branch of Moody's Meats. The hospitable owners, Adam and Lucy, greeted us, and we got a behind the scene tour.
The lard is hand-rendered on-site, and I could hardly wait to use it for my pie crust. They have four stores in the Indianapolis area. A top-notch leaf lard crust made this pumpkin pie one of my best. I use a butter and lard recipe that was printed in the New York Times. You'll love this Libby's classic pumpkin pie with a couple of easy tweaks that make it even better!
Wishing all my readers and friends a most wonderful Thanksgiving. As always, I am thankful that so many of you take the time to stop by and check out my recipes.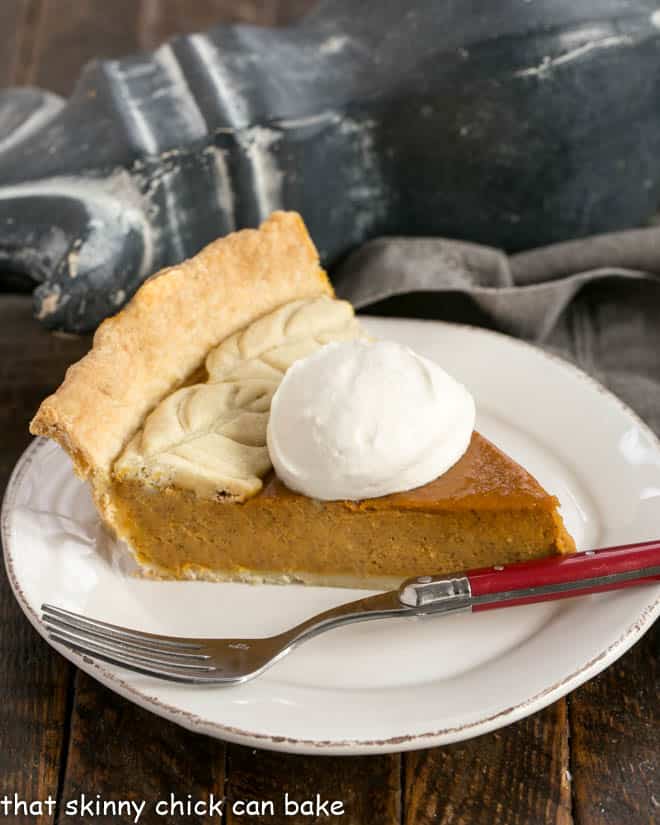 Frequently Asked Questions
How Do You Keep a Pumpkin Pie from Cracking?
Even though my family does not care if there is a crack in our pumpkin pie, I'd prefer to have a picture-worthy holiday dessert. Here are a few ways to minimize cracking.

● Pumpkin pie will crack when the eggs in the filling are overcooked. This could be due to your oven being too hot or too much time in the oven. Note that even a pie that's pristine when it comes out of the oven can still crack. The pie continues to cook due to residual heat, even out of the oven.
● Start with a good, well-tested recipe.
● Use an oven thermometer to make sure your oven temperature is accurate.
● Bake on the lower rack. ● You can use an instant-read thermometer to check the internal temperature in the middle of the pie (aim for about 170 degrees). But piercing the pie can also encourage cracking. If you're baking two pies and are willing to risk one of them, this trick will let you know the proper timing for your oven.
● PRO-Tip: Pull the pie out of the oven when the middle still jiggles like jello.  According to the King Arthur Flour website, when the middle 4 inches of the pie jiggles, but the rest is set, your pie can come out of the oven. The middle will continue to cook due to the heat of the pan and the surrounding filling. ● Pumpkin pie will crack when the eggs in the filling are overcooked. This could be due to your oven being too hot or too much time in the oven. Note that even a pie that's pristine when it comes out of the oven can still crack.
Is Pumpkin Pie Good for You?
As far as pies go, pumpkin pie contains more nutrients than most. A slice contains more than the RDA of Vitamin A, plus Vitamin C, Potassium, and Iron.
On the downside, it's also high in saturated fat, cholesterol, and sodium. Eating the filling without the crust would be a healthier option, but for a once-a-year holiday, it's OK to indulge.
What is Pumpkin Pie Filling Made of?
It's a simple custard filling with eggs, dairy, pumpkin, sugar, salt, and spices.
What's in Pumpkin Pie Spice?
Jars or tins of pumpkin pie spice contain cinnamon, nutmeg, cloves, allspice, and ginger. This pie contains only cinnamon, ginger, and cloves.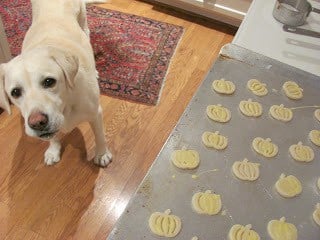 You May Also Like: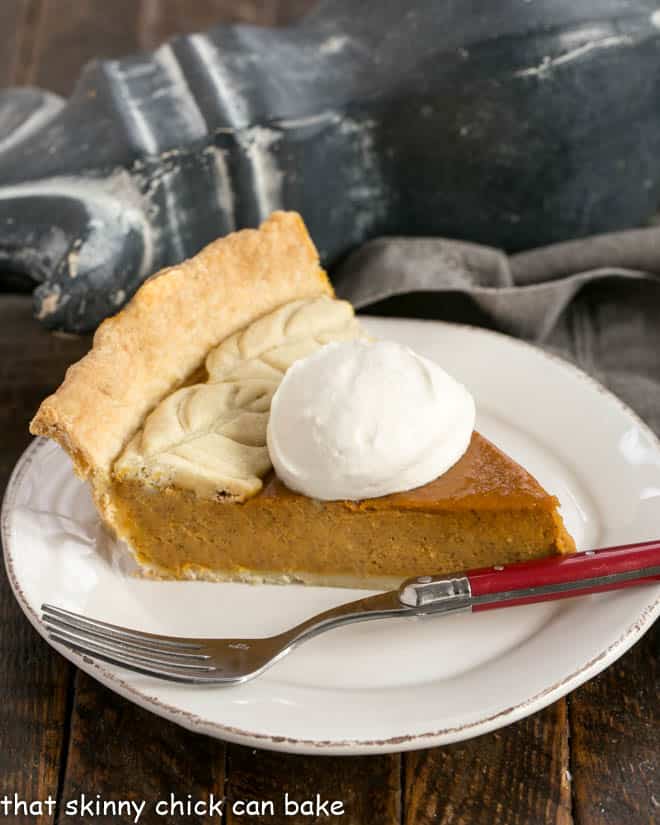 The Recipe:
Pumpkin Pie from Scratch (makes one pie)
Prep Time 30 minutes
Cook Time 45 minutes
Additional Time 2 hours
Total Time 3 hours 15 minutes
Yield 8
The Libby's recipe kicked up a notch!
Ingredients
3 eggs, slightly beaten
15 ounce can Libby's Pure Pumpkin (not Pumpkin Pie Mix)
3/4 cup sugar
1/2 teaspoon salt
1 teaspoon cinnamon
1/2 teaspoon ginger
1/4 teaspoon cloves
1 1/2 cups heavy cream
9" unbaked pie crust, in a deep-dish pie pan, if you own one (if you only have a regular pie plate, you'll have some extra filling)
Instructions
Preheat oven to 425 degrees.
Lightly whisk the eggs in a large bowl.
Add and mix in the remaining filling ingredients in the order given.
Pour into the pie shell.
Bake at 425 degrees for 15 minutes. Reduce heat to 350 degrees and continue baking for 45 minutes or until a knife inserted near the middle of the pie comes out clean.
Cool completely on wire rack.
Serve with a nice dollop of lightly sweetened whipped cream (Add Grand Marnier if desired. See notes)
Notes
If you have any leftover filling, just pour it into a ramekin or two and bake. You'll have some mini crustless pumpkin pies!

To make Grand Marnier Whipped Cream, combine 1/2 cup of heavy cream with 1-2 tablespoons of powdered sugar (or to taste) and 1 1/2 teaspoons of Grand Marnier. Beat to medium/stiff peaks. Serve a dollop over each slice of pie.
Nutrition Information:
Yield:
8
Serving Size:
1
Amount Per Serving:
Calories: 455
Total Fat: 85g
Saturated Fat: 36g
Trans Fat: 1g
Unsaturated Fat: 42g
Cholesterol: 120mg
Sodium: 1257mg
Carbohydrates: 160g
Fiber: 6g
Sugar: 24g
Protein: 12g
Thatskinnychickcanbake.com occasionally offers nutritional information for recipes contained on this site. This information is provided as a courtesy and is an estimate only. This information comes from online calculators. Although thatskinnychickcanbake.com attempts to provide accurate nutritional information, these figures are only estimates. Varying factors such as product types or brands purchased can change the nutritional information in any given recipe. Also, many recipes on thatskinnychickcanbake.com recommend toppings, which may or may not be listed as optional and nutritional information for these added toppings is not listed. Other factors may change the nutritional information such as when the salt amount is listed "to taste," it is not calculated into the recipe as the amount will vary. Also, different online calculators can provide different results. To obtain the most accurate representation of the nutritional information in any given recipe, you should calculate the nutritional information with the actual ingredients used in your recipe. You are solely responsible for ensuring that any nutritional information obtained is accurate.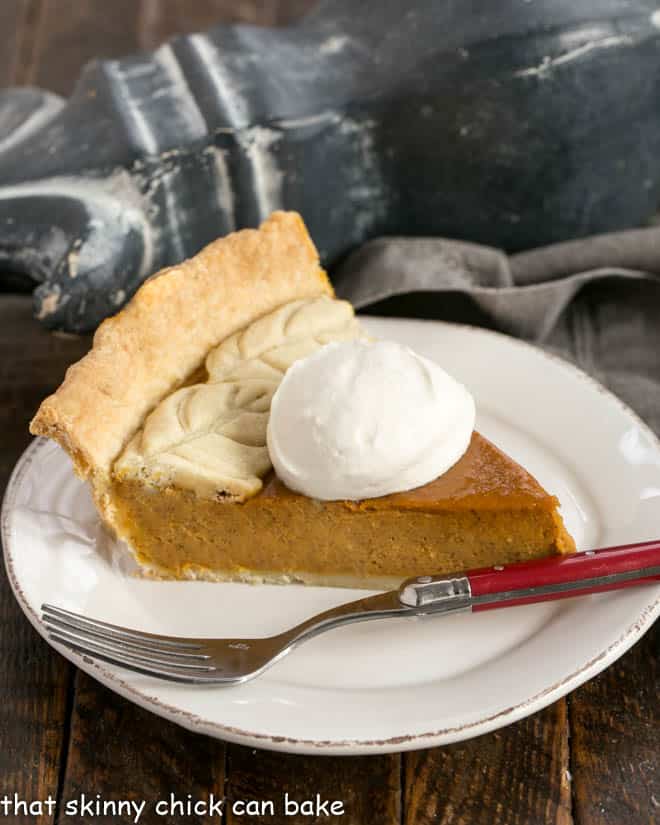 The Recipe:
Pumpkin Pie from Scratch (makes 2 pies)
Prep Time 10 minutes
Cook Time 1 hour 5 minutes
Total Time 1 hour 15 minutes
Yield 16 servings
Libby's pumpkin pie recipe on steroids! Make a half batch for one pie.
Serve with Grand Marnier Whipped Cream (see recipe in notes).
Ingredients
Filling:
1 1/2 cups sugar
1 teaspoon salt
2 teaspoons cinnamon
1 teaspoon ginger
1/2 teaspoon cloves
6 large eggs
1 large can of pure pumpkin, 29 ounces (without spices added)
3 cups heavy cream
2 unbaked 9-inch pie shells (there is enough filling for two deep-dish pies)
Whipped cream for serving (sweeten with some sugar, and add vanilla to taste. A slosh or Grand Marnier or bourbon will make your topping even more festive!)
Crust:
2 1/2 cups flour
1/2 teaspoon salt
1 tablespoon sugar
12 tablespoons cold butter, and cut into 1/2 inch pieces
8 tablespoons lard, leaf lard preferred, cold, and cut into pieces similar size to the butter or shortening (Crisco)
6-8 tablespoons ice water or enough till crust just holds together when pinched between your fingers
Glaze for the crust:
1 egg yolk
1 tablespoon of cream
Instructions
In a food processor, pulse together flour, salt, and sugar to mix. Add butter and lard and pulse 3-5 times, till mixture resembles cornmeal, with a few chick pea-sized chunks of fat. Add ice water one tablespoon at a time, till dough just holds together.
Form dough into two rounds. Wrap in plastic and form into disks. Refrigerate for one hour or longer. Roll and fill pie tins with dough. Place in refrigerator till filling is made.
Preheat oven to 425º.
Whisk together egg yolk and cream to make a glaze for the crust.
Make the filling by whisking dry ingredients together in a small bowl. Beat eggs in a large bowl. Add pumpkin and dry ingredients. Gradually stir in cream. Pour into crusts.
Brush exposed crust with egg yolk/cream mixture. If you have leftover filling, pour into ramekins and bake till set...removing before pies are finished.
Bake for 15 minutes then decrease the oven temperature to 350º. Bake for 40-50 more minutes, till the center is set and a knife inserted in center comes out clean.
Cool pies on cooling racks for a couple of hours, then refrigerate or serve with whipped cream.
Notes
Makes two pies.
To make Grand Marnier Whipped Cream, combine 1 cup of heavy cream with 2-3 tablespoons of powdered sugar (or to taste) and 1 tablespoon Grand Marnier. Beat to medium/stiff peaks. Serve a dollop over each slice of pie.
Recommended Products
As an Amazon Associate and member of other affiliate programs, I earn from qualifying purchases.
Nutrition Information:
Yield:
16
Serving Size:
1 slice
Amount Per Serving:
Calories: 455
Total Fat: 28g
Saturated Fat: 15g
Trans Fat: 1g
Unsaturated Fat: 11g
Cholesterol: 137mg
Sodium: 338mg
Carbohydrates: 45g
Fiber: 2g
Sugar: 24g
Protein: 6g
Note: This post may contain affiliate links; view
my Disclosure Policy
for details. I earn a small percentage from any purchase you make by clicking on these links at no extra cost to you.