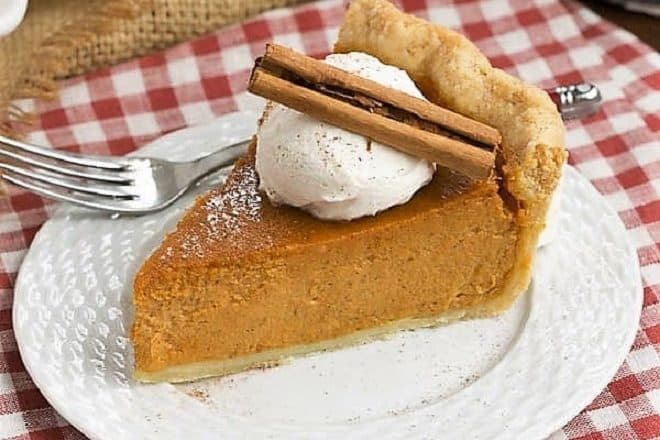 This Classic Pumpkin Pie with a Leaf Lard Crust is an adaptation of the famous Libby's pie recipe on their canned pumpkin labels. No other pie will suffice when it comes to my family!
A few simple tweaks push this already delicious recipe over the top!! This recipe makes the perfect pumpkin pie for your Thanksgiving celebration.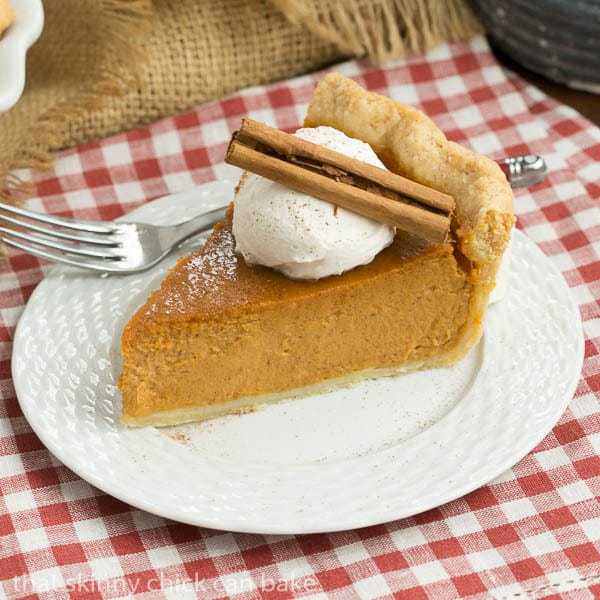 The BEST Classic Pumpkin Pie Recipe
The boys and I are heading to Iowa to visit my parents for Thanksgiving.  Hubby is staying home with Katie as she recently got a job (hooray!), and needs to be at work at 3:55 AM on Black Friday.  I made a turkey breast and stuffing on Saturday night so the two of them would get some traditional holiday food.
Today, I made two pumpkin pies. One to stay and one to go. Around here it must be the classic, traditional pumpkin pie recipe on the label of the Libby's pumpkin can. No pumpkin mousse. No pumpkin souffle. No bruleed topping. But I have snuck in a few tweaks so that are subtle enough that the picky ol' husband hasn't noticed.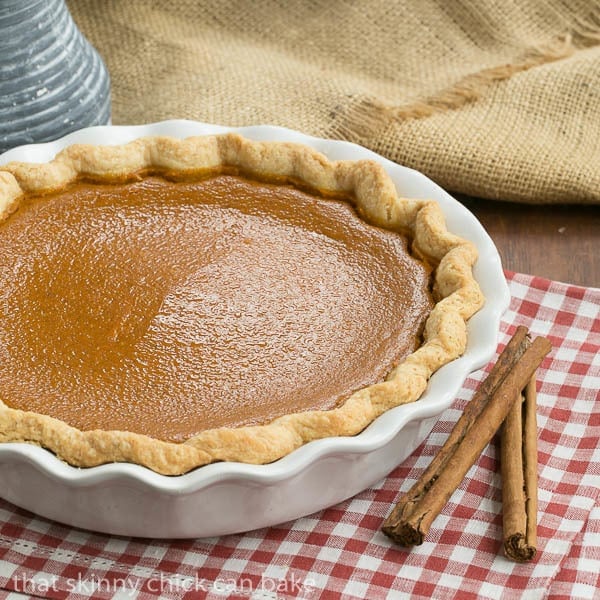 Tips for Making a Classic Pumpkin Pie
Libby's pumpkin pie recipe was my go-to Thanksgiving pie recipe for years. But a few tweaks have made it even better!
First up is to swap out the evaporated milk for cream. Cream has a bit more water than evaporated milk, but adds a boost of richness and, of course, creaminess.
And to counteract that extra liquid, I bump up the number of eggs from two to three. Again, more fat, more richness. It's for Thanksgiving after all!
A touch of bourbon or Grand Marnier in the whipped cream along with pure vanilla extract also makes for a more elegant dessert, just use a quality liquor or liqueur.
Also, if you can muster the nerve to make a homemade pie crust, it will take your pie to the next level. Using lard makes for the flakiest crust ever, but don't use those boxes of lard you can find sitting on the grocer's shelves. Check your meat market for REAL lard, and even leaf lard if you can find it. That's the absolute best lard for pie crust.
Note that crusts made with all lard are difficult to roll and shape, so I use part lard and part butter. See below for more information on leaf lard.
Leaf Lard Crust
I was lucky enough to score some leaf lard for my holiday pie crusts.  The last lard I purchased bore no resemblance to the lard my mom used to deep fry the annual Christmas rosettes. The real deal gave the house a vague smell of pork for a couple days, but the fragile, crispy cookies sprinkled with powdered sugar were worth that inconvenience.
Beware of lard that is sitting on the shelf next to the Crisco. It's not good stuff!  My friend, Jill, took me cross the Indiana countryside to the Ladoga branch of Moody's Meats.  The hospitable owners, Adam and Lucy, greeted us, and we got a behind the scene tour.
The lard is hand rendered on site, and I could hardly wait to use it for my pie crust.  They have four stores in the Indianapolis area. A top notch leaf lard crust made this pumpkin pie one of my best. I use a butter and lard recipe that was printed in the New York Times. You'll love this Libby's classic pumpkin pie on steroids!!!
Wishing all my readers and friends a most wonderful Thanksgiving. As always, I am blessed and humbled that so many of you take the time to stop by and check out my recipes.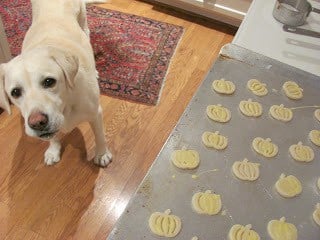 Tip of the Day
If your pie filling happens to crack each year, make sure to bake up some pumpkin or leaf cutouts with your extra pastry dough. These can be artfully arranged atop your pie and no one with ever know! To prevent cracking, make sure you remove your pie from the oven when the center is not completely set. It will continue to cook after it's removed from the oven, so a little jiggle in the middle is OK!
More Pumpkin Desserts You'll Love:
Used in This Recipe:
Print
Classic Pumpkin Pie
Libby's pumpkin pie recipe on steroids! Make a half batch for one pie.
Author:
Prep Time: 10 mins
Cook Time: 65 mins
Total Time: 1 hour 15 minutes
Yield: 16 servings 1x
Category: Dessert, Pie, Holiday
Method: Baking
Cuisine: American
Ingredients
Filling:
1 1/2 cups sugar
1 teaspoon salt
2 teaspoons cinnamon
1 teaspoon ginger
1/2 teaspoon cloves
6 large eggs
1 large can of pure pumpkin, 29 ounces (without spices added)
3 cups heavy cream
2 unbaked 9 inch pie shells (there is enough filling for two deep dish pies)
Whipped cream for serving (sweeten with some sugar, and add vanilla to taste. A slosh or Grand Marnier or bourbon will make your topping even more festive!)
Crust:
2 1/2 cups flour
1/2 teaspoon salt
1 tablespoon sugar
12 tablespoons cold butter, and cut into 1/2 inch pieces
8 tablespoons lard, leaf lard preferred, cold, and cut into pieces similar size to the butter.
6–8 tablespoons ice water or enough till crust just holds together when pinched between your fingers
Glaze for crust:
1 egg yolk
1 tablespoon of cream
Instructions
In a food processor, pulse together flour, salt and sugar to mix. Add butter and lard and pulse 3-5 times, till mixture resembles cornmeal, with a few chick pea sized chunks of fat. Add ice water one tablespoon at a time, till dough just holds together.
Form dough into two rounds. Wrap in plastic and form into disks. Refrigerate one hour or longer. Roll and fill pie tins with dough. Place in refrigerator till filling is made.
Preheat oven to 425º.
Whisk together egg yolk and cream to make glaze for crust.
Make filling by whisking dry ingredients together in small bowl. Beat eggs in large bowl. Add pumpkin and dry ingredients. Gradually stir in cream. Pour into crusts. Brush exposed crust with egg yolk/cream mixture. If you have leftover filling, pour into ramekins and bake till set…removing before pies are finished.
Bake for 15 minutes then decrease oven temperature to 350º. Bake for 40-50 more minutes, till center is set and knife inserted in center comes out clean.
Cool pies on rack for a couple hours, then refrigerate or serve with whipped cream.
Nutrition
Calories: 4811kcal
Sugar: 177g
Sodium: 3074mg
Fat: 327g
Saturated Fat: 185g
Trans Fat: 5g
Carbohydrates: 430g
Fiber: 18g
Protein: 55g
Cholesterol: 1436mg
Note: This post may contain affiliate links; view
my Disclosure Policy
for details. I earn a small percentage from any purchase you make by clicking on these links at no extra cost to you.