Pumpkin Pie Cupcakes
These Pumpkin Pie Cupcakes are individual, silky, sweet custards with the same delicious flavor as your favorite Thanksgiving dessert. Perfect for portion control!
Pumpkin Desserts are all the rage in the fall. These dense, delicious Pumpkin Spice "Cupcakes" provide pumpkin flavor in a mini dessert. Perfect for those pumpkin pie cravings!
Why You Must Make
They are mini crustless pumpkin pies!! Perfect for those who enjoy the filling more than the crust.
The amped up whipped cream topping is even tastier than plain sweet whipped cream.
If you have trouble controlling your portion size when slicing a traditional pumpkin pie, you'll love these individual mini pies!
These mini pumpkin cakes are actually made with pumpkin pie filling and baked in a muffin tin. Half were made using paper cupcake liners and half in a greased pan. Surprisingly, the Pumpkin Custards in the liners baked up wrinkly on top. Experimentation helped find the best way to bake these gems!
Topped with a dollop of cream cheese whipped cream, this pumpkin dessert was a delicious preview to our Thanksgiving feast next month. Made with pumpkin puree, half and half, and the usual pumpkin spices, the flavors, and texture were spot on! Plus, a dollop of sweet cream cheese whipped cream pushed the wow factor over the top with the first bite!
Ingredient Notes
Kitchen Staples – Sugar, Eggs, Salt, Baking Soda
Pumpkin Puree – Not pumpkin pie filling since it already has spices added.
Vanilla Extract – Real vanilla extract, not imitation
Spices – Cinnamon, Ginger, Ground Cloves. If they've been in your pantry for years, consider replacing as spices can lose their potency over time.
Baking Powder – Baking powder often expires in your panty. Check the expiration date.
Cream Cheese – Have at room temperature for easy incorporation
Powdered Sugar – Sift so the topping doesn't have lumps.
Heavy Cream – 36% Butterfat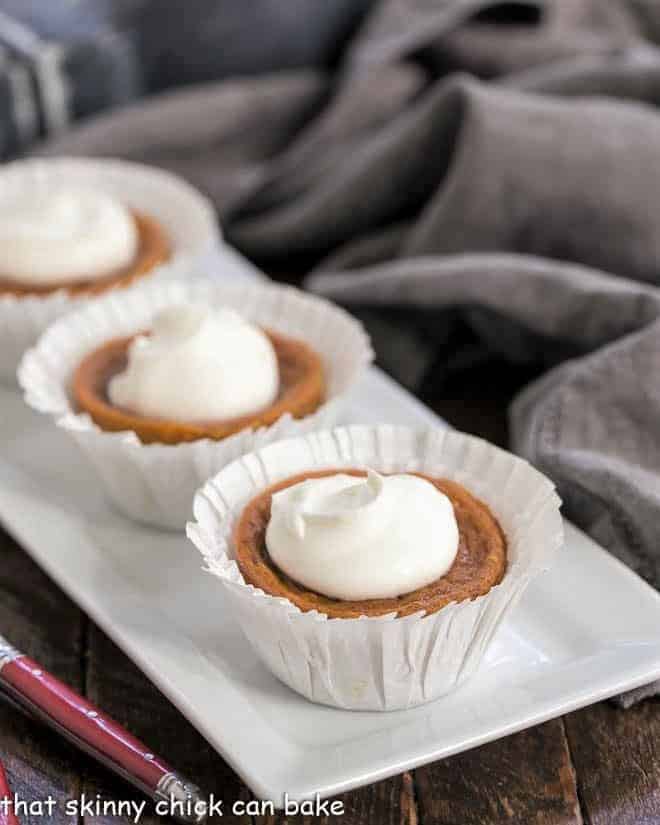 Expert Tips
PRO-Tip: Don't buy a can of Pumpkin Pie mix. It has flavorings and ingredients that will compete with what's in this recipe. You want plain pumpkin puree.
Bake these pumpkin pie cupcakes in a greased muffin tin. After the cupcakes or mini pumpkin pies are chilled, they release easily from the pan.
Alternatively, bake these pumpkin custards in ceramic ramekins until the middles are just set.
If you'd rather use pumpkin pie spice than the mixture of spices in the recipe, use 1 1/2-2 teaspoons.
Frequently Asked Questions
What Does Pumpkin Pie Taste Like?
Pumpkin pie is basically a pumpkin custard flavored with warm spices like cinnamon, ginger, and cloves. Pumpkin pie filling tastes like a thick pudding.
What Is a Pumpkin Pie Made Of?
Pumpkin pie starts with pumpkin puree, which you can buy canned or you can make your own by cooking and pureeing flesh from small "pie" pumpkins. Eggs, sugar, spices, a thickener like flour and cream, half and half, evaporated milk, or sweetened condensed milk are the other common ingredients.
After mixing the ingredients together, the custard is poured into a pastry shell and baked.
How Long Does It Take to Cook Pumpkin Pie Cupcakes?
These cupcakes cook in about 20 minutes, though it will vary depending on how your oven bakes. They'll be done when they look set on the surface.
You May Also Like:
It's that time of year when the focus is on pumpkin, apple, Halloween, and Thanksgiving recipes. What's your favorite fall treat?
The Recipe:
Pumpkin Pie Cupcakes Recipe
Prep Time 20 minutes
Cook Time 20 minutes
Total Time 40 minutes
Yield 12 cupcakes
Mini Pumpkin Pies baked up like cupcakes in a muffin tin!
Ingredients
Cupcakes:
15 ounce can pumpkin puree, nor pumpkin pie filling
¾ cup sugar
2 eggs
2 teaspoons vanilla extract
¾ cup half and half
⅔ cup flour
1 teaspoon cinnamon
¼ teaspoon ginger
¼ teaspoon ground cloves
¼ teaspoon salt
¼ teaspoon baking powder
¼ teaspoon baking soda
Whipped Cream:
2 ounces cream cheese, at room temperature
¼ cup plus 2 tablespoons powdered sugar
1 cup heavy cream
Instructions
Preheat oven to 350 degrees. Grease 12 cup muffin tin and set aside.
Mix the pumpkin and sugar in a mixing bowl with a whisk. Add eggs, vanilla, and half & half.
Add all dry ingredients, and mix to combine.
Fill each muffin cup with about ⅓ cup of the mixture. Bake for 20 minutes.
Cool on a wire rack for 20 minutes, then refrigerate until thoroughly chilled.
In a bowl whip the cream until stiff peaks form.
In another bowl, beat together the cream cheese with sugar and vanilla until smooth. Fold the whipped cream into the cream cheese mixture.
Serve cupcakes with a dollop of cream cheese whipped cream.
Notes
Without crusts, these are a lower-carb option for Thanksgiving.
Adapted from Hugs & Cookies XOXO via OMG Chocolate Desserts
Recommended Products
As an Amazon Associate and member of other affiliate programs, I earn from qualifying purchases.
Nutrition Information:
Yield:
12
Serving Size:
1 cupcake
Amount Per Serving:
Calories: 231
Total Fat: 11g
Saturated Fat: 7g
Trans Fat: 0g
Unsaturated Fat: 4g
Cholesterol: 63mg
Sodium: 171mg
Carbohydrates: 30g
Fiber: 3g
Sugar: 16g
Protein: 4g
Note: This post may contain affiliate links; view
my Disclosure Policy
for details. I earn a small percentage from any purchase you make by clicking on these links at no extra cost to you.