Classic Pumpkin Bread
Growing up, we'd always receive the gift of a loaf of dense, spiced, and irresistible Easy Pumpkin Bread for the holidays. Our neighbor shared her recipe and it's still my favorite version that my children request each autumn.
This is almost exactly like a popular Allrecipes Pumpkin Bread Recipe, without the nutmeg. But I've been making this fabulous loaf since before the Internet! It's a keeper.
Reader Endorsement:
From Anita, who found my recipe on Pinterest: " This is by far the best Pumpkin Bread I've made." I can't argue with that!
Why You Must Make
My sisters and I have loved this recipe since the 1970s. I think you'll see why after giving it a whirl.
It's super moist, tender, and perfectly spiced.
This Pumpkin Bread Recipe will become a family favorite at your house, too, and it's perfect for your autumn or holiday baking. Mini pumpkin bread makes a terrific gift!
This moist, pumpkin bread recipe came from Severa Vandergaast, our Dutch neighbor who talked a mile a minute with a charming accent. A loaf of this spicy deliciousness would arrive each Christmas as a gift for our family. We'd practically inhale slices of this bread, then beg my mom to bake another so we could slather warm slices with cold butter.
Expert Tips
Dense, moist, and full of warm spices, this recipe is perfect for truly classic pumpkin bread. No chocolate chips or streusel needed (though I've shared those loaves, too). It's wonderful just as it is!
PRO-Tip: As with all quick bread, once the liquids are mixed with the dry ingredients, it's imperative not to over-mix. This will create tunnels, which won't change the taste of the bread, but it sure looks better with a fine crumb and without loads of holes in every slice.
Either mix by hand or use the paddle attachment on your mixer and mix on low, stopping as soon as the flour is incorporated.
Prepare your loaf pan (affiliate links) properly so the loaf comes out in one piece. Spray the pan with a non-stick spray. I prefer a product like Baker's Joy which is a mixture of oil and flour. I also like to line the bottom of the pan with a rectangle of parchment paper, then spray the top of that as well.
Check the middle of the loaf by inserting a toothpick into a couple of spots. Pumpkin bread typically develops a crack across the top, and it's that crack where I like to check for doneness. When the toothpick comes out clean, the bread is done. If not, bake 5-10 minutes longer and recheck.
PRO-Tip: Do not pull the loaves out without doing a toothpick check. If you remove the loaf too early, the middle will be raw. If you let it cook too long, the bread will not be as moist. The oil in this recipe makes for a super moist pumpkin bread, but take care to bake just until baked through.
The kind of pan and how your oven bakes varies, so baking times listed in recipes often need to be shortened or extended.
You can easily multiply this recipe by 2 or 3. I tend to make a triple batch—one for each of my children! Start with one, but you may end up wanting an extra loaf or two for your freezer! See below how to prepare your bread for freezing.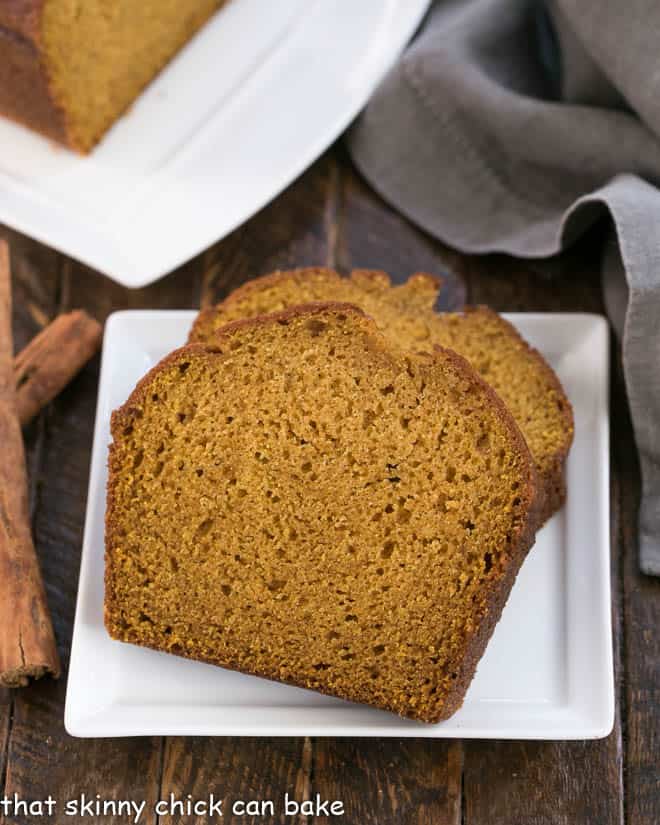 Frequently Asked Questions
How Long Will Pumpkin Bread Stay Fresh?
Pumpkin bread will be good for 1-2 days at room temperature. Since it's a very moist loaf, it may start to deteriorate after that. It can be stored for up to a week, well wrapped, in the refrigerator. It also can be frozen (see tips below).
Why is My Pumpkin Bread Not Cooking in the Middle? How Do You Know When Pumpkin Bread is Done?
Your pumpkin bread is underdone when you find the middle is still uncooked. The exterior may look fully baked, but unless you check the middle by using a toothpick or cake tester, there's no way to know if the interior is done.
Poke a few locations and when there's no batter on the toothpick when you pull it out, the pumpkin bread is done. When you start to smell the aroma of baked pumpkin bread, it means the loaf is getting close to being fully baked. If it's close to the full baking time, start checking with a toothpick.
How Do You Keep Pumpkin Bread Moist?
First, choose a good recipe. This one is made with vegetable oil which is a key for making moist soda bread. Then make sure not to overbake which can dry out a loaf.
Also, remember to wrap your pumpkin bread well to keep it fresh once it's cooled completely. I like using plastic wrap since the self-adhering properties make an airtight seal. If you can't eat all the loaf within a few days, consider freezing half of it to keep it fresh.
Why Did my pumpkin bread crack?
Cracking of the surface is just a normal characteristic of quick bread. The top tends to set before the loaf is done rising. This causes cracking across the top. As a bonus, those cracks are the best place to check for doneness with a toothpick.
Can Pumpkin Bread Be Frozen?
Yes, this pumpkin bread freezes well. First cool to room temperature, then wrap well in plastic wrap making it as airtight as possible. Next, wrap well in foil or place the plastic-wrapped loaf in a freezer-safe Ziploc bag.
Pumpkin bread keeps well in the freezer for up to 3 months. It will still be safe after that time period, but the quality may not be as good. Defrost in the refrigerator overnight and serve slices warmed or at room temperature.
You May Also Like: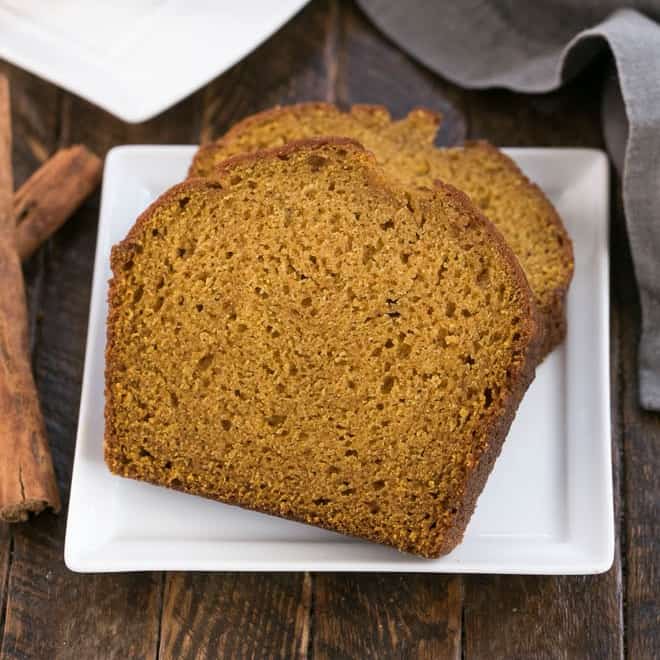 The Recipe:
Classic Pumpkin Bread
Prep Time 15 minutes
Cook Time 1 hour 15 minutes
Total Time 1 hour 30 minutes
Yield 1 loaf
A classic pumpkin bread recipe that's always a hit!
Ingredients
1 1/2 c sugar
1/2 c oil
2 eggs
1 c pumpkin
1 3/4 c flour
1/4 t baking powder
1 t salt
1 t baking soda
1/4 t cloves
1/4 t allspice
1/2 t cinnamon
1/3 c water
Instructions
Preheat the oven to 350º.
Grease one standard loaf pan, approximately 9 x 5-inches. I also put a rectangle of parchment on the bottom of the pan and grease that as well.
Combine sugar and oil.
Add the rest of the ingredients in order.
Bake large pan for 1 hour-1 hour 15 minutes or two smaller pans for 40-50 minutes.
Check the center of the loaf with a toothpick. It should come out clean after inserting when the loaf is done.
Notes
Note that a can of pumpkin is typically 15 ounces and not enough to make a double batch. It will still taste yummy, but I like adding the 2 1/2 extra tablespoons from another can to make up the difference.
I often triple this recipe and feed the extra pumpkin to Lambeau, our yellow lab, who loves hearing the sound of cans opening in the kitchen!
Recommended Products
As an Amazon Associate and member of other affiliate programs, I earn from qualifying purchases.
Nutrition Information:
Yield:
16
Serving Size:
1 slice
Amount Per Serving:
Calories: 197
Total Fat: 8g
Saturated Fat: 1g
Trans Fat: 0g
Unsaturated Fat: 7g
Cholesterol: 23mg
Sodium: 241mg
Carbohydrates: 30g
Fiber: 1g
Sugar: 19g
Protein: 2g
Note: This post may contain affiliate links; view
my Disclosure Policy
for details. I earn a small percentage from any purchase you make by clicking on these links at no extra cost to you.