Mini Pumpkin Breads
Mini pumpkin breads are the best food holiday gifts. This easy quick bread recipe will make your kitchen smell amazing!
I have a group of marvelous friends in my book club. Each December, we exchange gifts. As you might imagine, my contribution is something homemade from my kitchen. This year, I baked mini pumpkin loaves using my family's favorite recipe. These Small Loaves of Bread made ideal gifts.
Why You Must Maketab
Dense, moist, and full of warm spices, this recipe is for a truly classic pumpkin bread. No chocolate chips or streusel needed (though I've shared those loaves, too). It's wonderful just as it is!
This is the same pumpkin bread that one of our neighbors would bring over every Christmas. We'd slather slices with butter and half the loaf would disappear in minutes.
I've been making this same recipe for decades! If you don't have a tried and true pumpkin bread recipe, make sure to pin this winner!
Ingredient Notes
Kitchen Staples – Sugar, Vegetable Oil (like Canola), Flour, Water, Salt, Baking Soda
Eggs – Have them at room temperature for easier incorporation. All my recipes use large eggs unless otherwise noted.
Pumpkin – Pure pumpkin puree, not pumpkin pie filling which has spices, etc. added to it. You will not need the whole can, just 1 cup.
Baking Powder – This recipe uses both baking powder and baking soda. Note that baking soda has a long shelf life. Baking powder almost always expires before you can use the whole tin. So make sure to check the date before you start making the batter. You can always test it by putting a spoonful into a cup of hot water. If it's still fresh, it will bubble vigorously.
Cloves, Allspice, Cinnamon – Note that spices can lose some of their flavor if they've been in your pantry for a number of years. Consider replacing any that have been around for years.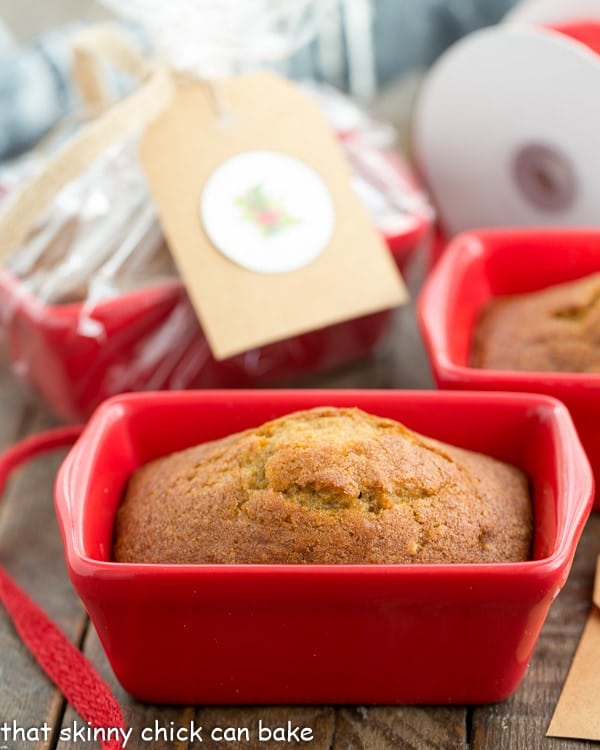 How to Package Holiday Breads for Gifting
My blogger friend, Julie, shared her Sweet Orange Bread in small, inexpensive ceramic dishes from Michael's (link in recipe). Hers were solid white, but since it's November, most I spotted were covered with holiday designs. Preferring the plainest version available, I picked up a dozen in red, plus one white one with a Santa belt, the least obnoxious of the holiday designs. I will try to stock up on the white dishes in the off-season. A little food-safe cellophane wrap, ribbon, and a gift tag make each one a festive, not to mention, a delicious treat! I love splurging on these Felix Doolittle Chef Medallions to affix to my gift tags.
Recipe Tips
Quick bread and muffins are super easy to make, but there are a few tips you should know before you start mixing.
Make sure to prep your pans well so the whole loaf comes out without sticking. I like using a flour-oil spray like Baker's Joy, plus putting a greased rectangle of parchment on the bottom of each pan.
Let the bread cool for 10-15 minutes before removing them from the pans and to a cooling rack. Any longer and the bread can stick. For gifting, I then wash out the pan and add the loaf back when it is cool.
PRO-Tip: Have your eggs and any refrigerated ingredients at room temperature before mixing. They will incorporate more easily if not cold.
If you forget, add your eggs to a bowl of hot (not boiling, you don't want to cook the eggs) water while you get the other ingredients ready. That will help take the chill off.
PRO-Tip: Do not over mix or your bread can develop tunnels. If using a mixer, recommend the paddle attachment at a lower speed. Or just mix with a wooden spoon.
After adding the dry ingredients, mix until they're just incorporated. Give the bottom a good scrape with a rubber spatula to make sure the batter doesn't have any flour pockets, then add to the pans.
PRO-Tip: Don't overfill your pans. About ⅔ of the way up the sides is perfect. Note that there are many different sizes of mini loaf pans, so start checking to see if your bread is done early. Once you find the perfect baking time for your pans, make a note of it on the recipe for future batches.
Start checking your bread about 5 minutes before the timer goes off. Or when you start to smell the delicious aroma of a baked loaf. All ovens bake differently, and you don't want to overbake. Use a toothpick inserted in a few spots across the middle. If it comes out clean, the bread is done.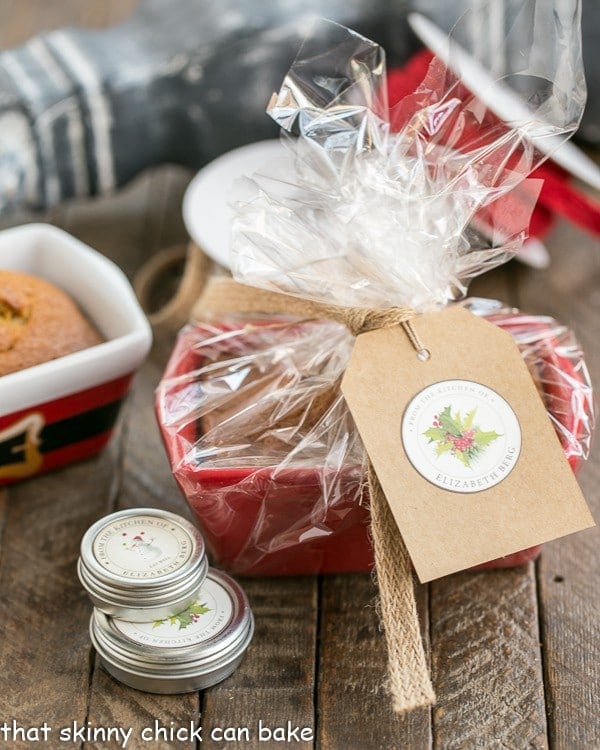 Frequently Asked Questions
Can Fresh Pumpkin Puree Be Used for this Pumpkin Bread?
If you can be 100% sure the consistency is exactly like canned pumpkin puree, it should work. But most often it's more watery than the canned version and the loaves won't bake up properly due to the extra liquid. I'd advise against it unless you're willing to experiment with a batch.
Can Nuts or Chocolate Chips Be Added to this Pumpkin Bread?
Sure, both would be delicious options. Try 1-1½ cups of either nuts or chocolate chips stirred into the batter right before adding it to the pans.
Can the Batter Be Mixed Ahead of Time?
Unfortunately, once the batter is mixed the baking soda and baking powder are activated. Therefore, the loaves won't rise properly when they're placed in the oven. It's best to make the batter, add to the pans, and bake as soon as possible.
You May Also Like:
I love giving food gifts during the holidays. From quick bread to cookies to candy to homemade liqueurs, there are so many alternatives when it comes to homemade holiday food gifts!
Make sure to check out my Food Gifts Pinterest Board for loads of ideas for holiday gifting!
Stay in touch through social media @ Instagram, Facebook, and Pinterest. Don't forget to tag me when you try one of my recipes! And if you love the results, please give it a 5-star rating in the recipe card. Note: As an Amazon Associate, I earn from qualifying purchases. Visit my Amazon Store for my favorite products.
The Recipe:
Mini Pumpkin Bread
Prep Time 20 minutes
Cook Time 40 minutes
Total Time 1 hour
Yield 1 large loaf or 5 mini loaves
A classic pumpkin bread recipe that's always a hit. Make mini loaves for hostess or holiday gifts!
Ingredients
1 ½ cup sugar
½ cup oil
2 eggs
1 cup pumpkin
1 ¾ cups flour
¼ teaspoon baking powder
1 teaspoon salt
1 teaspoon baking soda
¼ teaspoon cloves
¼ teaspoon allspice
½ teaspoon cinnamon
⅓ cup water
Instructions
Preheat oven to 350º. Grease pans.
Combine sugar and oil. Add the rest of the ingredients in order.
First whisk in the eggs, then the pumpkin.
In another bowl, whisk together the flour, baking powder, salt, baking soda, and spices, then add them to the pumpkin mixture and mix just until combined. Do not over-mix.
Stir in the water, then divide the batter between pans.
Bake for 35-40 minutes for small loaves. If you're using a full-size loaf pan, start checking at about 60 minutes, but my heavy-duty loaf pans usually take more like 75 minutes.
Check the center of the loaf with a toothpick. It should come out clean after inserting when the loaf is done.
Notes
My mini ceramic pans measure 5 x 3 x 2 inches. You can often find them at Michaels.
I haven't tested these mini loaves with the addition of chocolate chips, but you can start with 1 cup, mix in and add up to another ½ cup if desired.
Nutrition Information:
Yield:
10
Serving Size:
1
Amount Per Serving:
Calories: 315
Total Fat: 12g
Saturated Fat: 1g
Trans Fat: 0g
Unsaturated Fat: 11g
Cholesterol: 37mg
Sodium: 365mg
Carbohydrates: 48g
Fiber: 1g
Sugar: 31g
Protein: 4g
Note: This post may contain affiliate links; view
my Disclosure Policy
for details. I earn a small percentage from any purchase you make by clicking on these links at no extra cost to you.