With sour cream and nuts, this Classic Banana Walnut Bread is the best you'll ever taste!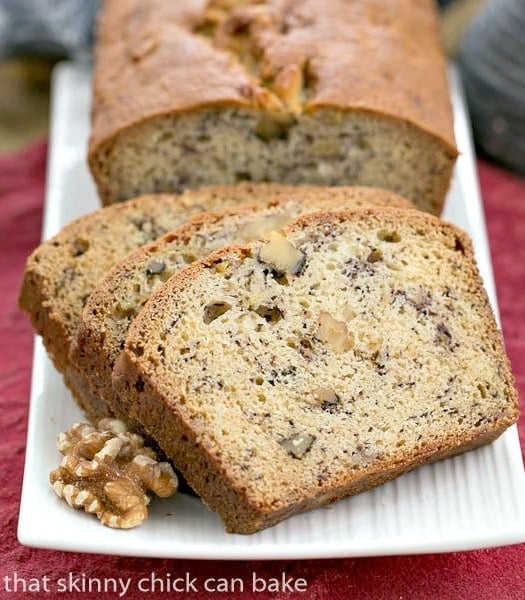 Classic Banana Walnut Bread
I'm always in search of inspiration. So when my daughter spotted a recipe card for a classic banana walnut bread that fell out of one of the myriad catalogs piled up on my kitchen counter, and actually requested a loaf, I had to oblige.
This was in the middle of a long winter cold stretch and it took the bananas forever to ripen in our drafty house. After 6 days, I gave up, popped them in the oven at 300º for a half hour till they were blackened. Instant overripe bananas! Isn't that a neat trick???
Optional Nuts
The girl (or Queen of the House as she's been dubbed) is just as picky as her dad, so one nut free loaf was a given. But I also wanted to make a banana bread that reminded me of my mom, and hers were always chock full of crunchy walnuts.
Fragrant, dense but not too heavy, and moist, this was one superb banana bread. So whether you have black bananas in your freezer or yellow bananas ripening on your counter, I suggest you make a loaf or two of this banana walnut bread ASAP.
P.S. If you want an even more decadent version check out this over the top Chocolate Chip Toffee Banana Bread.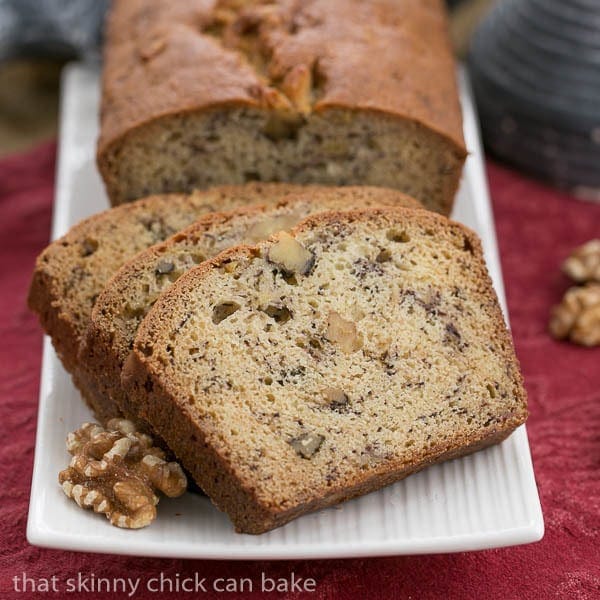 Print
Classic Banana Walnut Bread
A moist delicious loaf with sour cream and walnuts. Adapted from AllRecipes.
Author:
Yield:

2 large loaves
Ingredients
4 bananas, very ripe (or if just yellow with a few brown spots, cook on a parchment lined sheet pan at 300º for 30 minutes till skins are very dark), peeled and mashed
1 cup (2 sticks or 8 ounces) butter, melted
2 cups sugar
4 eggs
2 teaspoons vanilla
3 cups flour
2 teaspoons baking soda
1 teaspoon salt
1 cup sour cream
1 cup chopped walnuts, toasted (350º for 3-5 minutes, till fragrant)
Instructions
Preheat oven to 350º. Grease two 9 x 5 loaf pans, and line bottoms with a rectangle of parchment paper. Set aside.
In a large bowl, mix the melted butter with the sugar. Add eggs and vanilla and mix to combine. In another bowl, whisk together the flour, baking soda, and salt. Mix the dry ingredients into the wet without overworking the batter. Stir in the sour cream, walnuts, and the bananas. Divide batter between the two pans.
Bake for about 1 hour or till a toothpick inserted into the middle of the loaf comes out clean. Cool for 10 minutes, then remove bread from pans to a cooling rack.
Notes
This recipe is easily cut in half to make just one loaf.
 More of My Favorite Quick Breads
Often more like cakes in loaf form than actual bread, quick breads are legitimate breakfast food unlike the former! And these batters can easily be made into muffins by divvying it up into muffin tins and decreasing the baking time. Perfect for a portable breakfast or snack!