Cinnamon Crusted Pumpkin Bread
Cinnamon-crusted pumpkin bread is a delicious twist to a traditional pumpkin bread recipe! It makes me a wee bit wary when I shake up our tried and true pumpkin bread recipe. But no worries, as this Easy Pumpkin Bread Recipe was a hit!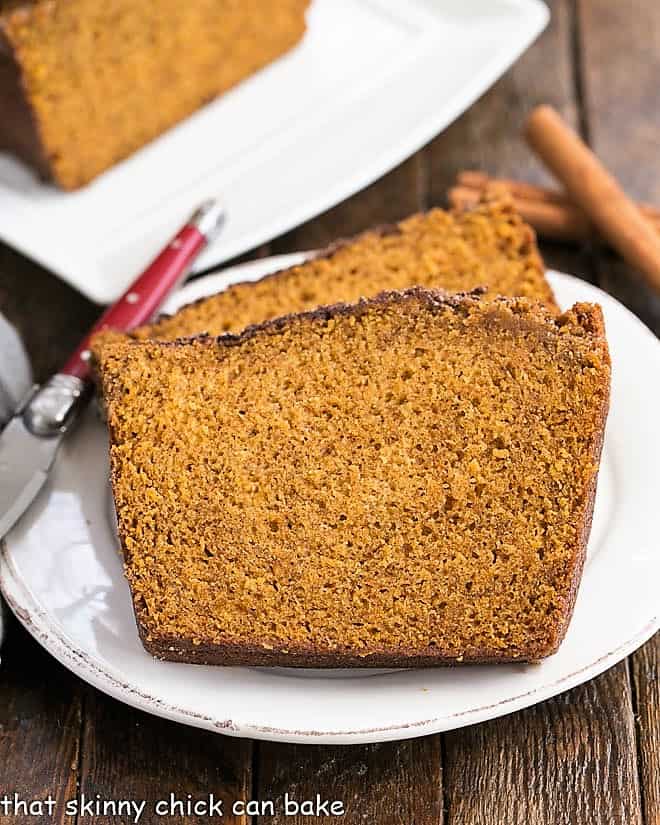 Why You Must Make
Once fall arrives, it's time to start baking with pumpkin! It would be excellent on Thanksgiving morning, too.
This easy pumpkin bread recipe will make your house smell amazing.
Plus, adding the extra cinnamon sugar topping gave it a delicious boost!
Recipe Tips
This is a Quick Bread, meaning it uses baking powder, baking soda, or both instead of yeast as a leavening agent.
PRO-Tip: Always use room temperature eggs for baking. They incorporate more easily into the batter. Just bring them out of the refrigerator about 2 hours before you want to start mixing. You can also place them in a bowl of hot tap water to speed the process along.
PRO-Tip: Do not overmix or your bread will have tunnels instead of a nice even crumb. You can use a hand mixer, but once the flour and leavening are added, only mix on a very low speed. Or use a wooden spoon.
PRO-Tip: Prep your pan well. There's nothing worse than having your bread stuck in the pan. Use a flour and oil baking spray like Baker's Joy and line the bottom with a rectangle of parchment paper.
Cool for about 10 minutes on a cooling rack before removing the loaf from the pan. Any shorter than that and the crust doesn't get a chance to solidify. Much longer and it could get stuck!
Note: These pumpkin loaves bake up with a flat, crackled top, instead of the typical rounded top quick bread. This is normal for this recipe!
How to Make
If you're new to making quick bread (also known as soda bread), which is bread made with baking soda and/or baking powder instead of yeast. The batter does not require proofing or resting time like a yeast dough. The procedure for any quick bread, like this pumpkin bread recipe, is generally very similar.
First, beat or whisk together the liquid ingredients like the eggs, water, oil, and in this case, pumpkin.
Next, whisk together all the dry ingredients like flour, sugar, baking soda, spices, and salt.
Then add the dry ingredients to the wet ingredients and mix until combined. Do not use a mixer or whisk vigorously.
Overmixing or beating will over-activate the gluten and add air to the batter. This can result in tunnels throughout the loaf and small air pockets. When making muffins, over-mixing also causes them to bake up with peaked tops instead of rounded tops.
Divide the batter into 2 prepped loaf pans filling 2/3-3/4 full. Sprinkle the tops with cinnamon sugar.
If you have any extra batter, put it in a greased ramekin or two for some muffins. Bake for about 20 minutes.
Helpful Tools:
Frequently Asked Questions
How Do You Know When Your Pumpkin Loaf is Done?
Using a toothpick is the best test. First, eye the cracks across the top and look for visible batter. Add more cooking time if you spot any. After 10-15 minutes, recheck. Repeat by adding more time if needed.

But before pulling the loaves from the oven, use a toothpick to test a few spots in each loaf. When the toothpick comes out clean, without any batter or moist crumbs, the bread is done.

Can You Freeze Pumpkin Bread?
Definitely! Pumpkin bread keeps well at room temperature for about 3 days and a little longer in the refrigerator. But you might like to freeze the second loaf for later.

Make sure the bread is cooled completely. Then place it in a freezer-safe Ziploc bag, remove any excess air and place it in the freezer. Alternatively, you can also wrap the loaves in plastic wrap, then foil to freeze.

Make sure to mark the date you freeze the bread on the bag.
Your pumpkin loaf will keep at least 3 months in the freezer. You can easily defrost the bread overnight in the refrigerator. 
You May Also Like:
Stay in touch through social media @ Instagram, Facebook, and Pinterest. Don't forget to tag me when you try one of my recipes! And if you love the results, please give it a 5-star rating in the recipe card. Note: As an Amazon Associate, I earn from qualifying purchases. Visit my Amazon Store for my favorite products.
The Recipe:
Cinnamon Crusted Pumpkin Bread Recipe
Prep Time 20 minutes
Cook Time 1 hour
Total Time 1 hour 20 minutes
Yield 2 large loaves
Moist and delectable pumpkin bread with a yummy cinnamon sugar topping!
Ingredients
Bread:
1 (15-ounce) can pumpkin
1 cup vegetable oil
⅔ cup water
4 large eggs
3 ⅓ cups flour
3 cups sugar
2 teaspoons baking soda
1 teaspoon salt
1 teaspoon cinnamon
½ teaspoon allspice
½ teaspoon cloves
Topping:
3 tablespoons sugar
1 tablespoon cinnamon
Instructions
Preheat the oven to 350º. Grease two 8 x 5-inch loaf pans, line the bottom of the pans with parchment, then grease the top of the parchment.
In a large bowl, beat together pumpkin, oil, water, and eggs until smooth.
In another bowl, whisk together flour, sugar, baking soda, cinnamon, allspice, cloves, and salt.
Add flour mixture to pumpkin mixture and mix slowly until combined.
Mix together cinnamon and sugar in a small bowl.
Pour into pans, sprinkle with cinnamon and sugar mixture, and bake for 1 hour, or until a toothpick inserted in the center comes out clean.
Let cool in pans for 10 minutes then remove to wire rack to cool completely.
Notes
Adapted from Paula Deen.
These loaves bake up with flat and crackled tops.
Nutrition Information:
Yield:
24
Serving Size:
1 slice
Amount Per Serving:
Calories: 262
Total Fat: 10g
Saturated Fat: 1g
Trans Fat: 0g
Unsaturated Fat: 9g
Cholesterol: 31mg
Sodium: 118mg
Carbohydrates: 41g
Fiber: 1g
Sugar: 27g
Protein: 3g
Note: This post may contain affiliate links; view
my Disclosure Policy
for details. I earn a small percentage from any purchase you make by clicking on these links at no extra cost to you.