Cinnamon crusted pumpkin bread is a delicious twist to a traditional pumpkin bread recipe! It makes me a wee bit wary when I shake up our tried and true pumpkin bread recipe. But no worries, as this Cinnamon Crusted Pumpkin Bread was a hit!
Cinnamon Crusted Pumpkin Bread
A week before Nick's fall break from college, I inquired about any food favorites he'd like me to prepare. He pondered this for a few seconds and quickly came up with pumpkin bread. Coincidentally, this was one of the foods I craved when I was first away from home, too. Steak and pork chops made the short list, too, but those were a given. He'd been cooking for himself and I think he and his buddies hadn't advanced past Sandwich 101. I kicked this recipe up a notch and made Cinnamon Crusted Pumpkin Bread.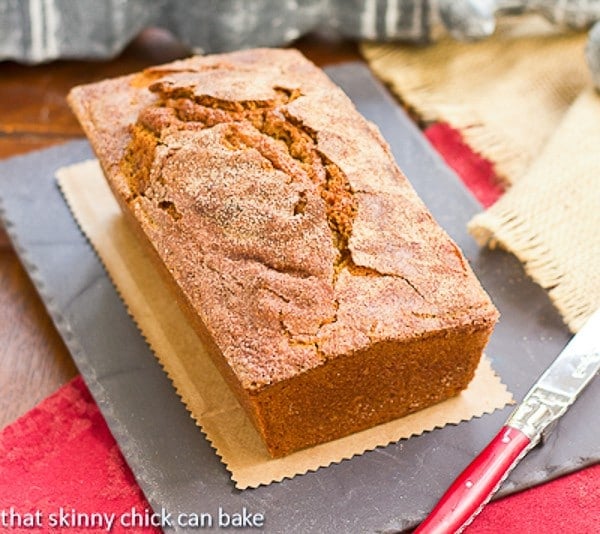 A Winning Loaf!
Well, it was no surprise when loaf number one disappeared in a flash.  Number two was hidden deep in the freezer for Nick to take back to his apartment. You should see the thick slices that made their way to my kids' breakfast plates. I was concerned that shaking up the spices from my tried and true recipe and the sprinkling of cinnamon sugar might dampen the appeal of these loaves…but not at all. It was inhaled.
Cinnamon crusted pumpkin bread would be perfect for your Thanksgiving breakfast, or if my kids had their way, any breakfast of the year.
A couple of things you might need to make this pumpkin bread recipe:
10 Piece Nesting Glass Mixing Bowl Set
Print
Cinnamon Crusted Pumpkin Bread
Moist and delectable pumpkin bread with a yummy cinnamon sugar topping!
Author:
Prep Time: 20 mins
Cook Time: 1 hour
Total Time: 1 hour 20 minutes
Yield: 2 large loaves 1x
Category: Bread, Quick Bread
Method: Baking
Cuisine: American
Ingredients
Bread:
1 (15-ounce) can pumpkin
1 cup vegetable oil
2/3 cup water
4 large eggs
3 1/3 cups flour
3 cups sugar
2 teaspoons baking soda
1 teaspoon cinnamon
1/2 teaspoon nutmeg
1/8 teaspoon cloves
Topping:
3 tablespoons sugar
1 tablespoon cinnamon
Instructions
Preheat oven to 350º. Grease two 8 x 5-inch loaf pans, line bottom of pans with parchment, then grease the top of the parchment. In a large bowl, beat together pumpkin, oil, water, and eggs until smooth.
In another bowl, whisk together flour, sugar, baking soda, cinnamon, nutmeg, and cloves. Add flour mixture to pumpkin mixture and mix till combined. Mix together cinnamon and sugar in a small bowl.
Pour into pans, sprinkle with cinnamon and sugar mixture, and bake for 1 hour, or until a toothpick inserted in center comes out clean. Let cool in pans 10 minutes then remove to wire rack to cool completely.
Notes
!Adapted from Paula Deen
November's Twelve Loaves theme is SPICE, and this moist, dense and flavorful pumpkin bread is my contribution. If you'd like to add a bread m to the group, scroll down to read the rules. SO many spices, so many options. I can't wait to see what you whip up. Add a spicy yeast bread, quick bread, muffins or scones to your turkey day menu. #TwelveLoaves is a monthly bread baking party created by Lora from Cake Duchess. #TwelveLoaves runs so smoothly thanks to the help of the lovely Paula from Vintage Kitchen Notes and Renee from Magnolia Days
In addition to my cinnamon crusted pumpkin bread recipe, here are the other TwelveLoaves recipes for the month:
#TwelveLoaves November-Spice. October #TwelveLoaves was about baking with Root Vegetables. It was quite a delicious month! Temperatures are dropping and it is the right moment to explore bread and SPICE! Share your November Spice Bread (yeast or quick bread). Let's get baking!
If you'd like to add your bread to the collection with the Linky Tool this month, here's what you need to do!
1. When you post your Twelve Loaves bread on your blog, make sure that you mention the Twelve Loaves challenge in your blog post; this helps us to get more members as well as share everyone's posts. Please make sure that your bread is inspired by the theme!
2. Please link your post to the linky tool at the bottom of my blog. It must be a bread baked to the Twelve Loaves theme.
3. Have your Twelve Loaves bread that you baked this November, 2013, and posted on your blog by November 30, 2013.
Note: This post may contain affiliate links; view
my Disclosure Policy
for details. I earn a small percentage from any purchase you make by clicking on these links at no extra cost to you.