Ghraybeh or Lebanese Shortbread Cookies
We're exploring Middle Eastern cooking today and these Ghraybeh or Lebanese Shortbread Cookies are a delightful way to end a meal!
Ghraybeh or Lebanese Shortbread
When I think of Middle Eastern desserts, I conjure up visions of delicate, flaky fillo, orange water or honey-infused syrup and lots of nuts. Knowing that two-thirds of the current household wouldn't go for any exotic ingredients, I had a challenge on my hands…till I came up with Graybeh or Graybeh, a Lebanese shortbread cookie.
Simple as can be, browned butter was mixed with powdered sugar, flavored with vanilla and a drop of almond extract, then flour. No eggs, no leavening, no worries.
I used my cookie disher (like a mini-ice cream scoop) and placed mounds on a parchment-lined baking sheet, dotted each with a nut and popped them into the oven. So if you love shortbread, these little gems will hit the spot.
Baking Tips
A couple notes: Use premium butter. With so few ingredients, a cheapo brand will result in less than spectacular cookies. I used Kerrygold for these.
With the absence of leavening, these cookies will not rise nor spread. Whatever size or shape you place on your baking sheet will be what comes out of your oven.
Also, blanched almonds are one of the typical toppings, but the only blanched almonds I could find were slivered, so I went with the non-blanched version.
Pistachios are another option…I think I munched on many more than made their way onto the cookies. And, by the way, if your hubby or children aren't fan of nuts, you can do as Mr. Skinny Chick did. Remove the nut and pop into your mouth. Swallow and repeat.
Thanks to Norma, of Allspice and Nutmeg, for inspiring me with her recipe.
More Middle Eastern Recipes: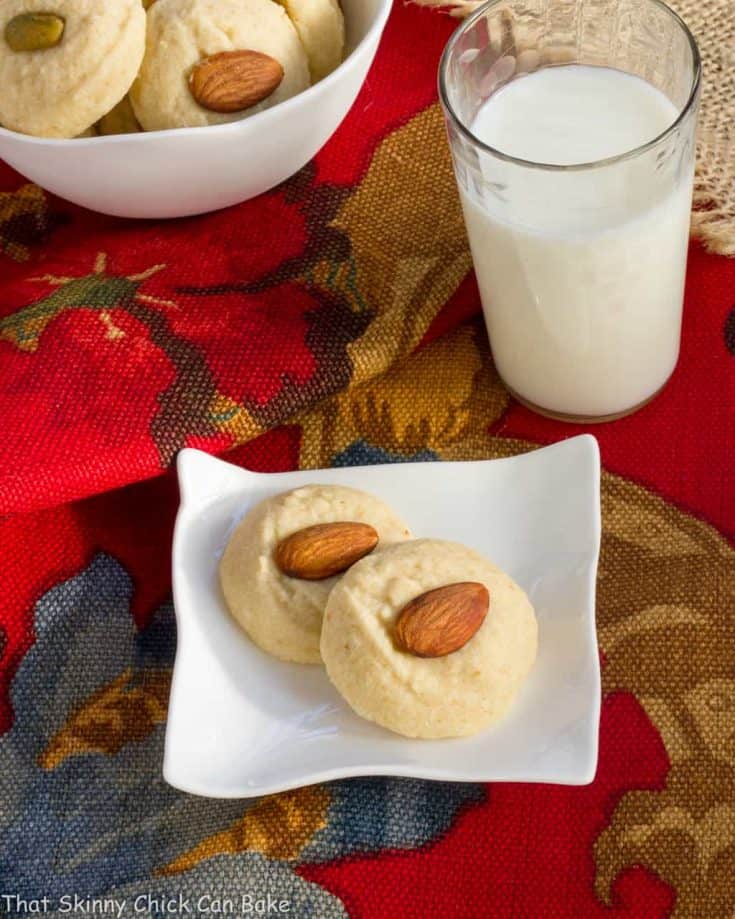 The Recipe:
Ghraybeh or Shortbread Cookies
Prep Time 20 minutes
Cook Time 17 minutes
Total Time 37 minutes
Yield 30 cookies
Recipe from Allspice and Nutmeg
Ingredients
1 cup butter, browned
1/2 cup powdered sugar
1 3/4-2 cups all-purpose flour
1/2 teaspoon vanilla extract
1 drop almond extract, optional
Whole almonds to garnish, optional
Instructions
Preheat oven to 300º.
Cook the butter in a saucepan on medium-low until the butter is a golden color.
Remove from the heat and let cool for about 5 minutes.
Pour the powdered sugar into a large bowl and add the butter. With a hand mixer on low speed, mix until it's combined and the sugar is dissolved. Mix in the vanilla and almond extract (if using).
Turn off the mixer and add the flour a little at a time stirring till it forms a ball.
Form balls of dough and press an almond in the top if desired on a parchment-lined surface.
Bake 13-15 minutes on parchment-lined baking sheets, they shouldn't brown.
Cool very well before removing from baking sheet.
Nutrition Information:
Yield:
15
Serving Size:
2 cookies
Amount Per Serving:
Calories: 230
Total Fat: 13g
Saturated Fat: 8g
Trans Fat: 1g
Unsaturated Fat: 4g
Cholesterol: 33mg
Sodium: 98mg
Carbohydrates: 26g
Fiber: 1g
Sugar: 4g
Protein: 3g
Note: This post may contain affiliate links; view
my Disclosure Policy
for details. I earn a small percentage from any purchase you make by clicking on these links at no extra cost to you.