Honey Glazed Chicken Kabobs
A simple marinade transforms ordinary boneless, skinless chicken into these splendid Honey Glazed Chicken Kabobs! Hello, barbecue season!!
We grill all summer long and get in a burger rut. A simple chicken marinade recipe makes for one memorable meal you'll want to repeat again and again!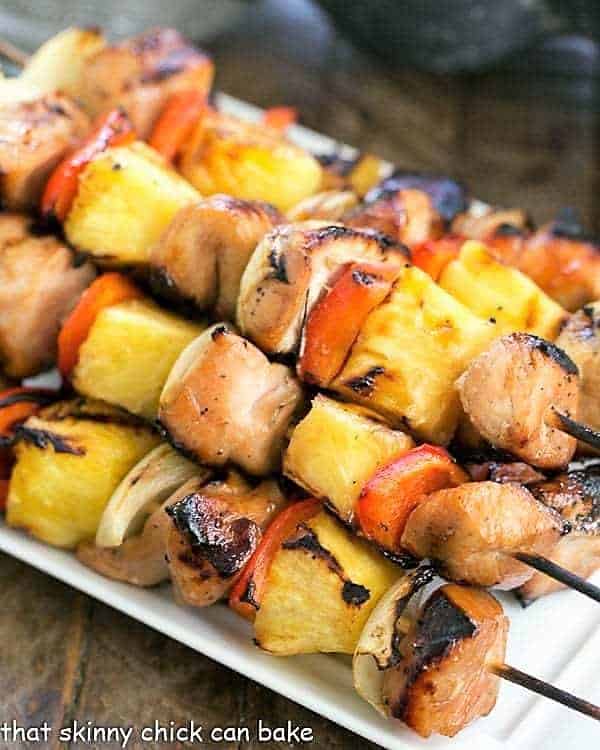 Why You Must Make
I was entertaining my book club earlier this month and always need to have a theme for my spread. Our reading selection was set in 4 regions, the Middle East, Greece, London, and San Francisco. I made Mediterranean beef kabobs along with these not-so-traditional, yet irresistible, grilled chicken shish kabobs.
They're a delicious change of pace from the usual beef kabobs.
The marinade infuses wonderful flavor and prevents the chicken from getting dry.
The small pieces of chicken make for a quick grilling time. Dinner will be ready in no time!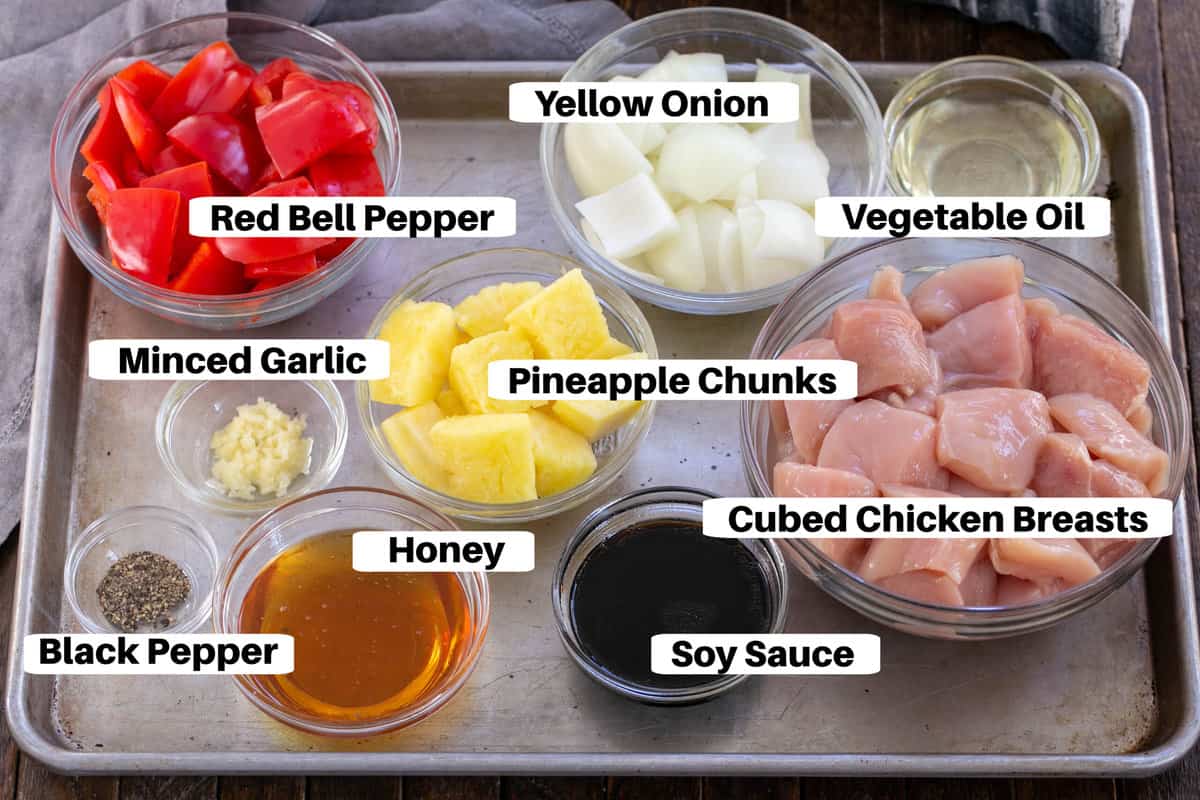 Ingredient Tips
Each marinade ingredient has a purpose, from flavoring to helping the marinade infuse into the meat.
Vegetable Oil – Helps maintain moisture
Honey – Provides sweetness for balance
Soy Sauce – Adds umami, a meaty taste, along with sodium to help with osmosis (the infusion of the marinade into the chicken)
Freshly Ground Black Pepper – Provides a bold complexity. Freshly ground from your peppermill will provide the best flavor.
Garlic – Adds a pungency when served raw which mellows and sweetens as it cooks.
Pineapple, Onion, Red Bell Pepper – Added to the skewers for sweetness, color, and/or pungency.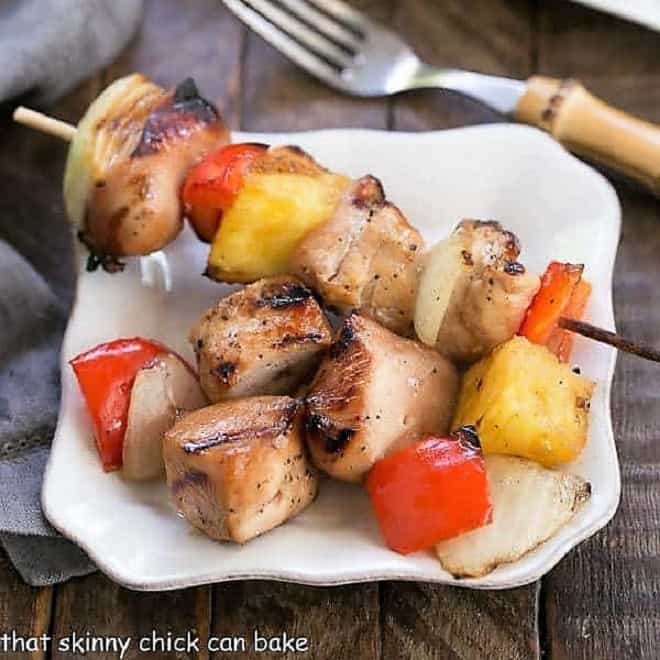 Marinating Tips
Marinating chicken infuses flavor deep into the meat along with tenderizing. A fabulous chicken marinade can change boring chicking into an extraordinary entree. Beware, when marinating shrimp or chicken, as you can over-marinate, making your protein mushy.
Six hours or even overnight should be fine for these chicken shish kabobs. Feel free to shake up what you skewer in addition to the chicken. The hubby would prefer no pineapple, but I was happy to eat his share! If Thai is your thing, check out this fabulous grilled chicken with an Asian twist.
Expert Tips
Grilling chicken takes some extra finesse as you definitely want to avoid dry, overcooked meat! These tips will help you be a grilling pro!
Marinades add moisture, by the process called osmosis. Remember high school biology?? If not, I promise that the marinade will infuse both flavor and moisture into the chicken.
PRO-Tip: Marinate chicken for about 6 hours. Beef can handle a longer marinating time, but you don't want the acids in the marinade to make the chicken mushy by leaving it for more than 12 hours.
PRO-Tip: Place the marinade into a non-reactive container, like plastic or glass. Aluminum will react with the acids in your marinade. I prefer using a gallon Ziploc freezer bag for easy cleanup.
Flip the chicken at least once during the marinating time so that all pieces have time to absorb some of the liquid. The freezer bag makes the meat easy to turn.
Marinate your chicken in the refrigerator to minimize any bacterial growth. Keep it covered or sealed in a freezer bag.
If you want to serve your kabobs with leftover marinade, make sure to boil it as it has been contaminated with raw chicken.
If you're using wooden skewers, soak for at least 30 minutes before using to keep them from burning.
If you're unsure if your chicken is completely cooked, use an Instant Thermometer (affiliate link) to check the internal temperature.
PRO-Tip: Your chicken will be safe to eat when it reaches 160 degrees. Overcooking will make your chicken dry, so start checking the internal temperature early.
Frequently Asked Questions
How Do You Keep the Chicken Moist?
Marinating the chicken helps keep it from getting dry when grilling. Keep your grill at about 375 degrees. Hotter will burn the exterior of the chicken before the meat is fully cooked. Also, don't overcook. The chicken in this kabob recipe should be done in 10-12 minutes.
How Do You Grill Kabobs without Burning the Vegetables?
Keep your grill from getting too hot. A lower temp will allow both the chicken and vegetables enough time to cook without getting incinerated. Also, cut your vegetables into similar-sized pieces as the chicken so they're nicely nestled between the meat.
Can You Prepare the Skewers the Night Before?
It's easy to cut all the vegetables (and/or fruit) the night before. You may also cube the chicken and make the marinade ahead of time. The day you plan to grill, marinate the chicken and soak the skewers. You'll need to thread the ingredients onto the skewers after the chicken has marinated for 6 hours.
What Can You Serve with Kabobs?
Rice or rice pilaf are classic side dishes with skewers. Corn on the cob or corn pudding would delicious side dish pairings. A green salad, pasta salad, potato salad, or coleslaw will round out the menu.
You May Also Like:
Stay in touch through social media @ Instagram, Facebook, and Pinterest. Don't forget to tag me when you try one of my recipes! And if you love the results, please give it a 5-star rating in the recipe card. Note: As an Amazon Associate, I earn from qualifying purchases. Visit my Amazon Store for my favorite products.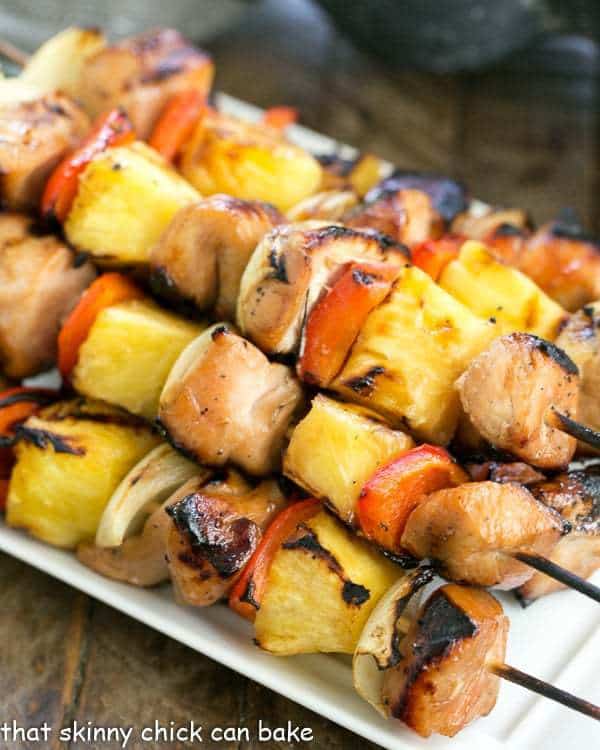 The Recipe:
Honey Glazed Chicken Kabobs Recipe
Prep Time 30 minutes
Cook Time 15 minutes
Total Time 45 minutes
Yield 6 servings
An easy, flavorful recipe for grilled chicken kabobs! Adapted from All-Recipes.
Ingredients
¼ cup vegetable oil
⅓ cup honey
⅓ cup soy sauce
¼ teaspoon freshly ground black pepper
2 cloves garlic, minced
6 skinless, boneless chicken breasts, cut into 1 ½ inch pieces cubes (about 2 ½ pounds)*
1 yellow onion, cut into 1 ½-inch pieces
2 red bell peppers, cut into 1 ½ inch pieces
1 half pineapple, cored, peeled, and cut into 1 ½-inch chunks
Instructions
In a large liquid measuring cup, whisk together oil, honey, soy sauce, pepper, and garlic.
Place the chicken into a gallon ziplock bag and add the marinade. Place in the refrigerator for 4-6 hours, flipping the bag at least once.
When ready to grill, thread the marinated chicken, onions, peppers, and pineapple onto skewers (if using wooden skewers, soak them in water for 30 minutes before using them so they won't burn).
Grill until chicken is just cooked through. Serve hot.
Notes
6 hours is the ideal marinating time as the chicken can start breaking down if it's left in the marinade for 8 hours or longer.
If you're using wooden skewers, make sure to soak them in water before threading the chicken so they don't catch on fire.
*My meat market sells smaller farm-raised chicken breasts, about 5 ounces each. If yours are really large you might only need 5 for 6 servings.
Nutrition Information:
Yield:
6
Serving Size:
1
Amount Per Serving:
Calories: 580
Total Fat: 18g
Saturated Fat: 3g
Trans Fat: 0g
Unsaturated Fat: 13g
Cholesterol: 204mg
Sodium: 951mg
Carbohydrates: 26g
Fiber: 1g
Sugar: 22g
Protein: 76g
Note: This post may contain affiliate links; view
my Disclosure Policy
for details. I earn a small percentage from any purchase you make by clicking on these links at no extra cost to you.