Grilled Beef Steak Kabobs
Between our annual 4th of July cookout and our family Sunday suppers, there's always room for terrific barbecued entrees, like these tasty grilled beef steak kabobs.
With a simple marinade for steak, these easy beef kabobs make a company-worthy entree!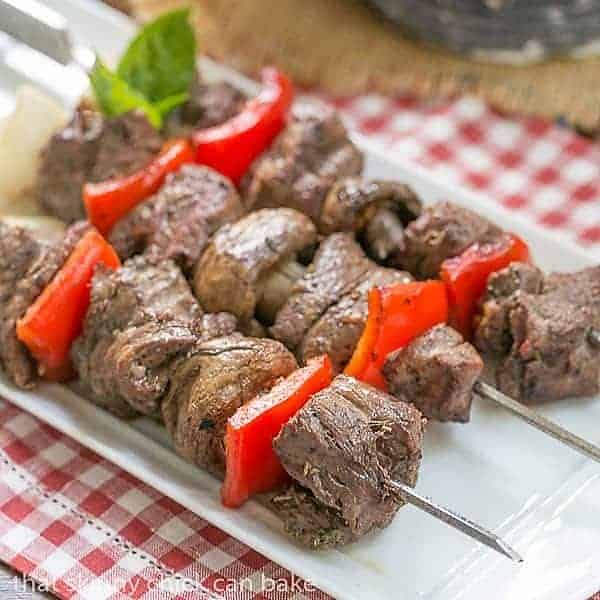 Grilled Beef Steak Kabobs
This month's Blogger CLUE theme is Grilling and Summer Barbecue. I was assigned the blog of my friend, Wendy. She is one busy lady as she and her husband live on a large acreage, raise chickens and other farm animals and try to be as self-sustainable as possible. As I perused A Day in the Life on a Farm, my first inclination was to make her gorgeous Strawberry Cake Roll.
But I was already planning to make my grasshopper pie and carrot cake for the 4th of July and I couldn't justify another dessert, though I tried hard to rationalize a need for 3 sweets! I ended up making her marinated, then grilled beef steak kabobs, but also worked in her wonderful Strawberry Spinach Salad, which reminded me of my mom's version with a sweet dressing and sesame seeds.
The simple steak marinade was a breeze to prepare with just soy sauce, Worcestershire, olive oil, garlic, and Italian seasoning. My family enjoyed these flavors and I appreciated an easy beef kabobs recipe.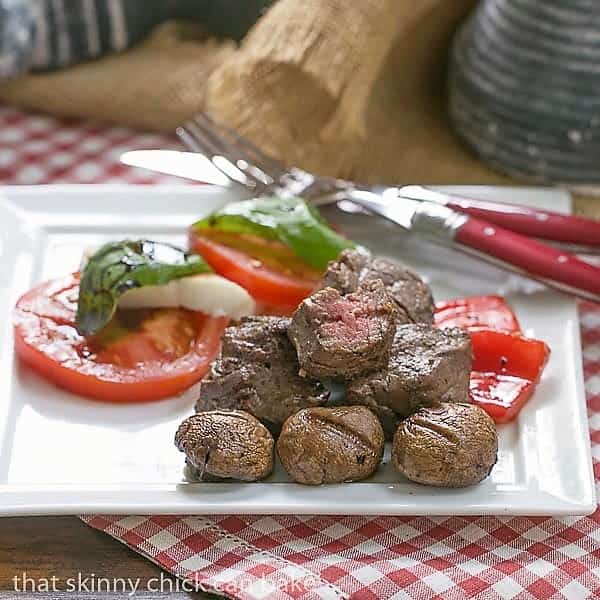 Marinated Beef Steak Kabobs Recipe
For her beef kabobs, Wendy used a steak marinade utilizing Gourmet Garden's herbs and garlic. I am a huge fan of their products. Since I didn't have those on hand, I used her substitutions and grilled up some mighty tasty kabobs!
Tender and flavorful, no knife was needed. I included large pieces of red bell pepper as well as the mushrooms, onions, and beef on my skewers. Perfectly scrumptious results.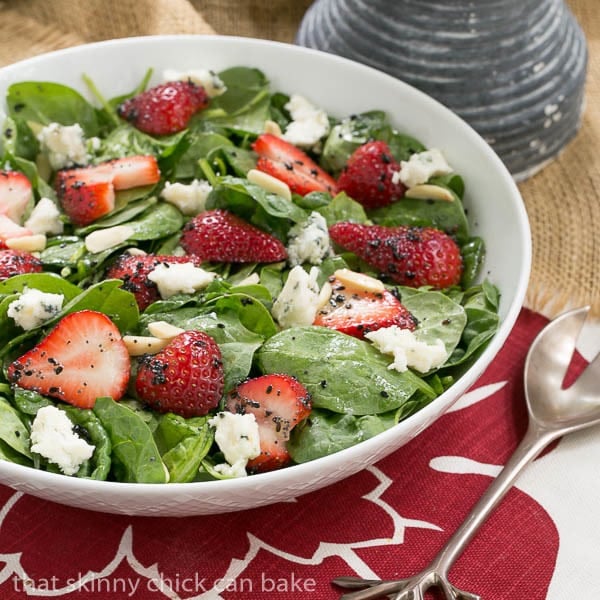 Easy Beef Kabobs
I also whipped up Wendy's Strawberry Spinach Salad and added some slivered almonds and blue cheese to her recipe. I wanted to eat the leftovers for lunch so some protein was essential. But certainly, feel free to leave out those ingredients or add some chicken or your favorite nut if desired. I think I'll leave out the poppy seeds next time, but that's just a personal preference. It was a marvelous addition to our menu along with the Easy Beef Kabobs!
More Beef Recipes You'll Love: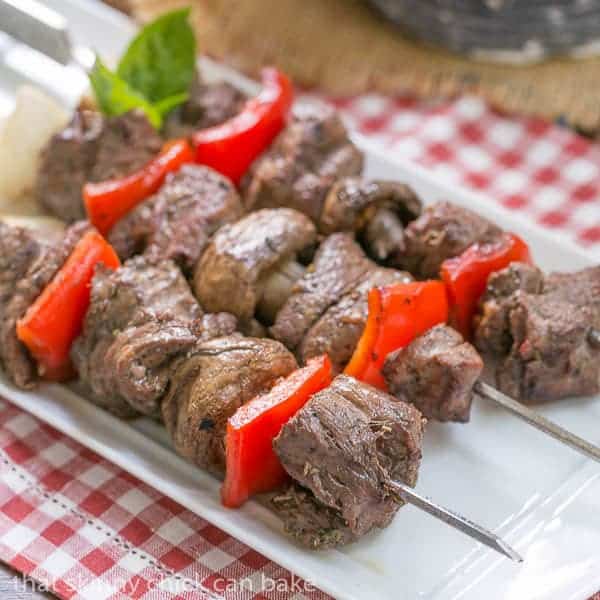 The Recipe:
Grilled Beef Steak Kabobs
Prep Time 20 minutes
Cook Time 10 minutes
Total Time 30 minutes
Yield 4 servings
Marinated beef kabobs with mushrooms, onions and peppers for a perfect grilled summer entree.
Ingredients
1/4 c. soy sauce
1/4 c. Worcestershire sauce
2 tablespoons olive oil
2 cloves garlic, minced
2 teaspoons.dried Italian seasoning
2 pounds sirloin steak or beef tenderloin cut into 1 1/2"- 2" chunks (1/4 -1/2 pound per person)
Whole large mushrooms
1 large sweet onion, cut into chunks
1 red bell pepper, cut into large pieces (about the size of your beef)
Instructions
Combine all ingredients up to the steak in a gallon Zip-topped bag and agitate to combine. Add the steak, remove excess air from bag and seal. Refrigerate for a few hours or up to overnight.
Place the marinated beef, alternating with mushrooms, onions and peppers, on a skewer.
Grill over med high heat to your desired temperature.
Notes
Total time does not include marinating time.
Nutrition Information:
Yield:
4
Serving Size:
1
Amount Per Serving:
Calories: 747
Total Fat: 45g
Saturated Fat: 16g
Trans Fat: 0g
Unsaturated Fat: 23g
Cholesterol: 227mg
Sodium: 1191mg
Carbohydrates: 15g
Fiber: 2g
Sugar: 7g
Protein: 69g
Note: This post may contain affiliate links; view
my Disclosure Policy
for details. I earn a small percentage from any purchase you make by clicking on these links at no extra cost to you.