Filet Mignon with a Red Wine Balsamic Sauce
Beef Steak or Filet Mignon with a Red Wine Balsamic Sauce: An easy, elegant entree that's perfect for special occasions and will get rave reviews! This Filet Mignon Recipe tastes like it came from the kitchen of a five-star restaurant. It's absolutely superb, yet you can make it at home!!
Grill or saute your steaks, then make a flavorful pan steak sauce that will knock your socks off!
Filet Mignon Recipe with a Red Wine Balsamic Sauce
My son, Nick, was on his senior high school retreat on Valentine's Day…so we celebrated on the following Sunday with a meal of beef tenderloin steaks, brown butter, and Parmesan mashed potatoes and asparagus. My friend, Hilary, mentioned making a red wine, balsamic sauce with shallots to serve with beef so I decided to follow her lead.
The filets were seasoned with salt and pepper and sautéed in butter. Next, they were removed from the pan, and shallots, rosemary, red wine, and balsamic vinegar were added with some additional butter. Returned to the pan, the steaks were heated to the desired doneness, then served with the pan sauce. Nothing but raves for this exquisite Filet Mignon with a Red Wine Balsamic Sauce…the sauce was sheer perfection.
Another favorite beef recipe is this Gorgonzola Mushroom Stuffed Beef Tenderloin.
How to Cook Filet Mignon on the Stove
When the weather isn't cooperating, it's still easy to cook a steak on the stove and have it delicious!! Seasoning your beef well is key, then cooking in butter and monitoring the internal temperature will ensure a perfect result.
First, season your steaks with kosher salt the night before. Sprinkle both sides generously, then park in the fridge overnight. This allows osmosis to draw the salt into the meat.
Bring your steaks out of the fridge to let the warm up a bit before cooking.
Melt the butter in a heavy skillet over medium-high heat. Sear both sides of the steak for 4 minutes, then remove to a platter.
Add your shallots to the pan and cook until soft, decreasing the heat if needed to prevent the shallots from browning too fast. Then deglaze the pan with the wine and vinegar and finally, stir in the rosemary.
Check the internal temperature of the filets, then return to the pan to finish cooking, flipping at least once. Scroll down for the internal temperatures of rare, medium-rare, medium and well-done beef.
Remove to a platter, cover with foil, and allow to rest for 10 minutes before serving.
Keep the pan sauce warm and pour into a pitcher and drizzle over steaks to serve.
NOTE: If you want to grill your steaks and make this sauce, you'll want to sear your steaks in your skillet first. Quickly searing in butter will add some beef flavoring to the sauce.
Guide to Internal Steak Temperatures
My husband likes his steak very rare, and I'm more of a medium-rare gal. We have had many guests who prefer their steaks medium, so it's good to have some guidelines on what internal temperatures are for what doneness of beef. Having an instant read thermometer is key!
Allow about 5-10 degrees for carryover cooking time. This is the time you let the steaks rest under foil so the juices can be reabsorbed.
The temperature for each degree of doneness, according to Certified Angus Beef, are as follows:
For a RARE Steak (cool red center), look for an internal temperature of 125 degrees but remove from heat at 120 degrees.
For MEDIUM RARE Steak (warm red center), look for an internal temperature of 135 degrees, but remove from heat at 130 degrees.
For MEDIUM Steak (warm pink center), look for an internal temperature of 145 degrees, but remove at 140 degrees.
For MEDIUM WELL Steak (slightly pink center), look for an internal temperature of 150 degrees, but remove at 145 degrees.
For WELL DONE Steak (little to no pink center), look for an internal temperature of 160 degrees, but remove at 155 degrees.
More Entree Recipes You'll Love:
This recipe was first shared in May 2012. Photos and text were updated in 2019.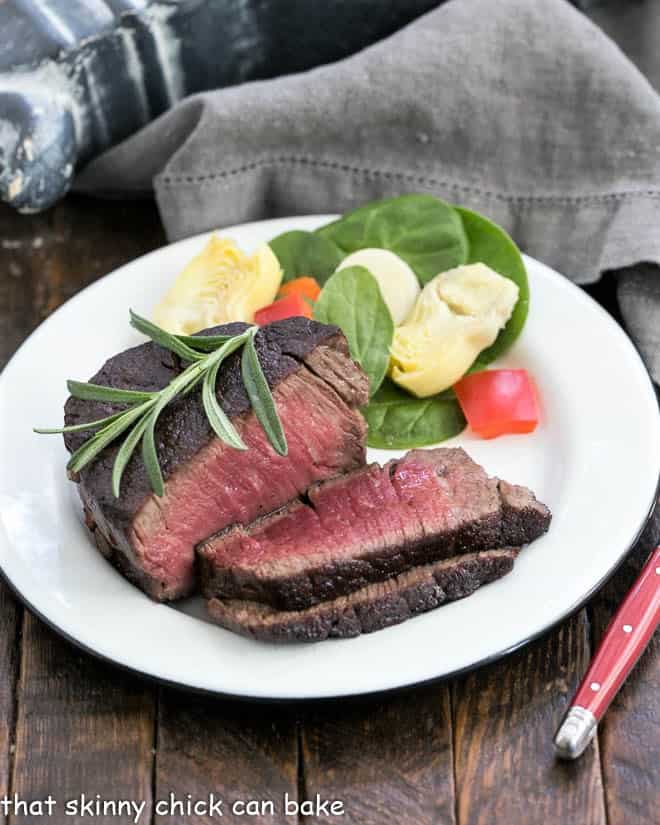 The Recipe:
Filet Mignon with a Red Wine Balsamic Sauce Recipe
Prep Time 10 minutes
Cook Time 10 minutes
Total Time 20 minutes
Yield 4 servings
An easy, elegant company worthy entree
Ingredients
4 8-ounce beef tenderloin steaks
4 tablespoons butter, divided
1 large shallot, diced
2/3 cup dry red wine
1/3 cup balsamic vinegar (good quality)
2 tablespoons rosemary, minced
Kosher salt and freshly ground black pepper
Instructions
Remove steaks from the refrigerator 30 minutes before cooking. Season well with salt and pepper. Melt 2 tablespoons butter in a large saute pan over medium-high heat. Add fillets and sear on each side for 4 minutes, and remove to a platter.
Add the remaining 2 tablespoons of butter and shallots. Saute a few minutes till shallots are tender. Add the wine and vinegar to deglaze, then add rosemary. Reduce sauce by half and add 1/2 teaspoon salt if needed.
Return steaks to pan, and cook to desired doneness, flipping once during cooking time. Serve over mashed potatoes if desired with sauce.
Notes
Recipe inspired by Food for My Family
Recommended Products
As an Amazon Associate and member of other affiliate programs, I earn from qualifying purchases.
Nutrition Information:
Yield:
4
Serving Size:
1
Amount Per Serving:
Calories: 902
Total Fat: 68g
Saturated Fat: 29g
Trans Fat: 0g
Unsaturated Fat: 29g
Cholesterol: 223mg
Sodium: 303mg
Carbohydrates: 8g
Fiber: 1g
Sugar: 4g
Protein: 55g
Note: This post may contain affiliate links; view
my Disclosure Policy
for details. I earn a small percentage from any purchase you make by clicking on these links at no extra cost to you.