Oven Pot Roast with Mushrooms, Tomatoes & Red Wine
Oven Pot Roast with Mushrooms, Tomatoes and Red Wine is a heavenly, slow-cooked entree that requires very little hands-on time!
Learn how to make an old-fashioned Dutch Oven Pot Roast. No crockpot or Instant Pot is needed. This Beef Pot Roast is made with a chuck roast for some delicious comfort food. So much flavor in every morsel!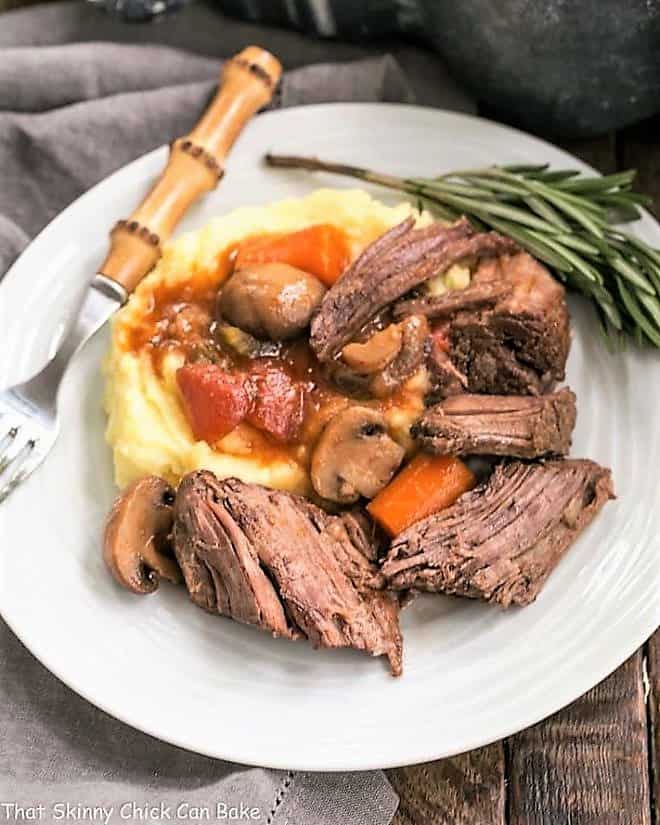 Why You Must Make
Besides the irresistible aroma that fills the kitchen, this combination of beef, vegetables and red wine stewing away in the oven makes for one of the most sublime pot roasts you'll ever try. In fact, this oven pot roast recipe with mushrooms, tomatoes & red wine has become our favorite pot roast recipe. I don't even mind the pile of mushrooms leftovers on Bill's plate; it just means more for me!
This is delicious comfort food!
There are layers of flavor due to the searing, the addition of red wine, a bevy of herbs and aromatics, then the slow cooking of this chuck roast.
Your house will smell amazing while this pot roast is cooking!
How to Make
Preheat oven. A pot roast will be more tender cooked low and slow. 300º works well.
Pat the chuck roast dry with paper towels. You want to sear the exterior of the roast, not steam it. The browning creates the Maillard reaction between the amino acids and certain sugars which gives cooked meat its distinct flavor. This is a key step.
Before searing, season both sides with salt and pepper. PRO-Tip: It's much better to season along the way instead of adding salt and pepper at the end. This adds layers of flavor.
Sear both sides of the roast in the Dutch oven, remove the meat from the pan, then add the aromatics and vegetables and cook for a minute or so.
Add the rest of the ingredients, then return the roast to the pan and let the liquid come to a simmer.
Cover the pot with foil, then add the lid and return to the oven. Cook, as directed, until the roast is fall-apart tender.
If desired, reduce the liquid in the Dutch oven and thicken for a sauce.
Serve over mashed potatoes or your favorite starch.
Dutch Oven Pot Roast
The depth of flavor in this Oven Pot Roast with Mushrooms, Tomatoes & Red Wine is unforgettable. There are layers and layers of deliciousness from the first sear of the chuck roast to the sprig of rosemary added near the end of the cooking time.
Red wine, a bevy of aromatics, and a well-marbled chuck roast all play important roles in making a perfectly lovely meal! It's wonderful for a back-to-school dinner, but incredible enough to serve to company.
If you love pot roast, this pot roast in the oven is a must-try recipe! If time is extra tight, try my Easy Pot Roast recipe. This Mississippi Pot Roast looks worth a gander, too!
Frequently Asked Questions
What Cut of Beef for Pot Roast?
I always go for a chuck roast. It is a cut of beef that's best cooked in a bit of liquid for a longer period of time. The chuck roast should be well-marbled, meaning streaks of visible fat throughout the meat. If, after cooking, larger pieces of fat remain, just remove them before serving.
Have your butcher pick out a good one if you're unsure. Note that tougher cuts of meat like a chuck roast are also the most flavorful. Slow cooking allows the connective tissue to break down and the meat to become tender.
What's the Best Pot Roast Oven Temperature?
The optimal temperature is between 300 and 350 degrees. At 300 degrees, a pot roast will be fully cooked in 3 1/2-4 hours. The lid should fit tightly so that no steam or heat escapes. If the lid is a little loose, just cover the top of the pan with foil, then place the lid over the foil.
How to Cook a Pot Roast with Potatoes and Carrots?
Potatoes can easily be added to this pot roast recipe. Just peel and cut your potatoes into chunks and add them into the Dutch oven during the last hour. They will have time to cook, absorb some of the juices and not get mushy.
Why Add Red Wine to a Pot Roast?
Wine, like all alcohol, is a flavor enhancer. Most of the alcohol will evaporate during the long cooking time, so it's safe for the whole family to eat.
You May Also Like:
The Recipe:
Pot Roast with Mushrooms, Tomatoes & Red Wine
Prep Time 20 minutes
Cook Time 4 hours
Total Time 4 hours 20 minutes
Yield 6 servings
A fabulous pot roast adapted from America's Test Kitchen
Ingredients
3 pound chuck roast
Salt and pepper
Olive oil
Medium onion, chopped
2-4 carrots, chopped*
2 carrots, peeled and cut into chunks*
1 stalk celery, chopped
8 ounces button mushrooms, cleaned and halved or quartered
2 cloves garlic, minced
2 teaspoons sugar
1 cup chicken broth
1/2 cup dry red wine
1 sprig thyme
1 can (14 1/2 ounces) diced tomatoes with juice
1 1/2 cups water
1 sprig rosemary
Instructions
Preheat oven to 300º.
Pat chuck roast dry with paper towels. Sprinkle both sides with salt and pepper. In a Dutch oven, heat a tablespoon or two of olive oil, and sear both sides. When browned, remove roast to a plate. Add a bit more oil if the pan is dry and saute onion, carrots, celery, and mushrooms until soft. Add sugar and garlic and allow to cook about a minute.
Add the chicken broth, red wine, thyme, and tomatoes. Return roast to pan and add water. Allow liquid to come to a simmer, then cover the top of the pan with foil and top with the lid. Place in oven cook about 3½ to 4 hours, flipping meat every 30 minutes (as your schedule allows) until the roast is tender and falling apart.
Remove meat from pan and add rosemary to liquid in the pan. Reduce liquid to about 1½ cups, then discard thyme and rosemary. Season with salt and pepper if needed (I added almost a teaspoon of salt and ½ teaspoon of pepper). Cut meat into slices or shred into large pieces, removing fat as necessary. Add meat back to the sauce and stir to combine.
Serve over mashed potatoes or your favorite starch.
Notes
*I made this recipe with all chopped carrots the first time. I love having big chunks of carrots to eat along with the meat and mushrooms so added a couple carrots cut into larger pieces. Feel free to leave out the chunked carrots if you'd like!
Nutrition Information:
Yield:
6
Amount Per Serving:
Calories: 488
Total Fat: 21g
Saturated Fat: 7g
Trans Fat: 1g
Cholesterol: 168mg
Sodium: 1285mg
Carbohydrates: 14g
Fiber: 4g
Sugar: 7g
Protein: 61g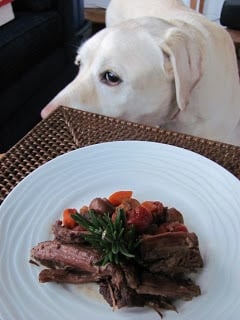 Lambeau Circa 2011
Note: This post may contain affiliate links; view
my Disclosure Policy
for details. I earn a small percentage from any purchase you make by clicking on these links at no extra cost to you.