Slow Cooker Chicken Enchilada Soup
This Chicken Enchilada Soup is Mexican comfort food that's a super easy, flavorful entree made in a crockpot. The frigid days of winter call for warm, spicy dishes.
This Slow Cooker Chicken Enchilada Soup packs a little heat and a lot of deliciousness into every spoonful. It's perfect for game day as the slow cooker will keep it warm until halftime.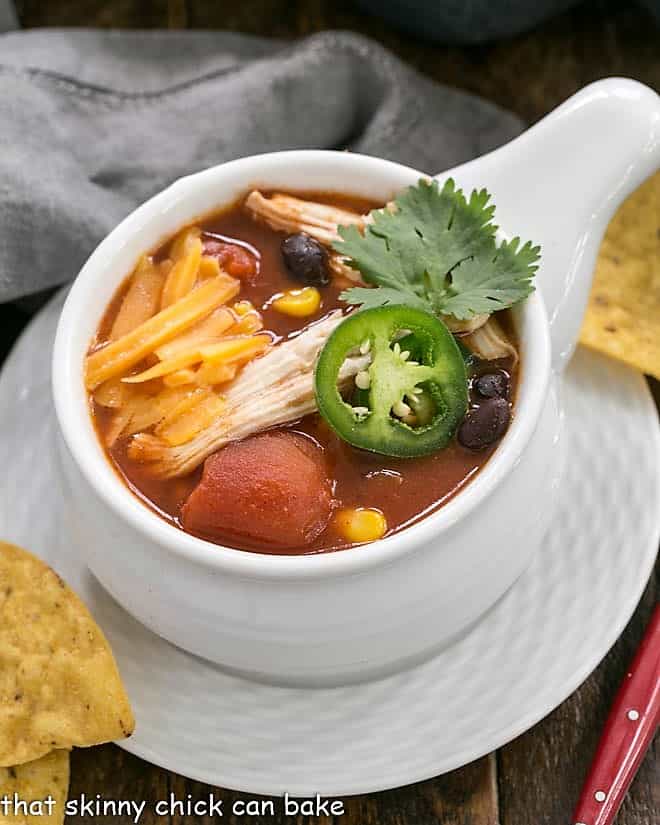 Why You Must Make
The warming power of a spicy soup should not be underestimated. On a cold winter's day, a cup of piping hot chili or chicken enchilada soup brings comfort from the tips of your chilly toes all the way through to your bones.
Jalapenos and cayenne pepper add some heat, and those can certainly be adjusted to your palate. But there is so much more to this lovely soup.
This fabulous enchilada soup is made in a slow cooker, so most of the cooking time is hands-off. A good percentage of the ingredients are just dumped into the crockpot, so that's a definite bonus.
Just note that there's a simple, homemade enchilada sauce that you need to make to add to the other ingredients. You can always whip that up a couple of days ahead of time and keep it parked in the fridge so you're set on soup day!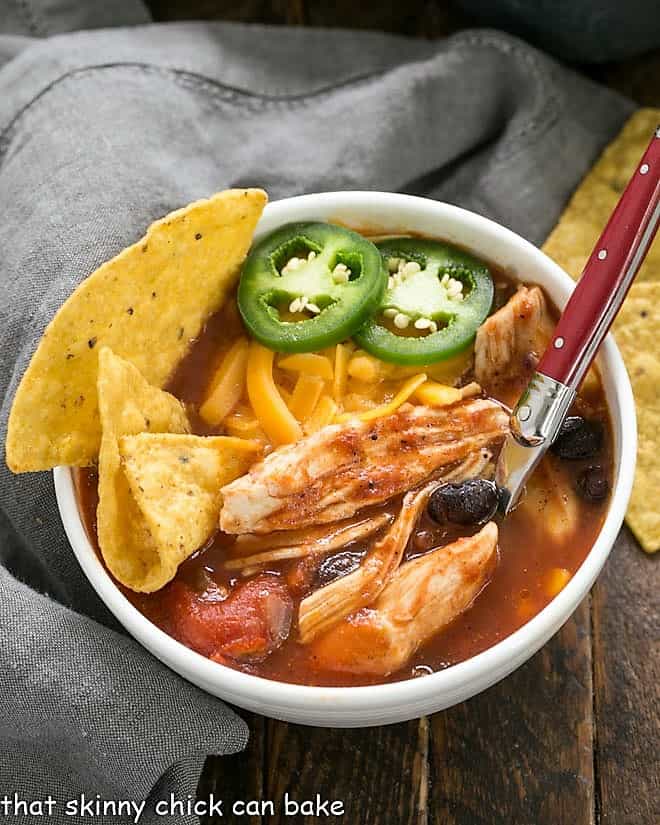 Ingredient Notes
Kitchen Staples – Olive Oil, Yellow or White Onion, Garlic, Salt, Pepper, Sugar
Jalapeno – Remove the ribs and seeds to tone down the spiciness
Seasonings – Cumin, Chili Powder, Cayenne
Cans of Whole Tomatoes and Tomato Sauce
Chicken Stock or Broth – I like Pacific brand
Frozen Corn (fresh corn would be wonderful when in season)
Can of Black Beans – Drain and rinse
Chicken Breasts – cooked and shredded or Rotisserie Chicken for a shortcut
Garnishes – Grated Cheddar, Sour Cream, Tortilla Chips, Fresh Cilantro, Jalapeno slices, Chopped Onion
Serving Suggestions
Just save this slow cooker soup recipe for when the next cold front is heading your way—you won't be disappointed! What's your favorite wintertime soup??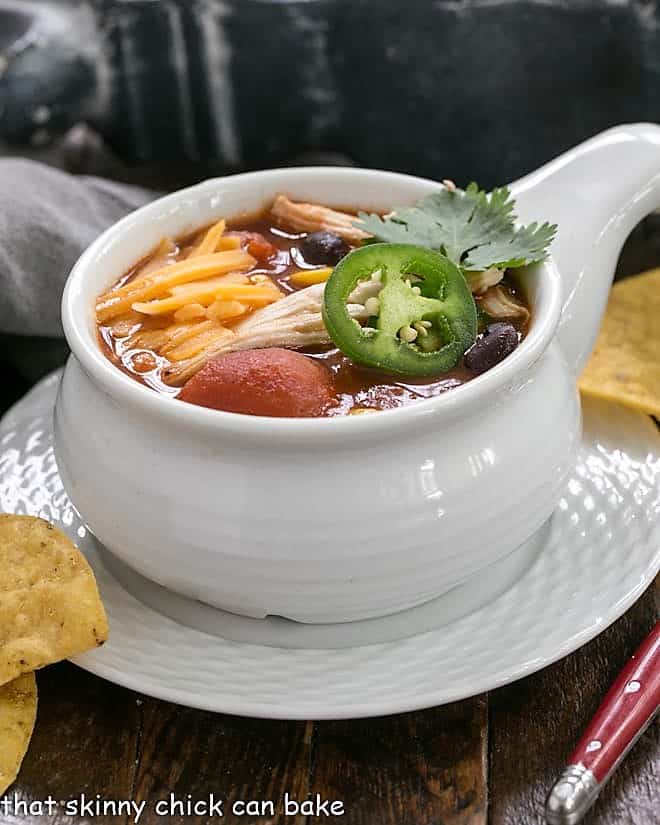 Frequently Asked Questions
How Do You Make Soup in a Slow Cooker?
First, you'll need to saute the onions, garlic, and peppers. This softens and concentrates their flavor. Season, then add tomato products and bring to a simmer.
The chicken must be cooked, cooled, and shredded. Use leftover grilled chicken or a rotisserie chicken to make it easy. Then, just dump everything, except the toppings, into the slow cooker and cook as directed.
What Toppings Are Best for Enchilada Soup?
This soup is yummy on its own, but why not make it even more delicious by adding some fun toppings? Shredded cheese is a must, and if you've made an uber-spicy version, a dollop of sour cream or Greek yogurt is also imperative to temper the heat.
Cilantro, chips, diced onion, and more peppers are all terrific options, too. You can even slice up strips of tortillas and fry them for a crispy garnish.
What Kind of Cheese Works Well in Chicken Enchilada Soup?
Shredded cheddar, white or yellow, sharp or mild works well. Monterey Jack or Pepper Jack, if you'd like a little more heat, are also great alternatives.
Is Enchilada Soup Healthy?
Without any toppings, enchilada soup is quite healthy. It's loaded with tomatoes, plus black beans and chicken for protein. The calories will add up if you load up your bowl of soup with toppings, especially cheese, sour cream, and chips.
You May Also Like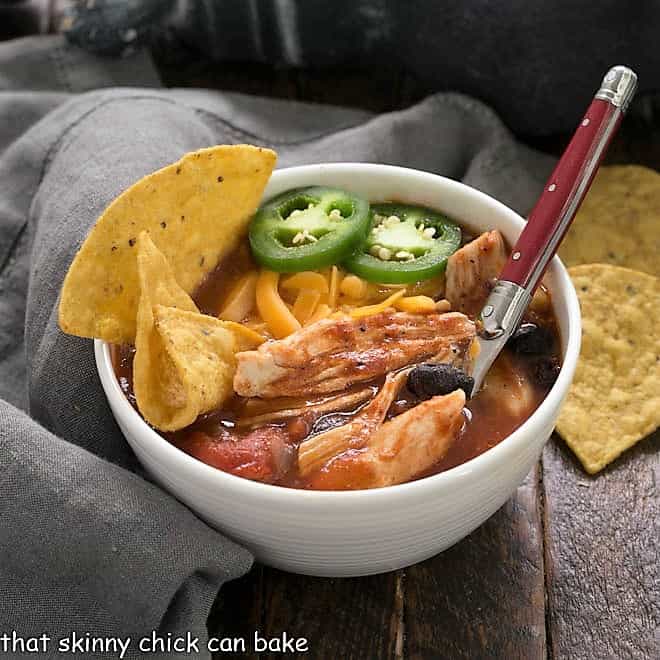 The Recipe:
Slow Cooker Chicken Enchilada Soup
Prep Time 20 minutes
Cook Time 6 hours
Total Time 6 hours 20 minutes
Yield 6 servings
A hearty, spicy Tex-Mex chicken soup made in a slow cooker. Adapted from The Kitchn
Ingredients
For the enchilada sauce:
2-3 tablespoons olive oil
1 medium onion, chopped
1 large jalapeño, seeds removed and minced
3 cloves of garlic, minced
2 tablespoons chili powder
1 tablespoon ground cumin
1 tablespoon sugar
1 (15-ounce) can of whole tomatoes, drained and chopped
1 (15-ounce) can tomato sauce
2 cups chicken stock
For the soup:
2 cups frozen corn (fresh corn is always a delicious alternative)
1 (15-ounce) can black beans, drained
2 to 3 pounds bone-in chicken breasts, browned, roasted and shredded (or use rotisserie chicken)
Salt and freshly ground black pepper, to taste
Cayenne pepper, optional
To garnish:
Grated cheddar cheese
Sour cream
Tortilla chips
Cilantro
Instructions
Heat a few tablespoons of oil in a large Dutch oven or skillet over medium heat.
Add the onions and jalapeño and cook until soft. Add the garlic, chili powder, cumin, and sugar and cook for about a minute.
Add the tomatoes, tomato sauce, and stock. Season with salt and pepper.
Bring to a simmer, then transfer to the bowl of a slow cooker.
Add the corn, beans, and chicken to a 5-quart (or larger) slow cooker. Cover and set on low for 6 to 7 hours (or high for 4 hours).
Give the soup a taste and season the soup with additional salt, pepper, and cayenne pepper, if needed.
Serve with cheddar cheese, sour cream, tortilla chips, and cilantro.
Nutrition Information:
Yield:
6
Serving Size:
1
Amount Per Serving:
Calories: 620
Total Fat: 19g
Saturated Fat: 5g
Trans Fat: 0g
Unsaturated Fat: 13g
Cholesterol: 201mg
Sodium: 545mg
Carbohydrates: 32g
Fiber: 6g
Sugar: 8g
Protein: 79g
Note: This post may contain affiliate links; view
my Disclosure Policy
for details. I earn a small percentage from any purchase you make by clicking on these links at no extra cost to you.