Try this Sheet Pan Chicken with Roasted Fall Vegetables for a delicious, comforting meal with only one pan to clean! I received five products to review from OXO in exchange for this post. As always, all opinions are my own.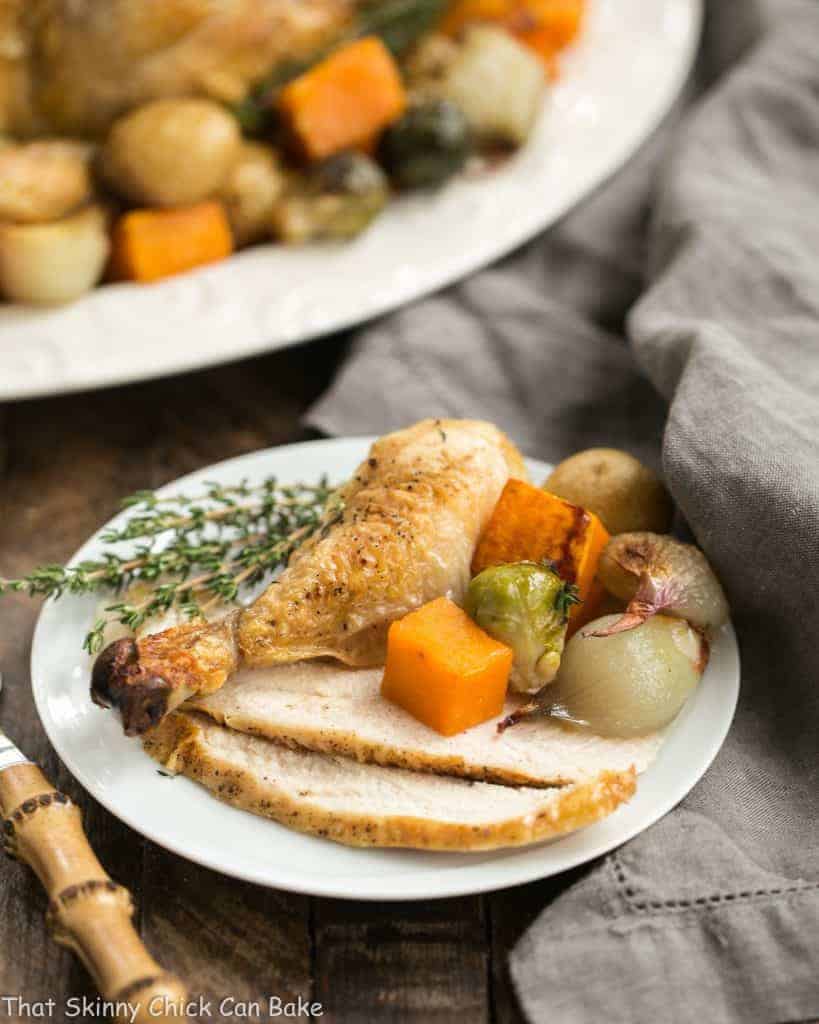 Sheet Pan Chicken with Roasted Fall Vegetables
There's nothing better than the aroma of a chicken roasting in the oven. Well, brownies do it for me, too. With the temperature cranked up, and a generous sprinkle of salt, this sheet pan chicken cooked to perfection in less than an hour.
So why not add an array of autumnal vegetables to the same pan? As the juices drip and caramelize from the bird, the veggies absorb some of those tantalizing flavors as a bonus. Serve this easy chicken for dinner along with the melange roasted fall vegetables which came along for the ride!
A Sheet Pan with A Plan
I'm a huge fan of OXO kitchen products and received 5 winners for this promotion. With our temperatures plummeting this week, comfort food was in order and a simple roast chicken fit the bill. I used 3 of the 5 OXO products to make this dish. The other two will get a workout on Thanksgiving day.
First up was the Chef's Precision Digital Thermometer. It's a digital read instant thermometer which was perfect for checking my chicken for doneness. Nobody wants an underdone (or dry overcooked) chicken! I especially loved the pivoting head which made it super easy to read at any angle.
I also used the easy to clean Silicone Roasting Rack. Just place one or two on your sheet pan, depending on the size of what you're roasting, to prevent your meat from sticking and burning as well as promoting air circulation for fast, even roasting. I loved tucking veggies in the slots so that they could be bathed in juices!
The third product I used, and loved, was the Non-Stick Pro Half Sheet Jelly Roll Pan – 13″ x 18″. Perfect for baking holiday cookies, but it's also ideal for a savory sheet pan supper! Cleanup was again a breeze with the non-stick, two layer coating.
I did not test the Good Gravy Fat Separator, but own an earlier model. The redesign includes a drip free valve which allows the meat juices to be released via the bottom of the container with just a squeeze of the handle. The fat rises to the top, so you just release the handle when you get to the fat layer. Pretty slick!
I also received a Flavor Injector which is a simple way to inject marinades, brine and other seasonings right into your turkey, chicken or roasts! I cannot wait to give it a try.
Tips for the Perfect Roast Chicken
You do not need to wash your chicken, but it is imperative that you dry it inside as out. This helps the skin to brown and crisp instead of steam.
If you like really crispy skin, salt your chicken and let it rest in the refrigerator for at least an hour before roasting.
I love Thomas Keller's simple recipe which calls for only a generous sprinkling of kosher salt inside and out, then a few grinds of black pepper. That's it until chopped fresh thyme is dusted over the finished bird.
You can stuff the cavity with a quartered lemon or onion which may make the pan juices a little tastier, but not essential for a yummy chicken.
There are two basic methods for roasting chicken: low and slow or hot and quick. This is the latter.
Trussing the chicken helps it cook more evenly. Use butcher's twine to tie the legs together, then wrap the twine around the body making a more compact bird. See this New York Times Video for details.
Make sure to use a rack to help air circulate beneath the chicken (this isn't always possible when roasting your chicken with loads of vegetables!).
More Sheet Pan Recipes You'll Love:
Print
Sheet Pan Chicken with Roasted Fall Vegetable
Author:
Prep Time: 20 minutes
Cook Time: 60 minutes
Total Time: 1 hour 20 minutes
Yield: 2 1x
Cuisine: Entree, Chicken
Ingredients
1 roasting chicken, about 3 pounds
2 teaspoons kosher salt
1/4 teaspoon freshly ground black pepper
1 lemon, cut into quarters, optional
1 medium butternut squash, peeled, seeded and cubed (or buy it already cubed)
1 pound Brussels sprouts, large ones cut in half
1 pound new potatoes
1/2 pound shallots, peeled and large ones cut in half
1–2 tablespoons olive oil
3/4 teaspoon kosher salt
2 teaspoons minced fresh thyme
Instructions
Pat chicken dry and trim of any excess fat. Sprinkle with 2 teaspoons salt and 1/4 teaspoon of pepper including tossing some in the internal cavity. Put a quartered lemon in the cavity, if desired. Truss the turkey if desired.
In a large bowl, add the squash cubes, Brussels sprouts and shallots. Toss with 1-2 tablespoons olive oil and sprinkle with 3/4 teaspoon salt.
Place the silicone roasting racks on your sheet pan then place the chicken on the racks. Arrange the vegetables around the chicken, in one layer. If your pan is overcrowded, you can place some of the vegetables in the slots of the roasting rack.
Preheat oven to 475 degrees. Check the vegetables after 30 minutes and remove to serving dish when tender. Continue roasting chicken.
Roast chicken until internal temperature reaches 160 degrees in the thigh (45 minutes to 1 hour).
Remove from oven and sprinkle with thyme. Let rest 15 minutes before carving. Cover with foil to keep warm as it rests.
Nutrition
Calories: 2007kcal
Sugar: 21g
Sodium: 3188mg
Fat: 117g
Saturated Fat: 32g
Trans Fat: 0
Carbohydrates: 109g
Fiber: 22g
Protein: 134g
Cholesterol: 585mg
Note: This post may contain affiliate links; view
my Disclosure Policy
for details. I earn a small percentage from any purchase you make by clicking on these links at no extra cost to you.