Classic Roast Chicken with Mustard Potatoes
This delectable, comforting Classic Roast Chicken with Mustardy Potatoes is a Sheet Pan Supper or an easy meal cooked on one pan.
This Sheet Pan Chicken Recipe helps you stream line meal prep by cooking your entree and side dish at the same time! A fabulous family meal for any day of the week.
Why You'll Love a Sheet Pan Chicken Recipe
Your chicken and potatoes cook together on one pan, streamlining your dinner prep and cleanup!
It's basically a hands off recipe that requires little effort with a delicious payoff.
This recipe comes from Molly Gilbert, a graduate of the French Culinary Institute, food blogger and recipe tester in the kitchen of Saveur.
Classic Roast Chicken with Mustard Potatoes
How often is roast chicken on your menu? If the answer is rarely, you'll be thrilled with this easy recipe. Any leftovers can be shredded and used to make myriad other entrees. In fact, while you're at it, roast TWO!
The process is so simple—the chicken is stuffed with lemons, herbs, and garlic. Salted once, then smeared with butter and seasoned once again makes for crisp, flavorful skin and the most succulent meat. Plus the potatoes are incredible, too, tossed with lemon juice and whole grain mustard, then roasted along with the chicken till golden brown. In an hour to an hour and a half, dinner is served. Just toss a quick salad and your family will think you slaved all day to make this spectacular meal.
Check Out More Easy Chicken Recipes: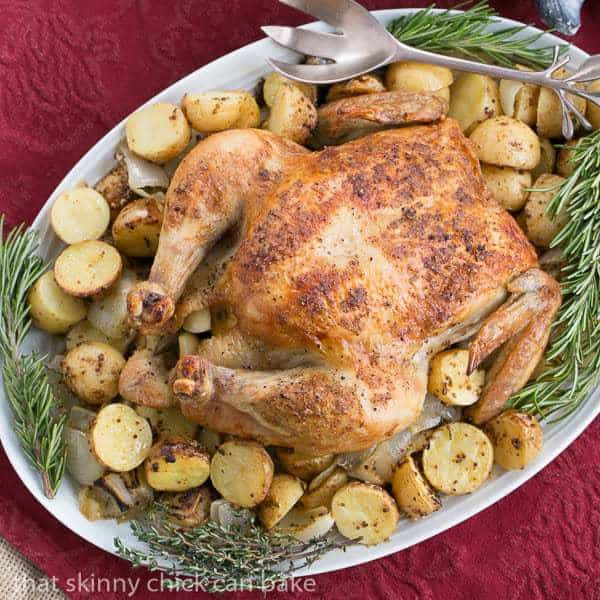 The Recipe:
Classic Roast Chicken with Mustard Potatoes
Prep Time 20 minutes
Cook Time 1 hour
Total Time 1 hour 20 minutes
Yield 4 servings
This classic roast chicken from cookbook author, Molly Gilbert, is easy enough for a weeknight, yet impressive enough for company! And both the potatoes and chicken are roasted together on a sheet pan.
Ingredients
1 lemon
2 yellow onions, cut into 2-inch chunks
2 pounds baby potatoes (also called new potatoes or creamers), halved (or left whole if really tiny)
1/4 cup whole-grain Dijon mustard
3/4 cup extra virgin olive oil
1 1/2 teaspoons finely chopped fresh rosemary leaves, plus 2 sprigs
1 tablespoon roughly chopped fresh thyme leaves, plus 4 sprigs
Kosher salt and freshly ground black pepper
1 roasting chicken
1 bay leaf
2 or 3 cloves garlic
3 tablespoons unsalted butter, at room temperature
Instructions
Preheat oven to 425º with a rack in the center position.
Cut the lemon in half widthwise and squeeze the juice into a small bowl; remove any seeds. Set the squeezed halves aside.
Place the onions and potatoes in a large bowl and add the lemon juice, mustard, olive oil, chopped rosemary, chopped thyme and 1/2 teaspoon each of salt and pepper. Spread the vegetables in an even layer on a sheet pan. Set aside.
If there's a little goody bag of giblets inside the chicken cavity, remove and discard it. Use a sharp knife to trim the chicken of any excess fat in and around the cavity. Pat the skin dry with paper towels. Liberally salt and pepper the chicken both inside and out.
Stuff the cavity with the reserved lemon halves, the sprigs of rosemary and thyme, the bay leaf and the garlic cloves.
Rub the butter onto the chicken skin. Sprinkle the skin again with 1/2 teaspoon each of salt and pepper.
Place the chicken, breast side up, on top of the potatoes and onions. Tie the legs together tightly with the butcher's twine and tuck the wings under the body of the chicken.
Roast the chicken and potatoes until an instant read thermometer inserted in the thigh registers at least 145º and the juices run clear when you pierce the thickest part of the thigh. If the potatoes look like they're overbrowning, remove them from the pan with a spatula and set them aside until you're ready to serve.
Allow the chicken to rest for 10 minutes before slicing into pieces and serving with the onions and potatoes.
Notes
Recipe copyright © Molly Gilbert 2014. Used with permission from Workman Publishing Company.
Cooking time and servings vary depending on size of chicken.
Nutrition Information:
Yield:
4
Serving Size:
1
Amount Per Serving:
Calories: 1043
Total Fat: 70g
Saturated Fat: 17g
Trans Fat: 0g
Unsaturated Fat: 50g
Cholesterol: 154mg
Sodium: 629mg
Carbohydrates: 57g
Fiber: 7g
Sugar: 6g
Protein: 48g
Note: This post may contain affiliate links; view
my Disclosure Policy
for details. I earn a small percentage from any purchase you make by clicking on these links at no extra cost to you.