Cream Cheese Filled Pumpkin Bread
If you're a fan of pumpkin bread, you'll be thrilled with this kicked up Cream Cheese Filled Pumpkin Bread with a ribbon of cheesecake!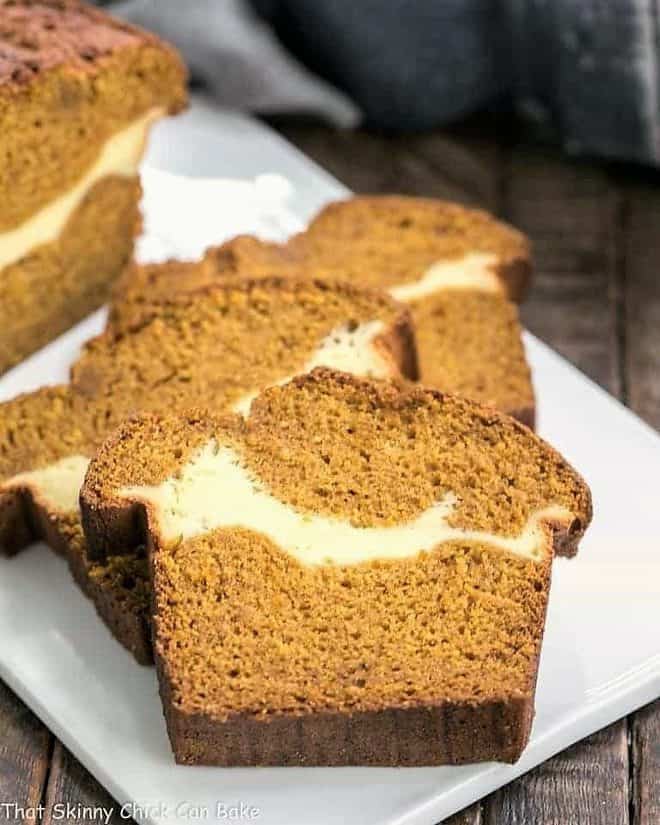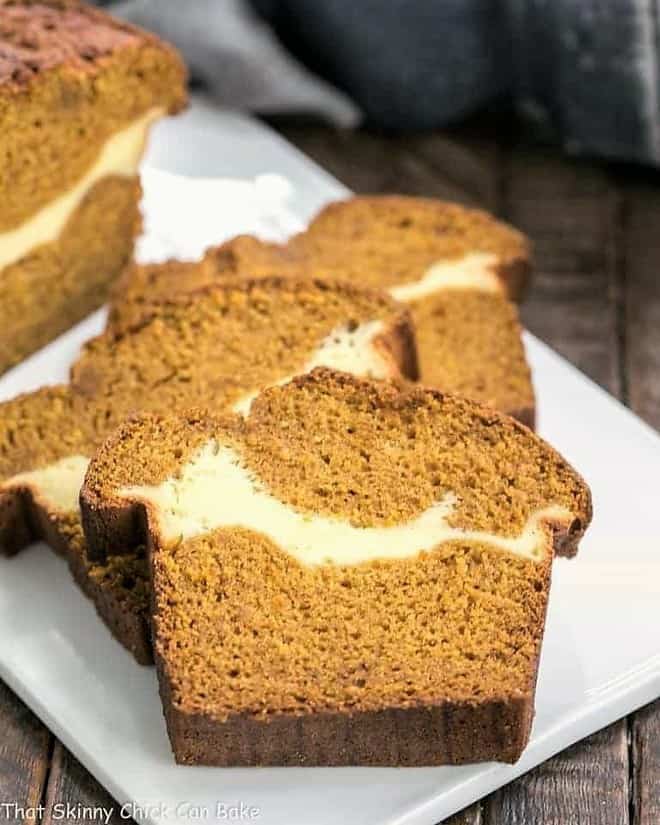 Why You Must Make
What happens when you spread a layer of cream cheese in the middle of your pumpkin bread batter? A marvelous ribbon of cheesecake appears in every slice. This cream cheese-filled pumpkin bread is a moist, spicy quick bread with a sweet surprise in the middle!
Instead of spreading butter or cream cheese on your slices of pumpkin bread, each slice comes with a layer of sweetened cream cheese!
If you love pumpkin bread, adding a cream cheese layer elevates it to another level.
It's truly delicious!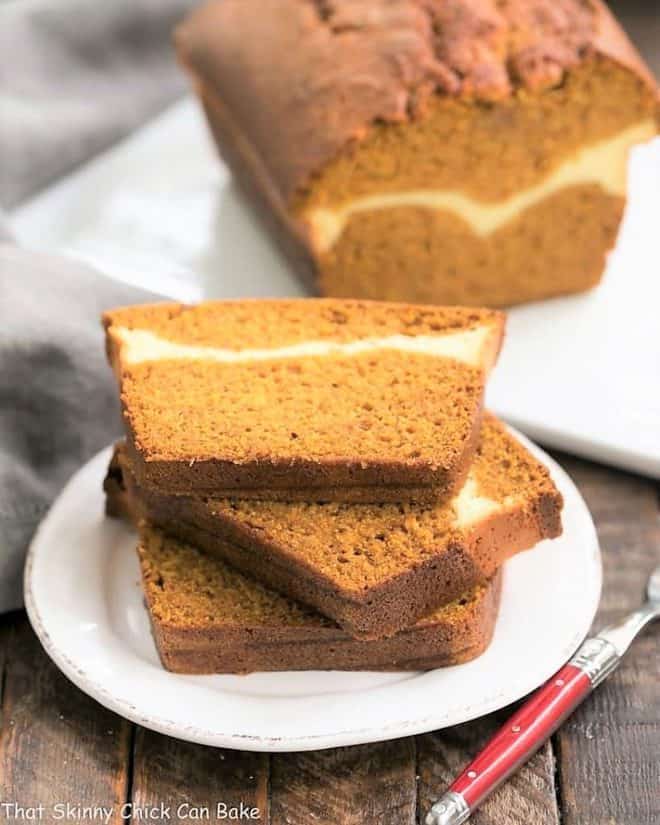 How to Make
Preheat the oven and prep the pans.
Make the pumpkin bread batter, then make the cream cheese filling batter.
Pour a bit more than a quarter of the batter into each pan, then drop spoonfuls of the filling over the pumpkin batter.
Spread the filling to cover the pumpkin batter.
Then divide the remaining pumpkin batter over the filling. Don't overfill the pan as you'll want room for the bread to rise.
Bake until a toothpick inserted into the loaf comes out clean.
I actually made a triple batch of this classic, moist pumpkin bread and a double batch of filling. One plain loaf for Nick, the cream cheese naysayer. And two for the cream cheese fans. Bill won't touch pumpkin except in pie, so one less palate to factor into the plan.
I thought of swirling in the filling, but marbleizing has never been my forte. Be sure not to overfill your pans (I may have a wee bit of experience with this situation!) and try to estimate when half the pumpkin batter is in the pan before adding the cream cheese mixture.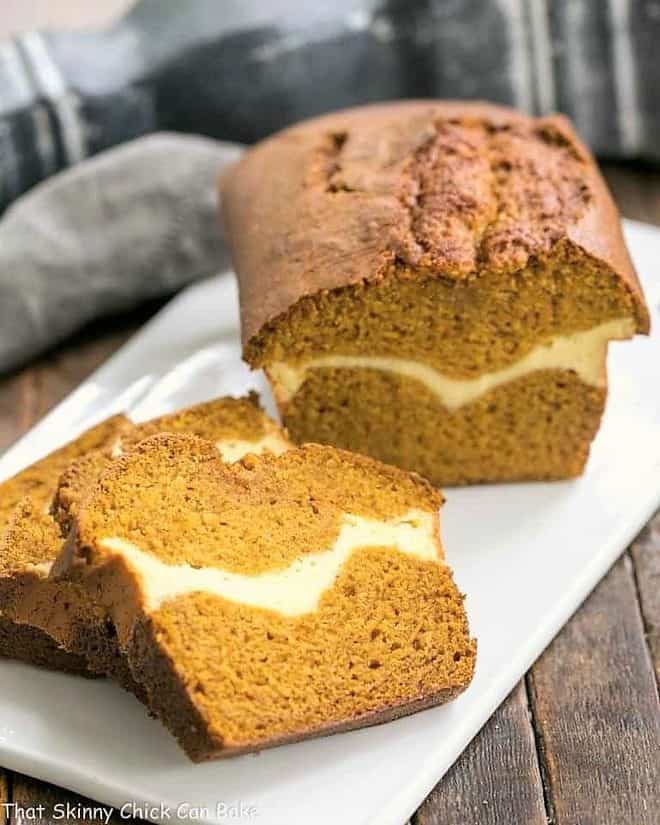 Expert Tips
Have your eggs and cream cheese at room temperature for easy incorporation.
Don't overfill your loaf pans. 3/4 full is the goal.
Use leftover pumpkin bread batter to make muffins. Use a muffin tin or ramekins to bake them.
These loaves can take up to an hour and a half to fully bake. It depends on the weight of your pan and how your oven works.
Start checking at the one-hour mark by inserting a toothpick into a couple of spots on each loaf. If it comes out clean, your loaf is done. If not, continue baking and checking every 10 minutes or so.
Let cool for about 15 minutes before removing the loaves from the pan. You'll want the crust to solidify before inverting.
Slice when loaves are cooled completely.
You May Also Like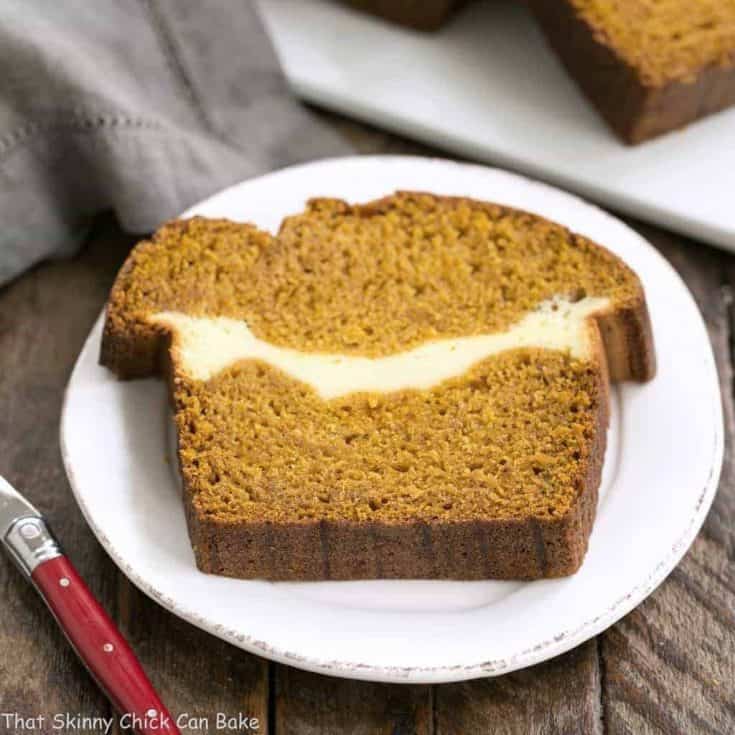 The Recipe:
Cream Cheese Filled Pumpkin Bread
Prep Time 30 minutes
Cook Time 1 hour 30 minutes
Total Time 2 hours
Yield 36 servings
A classic, moist and tender pumpkin bread with a ribbon of sweetened cream cheese filling
Ingredients
For pumpkin bread:
3 cups sugar
1 cup oil
4 eggs
2 cups pumpkin
3 1/2 cups flour
1/2 teaspoon baking powder
2 teaspoons salt
2 teaspoon baking soda
1/2 teaspoon cloves
1/2 teaspoon allspice
1 teaspoon cinnamon
2/3 cup water
For the filling:
8 ounces cream cheese, at room temperature
1/2 cup sugar
2 eggs
1 teaspoon vanilla
6 tablespoons flour
Instructions
Preheat oven to 350º. Grease two standard loaf pans. I also put a rectangle of parchment on the bottom of each pan and grease that as well.
Combine sugar and oil. Add the rest of the ingredients in order. Mix till combined and set aside.
Whip together filling ingredients till smooth and set aside.
Pour a little more than a quarter of the batter into each pan (about 1 3/4 cups). Drop spoonfuls of half the filling over top of the pumpkin batter and then use a spoon or offset spatula to spread the filling to cover the pumpkin.
Repeat with the second pan. Use the remaining batter to fill each about ¾ full. You can bake any excess batter in ramekins for muffins.
Bake 1 hour-1 hour 30 minutes or until a toothpick inserted in the center comes out clean.
Notes
Do not over-mix the batter or your bread will have tunnels.
There will be some excess pumpkin batter, so reserve enough to make 2-3 muffins so your bread pans do not overflow.
My bread pans are heavy duty and they took 1 1/2 hours to bake. Make sure to check and recheck your loaves with a toothpick so your bread is not underbaked.
Recommended Products
As an Amazon Associate and member of other affiliate programs, I earn from qualifying purchases.
Nutrition Information:
Yield:
36
Serving Size:
1 slice
Amount Per Serving:
Calories: 3816
Total Fat: 163g
Saturated Fat: 34g
Trans Fat: 0g
Cholesterol: 605mg
Sodium: 2672mg
Carbohydrates: 550g
Fiber: 8g
Sugar: 358g
Protein: 49g
Three of the most giving, kind food bloggers out there!!!
Joan of Chocolate, Chocolate and More
Kim of Kiss My Smoke
and
Dionne of Try Anything Once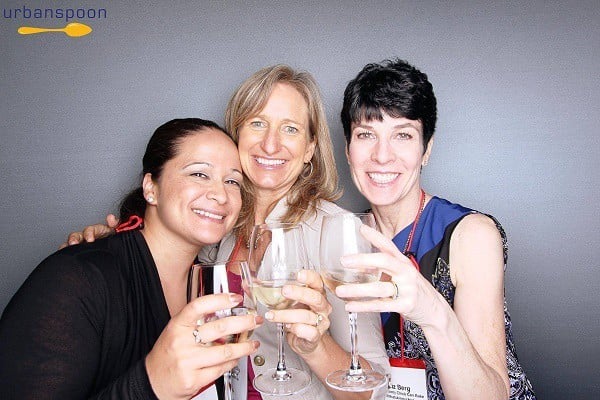 First time meeting two of my long-time blogger friends!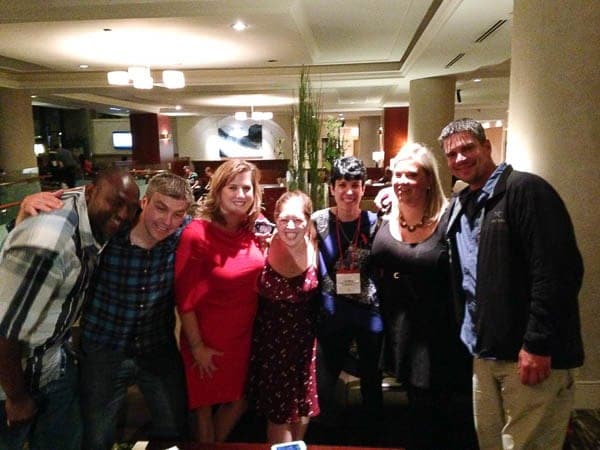 Crazy after-hours shenanigans…loads of laughs with these gals!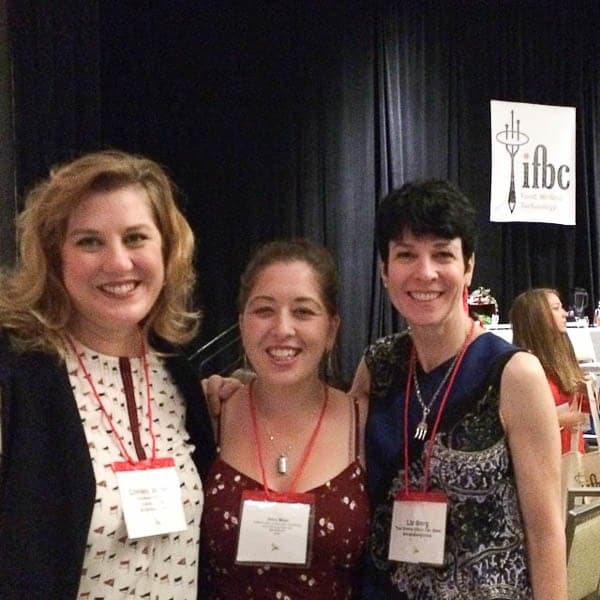 Hanging out with my Dorista friends!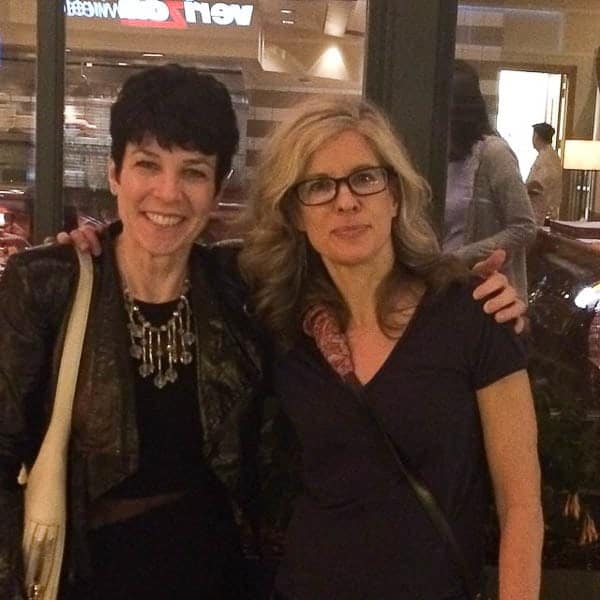 Bonus: Going out to dinner with my sister, Mary!
Note: This post may contain affiliate links; view
my Disclosure Policy
for details. I earn a small percentage from any purchase you make by clicking on these links at no extra cost to you.