Pumpkin Challah Bread
A Pumpkin Challah is the perfect bread recipe to serve at your Thanksgiving dinner! If I had to choose a favorite bread, it would be rich, eggy challah.
This Braided Bread is given an autumnal twist with the addition of pumpkin puree. It's soft, tender, and perfectly delicious served with almost any meal! Plus, the color is phenomenal.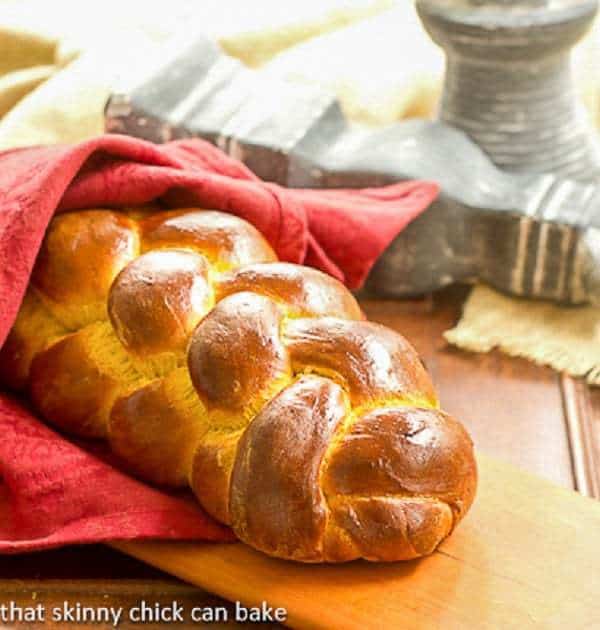 Why You Must Make
This challah recipe is perfect for fall.
The additional pumpkin adds moisture and sweetness.
If you've never braided bread, this is your chance to practice. Even if it doesn't look perfect, it will be delicious!
I finally faced and conquered the 6 strand braided challah, much in part to an on-line video tutorial by Joan Nathan. I can barely braid hair, so this was a huge coup.
I enlisted my daughter's assistance and we both watched the video as I braided and repeated her instructions aloud. I hope the next time is easier! But the results were a spectacular loaf. I'd been curious after seeing a few bloggers share their pumpkin challah recipes this fall. I wasn't sold on challah full of autumn spices, as I wanted just the earthy sweetness of the pumpkin to shine through, so omitted the cinnamon et al.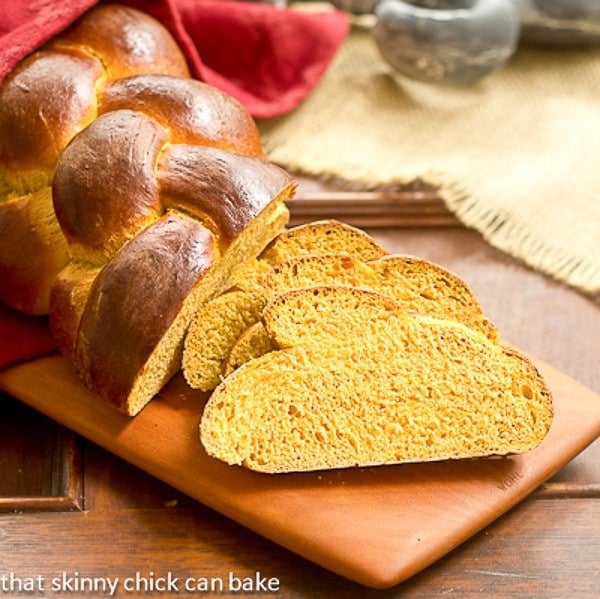 Recipe Tips
If you're worried about a strong pumpkin flavor, the bread has a nice subtle sweetness, but not an overt pumpkin flavor.
You can add warm spices like cinnamon to the dough, but this version is more versatile.
PRO-Tip: Don't force your dough to rise. The ideal temperature to proof your bread dough ranges from 75-95°. A cooler, slower rise is preferred by many professional bread makers.
Use minimal flour when shaping your dough. You don't want to add more flour to an already perfected recipe.
Use leftovers for french toast, which would be delicious topped with sauteed apples spiced with cinnamon.
PRO-Tip: Make sure your dough proofs to about triple its original size. If it doesn't proof properly, the braids can come apart or the bread can be dense like a cake. It should be puffed like a marshmallow and will wobble as you move it.
I sent part of the loaf home with my oldest and he did not see much difference in flavor from regular challah. It may have been due to a massive amount of butter on his slice, but I was pleased it wasn't too squashy.

Tips for Braiding Challah
Divide dough into 3 (or however many strands you want in your braid) equal parts. Use a scale if you don't trust your ability to eyeball equal amounts.
Shape each dough ball into a log, then gently roll them into long strands. Do not stretch or you will see striations as your bread rises.
Line the 3 strands parallel on a floured work surface. If one strand is longer, place it in the middle. Leave a bit of space between the strands, an inch or so.
Pinch the 3 strands together at the top and tuck them under the loaf.
Braid as you would 3 strands of hair, then pinch and tuck under the opposite end when finished braiding.
After the bread is proofed, brush with an egg wash for a lovely sheen on the baked loaf. Sometimes, I will do a second egg wash after 20-25 minutes so that those nooks and crannies that were exposed as the bread rose, will also be glazed.
There are lots of on-line video tutorials for braiding bread. Check them out if you're not sure how to braid a 3 stranded bread or if you want to try one of the other multi-strand options.
Frequently Asked Questions
What is Challah, Hallah, Challa?
Challah is a traditional Jewish yeast bread served on the Sabbath, holidays, and other occasions. It's rich from eggs and can be formed into many shapes, though braiding a loaf is classic.
What Makes Challah Different from Brioche?
Challah is made with oil instead of butter, but both are rich, soft, eggy bread.
Is Challah Healthy?
Challah has protein from the eggs in the dough and less saturated fat than brioche since there's no butter in the recipe. Enriched flour and pumpkin adds some vitamins and minerals, but it's still high in carbohydrates like most bread. So, it's not exactly healthy food.
You May Also Like:
Stay in touch through social media @ Instagram, Facebook, and Pinterest. Don't forget to tag me when you try one of my recipes! And if you love the results, please give it a 5-star rating in the recipe card. Note: As an Amazon Associate, I earn from qualifying purchases. Visit my Amazon Store for my favorite products.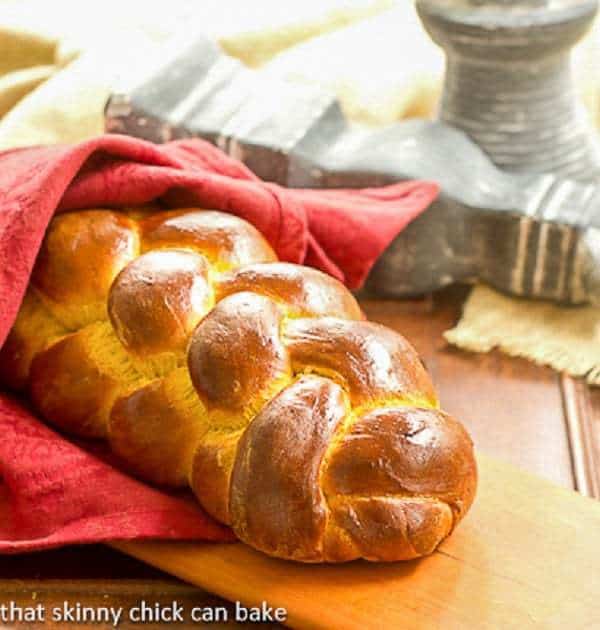 The Recipe:
Pumpkin Challah
Prep Time 30 minutes
Cook Time 40 minutes
Total Time 1 hour 10 minutes
Yield 1 loaf
A fabulous 6 strand, pumpkin challah loaf adapted from The Shiska blog
Ingredients
1 package active dry yeast (I prefer Red Star brand)
½ cup lukewarm water, divided (approximately 110º)
1 tablespoon plus 1 ½ teaspoons sugar
2 tablespoons whisked egg (half of one large egg)
3 egg yolks
2 tablespoons honey
1 tablespoon vegetable oil
1 teaspoon salt
1/4 cup brown sugar
1 cup canned pumpkin
3 ½ - 4 ½ cups all-purpose flour
Egg wash:
1 egg yolk
1 ½ teaspoons water
Instructions
Pour ¼ cup of the lukewarm water (about 110 degrees) into a large mixing bowl or the bowl of your stand mixer. Add the yeast and 1½ teaspoons of sugar to the bowl, and stir to dissolve.
Wait 10 minutes. The yeast should bubble. Add the remaining ¼ cup lukewarm water to the bowl along with the rest of the sugar, egg, egg yolks, honey, oil, and salt and whisk to combine.
Mix in the brown sugar and pumpkin puree. Using the paddle attachment of your stand mixer, begin to add the flour slowly till the dough is smooth and elastic, not sticky.
Mix on low for a couple of minutes to knead the dough. You can also do this by hand by mixing in the flour with a wooden spoon, then kneading by hand.
Grease a mixing bowl, then add the ball of dough. Twist it around to grease the bottom of the dough, then flip the dough over and cover with a damp towel.
Place in your unheated oven and add a pan of hot water to one of the shelves. Let the dough rise for 2 hours, punching down at the 1-hour mark.
Punch the dough down into the bowl a few times, then turn the dough out onto your floured work surface. Knead in some flour if the dough is sticky.
Divide the dough into thirds and roll each into a long snake. Braid as desired. I have attached a video on my blog on how to make a more complicated 6-strand blog.
Place the braided bread on a parchment-lined baking sheet. Make the egg wash by whisking together the egg and water. Brush the loaf with the egg wash and let rest as you preheat the oven to 350º.
Bake for 35-40 minutes total but turn the pan at the halfway mark. If the loaf is browning too quickly, tent with foil. Remove to a cooling rack when the bread is done (will sound hollow when you rap on the loaf).
Slice and serve when cool.
Notes
Total time does not reflect proofing times.
Recommended Products
As an Amazon Associate and member of other affiliate programs, I earn from qualifying purchases.
Nutrition Information:
Yield:
18
Serving Size:
1
Amount Per Serving:
Calories: 443
Total Fat: 3g
Saturated Fat: 1g
Trans Fat: 0g
Unsaturated Fat: 2g
Cholesterol: 47mg
Sodium: 126mg
Carbohydrates: 90g
Fiber: 3g
Sugar: 6g
Protein: 12g
Note: This post may contain affiliate links; view
my Disclosure Policy
for details. I earn a small percentage from any purchase you make by clicking on these links at no extra cost to you.