Chocolate No-Bake Cookies
I fell hard for these irresistible Chocolate No-Bake Cookies decades ago. They're so easy to make, with no oven needed. Plus, they're a speedy way to get your chocolate peanut butter fix!
When I was a teen, on a babysitting gig, I found a pan of no-bake cookie batter on the cooktop. Since I knew it was meant for me, I felt obligated to sample. Instantly smitten, my first taste of No-Bake Oatmeal Cookies sold me. You'll love them, too!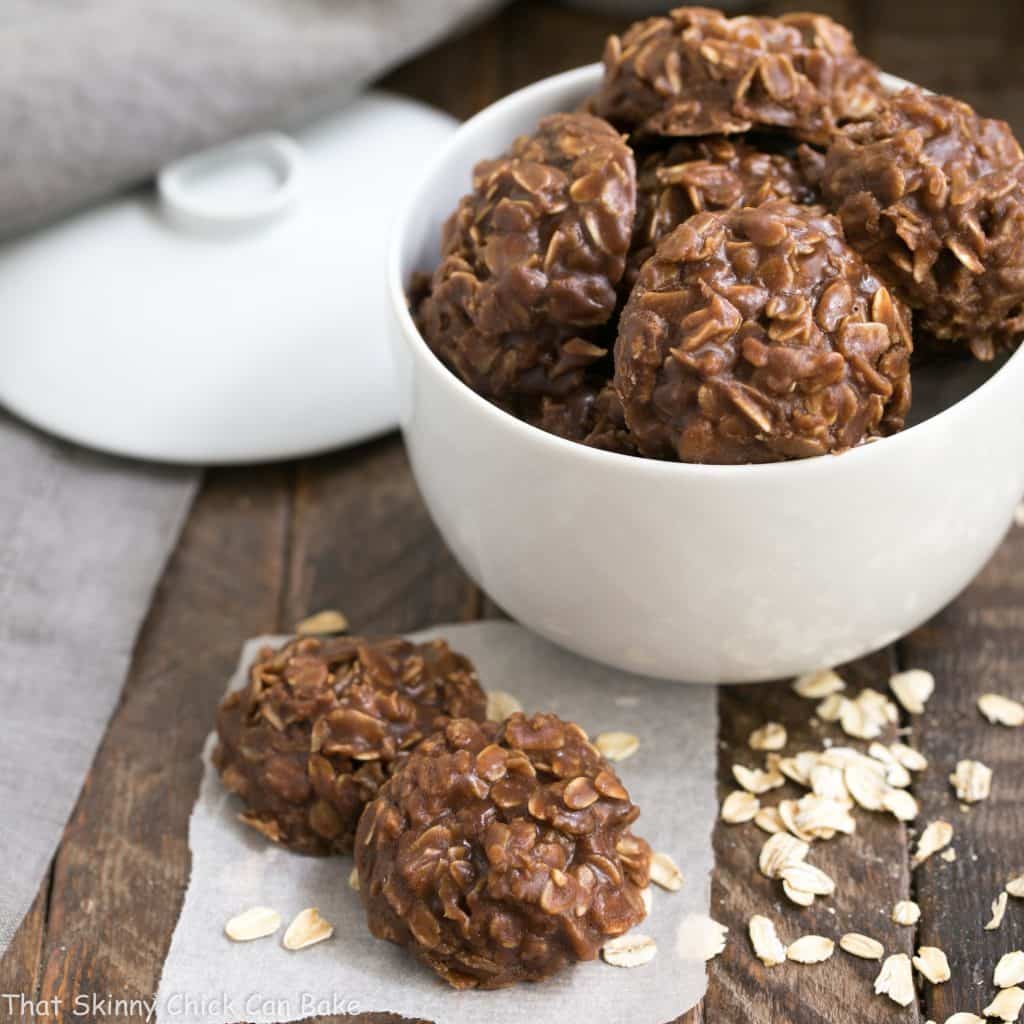 Why You Must Make
Over the years, I've had different varieties of no-bake cookies—some with coconut, some without peanut butter, and I happen to enjoy them all. They are super sweet and always conjure up memories of those tween-ager years when I could load up on sugar and burn it off in an instant! These No-Bake Oatmeal Cookies are enhanced by both peanut butter and chocolate!
These Chocolate No-Bake Cookies are made in a pan on the stovetop with only 1 minute at a full boil to cook.
They're a perfect summer treat when you don't want to heat up the kitchen by turning on the oven.
They can quickly satisfy your sweet tooth, especially when you have a peanut butter or chocolate cookie craving.
There are loads of versions, but this is my favorite!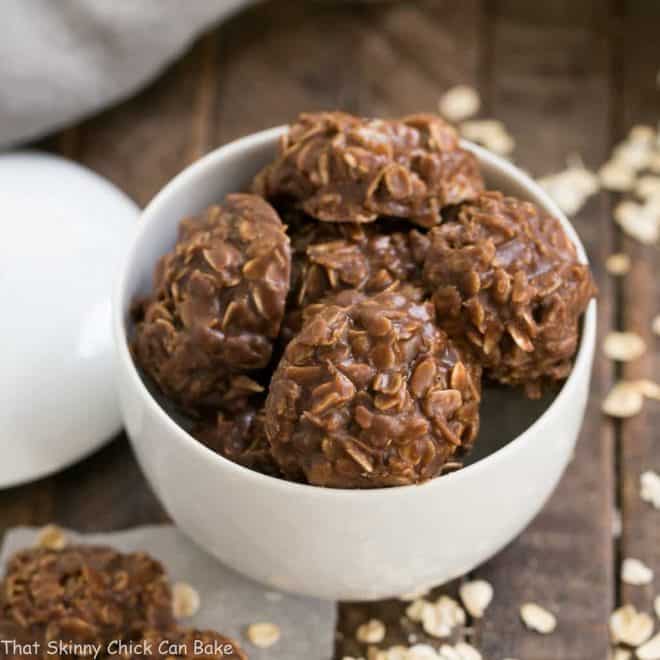 How to Make No-Bake Cookies
Totally made in a saucepan, these chocolate peanut butter no-bake cookies are quick and easy. I used quick oats, but old-fashioned rolled oats could work, too. It all depends on the texture you prefer.
The sugar, milk, butter, and cocoa are brought to a boil in a large saucepan.
PRO-Tip: Essential to success is to wait until this mixture comes to a full, rolling boil, and let it boil for a full minute.
If you're a bit uncertain, this is when a Candy Thermometer (affiliate link)comes in handy.
The goal temperature is 228° even though using a thermometer complicates what is a very simple recipe! After the minute is up, remove from the heat and stir in the rest of the ingredients.
For equally portioned cookies, I use a Medium Cookie Scoop and scoop rounds of this chocolate peanut butter no-bake cookie batter onto a parchment-lined Half Sheet Pan. (affiliate links).
If your no-bake oatmeal cookies look more like amoebas than circles, tap the sides with a spatula while the mixture is still warm. That's a super trick for any misshapen cookie that is fresh out of the oven.
History of No-Bake Cookies
The origin of these cookies, also known as Preacher Cookies, dates back to the days when preachers would visit farmsteads on horseback. Showing up without notice, the farmwife would whip up these cookies for a quick treat for the guests. This name is still common in the Appalachians.
Further west, they're called cow pies, and the most curious name is from Texas, poodgies. I grew up in the Midwest where the names First Grader Cookies, Peanut Butter Delights, Boiled Cookies, and Chocolate Oaties are more common. I knew them as No-Bake Cookies, though, which is most popular in the Northwest part of the states.
Frequently Asked Questions
What Are No-Bake Cookies?
No-bake cookies are a dessert where the eggless cookie batter is boiled to reach a certain consistency, then scooped out into cookies and cooled before eating. No oven is needed since there is no baking involved.
How Do You Store No-Bake Cookies?
Store in an airtight container at room temperature for up to a week. They will keep in the refrigerator for up to 3 weeks or in the freezer for up to 3 months. Defrost frozen cookies overnight in the refrigerator before eating.
Are No-Bake Cookies Gluten-Free?
This is a tricky question. IF you must keep a gluten-free diet and you've been able to eat oats that have packaging saying they're not processed in a plant where there can be gluten contamination, you should be able to eat these cookies.

On the other hand, oats DO contain the protein avenin which is a gluten protein. So it definitely depends on your individual diagnosis and situation.
More Easy Cookie Recipes:
These Chocolate Peanut Butter No-Bake Cookies will be the speediest dessert you'll ever make, but here are a few more easy cookie recipes.
Ingredient Notes:
Kitchen Staples – Sugar, Milk, Butter
Vanilla Extract – Real, never imitation (check your label)
Quick Oats – Not Old-Fashioned Oatmeal as they'll be too chewy
Cocoa Powder – Regular, not Dutch Processed
Creamy Peanut Butter – Tested with Jif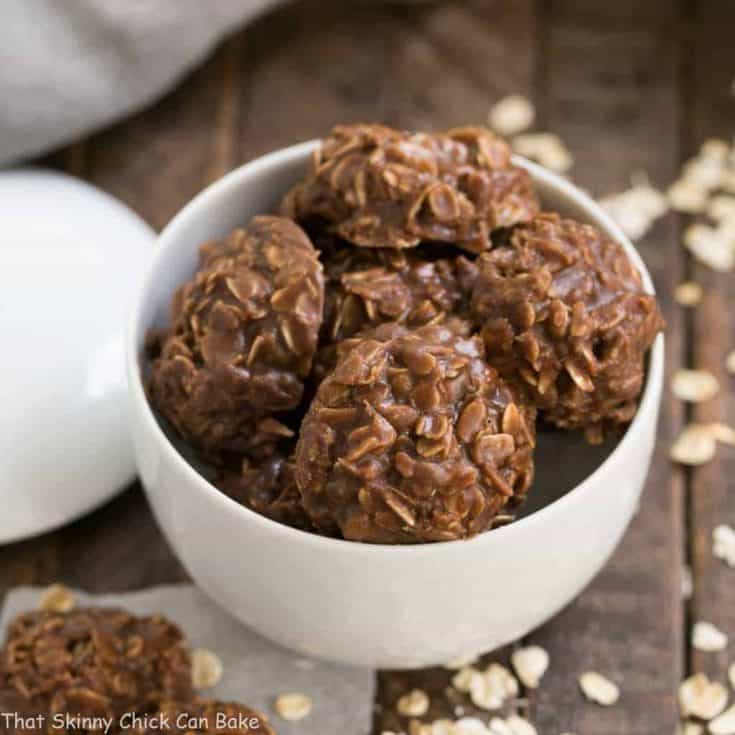 The Recipe:
Classic Chocolate Peanut Butter No Bake Cookies Recipe
Prep Time 10 minutes
Cook Time 3 minutes
Total Time 13 minutes
Yield 3 dozen
A super easy cookie recipe with that fabulous pairing of chocolate and peanut butter.
Ingredients
2 cups sugar
1/2 cup milk
1 stick butter (1/2 cup)
1/4 cup cocoa powder
3 cups quick oats, NOT old fashioned oatmeal
1 cup peanut butter, smooth
1 tablespoon vanilla
Instructions
Line two baking sheets with parchment paper and set aside.
In a medium saucepan, bring sugar, milk, butter, and cocoa powder to a boil, stirring occasionally. Once the mixture is boiling, let it boil for one full minute, then remove from heat.
Add the oatmeal, peanut butter, and vanilla and stir until well combined.
Using a medium cookie disher/scoop, scoop out tablespoons of dough onto the prepared baking sheets. Let rest at room temperature until cool.
Notes
Regular, old-fashioned oatmeal is not reccomended. They are too tough for this cookie recipe. Look for Quick Oats which have been processed to cook faster and provide the best texture.
Nutrition Information:
Yield:
18
Serving Size:
1
Amount Per Serving:
Calories: 267
Total Fat: 13g
Saturated Fat: 5g
Trans Fat: 0g
Unsaturated Fat: 7g
Cholesterol: 14mg
Sodium: 142mg
Carbohydrates: 34g
Fiber: 2g
Sugar: 23g
Protein: 5g
Note: This post may contain affiliate links; view
my Disclosure Policy
for details. I earn a small percentage from any purchase you make by clicking on these links at no extra cost to you.