Classic M & M Cookies
Old-fashioned, chewy Classic M & M Cookies have been well-loved for decades!
This M and M Cookie Recipe bakes up soft like bakery cookies but come from your very own oven. They're perfect for lunch boxes, after-school treats, and desserts, plus they can be customized with different colored M&M's depending on the occasion.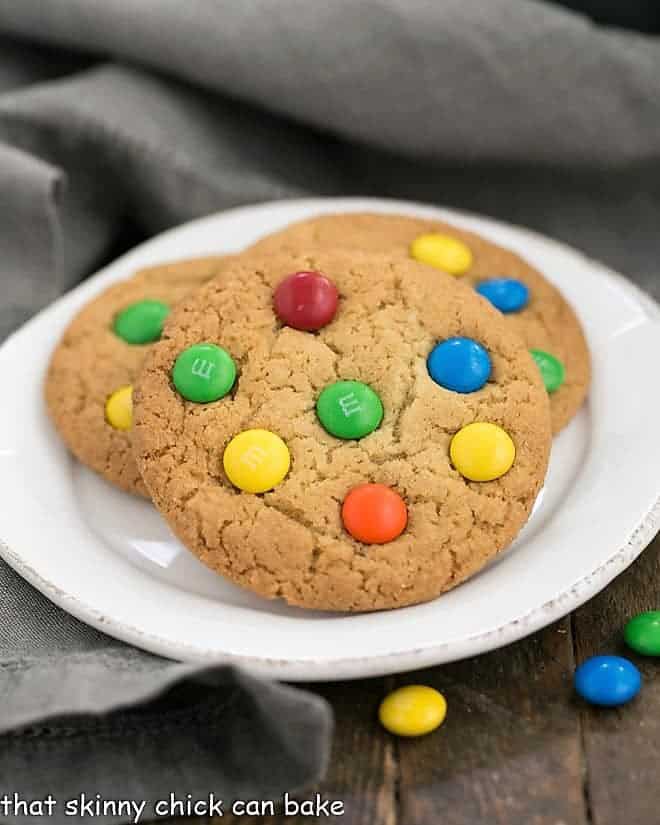 Why You Must Make
Buttery, soft, and dotted with colorful candy-coated chocolate bits, these M&M Cookies are totally irresistible.
There are so many seasonal colored M&M candies, that you can swap out the traditional multicolored variety for pastel Easter, Fall, Christmas or Valentine's M&Ms.
Whether it's after Halloween and you have some extra M&M's around, a package somehow made its way into your shopping cart, or you've just been enticed to add M&M's to your shopping list, they are perfect for these big beauties.
Ingredient Notes
Kitchen Staples – Sugar, Flour, Salt, Baking Soda
Butter – At room temperature for easy incorporation.
Egg and Egg Yolk – All my recipes use large eggs unless otherwise noted. Eggs separate best when cold, but incorporate into the batter more easily when at room temperature.
Brown Sugar – Packed, which means press it into the measuring cup so that it's a firm cylinder when you add it to the batter.
Vanilla Extract – Make sure the label says "real" not artificial vanilla.
M&M's – Use any favorite variety. Even mini M&Ms will work well!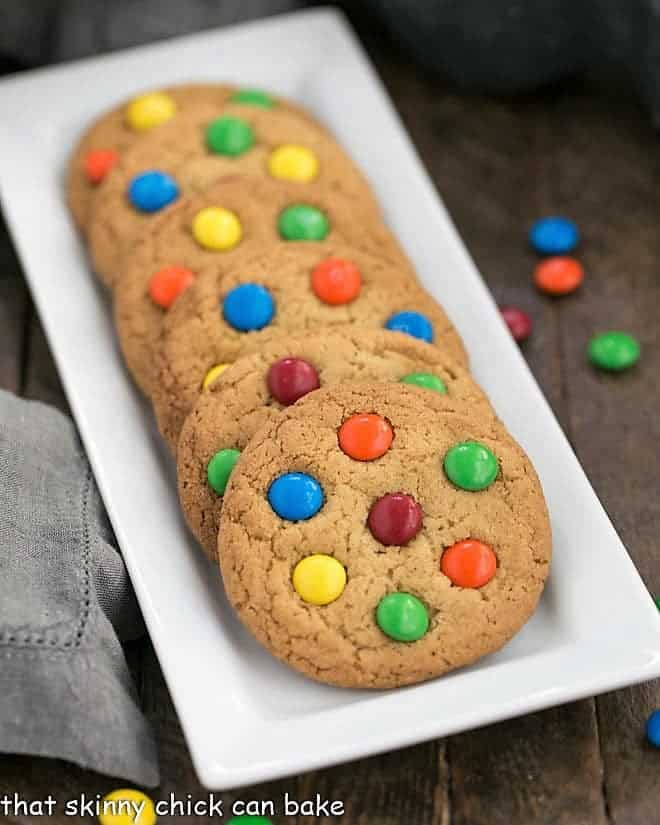 Recipe Tips
The first time I made these M & M Cookies was a few years back when my youngest, Nick, was home for his college fall break. I nearly panicked when a couple of hours before he returned to the dorms, I realized I had no homemade treats to send back with him. Thank goodness, these chewy cookies can be whipped up in the blink of an eye. I'm pretty sure they disappeared just as quickly.
The first rule is to read through the recipe thoroughly. For cookies, the eggs and butter are often best at room temperature so that requires getting them out of the fridge an hour or so before mixing.
Having certain ingredients like butter and eggs at room temperature allows them to become incorporated more easily. You do not, however, want your butter so warm that it looks greasy and bends in half when you lift it.
Adding an extra egg yolk adds extra fat to the cookies, making them soft and chewy.
Measure your flour by scooping your measuring cup into the flour, then leveling off the top using an (affiliate links) offset spatula or other straight surface.
Whisk the baking soda and salt into the flour so that the latter two ingredients are evenly distributed before mixing them into the butter mixture.
Unless the recipe calls for it, mix the dough with a wooden spoon. If you use a mixer, the texture of your M & M Cookies will be more cake-like due to more air whipped into the dough.
Line your baking sheets with parchment paper for easy removal and simple cleanup.
I like using a cookie disher for rounder and evenly sized cookies.
Space your cookie dough as suggested in the recipe, so that they have room to bake without touching other cookies.
Let your cookies cool a few minutes to allow them to firm up before removing them from the baking pan to a cooling rack.
If your cookies are not perfectly round, use your spatula to gently press the sides of the cookies into shape. This must be done immediately when the cookies come out of the oven while the cookies are hot and pliable.
Pro-Tip: The candy shells of M&M's tend to crack when they're baked. So waiting to add them until the cookies come out of the oven helps preserve most of them. The M&M's must be pressed onto the cookie's surface while the cookie is still hot and pliable. A few will still crack, but most will not!
Frequently Asked Questions
How Do You Make Round Cookies?
Use a cookie disher to scoop out the dough, then roll it between your palms to make the dough balls nice and round. Then, when you pull the cookies out of the oven, carefully use a spatula and tap the edges making them into perfect spheres.
Also, by pressing the M&Ms into the cookies after they're baked helps prevent lumpy dough balls that usually don't bake into perfect rounds.
When Should You Pull the Cookies Out of the Oven?
Remember that the baking times in a recipe may be off a bit depending on if your oven bakes a little hot or cold. When you start smelling a delicious aroma coming from your oven, it's time to take a quick peek. The very centers can look a bit soft as the cookies will continue to cook as they cool on the hot cookie sheets.
Why Do M&Ms Crack?
The heat of the oven can weaken the candy-coating shell of the M&Ms causing them to crack. This is why the M&Ms in this recipe are added after the cookies are baked, but still hot and pliable. Some may still crack, but most will stay intact.
You May Also Like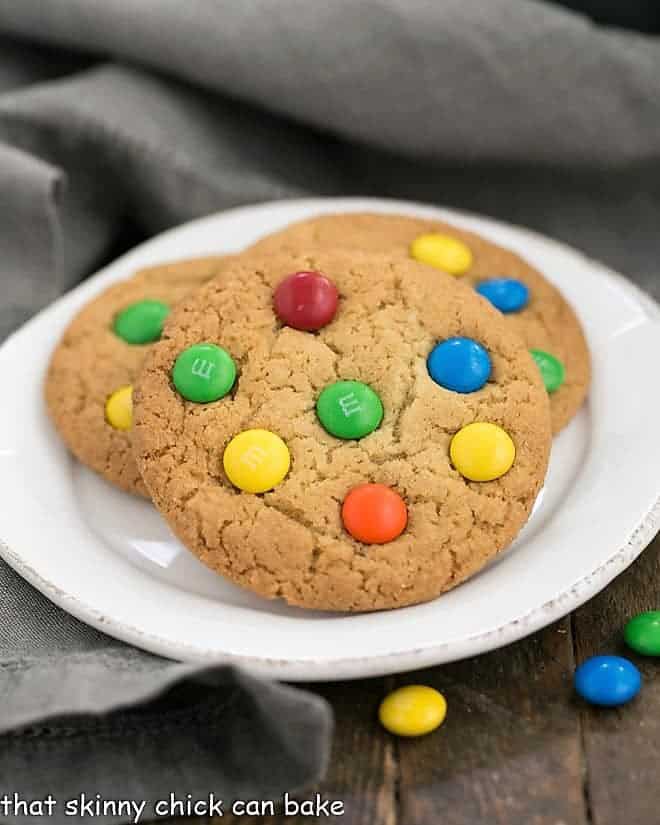 The Recipe:
Classic M&M Cookies
Prep Time 20 minutes
Cook Time 12 minutes
Total Time 32 minutes
Yield 30 cookies
Chewy, bakery style cookies studded with colorful M & M's
Ingredients
3/4 cup (1 1/2 sticks) butter, at room temperature
2/3 cup sugar
2/3 cup packed brown sugar
1 egg
1 egg yolk
1 1/2 teaspoons vanilla extract
2 cups flour
1 1/4 teaspoon baking soda
1/4 teaspoon salt
1 cup M&M's
Instructions
Preheat oven to 350º and line cookie sheets with parchment paper. Set aside.
Beat the butter and sugars until light and fluffy. Add the egg and egg yolk and mix until combined.
Add vanilla and mix.
Sprinkle baking soda and salt over the butter mixture and mix until combined.
Add and mix in flour. If your kitchen is warm, you may want to refrigerate dough up until firm, up to an hour.
Scoop out 2 tablespoons full of dough per cookie and roll into balls. Place 6-8 dough balls on each cooking sheet, flatten slightly with the palm of your hand, and cover the top with 6-8 M & M's*.
Bake for about 12 minutes or until light golden brown. Let cool a few minutes on the cookie sheet before removing to a cooling rack.
Makes about 30 cookies (results may vary depending on the size you make your cookies).
Notes
Adapted from the Joy of Baking.
Use seasonal colored M&Ms for different holidays.
Recommended Products
As an Amazon Associate and member of other affiliate programs, I earn from qualifying purchases.
Nutrition Information:
Yield:
15
Serving Size:
2 cookies
Amount Per Serving:
Calories: 204
Total Fat: 4g
Saturated Fat: 2g
Trans Fat: 0g
Unsaturated Fat: 1g
Cholesterol: 27mg
Sodium: 157mg
Carbohydrates: 40g
Fiber: 1g
Sugar: 26g
Protein: 3g
Note: This post may contain affiliate links; view
my Disclosure Policy
for details. I earn a small percentage from any purchase you make by clicking on these links at no extra cost to you.