M&M Blondies
M&M Blondies: A perfect blondie base chock full of M&M candies! A delicious way to use up leftover candies.
This Blondies Recipe is dotted with candied coated chocolates making them colorful and festive!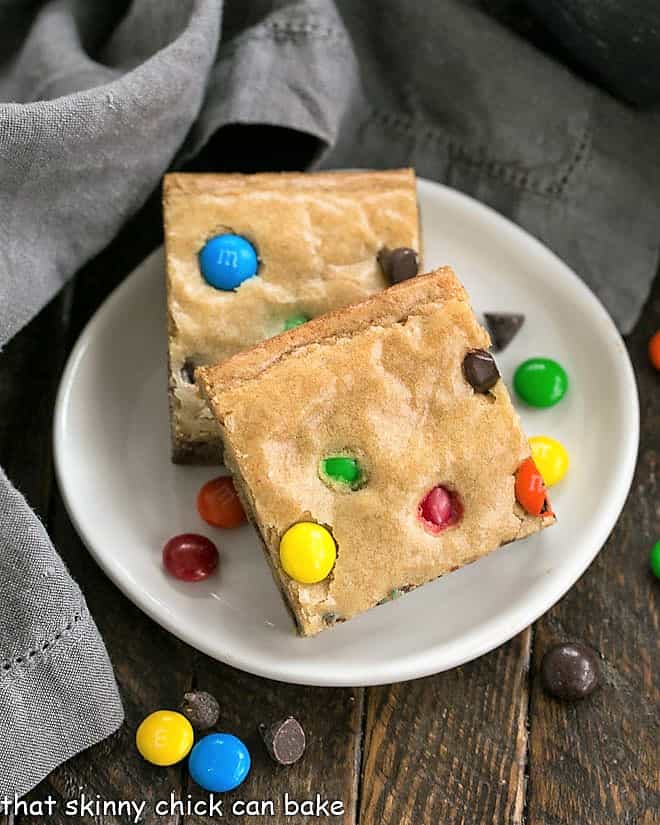 Why You Must Make
If you're like me, you may think that blondies are the same as patting Tollhouse cookie dough in a pan and baking it. But this is a true blondies recipe.
They're made with all brown sugar and no white sugar giving a lovely caramel undertone with every bite.
I don't know anyone who doesn't love M&Ms, and you can shake things up with seasonal packages of them for Easter, Christmas, Halloween, and more!
So I turned to Cook's Illustrated, I made a batch of their blondies recipe but tossed in a few M&M's instead of all chocolate chips. I'd see if the family liked some official M&M Blondies.
Recipe Tips
There is one cup of add-ins in these blondies, 1/2 cup of M&M's, and 1/2 cup of chocolate chips. You can easily tweak this recipe by adding some different ingredients depending on your mood.
Try other chocolate chips like white chocolate chips or peanut butter chocolate chips. Or use chocolate chunks or discs, instead.
Add some toasted nuts, dried fruit, toffee bits or other candies.
PRO-Tip: I like setting aside some extra candies and/or chocolate chips to press into the top of the brownies after they come out of the oven. Otherwise, a large percentage of the M&M's and chocolate chips are hidden beneath the surface.
This must be done while the bars are still hot, so be careful. Adding more visible candies makes for a nicer presentation.
PRO-Tip: These blondies are made with baking powder, which typically expires while it's sitting in your pantry since it's not used as frequently as baking soda. So check the expiration date or test it by adding a spoonful to a cup of hot water. If still active, it will bubble vigorously.
Note that since these bars have a thin delicate crust, some cracks may develop as you press in the candies.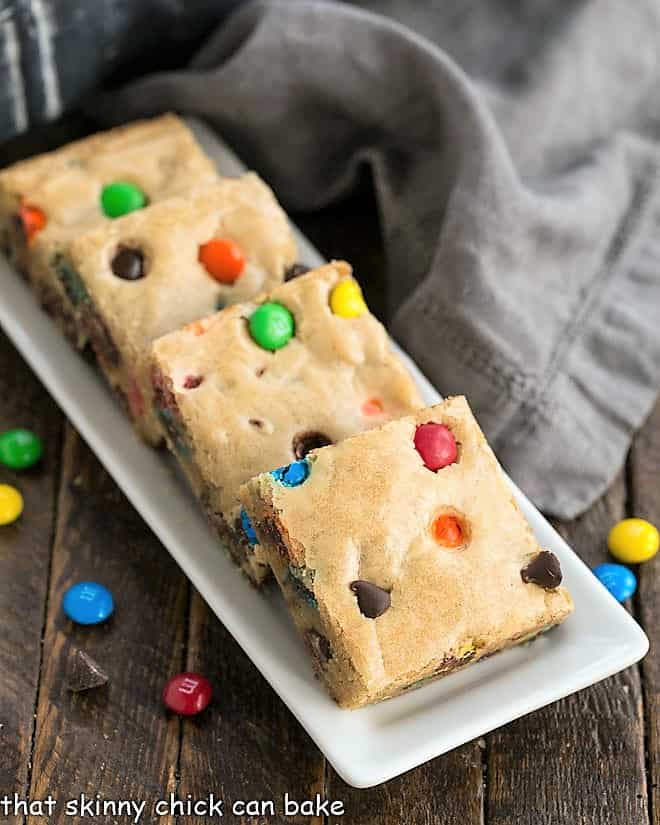 Frequently Asked Questions
What's the Difference Between a Chocolate Chip Cookie Bar and a Blondie?
There were a couple of obvious differences from my typical chocolate chip bars. First, there was no white sugar, just brown. This led to more of a caramel flavor, not a bad thing in my book. Then the ratio of butter to flour was greater in the blondies, making for a more delicate structure.
The crust of the bars was almost flaky, but the insides were dense and chewy. The third difference was the use of baking powder in the blondies instead of soda. This Huffington Post article suggests this may keep the bars lighter in color and possibly doughier in the middle. Again, all this was good with me.
And if you're wondering the difference between a Brownie and a Blondie, the former has chocolate batter whereas a blondie has vanilla batter.
How Long  Do Blondies Keep?
Blondies will keep in an airtight container at room temperature for about 3 days. Stored in the fridge, they'll last for up to a week. And if you'd like to store them longer, they'll keep well in the freezer for up to 3 months.
You May Also Like
Well, my taste testers don't give a hoot about baking chemistry, just taste. These bar cookies were winners, and Bill tried to mask his disappointment as I packed up most of these blondies for Nick to take back to his apartment. He and his college roomies came home for the Indy 500. Boy, can those boys eat. I'm not sure these even made it out of the car after the ride back to campus!
Stay in touch through social media @ Instagram, Facebook, and Pinterest. Don't forget to tag me when you try one of my recipes! And if you love the results, please give it a 5-star rating in the recipe card. Note: As an Amazon Associate, I earn from qualifying purchases. Visit my Amazon Store for my favorite products.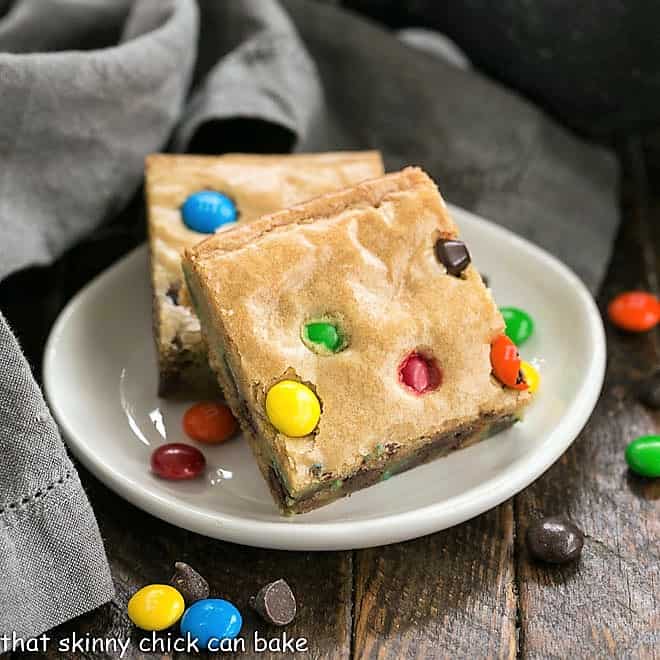 The Recipe:
M & M Blondies
Prep Time 20 minutes
Cook Time 30 minutes
Total Time 50 minutes
Yield 16 servings
Perfect blondies dotted with vibrant M & M's
Ingredients
1 1/2 cups flour
1 teaspoon baking powder
1/4 teaspoon salt
12 tablespoons butter ( 1 1/2 sticks), melted and cooled
1 1/2 cups packed light brown sugar
2 eggs, lightly beaten
4 teaspoons vanilla extract
1/2 cup M & M's (plus a few extras to garnish)
1/2 cup semi-sweet chocolate chips
Instructions
Preheat oven to 350°. Line a 9 x 9-inch baking pan with nonstick foil, leaving enough overhang to help you lift the blondies from the pan when they're done.Set aside.
Whisk flour, baking powder, and salt together in medium bowl; set aside. Whisk melted butter and brown sugar together in medium bowl until combined. Add eggs and vanilla and mix well. Using a rubber spatula, fold dry ingredients into egg mixture until just combined; do not overmix. Fold in chocolate and M & M's pat batter into prepared pan, smoothing top with an offset spatula. Push in a few M & M's on top of dough to garnish.Bake until top is shiny, cracked, and light golden brown, 27-30 minutes; do not overbake. Cool on a wire rack to room temperature. Remove bars from pan using foil and cut to serve.
Nutrition Information:
Yield:
16
Serving Size:
1 bar
Amount Per Serving:
Calories: 254
Total Fat: 12g
Saturated Fat: 8g
Trans Fat: 0g
Unsaturated Fat: 4g
Cholesterol: 47mg
Sodium: 151mg
Carbohydrates: 34g
Fiber: 1g
Sugar: 24g
Protein: 3g
Skinny Tip
I'm starting a new series of Skinny Tips. How I keep slim is one of my most frequent inquiries. I'll feature tips on some of my upcoming blog posts.
Tip #15: Don't drink your calories unless they are nutrient-dense. Give up those sugary sodas and limit your wine to just a glass with or before dinner. And if you have a glass of orange juice or a smoothie, make sure you're just drinking one serving's worth. Read your labels for those details.
Note: This post may contain affiliate links; view
my Disclosure Policy
for details. I earn a small percentage from any purchase you make by clicking on these links at no extra cost to you.