One Layer Fudge Cake
If you happen to be looking for an easy, decadent chocolate dessert, this One Layer Fudge Cake fits the bill! It's perfect when you need a smaller dessert. One of my friends served this exquisite chocolate cake last night for a birthday party, and it just reinforced how incredible this Homemade Chocolate Cake recipe tastes! I practically licked my plate clean.
A chocolate cake is pretty much a given on December 27. That's the date of my oldest's birthday. Any other day of the year a luscious Chocolate Lasagna would make the family swoon, but for a birthday, it must be cake. It doesn't matter that we still had 3/4 of a Chocolate Mousse Torte in the fridge that was leftover from Christmas. We had to honor the kid who drew the short straw as far as birthdays are concerned, so the Best Chocolate Cake Recipe was on the menu!
Why You Must Make:
It's only ONE layer, so it's perfect when you need a smaller, celebratory dessert.
The cake is moist, rich, and delicious!!
You can easily make this gluten-free by using Cup-4-Cup Flour in place of regular flour.
It's difficult when your special day is so close to Christmas. Mom is tired of cooking, mom is tired of shopping. Sometimes the poor guy gets a lot of IOUs, but he's a good sport. But I did make certain there was a chocolate cake. And this rich, one-layer cake is perfect when you've been overindulging your way through the holidays.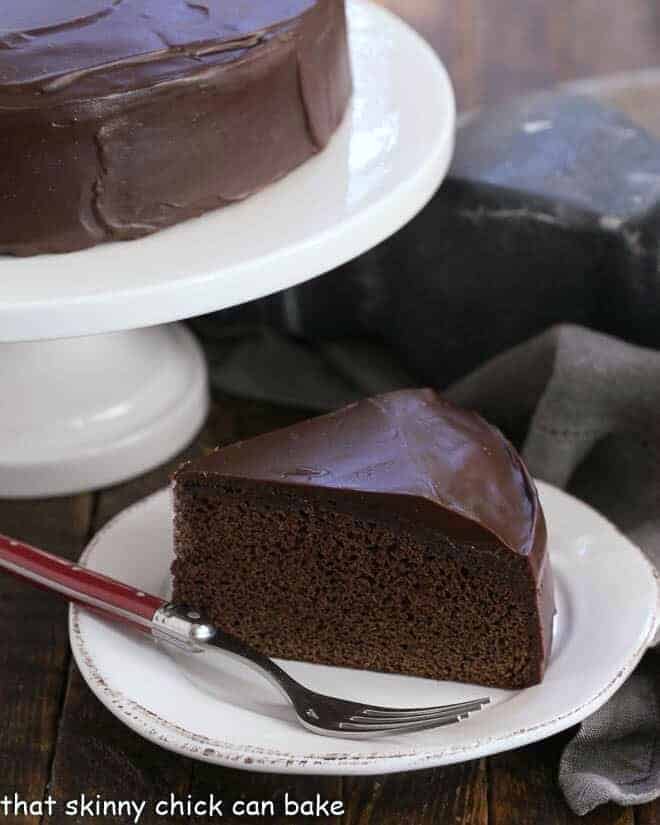 Serving Suggestions
This year, a one layer fudge cake topped with a decadent, glossy ganache was selected for the celebration. When I showed the birthday boy this photo on the Fine Cooking website, he quickly agreed with my choice. You cannot go wrong with an Alice Medrich recipe when it comes to chocolate desserts. But besides birthdays, this single-layer cake is perfect for Valentine's Day. Or if you're celebrating with your favorite girlfriends, "Galentine's Day."
Cut into wedges and serve with a dollop of sweetened whipped cream. Or for an even more extravagant indulgence, topped with a scoop of vanilla ice cream and a drizzle of hot fudge sauce. I can feel my blood sugar rising just thinking about it!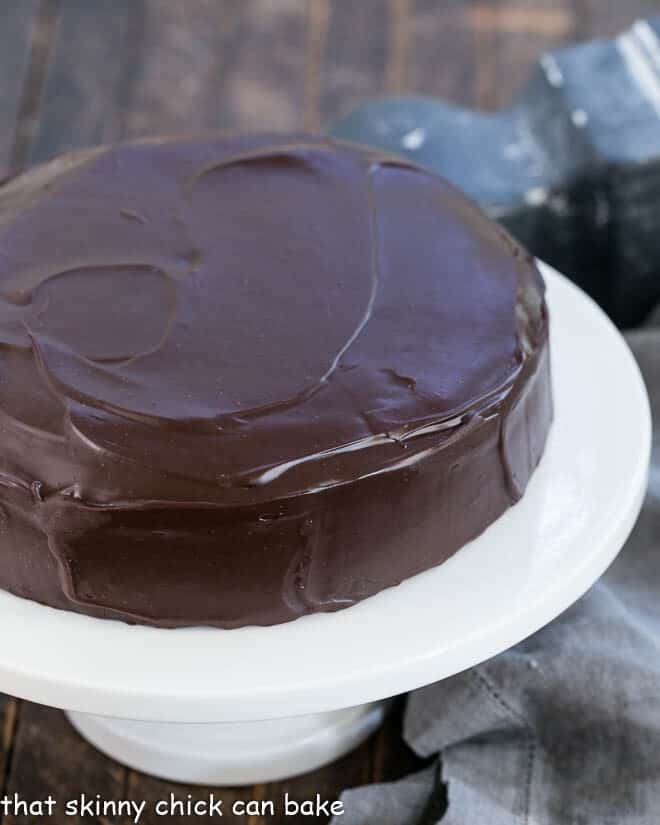 How to Make:
Dense and moist with a glossy coat of ganache, this one-layer fudge cake was so easy to put together. No worries about lining up layers, piping decorations or fiddling with leveling. Bake, cool, and coat. It was as simple as that. And it was as superb in taste as it was a breeze to assemble.
You'll definitely want to whip up this single-layer chocolate cake for the chocoholic in your life. We sent the leftovers home with Tom. I'm certain he and his roommates finished it for breakfast. That's a birthday boy's prerogative.
Melt chocolate and make the ganache. Let cool until thick enough to frost the cooled cake.
Whisk together dry ingredients. Set aside
Stir together wet ingredients.
Add the dry ingredients to the wet ingredients and stir until combined.
Mix in hot water, then scrape into the prepared baking pan.
Bake until a toothpick inserted in the middle comes out clean. Cool and frost.
Expert Tips:
This ganache chocolate cake is ideal for when you aren't feeding a huge crowd. Fewer leftovers (if any!) and no waste, plus the flavor is out of this world!
Adding an extra 4 ounces of chocolate will make a thicker ganache if that's your preference. But remember that the ganache should still pour so you can get a smooth, glossy coating.
Purchase an  (affiliate links)oven thermometer to be sure your oven is registering the proper temperature. No one likes a dry, over-baked cake.
One of my friends makes a gluten-free version of this one layer fudge cake just by substituting Cup4Cup Gluten-Free Flour for the flour in equal measurements. I've tasted it, and you'd never know the difference.
Frequently Asked Questions
How Do I Prep the Baking Pan?
Grease your baking pan, then place a round of parchment paper on the bottom of the pan and grease it as well. No need to flour since flouring the pan after greasing will leave a white residue around the edges of the cake. That's undesirable.
How Do I Know When My Chocolate Cake is Done?
When you start to smell a delicious aroma emanating from the oven, your chocolate cake is almost fully baked. Insert a toothpick into the center of the cake and if it comes out with a few to no moist crumbs when removed, the cake is done. A tapping test is another way of testing. Use an index finger to tap the top of the hot cake while pulled out on the oven rack. If the indentation bounces back up, the cake is finished. If the indentation remains, the cake needs more time in the oven.
When Can the Cake Be Removed from the Pan?
Your chocolate cake should cool on a wire rack for about 10 minutes. Using hot pads if needed, gently shake the pan back and forth to loosen a bit. Then flip the cake onto the cooling rack, and invert back upright if able. If the cake is released too early, it will break apart. If it's left in the pan too long, it will stick.
What if the Ganache is Too Runny or Too Thick to Use?
If the ganache is too runny, let it cool at room temperature a bit longer. If the kitchen is very warm, place the ganache in the refrigerator, stirring frequently until it's the right consistency. If the ganache is too thick, microwave for about 10-15 seconds, then stir. Repeat as needed.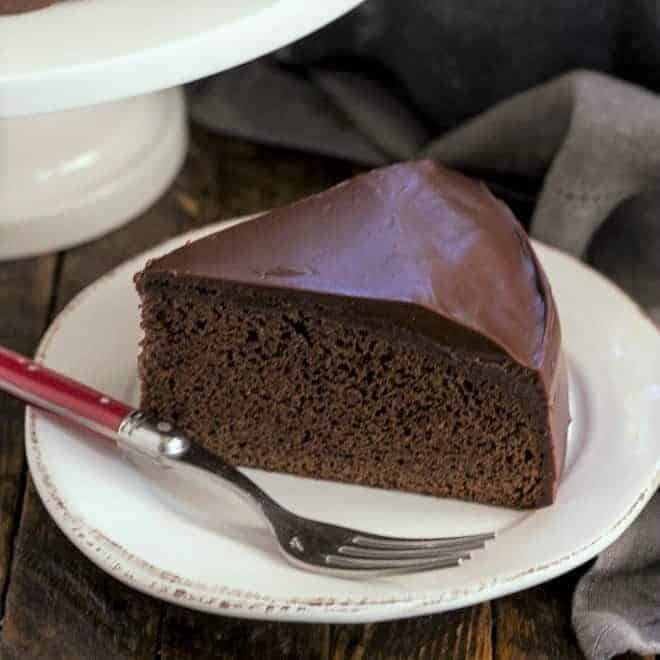 You May Also Like:
Stay in touch through social media @ Instagram, Facebook, and Pinterest. Don't forget to tag me when you try one of my recipes! And if you love the results, please give it a 5-star rating in the recipe card. Note: As an Amazon Associate, I earn from qualifying purchases. Visit my Amazon Store for my favorite products.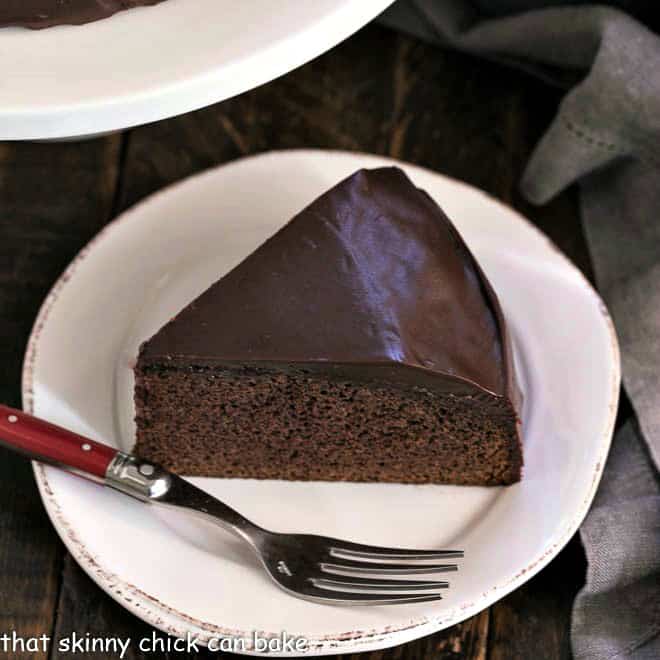 The Recipe:
One Layer Fudge Cake Recipe
Prep Time 20 minutes
Cook Time 40 minutes
Total Time 1 hour
Yield 8 servings
A smaller version of the perfect chocolate cake!
Ingredients
For Ganache:
8 ounces semisweet chocolate, finely chopped
1 cup heavy cream
1 tablespoon sugar
For Cake and Assembling:
1 cup flour
¼ cup plus 2 tablespoons unsweetened cocoa powder
1/2 teaspoon baking soda
1/4 teaspoon salt
4 ounces (½ cup) butter, melted and warm
1 ¼ cups brown sugar
2 eggs
1 teaspoon vanilla
½ cup hot water
1 cup warm ganache (listed above)
Instructions
Make ganache. Put the chocolate in a medium heatproof bowl. In a saucepan or via the microwave, heat cream to a simmer.
Pour the hot cream over the chocolate and whisk gently until the chocolate is completely melted and smooth.
Add sugar and whisk to combine. Set aside and let cool enough so it doesn't all run off the cake when you glaze.
Preheat the oven to 350º. Grease the bottom of an 8-inch round cake pan or line it with parchment.
In a small bowl, whisk the flour, baking soda, and salt. Sift the cocoa into the dry ingredients and whisk to combine.
In a large bowl, combine the melted butter and brown sugar with a wooden spoon.
Add the eggs and vanilla; stir until well blended.
Add the flour mixture all at once and stir just until all the flour is moistened.
Pour the hot water over the batter; stir just until it's incorporated and the batter is smooth. Pour the batter into the prepared pan.
Bake for about 35 to 40 minutes or till a toothpick inserted into the center of the cake comes out clean.
Cool on a rack for 10 minutes, then run a knife around the edge of the cake and remove from the pan to finish cooling on the rack, removing parchment if used.
Once cool, set the rack over a baking sheet or foil. Pour the ganache over the cake and use an offset spatula to spread it over the top of the cake and down the sides.
Let set for about an hour before serving.
Notes
Adapted from Fine Cooking. Recipe from Alice Medrich
You may find you have extra ganache. I love to make sandwich cookies with two chocolate chip cookies and a thick layer of ganache as the filling.
Recommended Products
As an Amazon Associate and member of other affiliate programs, I earn from qualifying purchases.
Nutrition Information:
Yield:
8
Serving Size:
1 slice
Amount Per Serving:
Calories: 433
Total Fat: 21g
Saturated Fat: 12g
Trans Fat: 0g
Unsaturated Fat: 7g
Cholesterol: 80mg
Sodium: 183mg
Carbohydrates: 61g
Fiber: 2g
Sugar: 46g
Protein: 5g
Note: This post may contain affiliate links; view
my Disclosure Policy
for details. I earn a small percentage from any purchase you make by clicking on these links at no extra cost to you.