KFC Coleslaw Recipe with Buttermilk Dressing
This easy KFC Coleslaw Recipe with Buttermilk Dressing tastes just like the restaurant version. Plus it's the ultimate picnic or barbecue side dish! You'll find an excuse to make it again and again!
You'll go crazy for this light, creamy, sweet, and tangy coleslaw dressing which is a simple mixture of buttermilk, mayonnaise, cider vinegar, sugar, and a few seasonings. Whisked and added to shredded cabbage makes for the Cabbage Slaw.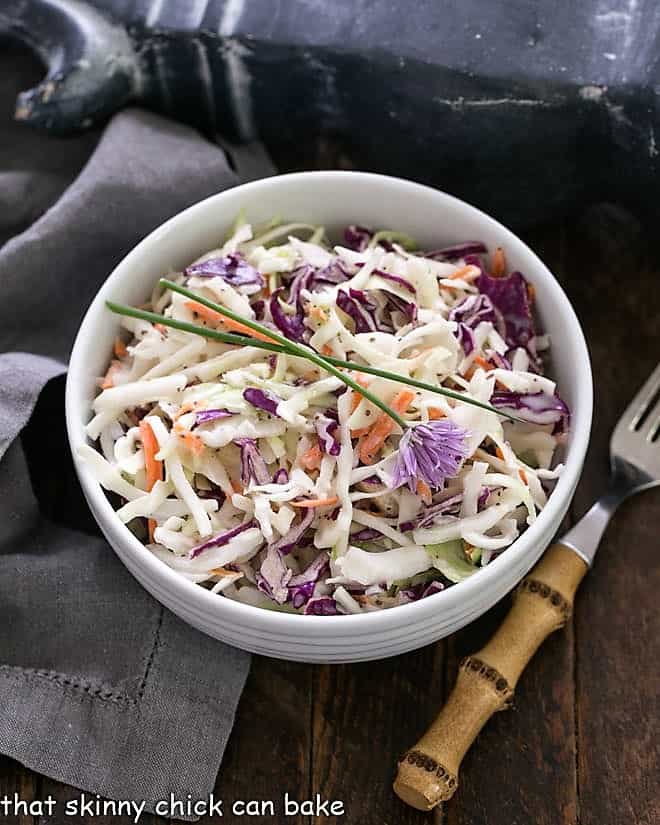 Why You Must Make
This recipe is easy to make and it's perfect for summer picnics and potlucks!
It reminds me of the classic KFC coleslaw!
It's a tasty side dish any time of year!
This is the best coleslaw recipe of all I've tested. It reminds me of that childhood cole slaw, whether carryout or homemade! I could eat a whole batch in one sitting, but I paced myself and enjoyed it over pulled pork and more!
Ingredient Notes
Cabbage and dressing are the two main components of slaw, but with additional ingredients and flavorings, the options are endless. Here are some suggestions on how to shake up your coleslaw recipe:
Buy preshredded cabbage or shred your own. Add some purple cabbage to the green, and carrots also add some great color.
Add some mustard or herbs like thyme or dill to the dressing.
If you've never added celery seed to your slaw before, give it a try!
Add some julienned fruit (cut into thin strips) like apples, pears, and even mangoes
Toss in crumbled blue cheese to add a salty creaminess
Nuts or sunflower seeds provide a nice crunch
Crisp, homemade bacon bits also add salty umami.
Dried fruit like raisins, dried cherries, dried cranberries, or dried apricots balance the crunchy with some chewiness.
A Southwest (add some peppers for heat) or Asian twist (add snow peas) is as easy as tweaking the dressing. Even a bottled Asian dressing will work in a pinch.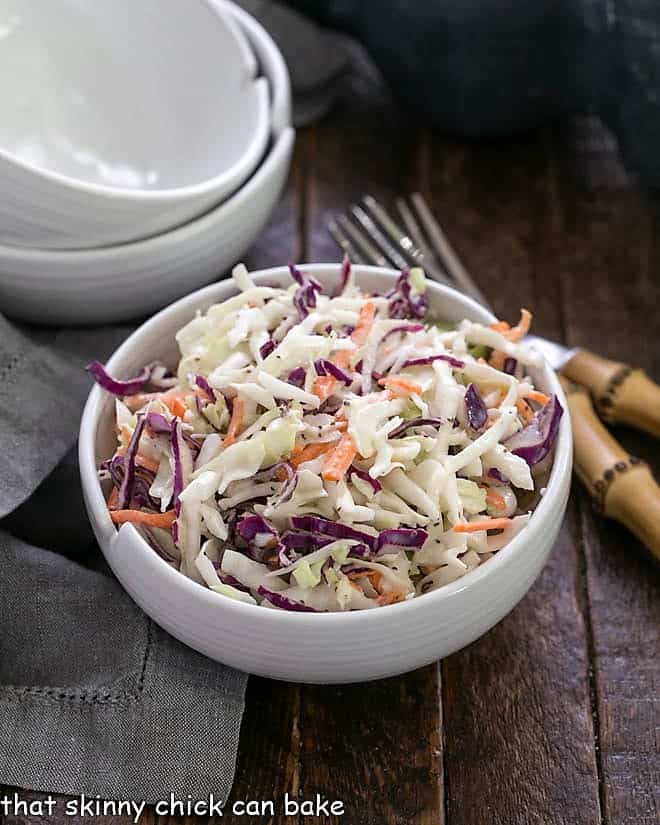 Expert Tips
You can make this creamy coleslaw recipe with a couple of packages of coleslaw mix from the grocery store or shred your own cabbage. I like adding some shredded carrots and/or purple cabbage to the mixture to provide some color.
Combining buttermilk and mayonnaise makes for a lovely, creamy coleslaw dressing. PRO-Tip: If you don't have any buttermilk on hand, you can make your own. Place one tablespoon of either vinegar or lemon juice into a one-cup liquid measuring cup. Fill to the one-cup mark with milk and let rest for a minute or two. The mixture will curdle slightly and work well as a buttermilk substitution. Use what you need for the recipe, then refrigerate the leftovers.
PRO-Tip: If you're not a fan of raw onions, soak them in ice water for about 15 minutes. Drain, or with grated onions, squeeze dry in a paper towel, then add to the recipe. This process removes a bit of the sharpness, but still adds the flavor needed for a classic coleslaw recipe.
Season to taste with salt and pepper. Celery seed adds another lovely flavor component, though this is my addition, not in KFC's coleslaw recipe. I recommend adding it.
How to Make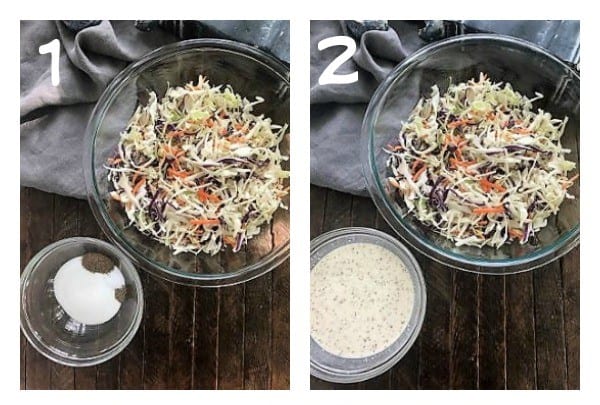 Shred your vegetables and measure out the seasonings and dressing ingredients.
Whisk together the coleslaw dressing.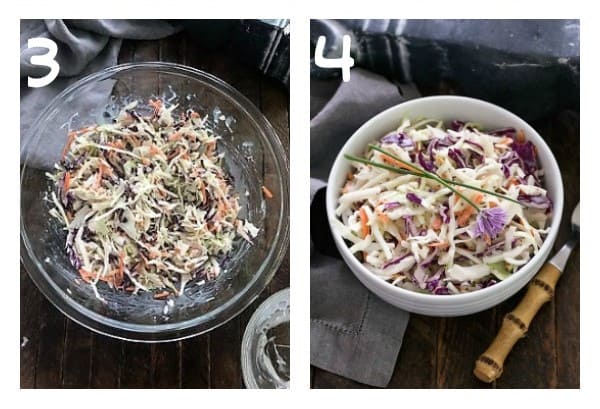 Toss the dressing with the shredded vegetables to allow the flavors to meld.
Cover the salad with plastic wrap and chill for at least an hour before serving. Toss again and serve.
Frequently Asked Questions
What Is the Origin of Coleslaw?
Most of us have heard of coleslaw or slaw recipes, but have you ever thought where the name came from? It actually has a Roman origin, as the ancient  Romans served a dish with vinegar, cabbage, and eggs.
But the name comes from the Dutch who settled near the Hudson River in New York state according to NPR. The Dutch word koosla translates to cabbage salad and sounds very much like today's dish, coleslaw (sometimes spelled cole slaw). Since mayonnaise hadn't been invented in the late 1700s, the dressing was made of melted butter, oil, and vinegar.
Is Coleslaw Healthy?
There are health benefits to coleslaw. There is plenty of fiber in the cabbage, plus vitamins and minerals from the vegetables. Either a mayonnaise or vinegar-based salad dressing will add fat and calories.
What is the Difference Between Coleslaw and Slaw?
"Cole" refers to cabbage, so coleslaw must contain cabbage. Other slaws may be made with any shredded vegetables.
You May Also Like: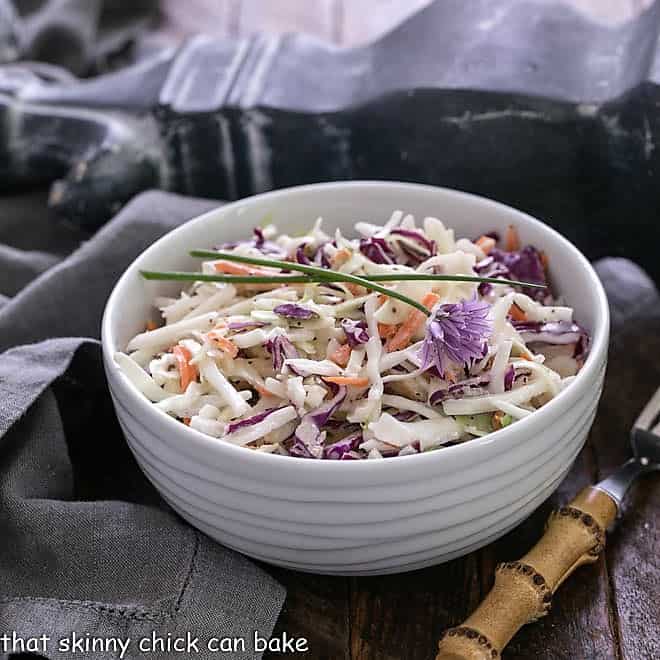 The Recipe:
Classic Coleslaw Recipe
Prep Time 15 minutes
Total Time 15 minutes
Yield 8 servings
Classic Buttermilk Coleslaw that tastes like the KFC version!
Ingredients
8 cups finely chopped cabbage, about one head (may use bagged coleslaw mix, too)
¼ cup shredded carrot (1 medium carrot)
2 tablespoons grated or minced onion
⅓ cup granulated sugar
1/2 teaspoon salt
⅛ teaspoon pepper
½ cup mayonnaise
¼ cup buttermilk
¼ cup cider vinegar
1 teaspoon celery seed, optional, but I highly recommend it!
Instructions
Shred carrots and cabbage to the size of your choice (KFC's version is finely shredded). Alternatively, you can buy a bag or two of the coleslaw veggies ready to go.
Combine the sugar, salt, pepper, mayonnaise, buttermilk, vinegar, and celery seed in a large bowl and whisk until smooth.
Add the cabbage, carrots, and onion, and mix well. Cover and refrigerate at least 1 hour before serving.
Notes
Recipe courtesy of my friend, Mile High Baker.

Use a bag or two of coleslaw mix instead of shredding your own cabbage and carrot for a shortcut.
Recommended Products
As an Amazon Associate and member of other affiliate programs, I earn from qualifying purchases.
Nutrition Information:
Yield:
8
Serving Size:
1
Amount Per Serving:
Calories: 169
Total Fat: 11g
Saturated Fat: 2g
Trans Fat: 0g
Unsaturated Fat: 9g
Cholesterol: 6mg
Sodium: 249mg
Carbohydrates: 18g
Fiber: 3g
Sugar: 13g
Protein: 2g
Note: This post may contain affiliate links; view
my Disclosure Policy
for details. I earn a small percentage from any purchase you make by clicking on these links at no extra cost to you.