Easy Coleslaw Recipe without Mayonnaise
This Easy Coleslaw Recipe takes just minutes to make. Dotted with vibrant dried cranberries and crunchy walnuts, it's a crowd-pleasing side dish!
With a vinegar-based dressing, this No-Mayo Southern Coleslaw is simple and delicious. It's perfect for potlucks, summer picnics or to top a pulled pork sandwich!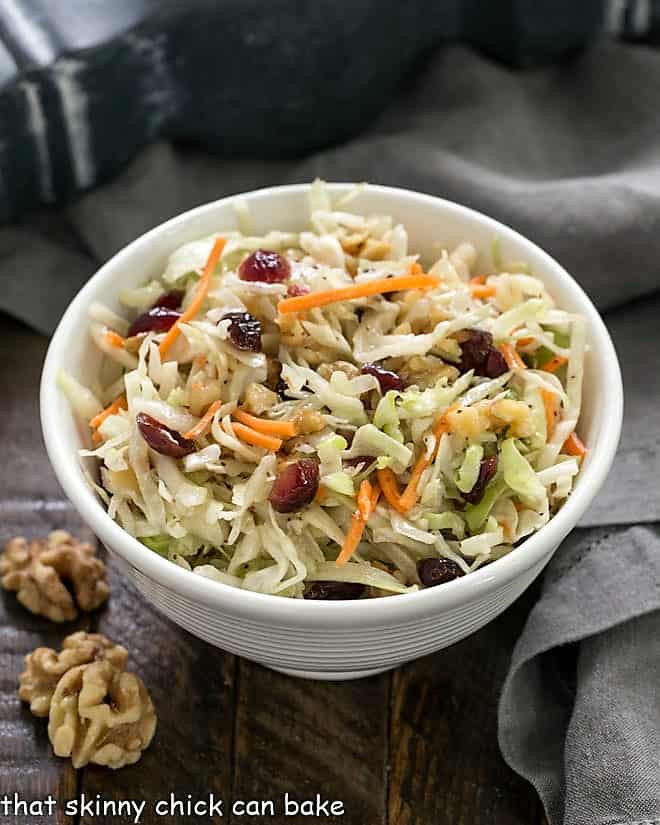 Why You Must Make
Beef brisket was on the menu, and though the recipe offered a grilled option, it was below zero with the windchill, and only the dog was going outside!
Ingredient Notes
Kitchen Staples – Sugar, Vegetable Oil
Package of Coleslaw Mix – 16 ounces, or a mixture of shredded cabbage and carrots
Craisins – Dried Cranberries, may use dried cherries instead
Walnuts – Toast them to bring out their essential oils and re-crisp. Heat them gently in a frying pan, stirring frequently or place them on a sheet pan and back for about 3 to 5 minutes (or until fragrant) at 350° shaking the pan and the halfway point. Cool and chop.
Cider Vinegar – Not as harsh as white vinegar. Helps to balance the sugar's sweetness.
Celery Seed – Optional, but my mom always added this to her coleslaw

How to Make
Also known as a Southern Coleslaw or Carolina Coleslaw, this vinegar coleslaw recipe without mayonnaise is super simple and perfect for summer entertaining. All you need to remember is that the majority of the coleslaw ingredients are measured with a ⅓ measuring cup!
Add a bag of coleslaw mix to a mixing or serving bowl, then ⅓ cup each of craisins, walnuts, sugar, vinegar, and oil. Toss and let rest so the flavors can meld and the cabbage can soften.
I also like to add ½ teaspoon of celery seed, too. Now isn't that a snap to prepare?
Recipe Tips
You can shred your own cabbage and carrots, but feel free to use a package or two of coleslaw mix which can be found in the produce department.
PRO-Tip: Make sure to toast your walnuts either in the oven or in a dry saucepan. The heating process draws out the natural oils, intensifying their nutty flavor.
PRO-Tip: If your craisins look a little dry, put them in a small, heat-safe bowl and cover them with boiling water. Let rest for about 5 minutes, drain well, then use them in the recipe.
And without mayo, it's perfect to take on a picnic as there's less danger of a foodborne illness. Another reason you need to add this quick coleslaw to your menu soon!
If you want your coleslaw to remain crunchy, try salting the cabbage mix and let it sit in a colander. This will help the cabbage release much of its water content, minimizing the dilution of the salad dressing. Give it a gentle rinse and squeeze dry before adding the easy coleslaw dressing.
What else do you like in your coleslaw??? Do you prefer a mayo base or a vinegar base?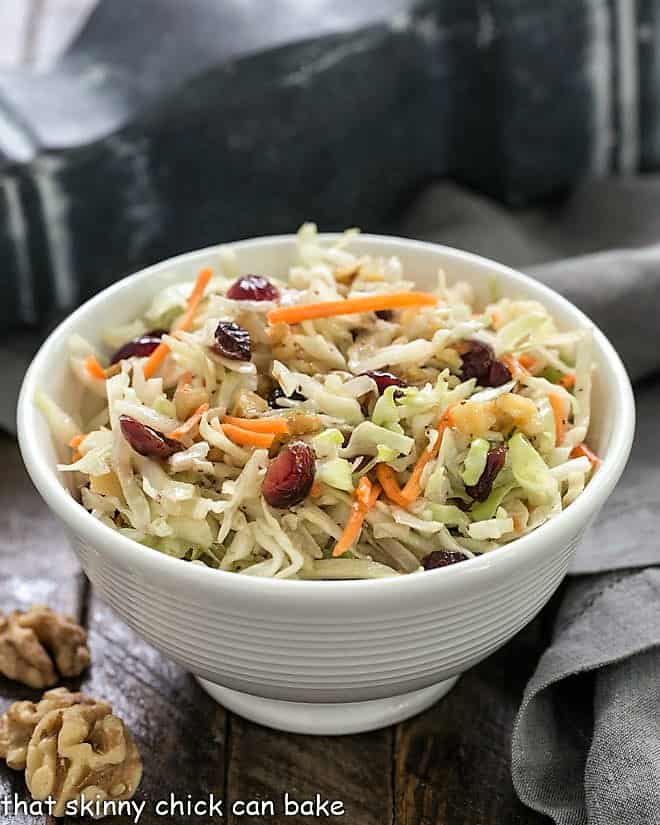 Frequently Asked Questions
What Does the Word Coleslaw Mean?
Coleslaw has Dutch origins that combine the words kool meaning cabbage and sla meaning salad.
How Long Does Coleslaw Keep?
As long as it hasn't been left out at room temperature for more than 2 hours, it can be stored in the refrigerator, covered, for up to 4 days.
Is Coleslaw Healthy?
Yes, the cabbage and carrots provide fiber and Vitamins A and C. The walnuts are a source of protein and fiber. This recipe is healthier than coleslaw with a creamy dressing as there is no saturated fat in the dressing.
What Else Can Be Added to Coleslaw?
A touch of grated onion or sliced scallions are tasty additions. You can also add apples, radishes, sweet bell peppers, parsley, or anything that appeals to you. Creamy bits of blue cheese are delicious, too.
You May Also Like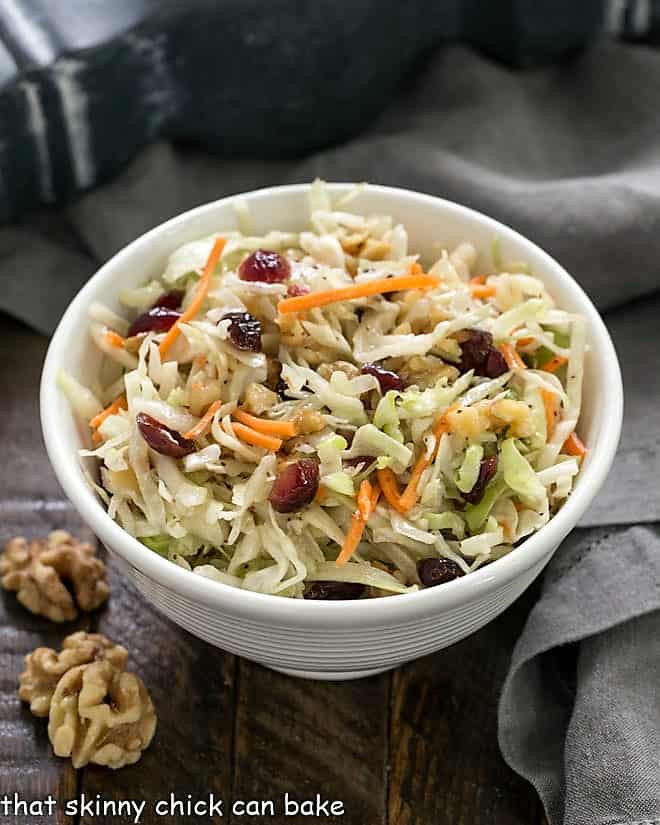 The Recipe:
Easy Coleslaw Recipe
Prep Time 10 minutes
Total Time 10 minutes
Yield 6 servings
A super easy coleslaw recipe with a vinaigrette dressing
Ingredients
1 package coleslaw mix (16 ounces), or a mixture of shredded cabbage and carrots
1/3 cup craisins (dried cranberries)
1/3 cup toasted, chopped walnuts
1/3 cup sugar
1/3 cup cider vinegar
1/3 cup vegetable oil
1/2 teaspoon celery seed
Instructions
Place coleslaw mix in a serving bowl. Mix in craisins and walnuts.
In another bowl whisk together sugar and vinegar. Continue whisking as you drizzle in the oil. Mix in the celery seed.
Toss the coleslaw mix with dressing and serve. If you like a wilted coleslaw, refrigerate for an hour before serving.
Notes
Recipe adapted from Marion Cunningham.
Nutrition Information:
Yield:
6
Serving Size:
1
Amount Per Serving:
Calories: 257
Total Fat: 19g
Saturated Fat: 2g
Trans Fat: 0g
Unsaturated Fat: 16g
Cholesterol: 1mg
Sodium: 47mg
Carbohydrates: 23g
Fiber: 2g
Sugar: 20g
Protein: 1g
Note: This post may contain affiliate links; view
my Disclosure Policy
for details. I earn a small percentage from any purchase you make by clicking on these links at no extra cost to you.