Oven Braised Texas Brisket
Texas brisket is a cut of beef that is typically smoked for a long time at a low temperature. When that's not possible, make this easy oven braised Texas brisket recipe for big, bold flavor in a juicy oven cooked beef brisket!
The weather had taken a turn and there was no way our BBQ was going to see any action. Oven Braised Texas Brisket to the rescue. I massaged a brisket with a spicy rub and let it braise in the oven for a fabulous winter's dinner.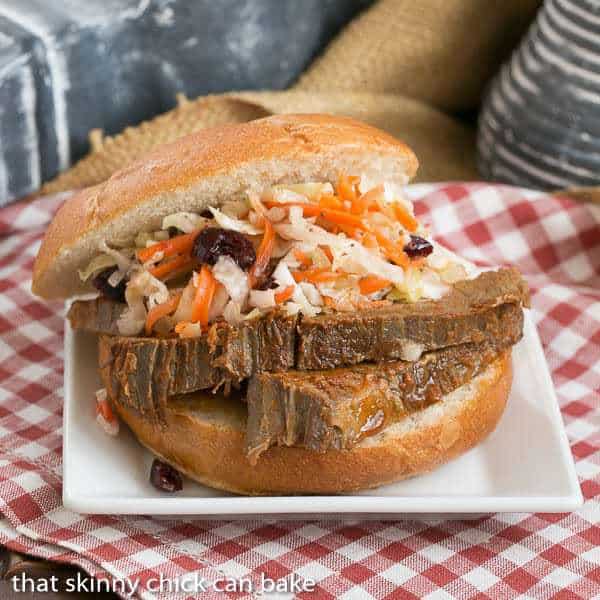 Oven Braised Texas Brisket
Granted, I'm a Midwest gal and know nothing about Texas BBQ, so I probably shouldn't have pulled the Lonestar State into this post. So no bashing the blogger. I claim ignorance on what qualifies as true Texas brisket though I modified the rub from a recipe for smoked Texas brisket.
I just know this was darn tasty. I worried that it might be too spicy for the hubby with the milquetoast palate, so I toned down the heat. Feel free to up the cayenne pepper if you like. And I have a feeling Texans don't put coleslaw on their brisket. At least not a coleslaw with craisins and walnuts. Bill passed on that, too, and ate his over mashed potatoes. This Braised Cola Brisket is another fabulous recipe using this cut of beef.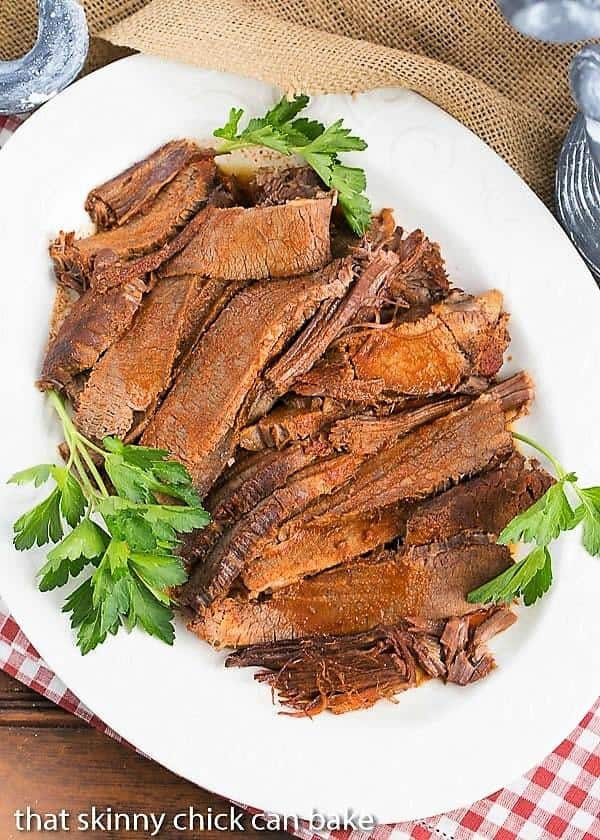 Indoor BBQ Brisket Recipe
Adding heat and smokiness from the black pepper, cayenne pepper and chipotle chili powder brought a touch of BBQ flavor without lighting the grill. I made this dinner when the temps were in the single digits. It was a good excuse to turn the oven on for 3 hours! This brisket hit the spot! Spicy comfort food is perfect in the heart of winter, though I'd eat this oven braised Texas brisket any month of the year!
I also recommend this OXO Fat Separator. I use it for my holiday gravies and more.
Texas brisket is delicious topped with coleslaw. I like to serve it with side dishes of slow cooker baked beans and southern style mustard potato salad.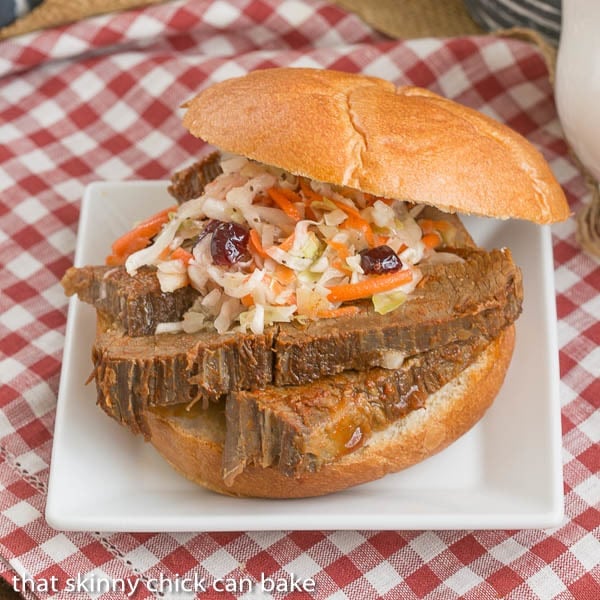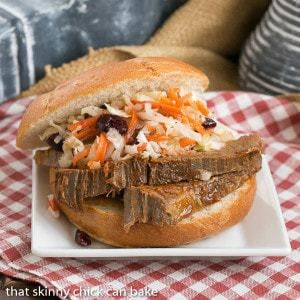 The Recipe:
Oven Braised Texas Brisket Recipe
Prep Time 15 minutes
Cook Time 3 hours
Total Time 3 hours 15 minutes
Yield 8 servings
Oven braised brisket with a taste of Texas BBQ. Adapted from The Food Network.
Ingredients
6 pound beef brisket
Yellow mustard
For the rub:
2 tablespoons dark brown sugar
6 tablespoons paprika
1 tablespoon chipotle powder
1 teaspoon cayenne pepper (if you like more heat, can up the cayenne to1 1/2 teaspoons)
1 tablespoon garlic powder
1 tablespoon onion powder
2 tablespoons kosher salt
1 tablespoon freshly ground black pepper
Braising liquid::
Instructions
Trim down the fat on the brisket if needed, leaving up to ¼ inch of fat. Coat the brisket lightly with the yellow mustard
Mix together rub ingredients. Rub over all surfaces of the meat. You will not need all the rub. Reserve leftovers for another time.
Preheat the oven to 300º.
Place brisket in a pan large enough to hold it. Add beef stock and then add water to bring the liquid level ½ inch up the sides of the brisket. Cover with a tight lid.
Cook for about 3 hours or till meat is tender.
Remove cooked brisket to cutting board and cover with foil. Let rest 10-15 minutes before slicing against the grain.
Pour liquids into a fat separator and let rest till you can pour off the defatted liquid.
Serve brisket over mashed potatoes with cooking liquid.
Nutrition Information:
Yield:
8
Serving Size:
1
Amount Per Serving:
Calories: 1024
Total Fat: 63g
Saturated Fat: 25g
Trans Fat: 0g
Unsaturated Fat: 30g
Cholesterol: 361mg
Sodium: 1851mg
Carbohydrates: 8g
Fiber: 2g
Sugar: 4g
Protein: 100g
Note that much of the fat of the brisket will melt away in cooking or will be removed, so the calorie count will be less.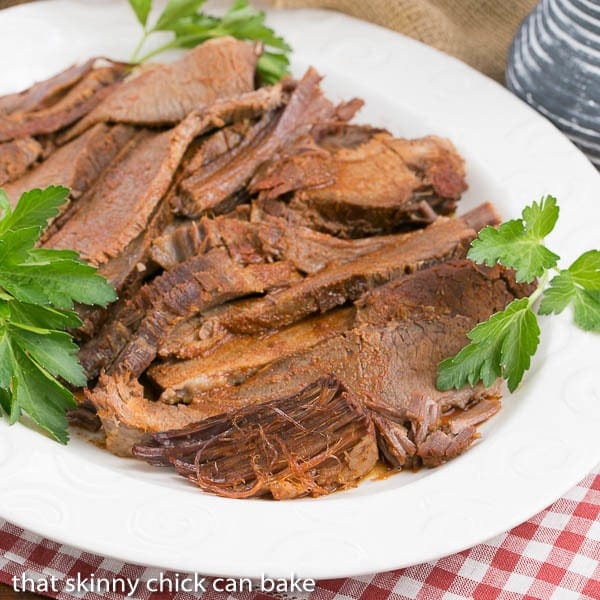 Note: This post may contain affiliate links; view
my Disclosure Policy
for details. I earn a small percentage from any purchase you make by clicking on these links at no extra cost to you.