Braised Cola Brisket with Bourbon Gravy
I was served this scrumptious Braised Cola Brisket with Bourbon Gravy at our fall dinner club outing. The tasty beef was fall-apart tender. Plus, I witnessed the picky hubby eat parsnips! Earth-shattering! The umami filled braising liquid provided incredible flavor!
Our lovely hostess shared the recipe from Southern Living and along with her tips on where to find Coca Cola made with cane sugar. Once the weather got cool, I made this tender brisket for our dinner.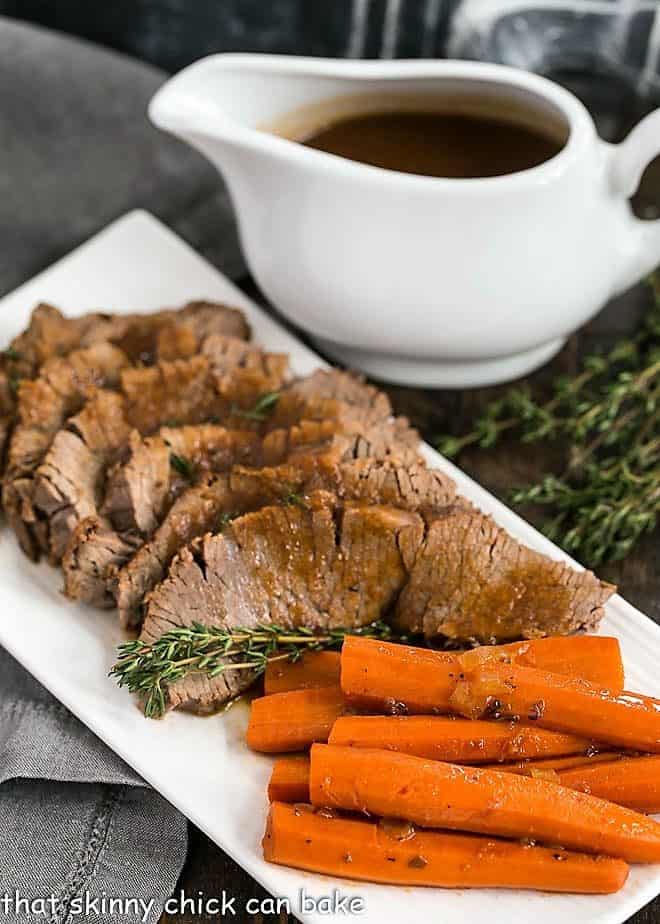 Braised Cola Brisket with Bourbon Gravy
For our autumn dinner club, we had a cozy meal featuring loads of comfort food. Angel biscuits, panko coated green beans and this marvelous braised cola brisket with carrots, parsnips and marvelous bourbon gravy.
As expected, everything was incredibly delicious, but I had to go back for seconds on the brisket and the carrots and parsnips that were simmered in the gravy. It was the perfect cold-weather entree.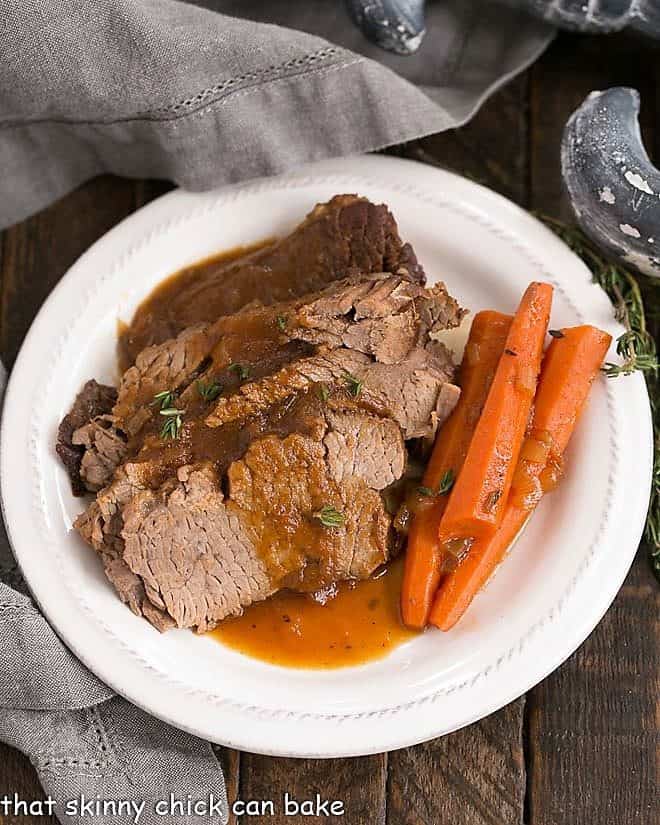 Why Use Cola?
There are a couple of reasons why adding cola to the braising liquid is beneficial. First, the sweetness, though subtle, is perfect for adding a depth of flavor to this brisket. Plus the acid in soda, phosphoric acid to be specific, will also help tenderize this tougher cut of beef.
Tips for Making Brisket
I did not grow up eating brisket, and it wasn't until my friend's recipe for Coffee Braised Brisket was featured in Martha Stewart's Everyday Foods magazine that I tried it. I also adore this Oven Braised Texas Brisket. Brisket is an incredibly delicious cut of meat if you have the right recipe and right technique.
Learn the difference between cuts of brisket before you head out to the market. This recipe calls for the first cut or flat beef brisket.
The flat cut has less fat and is pricier than the point half or front cut which has more fat, is less costly, and actually has more flavor.

Either will work in this recipe, but you will have more rendered fat to remove after cooking if you use the latter.
PRO-Tip: Brisket must be slow cooked in liquid, AKA braised, as the cut is tough and this technique will tenderize the beef. The braising can be done in a conventional oven or slow cooker.

A flavorful, umami filled braising liquid will add an irresistible savory taste to your dish.
Beef, carrots, onions all provide that coveted umami.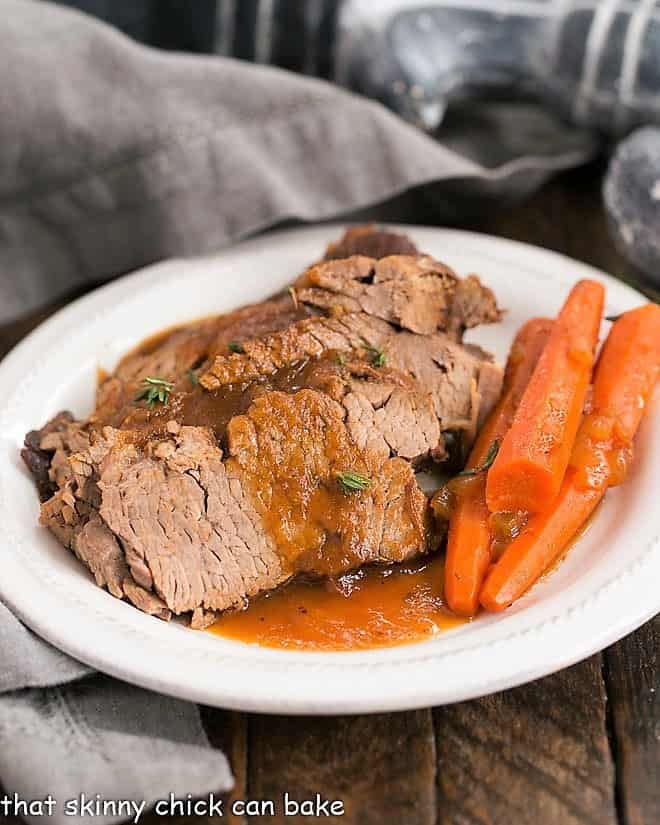 The Recipe:
Braised Cola Brisket with Bourbon Gravy
Prep Time 20 minutes
Cook Time 3 hours 30 minutes
Total Time 3 hours 50 minutes
Yield 8 servings
A tender, slow cooked brisket with cola, herbs and a fabulous bourbon gravy
Ingredients
5-pound beef brisket, first cut (flat), left out at room temperature for 1 hour to get the chill off
1 tablespoon plus 1/2 teaspoon. kosher salt, divided
1 1/2 teaspoons plus 1/4 tsp. black pepper, divided
2 tablespoons olive oil
14 ounces ketchup, I used Heinz
1 tablespoon balsamic vinegar
12 ounces cola, cane sweetened Coca Cola preferred
1 1/2 cups chicken broth
1 (1-oz.) envelope dry onion soup mix (I used Lipton)
1 teaspoon each dried rosemary, sage, marjoram and thyme
6 carrots, cut in half, then into 4-inch pieces (may add in some parsnips, too, if desired)
1 large yellow onion, finely chopped
2 tablespoons bourbon
2 tablespoons fresh thyme leaves
Instructions
Preheat oven to 325°. Sprinkle both sides of the brisket with 1 tablespoon of the salt and 1 1/2 teaspoons of the pepper.
Heat oil in a Dutch oven over medium heat. Add brisket and cook until well browned, about 5 minutes per side. Remove the brisket to a plate.
Whisk together ketchup, balsamic vinegar, cola, chicken broth, onion soup mix, and herbs in a large bowl. Pour slowly into Dutch oven, and scrape the bottom of the pan to loosen any browned bits. Return brisket and any juices to the Dutch oven. Bring to a boil and cover with foil, then lid. Transfer to the oven and cook for 2 hours.
After 2 hours, turn brisket over. Add in carrots, then add the chopped onion around the brisket. Replace foil and lid, and continue baking until brisket is very tender, about 1 hour.
Use a slotted spoon to transfer brisket and carrots to a serving platter. Cover with foil to keep warm. Puree cooking liquid in Dutch oven with an immersion blender to make gravy. Simmer gravy until hot. Stir in bourbon, and season with the remaining 1/2 teaspoon salt and 1/4 teaspoon pepper.
Slice brisket then top with gravy and sprinkle with the fresh thyme. Serve with remaining gravy.
Notes
This recipe tastes even better when made one to two days ahead. After step three, cool
uncovered, then cover and refrigerate. Discard any fat that collects on the surface before
reheating on the stove and proceeding with the recipe.
Adapted from Southern Living
Nutrition Information:
Yield:
8
Serving Size:
1
Amount Per Serving:
Calories: 974
Total Fat: 56g
Saturated Fat: 21g
Trans Fat: 0g
Unsaturated Fat: 27g
Cholesterol: 301mg
Sodium: 995mg
Carbohydrates: 30g
Fiber: 2g
Sugar: 23g
Protein: 83g
Note: This post may contain affiliate links; view
my Disclosure Policy
for details. I earn a small percentage from any purchase you make by clicking on these links at no extra cost to you.