Slow Cooked Beef Stew with Red Wine, Carrots and Tomatoes
This delicious, comforting Slow Cooked Beef Stew with Red Wine is the most unforgettable of all the Stew Recipes I've made! The layers of flavor from wine, Cognac, herbs, beef, and bacon will definitely tantalize your taste buds and have you yearning for more.
One of my dearest friends found this recipe deep in the archives of my blog. Her family immediately dubbed it Lizzy Bourguignon after she served it for dinner. The ultimate compliment. I thought it was worth re-sharing with new photos along with numerous tips on how to make beef stew.
Why You Must Make
This slow-cooked dish featuring big chunks of chuck, red wine, lots of shallots and garlic, bacon, carrots, and tomatoes brings a French bistro aroma to your kitchen and a thrill to your palate.
There's something so old-fashioned and comforting about beef stew recipes.
This version is more elegant than your typical stew, you'll find a few extra ingredients that push it over the top— including Cognac and even a bit of orange zest. It will definitely impress your family and friends! And if you're looking for another slow-cooked beef recipe, check out my ultimate pot roast recipe!
Ingredient Notes
Pantry Staples – Olive Oil, Salt, Pepper, Dried Basil, Sage, Marjoram, Garlic, Canned Tomatoes, Tomato Paste
Chuck Roast – Buy it cubed or cut it yourself
Bacon – Thicker slices if available
Shallots
Carrots – Regular carrots; baby carrots will get mushy with the long cooking time.
Cognac and Red Wine – Alcohol provides a delicious depth of flavor. Store leftover wine in airtight containers in the freezer to use for cooking.
Fresh Thyme, Flat Leaf Parsley
Orange Zest – Remove strips with your vegetable peeler.
Expert Tips
PRO-Tip: Purchase a good cut of meat for stew. I recommend a chuck roast, and it's best to buy it whole and cut it into cubes yourself. Chuck roast is flavorful with good marbling along with lots of collagen-rich connective tissue which helps keep the beef moist and tender. Chuck must be cooked slowly or else it will be tough.
Cut your own beef stew meat. Cutting the roast into 1 1/2 inch cubes only takes a few minutes and you can easily remove any excess fat. Plus your pieces will be consistent sizes, which lets them brown and cook evenly, and not made up of different cuts of beef as can happen with grocery store stew meat.
Check the recipe for additions that will add layers of flavor, including aromatics like onions, garlic and/or shallots, bacon, tomatoes, herbs, wine, and/or liquor. All of these add a desired umami or what's known as the 5th category of taste along with sweet, salty, bitter, and sour!
PRO-Tip: Red wine and Cognac add an amazing depth of flavor along with a couple of strips of orange zest. These are keys to the Best Beef Stew Recipe in my repertoire!
Season along the way. Salting the beef before you brown it will go much further in flavor development than adding salt to the finished beef stew.
This stew is cooked in the oven and stirred every 45 minutes.
PRO-Tip: For a hands-off version, AKA Crockpot Beef Stew, add it to your crockpot or slow cooker instead of placing the stew in the oven. Cook in a slow cooker for 3-5 hours on high (check at 2 1/2 to see if the meat is tender) or 6-8 hours on low.
Frequently Asked Questions
Can You Overcook Beef Stew?
Yes, but it's tough to do in a slow cooker as it's difficult for the steam to escape. As long as there are plenty of flavorful juices with the beef, the stew meat will not dry out. But the vegetables can get mushy if the cooking time is extended.
Since this beef stew recipe is stirred every 45 minutes, it's easy to evaluate the amount of liquid remaining and the tenderness of the beef.
Can You Freeze Beef Stew?
Beef stew can be stored in the refrigerator for 3-4 days, but it can easily be frozen for up to 3 months. The vegetables will break apart more easily after the stew is defrosted, and potatoes don't especially freeze well. So be gentle with stirring while reheating the beef stew.
You May Also Like:
Stay in touch through social media @ Instagram, Facebook, and Pinterest. Don't forget to tag me when you try one of my recipes! And if you love the results, please give it a 5-star rating in the recipe card. Note: As an Amazon Associate, I earn from qualifying purchases. Visit my Amazon Store for my favorite products.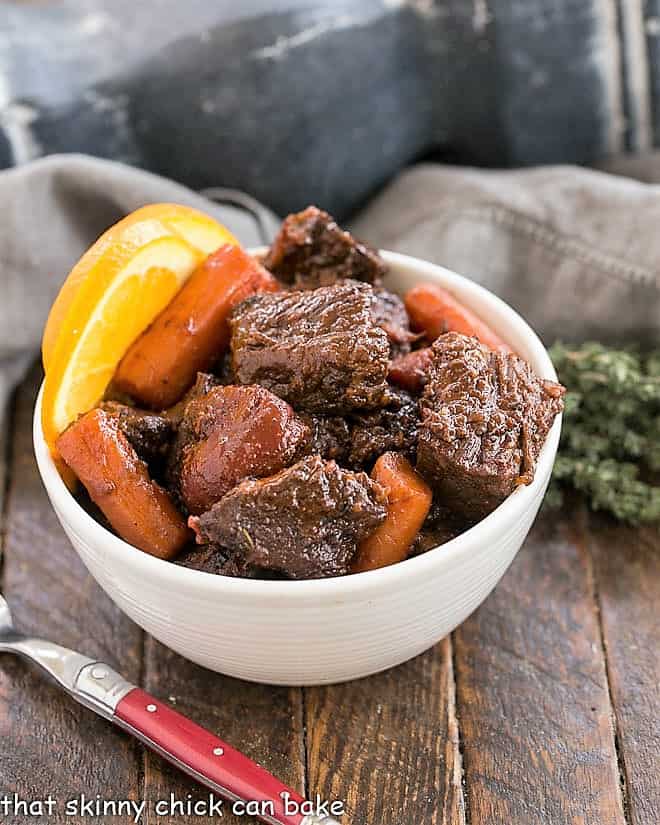 The Recipe:
Slow Cooked Beef Stew Recipe
Prep Time 20 minutes
Cook Time 3 hours
Total Time 3 hours 20 minutes
Yield 6 servings
An elegant beef stew recipe that will please the whole family!
Ingredients
3-pound boneless beef chuck roast, cut into chunks
2 tablespoons olive oil
2 slices thick bacon, cut into 1/2-inch pieces
Salt and freshly ground black pepper
8-10 shallots, chopped
2 tablespoons Cognac
2 tablespoons tomato paste
2 to 3 cloves garlic, finely chopped, about a tablespoon
2 hefty sprigs of thyme
1/2 teaspoon dried basil
1/2 teaspoon dried sage
1/2 teaspoon dried marjoram
2 cups hearty red wine
1 14 1/2-oz can whole, peeled tomatoes
2 strips orange zest, peel 2-inch pieces with a vegetable peeler
1-2 pounds thin carrots, peeled and cut into 2-inch chunks
1/4 cup chopped fresh flat-leaf parsley, optional, to garnish
Instructions
Preheat oven to 325º.
Heat the oil and bacon together in a Dutch oven over medium heat, stirring as needed till the bacon is browned, but not crisp. Remove the bacon to a plate. Season the beef with salt and pepper and brown in batches, then remove to plate with the bacon. Remove all but 1 tablespoon of the fat in the pan (add a bit of olive oil if your pan is dry).
Add the shallots, season with salt and pepper and cook till soft. Add the brandy cook till it evaporates. Add the tomato paste, garlic, and herbs, stirring to combine and cook for a minute. Add the wine and bring to a boil. Add the tomatoes and juice and break the tomatoes into chunks with spatula. Add the orange zest, and return the beef, bacon and juices to the pot. Finally, add the carrots, bring to a simmer, cover, and place into the oven.
Cook the stew, stirring every 45 minutes, until the meat is tender, 2 to 3 hours. Before serving, skim off any fat, taste for salt and pepper, and stir in the parsley if using (I sprinkled on for garnish).
Notes
!Recipe adapted from Molly Stevens
Nutrition Information:
Yield:
6
Serving Size:
1
Amount Per Serving:
Calories: 807
Total Fat: 41g
Saturated Fat: 16g
Trans Fat: 2g
Unsaturated Fat: 23g
Cholesterol: 192mg
Sodium: 410mg
Carbohydrates: 34g
Fiber: 9g
Sugar: 13g
Protein: 62g
I think Bill, my designated dishwasher, wishes I'd make one-pot meals, like stew recipes every day. His eyes glaze over every time he walks in the kitchen after an exhausting day at work. It typically looks like a tornado blew all the pots, pans, and measuring utensils right out of the cupboards. But if he cooked, and I cleaned, we'd be going to bed hungry. Just ask my oldest about the "rice" incident…when his dad cooked dinner using little to no seasonings on anything. Tom gave up rice for years afterward. So make your dishwasher happy and try this scrumptious slow-cooked beef stew!
Note: This post may contain affiliate links; view
my Disclosure Policy
for details. I earn a small percentage from any purchase you make by clicking on these links at no extra cost to you.