Slow Cooker Beef Stew with Mushrooms
Your kitchen will be filled with an amazing aroma while this Slow Cooker Beef Stew with Mushrooms simmers its way to deliciousness. The depth of flavor makes a restaurant-worthy dish!
If you need a fix it and forget it dinner, this Crockpot Beef Stew is a definite winner!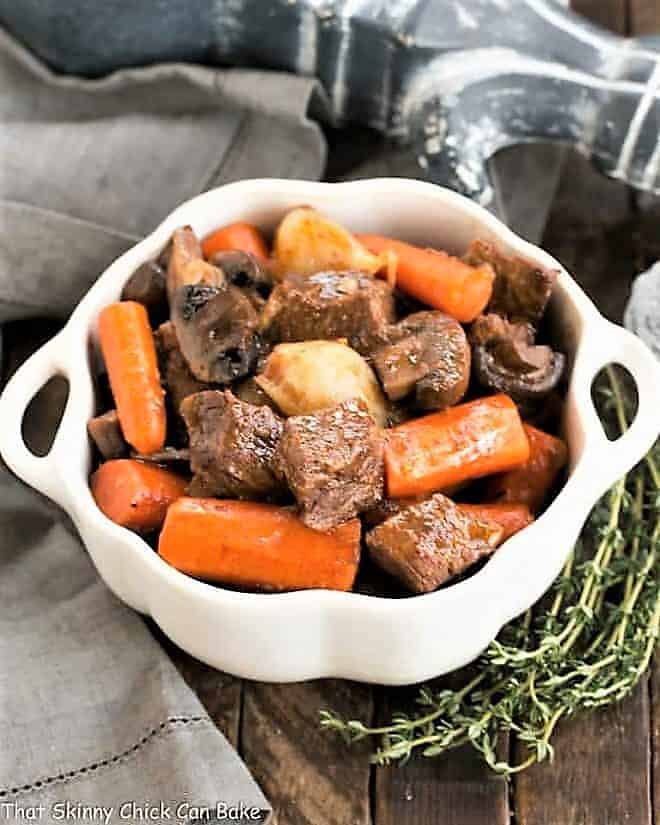 Why You Must Make
It's made in a slow cooker, so it will cook on its own all day long.
The meat and onions were browned before adding to the slow cooker, adding extra flavor that doesn't happen if you use the crockpot alone.
Chuck roast would be tough if you grilled it like a steak, but with slow cooking, it becomes fork-tender and delicious!
The end of December brought bitterly cold temperatures, and this slow cooker beef stew with mushrooms was a tasty way to warm up from the inside out! And boy, did it hit the spot with layers of flavor from the browned beef, sauteed aromatics, red wine, and earthy mushrooms.
A crockpot beef stew recipe will fill your kitchen with an amazing aroma with very little effort. This stew is the epitome of comfort food!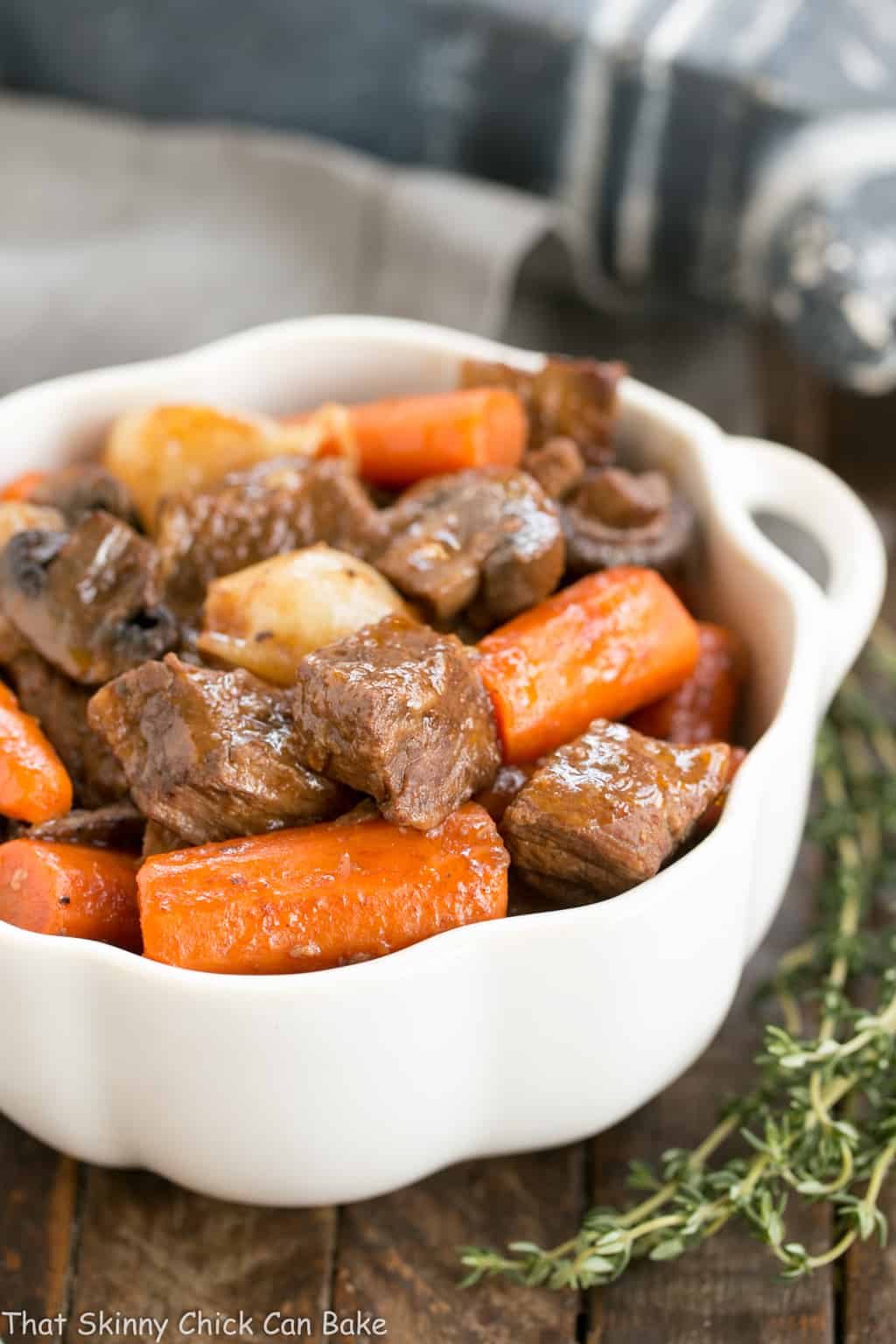 Serving Suggestions:
Expert Tips
Have you ever had a slow cooker meal that was bland? Where no flavors stood out, but instead, all fell short? Well, I've instituted a couple of steps that ensure this beef stew will knock your socks off.
Season your beef before browning. Salt is a flavor enhancer and it should be layered. Only adding salt right before serving will not be as effective.
Brown your beef before adding it to the slow cooker. It's the Maillard reaction that translates to more flavor in your final product.
Alcohol is also a flavor enhancer. I added red wine to this recipe. Most of the alcohol will evaporate during the long cooking time, so it's OK to feed this stew to children.
I also browned the onions and cooked the garlic before adding them to the slow cooker. The caramelization (again, the Maillard reaction) could not happen without this extra step.
A double dose of mushrooms helped up the "meaty" taste of this hearty beef stew.
Use quality ingredients. I found organic carrots that tasted like the garden carrots of my childhood. Plus, I purchased the top-of-the-line beef, a Certified Angus Beef® chuck roast, and cut it into stew meat.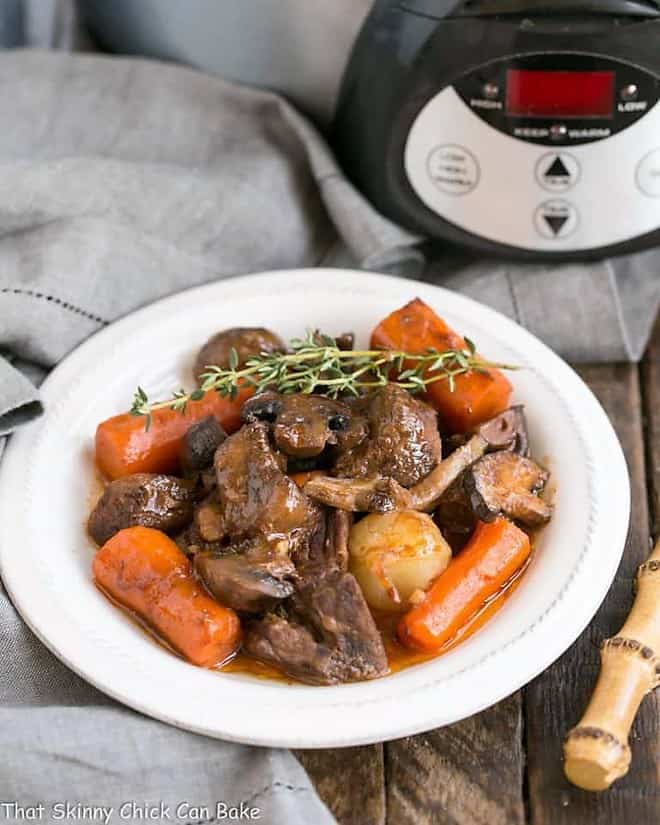 Frequently Asked Questions
What is Stew Meat?
Stew meat is any meat cut in cubes that can be cooked in a liquid over low heat for a long period of time until very tender. Precut stew meat is almost exclusively beef.
What are the best cuts of beef for stew?
What characteristics are key for good stew meat?
Stew meat must be relatively lean with lots of collagen-filled connective tissue which melts away as the beef cooks. Marbling is also desired for good flavoring.
You May Also Like: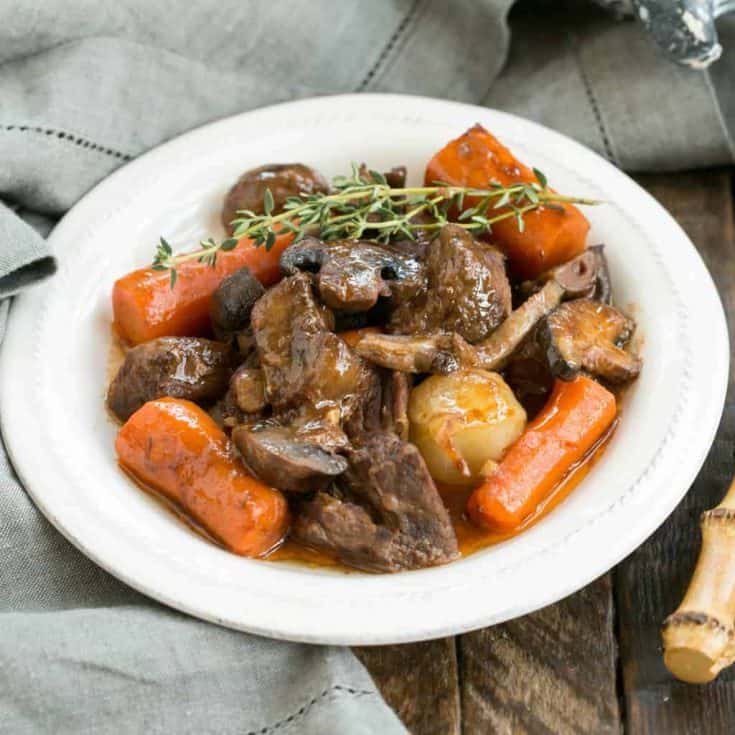 The Recipe:
Crockpot Beef Stew with Mushrooms
Prep Time 10 minutes
Cook Time 8 hours
Total Time 8 hours 10 minutes
Yield 6
Your kitchen will be filled with an amazing aroma while this Slow Cooker Beef Stew with Mushrooms simmers its way to deliciousness.
Ingredients
3 1/2 pound chuck roast, trimmed of fat and cut into 1-inch pieces to make about 2 pounds stew meat
1/4 cup flour, I use Wondra
1+ teaspoon salt
1/2 teaspoon freshly ground black pepper
1/2 teaspoon dried thyme
2-4 tablespoons olive oil
10 ounces pearl onions, tough exterior skin removed
3 cloves of garlic, minced
1 pound carrots, trimmed, peeled and cut into chunks
8 ounces button mushrooms, cut in half
5 ounces sliced shiitake mushrooms
1 cup good quality beef broth
1/4 cup tomato paste
1/2 cup dry red wine
Instructions
Add meat to a large ziptop bag. Add flour, 1 teaspoon kosher salt, 1/2 teaspoon freshly ground pepper, and thyme. Shake bag to coat all meat pieces with flour.
Heat 2 tablespoons of oil in a large pan and sear all sides of the chuck pieces. Add about half to the pan at a time, so pieces have room to brown. Add more olive oil to brown the rest of the meat, if needed.
Place the browned meat in a 5-quart slow cooker.
In the pan where you cooked the beef, add onions and cook until browned. Add another tablespoon of olive oil if needed. Add garlic and saute until fragrant. Add to crockpot along with carrots and mushrooms.
Whisk together, beef broth, tomato paste, and wine. Pour into the slow cooker and gently mix to combine.
Cover and cook on low for about 8 hours or until meat is tender and shreds easily.
Remove meat and vegetables to a serving platter.
Skim fat from the juices, then add to a saucepan and reduce to 1 1/2-2 cups. Check for seasoning and add more salt and/or pepper if needed. Drizzle meat and vegetables with sauce.
Notes
Chuck roast is the best cut of beef for stew, but the pint cut brisket and bone-in short ribs are alternatives.
Nutrition Information:
Yield:
6
Serving Size:
1
Amount Per Serving:
Calories: 966
Total Fat: 56g
Saturated Fat: 20g
Trans Fat: 3g
Unsaturated Fat: 32g
Cholesterol: 294mg
Sodium: 812mg
Carbohydrates: 22g
Fiber: 5g
Sugar: 8g
Protein: 94g
Calories listed are with untrimmed chuck roast.
Note: This post may contain affiliate links; view
my Disclosure Policy
for details. I earn a small percentage from any purchase you make by clicking on these links at no extra cost to you.