American Flag Fruit Tart
American Flag Fruit Tart: For the first time in years, I didn't think we'd be hosting a neighborhood 4th of July party. So I decided to make a festive, patriotic dessert before the holiday.
A sweet Pâte Sablée crust was topped with a luscious cream cheese filling and garnished with beautiful berries and, voila, a beautiful 4th of July Dessert!!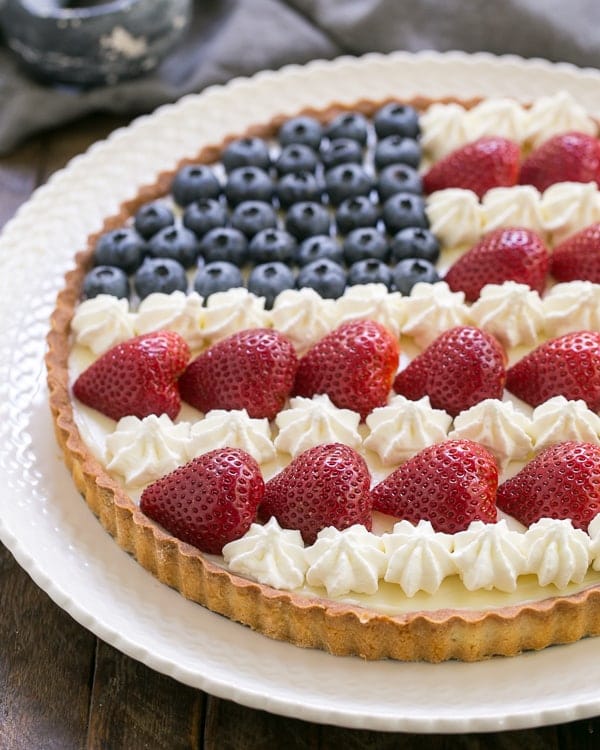 Note: This post may contain affiliate links; view my Disclosure Policy for details. I earn a small percentage from any purchase you make by clicking on these links at no extra cost to you.
Why You Must Make
This yummy fruit tart recipe can be topped to look like an American flag or simply with vibrant, seasonal fruit. It's not just for Independence Day.
The combination of a buttery shortbread crust, no-cook cream cheese filling, and juicy fresh fruit is incredibly tasty!
Your guests will be impressed with your creativity!!
After polling the neighbors in June, it looked like many would be out of town for the 4th. Bill and I decided to try to get everyone together later in the summer. But then I heard that two of the neighborhood husbands were really going to miss the annual grasshopper pie, so the festivities were back on!
Thankfully, Bill invited a couple of work associates over for dessert after a business dinner to help polish off this early bird 4th of July treat. Between their rave reviews and Bill's, I think I've found a second Independence Day tradition!!
How to Make
Make the crust in a food processor.
Roll and fit into a tart pan.
Bake as directed, then cool.
Make the filling and scrape into the crust.
Smooth the top, then decorate with fresh berries and whipped cream.
Chill until ready to serve.
Expert Tips
The crust can be made and baked a few days ahead of time. It can also be wrapped well and kept in the freezer for a month or even longer if it's kept airtight.
If you don't like strawberries or they don't look great in the market, red raspberries will also work well for your red stripes.
If you want a glossy glaze on the fruit, gently heat some red currant jelly with just a touch of water. Whisk until smooth and wait until it cools down a bit before brushing the strawberries with this easy glaze.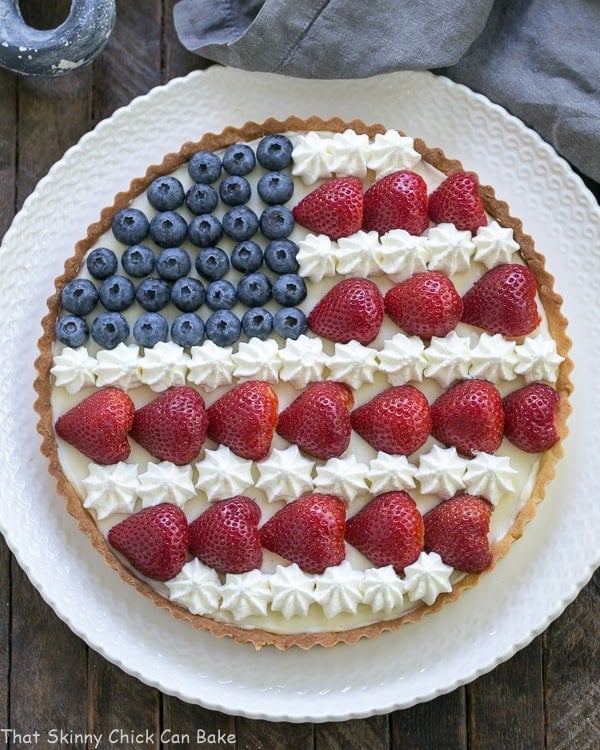 Menu Suggestions
Whether you serve this on Memorial Day, the 4th of July, Labor Day, or a random summer day, you'll want to round out your meal with some great summer fare. I recommend: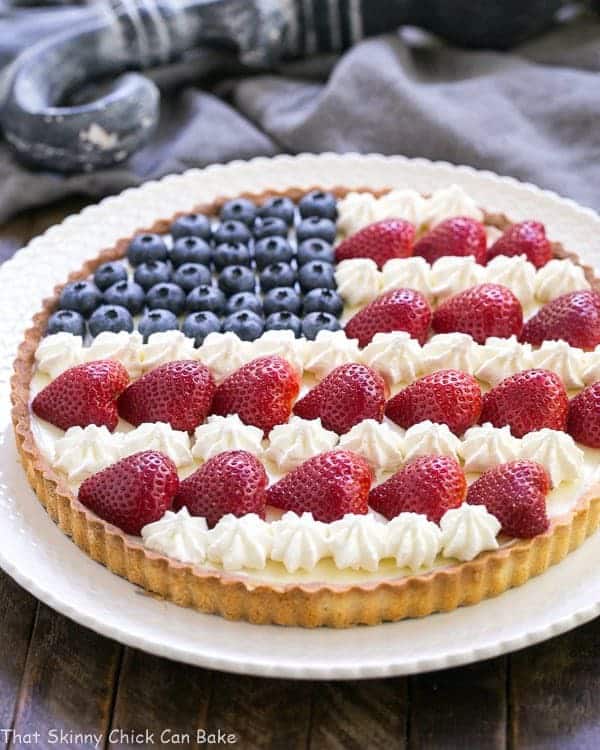 Frequently Asked Questions
What is Blind Baking?
Blind baking or bake blind is a term that refers to a pastry shell that is baked before it is filled. It's either pricked all over with a fork or lined with foil and filled with pie weights like dried beans so that the bottom of the crust stays snug against the pan as it bakes.
This technique is used when the filling does not need to be cooked or is cooked before adding to the crust.
What is a Pâte Sablée Crust?
There are four types of pastry crusts: Flaky, Brisée, Sucrée, Sablée.
Flaky is the typical flaky American pie crust where the fat is cut into the crust ingredients.
Brisée is a short, rich and flaky pie crust used for sweet and savory dishes like pies and quiche. It is usually made with very minimal or no sugar.
Sucrée is also a French term and is a rich, sweet short pastry used for pies, tarts, and filled cookies.
Sablée is a French term for sand and refers to a crumbly, shortbread-type crust.
You May Also Like: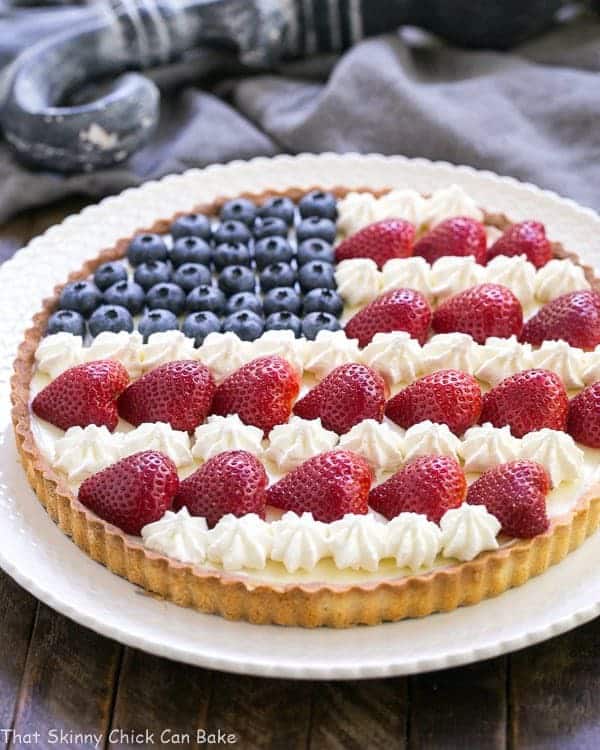 The Recipe:
American Flag Fruit Tart
Prep Time 30 minutes
Cook Time 33 minutes
Total Time 1 hour 3 minutes
Yield 8 servings
A sweet pastry crust with a luscious cream cheese filling topped with berries and cream to resemble an American flag! Crust adapted from Dorie Greenspan.
Ingredients
Crust:
1 1/2 cups all-purpose flour
1/2 cup powdered sugar
1/4 teaspoon salt
1 stick plus 1 tablespoon (9 tablespoons) very cold (or frozen) unsalted butter, cut into small pieces
1 large egg yolk
Filling:
2 packages (16 ounces) cream cheese at room temperature
1 cup sugar
1 teaspoon vanilla
1 tablespoon lemon juice
Topping:
1/2 pint blueberries
16 ounces fresh strawberries
1/2 cup heavy cream
2 tablespoons powdered sugar
Instructions
To make crust,put the flour, powdered sugar and salt in a food processor and pulse to combine.
Add the butter and pulse until the mixture resembles cornmeal with some pea sized chunks.
Whisk the egg yolk, and add it a little at a time, pulsing after each addition. Continue pulsing with long 10 second pulses until the mixture comes together.
Turn the dough out onto a lightly floured work surface and gently knead until any extra flour is incorporated.
Press the dough into an 11-inch greased tart pan with a removable bottom. Press the dough evenly over the bottom and up the sides of the pan. Freeze the crust for at least 30 minutes.
Preheat the oven to 375 degrees.
Top with a piece of non-stick foil or buttered foil and press it onto the surface.
Place the tart pan on a baking sheet and bake for 25 minutes or until the crust is golden brown. Remove to wire rack to cool completely.
When crust is cooled, make filling by placing all filling ingredients in a bowl and beat until the mixture is smooth. Scrape into the tart shell and smooth top with an offset spatula.
To decorate, select the biggest blueberries and cut strawberries in half, removing the stems and hulls. Set aside.
Whip cream with powdered sugar and pipe some rows of cream across the surface leaving enough space between for rows of strawberries. Leave one corner free of whipped cream for the blueberries.
Add strawberry halves, cut side down, in rows, then fill the open area with rows of blueberries.
Keep chilled until you serve.
Notes
The crust can be made 2-3 days ahead of time. If not making for a holiday, use any berries you like.
Recommended Products
As an Amazon Associate and member of other affiliate programs, I earn from qualifying purchases.
Nutrition Information:
Yield:
8
Serving Size:
1
Amount Per Serving:
Calories: 354
Total Fat: 11g
Saturated Fat: 6g
Trans Fat: 0g
Unsaturated Fat: 4g
Cholesterol: 74mg
Sodium: 139mg
Carbohydrates: 60g
Fiber: 2g
Sugar: 39g
Protein: 6g
Note: This post may contain affiliate links; view
my Disclosure Policy
for details. I earn a small percentage from any purchase you make by clicking on these links at no extra cost to you.