Corn, Basil and Tomato Salad
When sweet corn is in season and plentiful, there's nothing like a fresh Corn, Basil, and Tomato Salad showcasing the best of summer produce.
When one of Bill's friends sent him home with 24 ears of freshly picked corn, a fresh Corn Salad Recipe with a light lime dressing was a delicious way to enjoy the harvest.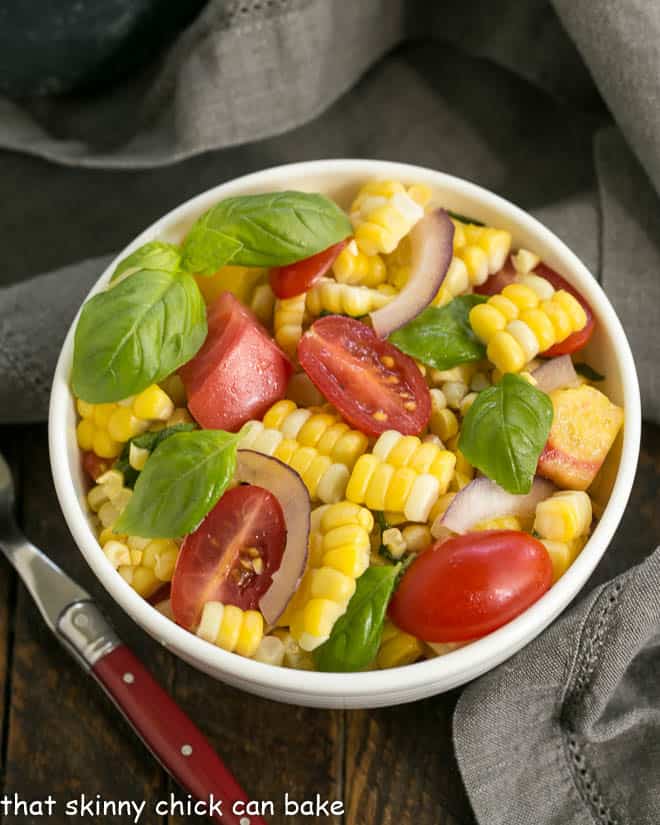 Why You Must Make
A dear foodie friend served this sweet corn tomato salad at her 4th of July bash and was immediately asked for the recipe. She was generous enough to share with me, too.
The best of our summer's harvest is highlighted in this simple salad.
It showcases quality local sweet corn and heirloom tomatoes for a delicious result.
Once you give this a try, you'll make it all summer long!!!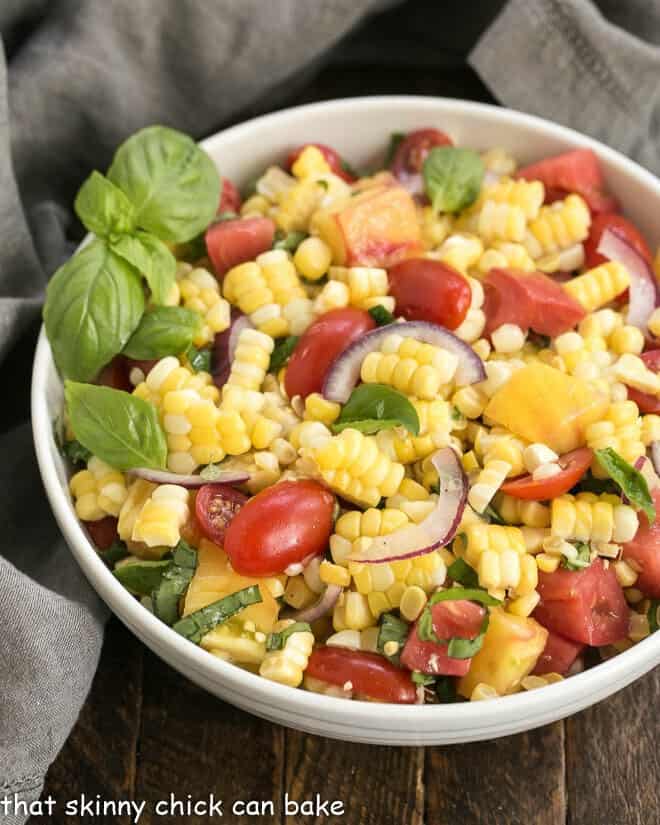 Things to Know:
This is one of those salads that's best made in the summer. Fresh sweet corn and homegrown or farmers' market tomatoes are key, though grape and cherry tomatoes can be quite good in a pinch.
Blanch your fresh corn as soon as you can to lock in the sweetness. As the corn ages, the sugars turn starchy and won't be nearly as tasty. When I cut it off the cob, I like to keep a few larger pieces of corn instead of separating it all into individual kernels.
If you have an herb garden, you are in luck as this salad needs both fresh basil and fresh thyme. Dry won't do it justice, but you can purchase fresh herbs if necessary.
Soaking the sliced red onions in ice water helps remove some of the sharpness. If you enjoy the "bite" of fresh onion, feel free to skip this step.
The dressing is very simple, just fresh lime juice, olive oil, fresh thyme leaves, and salt and pepper.
Serve this summer corn salad at room temperature, but store leftovers in the refrigerator. This corn salad with tomatoes is best on the day it's made, but delicious even when stored for a couple of days.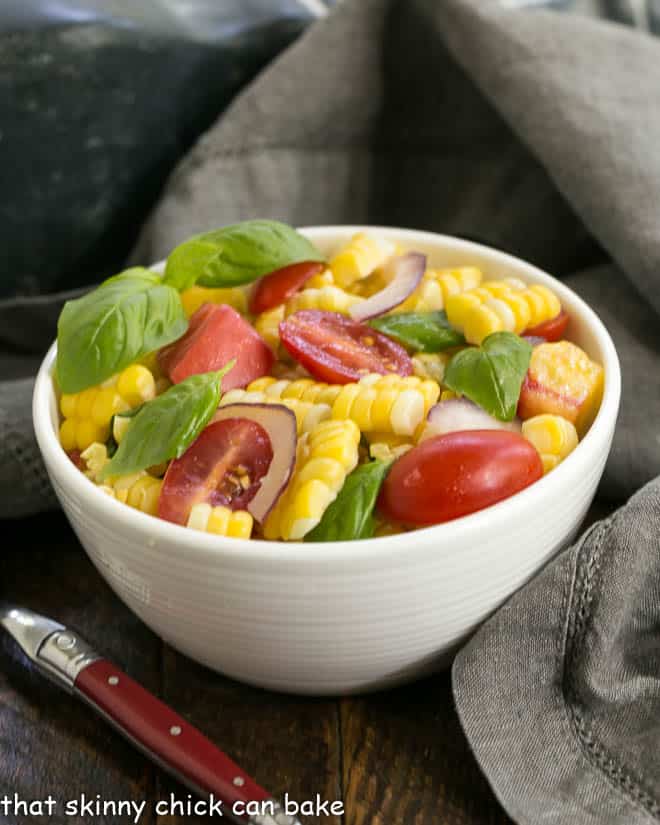 Frequently Asked Questions
How Do You Blanch Sweet Corn?
To blanch sweet corn, first, get a large pot of water boiling. Shuck the corn and remove all the silk. Prepare a large bowl full of ice water to stop the cooking process when the corn is removed from the water.
Blanch the corn for about 3 minutes, then plunge it into the ice water bath. Repeat until all your corn is blanched. Let all the corn cool before proceeding.
Why Do You Blanch Fresh Corn?
Blanching corn helps clean off impurities, plus inactivates enzymes that can promote spoiling.
What's the Best Way to Cut Corn Off the Cob?
There are a couple of techniques to try. I use a larger Rubbermaid container, and stand the corncob upright with the stalk end on top. Cut downwards from top to bottom letting the cut corn fall into the container. Repeat as you work your way around the cob.
Alternatively, use an angel food, tube, or Bundt pan. Place the more tapered, nonstalk end of the corn into the "tube" of the tube pan. Cut off the kernels from top to bottom and they will supposedly drop into the pan. I haven't tested this, but I have a feeling there'd be a few wayward kernels flying across the counter.
How Do You Freeze Sweet Corn?
Freeze your corn in freezer-safe Ziploc bags. Quart bags are a good size. Measure as you fill the bag so you can mark the amount of corn on each bag along with the date. Use a permanent marker like a Sharpie to label.
Seal the bags leaving a small space open to help remove excess air. PRO-Tip: Insert a straw into that open part of the "zipper," and inhale to suck out any excess air. This will minimize frost build-up. Immediately seal once the air is removed.
Frozen corn will be good for about 12 months. It's perfect for soups, casseroles, or just sauteed with some butter for dinner.
Can I Make this Corn Salad Recipe with Frozen Corn?
Yes, you definitely can! Just substitute the blanched corn for defrosted frozen corn. Now you can make this corn salad recipe any time of the year!
You May Also Like:
The Recipe:
Corn, Basil and Tomato Salad
Prep Time 20 minutes
Cook Time 4 minutes
Total Time 24 minutes
Yield 6 servings
A refreshing summer salad with fresh sweet corn, tomatoes, red onions and basil tossed in a light lime dressing
Ingredients
4 cups of corn kernels or about 6 ears of fresh sweet corn, silk and husks removed
½ cup thinly sliced red onions
2 garden or heirloom tomatoes*, chopped
½ cup fresh basil, chopped if leaves are large
3 tablespoons olive oil
2 ½-3 tablespoons fresh lime juice
1 tablespoon fresh thyme leaves
½ teaspoon kosher salt
Freshly ground black pepper, to taste
Instructions
Blanch or steam corn for 3-4 minutes. Cool and cut corn from cobs into a mixing bowl.
Soak the red onion in ice water for a couple of minutes to remove the sharp taste. Drain and add to corn.
Add tomatoes, basil, and thyme.
Toss with olive oil, then add 2½ tablespoons lime juice, salt, and pepper to taste. Taste and adjust seasonings and add more lime juice if needed.
Serve at room temperature.
Notes
Slightly adapted from the Bon Appétit Test Kitchen.
*I used both heirloom tomatoes and halved grape tomatoes
Recommended Products
As an Amazon Associate and member of other affiliate programs, I earn from qualifying purchases.
Nutrition Information:
Yield:
6
Serving Size:
1
Amount Per Serving:
Calories: 251
Total Fat: 10g
Saturated Fat: 1g
Trans Fat: 0g
Unsaturated Fat: 7g
Cholesterol: 0mg
Sodium: 181mg
Carbohydrates: 42g
Fiber: 5g
Sugar: 10g
Protein: 7g
Note: This post may contain affiliate links; view
my Disclosure Policy
for details. I earn a small percentage from any purchase you make by clicking on these links at no extra cost to you.