Grilled Corn on the Cob with Basil Butter
This Grilled Corn on the Cob with Basil Butter was pure summer goodness and will make our menu during corn season year after year. Grilling corn adds a touch of smokiness and this compound butter recipe is a simple way to kick up summer corn up a few notches of deliciousness.
Living smack dab in the center of corn country, we get the BEST fresh corn on the cob in the summer. Sweet and tender, the kernels need almost no seasoning, but every once in a while, I'll indulge by making delicious herb butter. And this time, I went with basil with a pinch of cayenne pepper. Check out some more of the Best Grilling Recipes from the blog so you're ready to BBQ all summer long!
Grilled Corn on the Cob with Basil Butter
When grilling corn, you have the option to remove the husks, then cooking the corn directly on the grill grate allowing the corn to absorb a smoky flavor as well as a characteristic grilled char. But an even easier method is to soak the corn in a sink full of water for about a half-hour, then toss the cobs directly on the grill. It takes a few minutes longer to cook, but the beauty of this idea is that the silk peels right off with the husk.
I have memories of sitting out on the back porch of my childhood home with my sisters picking the sticky silk from each cob before my mom boiled them on the stovetop. Such a messy chore. And Lambeau doesn't clean up the silk that lands on my kitchen floor…though she does hoover up crumbs pretty darn well.
How to Make Compound Butter
This recipe is so simple. Just let a stick of butter sit on the counter till it comes to room temperature. Then mix in minced herbs plus a few pinches of cayenne pepper for some heat. I used salted butter, but still added a wee bit of sea salt.
The options are endless. Add some citrus zest, favorite herbs, and spices.
I like to chill a bit so the butter firms up, then form into a log using plastic wrap. Then you can slice off rounds to top warm steaks or pass around the table for those who want some for their corn has a perfectly portioned serving. Once you've joined the compound butter bandwagon, you'll want to try this fabulous Truffle Butter from Savory Experiments.
This was an ideal complement to the heavenly sweet corn. I grabbed some corn on the cob that was picked locally in the morning from our nearby produce stand. Grilling over charcoal that same night is such a treat!
How to Cook Fresh Sweet Corn
New to cooking corn on the cob? There are numerous ways to approach it including using your microwave, stovetop, or grill. If you use fresh, tender sweet corn, it only takes a few minutes to cook using any of these methods. Older corn may need more time.
Grilling will add a delicious smokiness, so it's a great option in the summer.
To microwave corn, peel, wrap in plastic wrap and microwave for 3 minutes, turning at the halfway point.
To grill corn, soak the corn with husks on in cold water for about a half-hour before grilling. This will minimize the chance of the husks catching on fire. Grill, turning occasionally for 12-15 minutes.
To roast, preheat oven to 350º, shuck corn, wrap in foil and cook for 25 minutes right on the grates.
To use your Instant Pot, remove husks, break cobs in half, add a trivet plus a cup of water to the IP and cook on high for 2 minutes for shucked corn. If you'd like to cook with the husks on, increase the time to 3-4 minutes. Then release pressure and remove.
To boil, place shucked corn in boiling salted water, boiling milk, or salted water with butter to taste for a butter bath. Cook for 3-5 minutes. If your corn is super fresh, cook for less time.
More Spectacular Corn Recipes: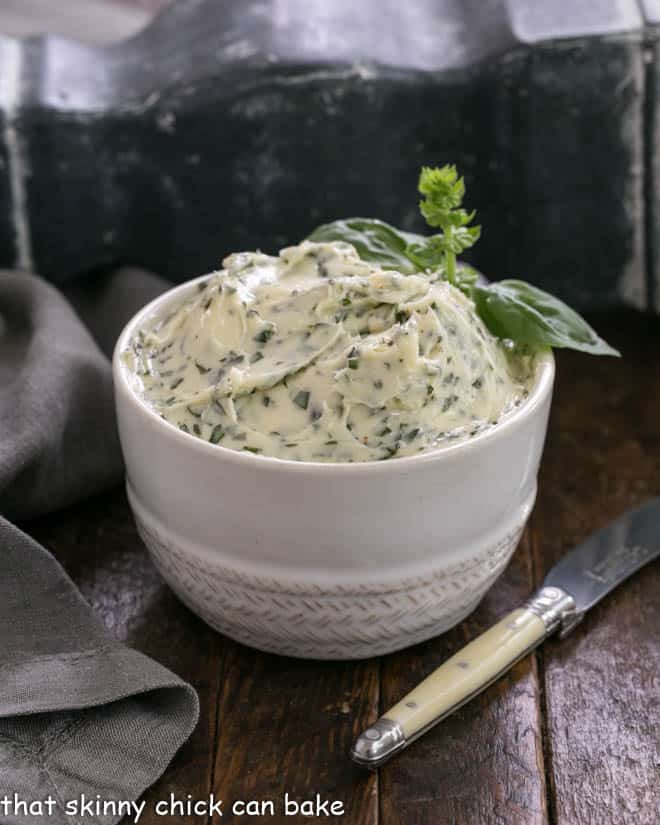 The Recipe:
Grilled Corn on the Cob with Basil Butter
Prep Time 5 minutes
Cook Time 12 minutes
Total Time 17 minutes
Yield 6 servings
A simple recipe for grilled corn on the cob with herbed butter
Ingredients
6-8 ears of corn on the cob, in husks
1 stick salted butter, at room temperature
2 tablespoons minced fresh basil
2-3 pinches cayenne pepper
Sea salt, to taste
Instructions
Soak your corn on the cob in cool water for about 1/2 hour. Preheat your grill. Grill corn, turning every 2-3 minutes for about 12-15 minutes.
Mix softened butter with basil and cayenne. Add a bit of salt, to taste.
Pull back husks of cooked corn (silk will peel with the husks) and spread basil butter over hot corn. Serve immediately.
Nutrition Information:
Yield:
6
Serving Size:
1
Amount Per Serving:
Calories: 237
Total Fat: 17g
Saturated Fat: 10g
Trans Fat: 1g
Unsaturated Fat: 6g
Cholesterol: 40mg
Sodium: 485mg
Carbohydrates: 22g
Fiber: 3g
Sugar: 5g
Protein: 4g
Note: This post may contain affiliate links; view
my Disclosure Policy
for details. I earn a small percentage from any purchase you make by clicking on these links at no extra cost to you.