Lemon Bar Cheesecake
Lemon Bar Cheesecake swirled with lemon curd and topped with candied lemons for makes one unforgettable homemade cheesecake homemade cheesecake dessert!
You will swoon with your first nibble of this delicious lemon cheesecake recipe!
Lemon Bar Cheesecake
I was assigned dessert for a New Year's Day gathering (of course!) and instead of the usual chocolate route, I veered towards another quintessential flavor, lemon. My friend, and interior decorator, raved about this recipe for Southern Living cheesecake after it was published last February. I tucked away the copy he sent me, knowing I would find the perfect occasion to bake it up.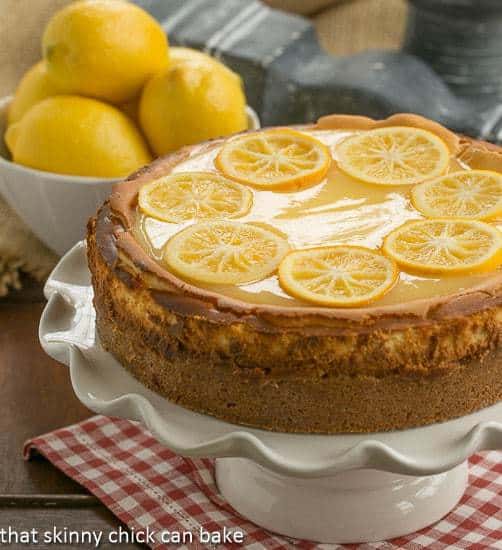 Perfect Citrus Lover's Dessert
For the past few years, a group of us has gathered for soup and football watching on New Year's Day. These friends love to be guinea pigs, so I decided to test out this vanilla cheesecake with layers of lemon curd. I divided the process into three phases. Day one, I made then parked both the lemon curd and candied lemons in the fridge. Day two, I baked up the cheesecake as it needed an overnight stint in the refrigerator.
Note…there were pros and cons to not baking a cheesecake in a water bath. On the positive side, there was no need to worry about water seepage through the bottom of the springform pan, which can create a soggy crust. But one negative is potential cracks on top of the cheesecake. But no worries, as this homemade lemon cheesecake is destined to be topped with lemon curd…and no one will be the wiser. It's our little secret, OK?
On New Year's Day, all I needed to do was remove this homemade lemon cheesecake from the springform pan and top it with lemon curd and lemons. I swapped out the pastry crust in the original lemon bar cheesecake recipe for one made with crushed vanilla wafers. I highly recommend going that easier route.
Tip: Don't worry about cracks in the top of your cheesecake, just cover them with lemon curd and no one will ever see the imperfections!
Tips for Making a Homemade Lemon Cheesecake
The gang gave this lemon bar cheesecake rave reviews. We started with small slices, but there were second helpings taken…along with doggy bags for the biggest fans. The tart lemon curd was an excellent foil to the rich creamy filling.
Make sure your cream cheese and eggs are at room temperature. This ensures a creamy cheesecake as those ingredients will incorporate better if not cold.
Use the paddle attachment on your stand mixer to make this cheesecake. This prevents incorporating excess air into the batter and makes a smoother, more dense, perfect cheesecake.

Mix in the eggs one at a time, letting each incorporate before adding another.
Never over-mix the batter, just use a spatula to scrape the bottom of the bowl a few times to make sure the batter is smooth and well combined.

Bake in a water bath, or bain marie, if desired. Looking at that big crack, I will definitely add this step next time I make this lemon bar cheesecake!
If you bake in a water bath, make sure to wrap the exterior of your springform pan with foil so no water leaks into the bottom of the pan.
This lemon bar cheesecake was a veritable triumph for me, and it will be for you, too!
PRO-Tip:
Baking a cheesecake in a water bath, or bain-marie, allows for more even baking temperature and helps prevent the dreaded crack from appearing across the top of your dessert. If you do use a water bath, make sure to wrap the bottom of your springform pan in a double layer of foil (I prefer heavy duty) to avoid any liquid from seeping into the pan during the baking period.
You can also hide cracks with a layer of fruit (I love fresh berries glazed with red currant jelly), some slightly sweetened sour cream or lemon curd. For a water bath, I use a roasting pan, place the cheesecake in the middle, then add boiling water so it comes a couple of inches up the side of the pan.
More Lemon Desserts You'll Love:
The Recipe:
Lemon Bar Cheesecake Recipe
Prep Time 1 hour
Cook Time 1 hour 50 minutes
Total Time 2 hours 50 minutes
Yield 18 servings
A luscious citrus cheesecake with lemon curd and candied lemons. Adapted from Southern Living.
Ingredients
For crust:
8 ounces vanilla wafers, crushed or processed into crumbs
3 tablespoons sugar
7 tablespoons butter, melted
For filling:
32 ounces of cream cheese (4 8-ounce packages), at room temperature
1 cup sugar
4 eggs
2 teaspoons vanilla
For lemon curd:
6 lemons
1/2 cup butter, at room temperature
2 cups sugar
4 eggs
For candied lemons:
2 small lemons
1 cup sugar
2 tablespoons fresh lemon juice
3/4 cup water
Instructions
Make lemon curd:
Grate zest from lemons to equal 2 tablespoons. Juice lemons to get 1 cup lemon juice.
Beat butter and sugar with a hand mixer on medium until blended. Add eggs, one at a time, beating just until blended after each addition. Gradually add lemon juice to butter mixture, beating at low speed just until blended after each addition, then stir in zest. Mixture may look curdled.
In a large saucepan, cook mixture over medium-low heat, whisking constantly, 14 to 16 minutes.
Place plastic wrap directly on warm curd (to prevent a film from forming), and chill at least 4 hours.
Make candied lemons:
Cut lemons into ⅛-inch-thick slices, removing any seeds. Stir together sugar, lemon juice, and water in a skillet until sugar is dissolved. Add lemon slices, and simmer gently, keeping slices in a single layer and turning occasionally, 14 to 16 minutes or until rinds are soft. Remove from heat. Place slices in a single layer on a sheet pan lined with parchment. Cool completely. (May make a day or two ahead).
Make the crust:
Preheat the oven to 375°.
In a medium bowl, stir together the vanilla wafer crumbs and 3 tablespoons sugar. Mix in the melted butter till well incorporated. Press onto the bottom of a 9-inch springform pan and about 2 inches up the sides. Bake until the crust is slightly browned, 9 to 12 minutes. Let the crust cool on a rack.
Lower oven temperature to 325°.
Make the cheesecake:
Beat cream cheese at medium speed with an electric mixer 3 minutes or until smooth. Gradually add granulated sugar, beating until blended. Add eggs, one at a time, beating just until blended. Mix in vanilla.
Pour two-thirds of cheesecake batter (about 4 cups) into prepared crust. Add 1 cup lemon curd by large spoonfuls over batter in the pan, and swirl in with a knife. Spoon the rest of the batter into pan.
Bake at 325° for 1 hour to 1 hour and 10 minutes or just until center is set. Turn oven off. Let cheesecake stand in oven for 15 minutes longer. Remove cheesecake from oven, run a knife around inside of the pan. Cool completely on a wire rack (about 1 hour). Cover and chill overnight.
Remove sides of the pan and place cheesecake on a serving platter. Spoon 1 cup lemon curd over cheesecake, and top with candied lemons.
Notes
You will need to make the lemon curd well in advance so it can chill for at least 4 hours. Also, note that cheesecake needs to chill at least 8 hours. If you have any leftover lemon curd, store it in a covered container in your refrigerator up to 2 weeks.
Recommended Products
As an Amazon Associate and member of other affiliate programs, I earn from qualifying purchases.
Nutrition Information:
Yield:
18
Serving Size:
1 slice
Amount Per Serving:
Calories: 854
Total Fat: 52g
Saturated Fat: 24g
Trans Fat: 1g
Unsaturated Fat: 23g
Cholesterol: 967mg
Sodium: 626mg
Carbohydrates: 64g
Fiber: 1g
Sugar: 54g
Protein: 34g
Note: This post may contain affiliate links; view
my Disclosure Policy
for details. I earn a small percentage from any purchase you make by clicking on these links at no extra cost to you.