Mile High Lemon Meringue Pie
This impressive Lemon Meringue Pie Recipe with lemon custard and a sweet, billowy meringue topping is nestled in a buttery pastry crust.
If you're a fan of Lemon Desserts. this recipe is your dream come true! Just like a homemade pie from an old-fashioned diner!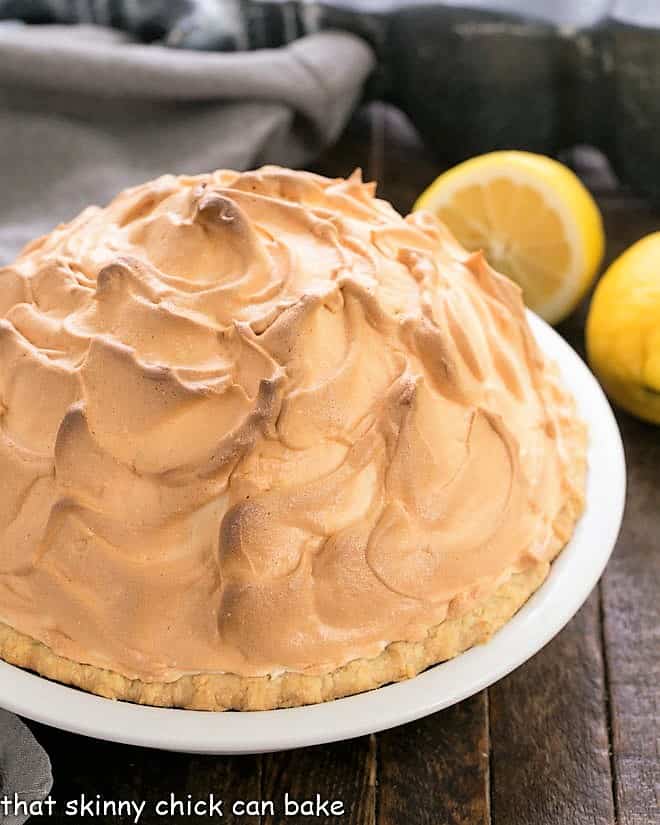 Why You Should Make this Lemon Pie
If you're a lemon lover, this is THE dessert to make!
Lemons never go out of season, so this pie can be made all year long.
This pie has been around, and beloved, for over 150 years!!
Reader Endorsements:
I made this as a request for my husband for his birthday pie! It was amazing, the recipe is easy to follow and my pie turned out fantastic, he couldn't believe how good the filling was and how high the meringue was. Thank you for a great, reliable recipe!
This is the best and easiest Lemon Meringue recipe. We really enjoyed it and keep asking for more. Thanks. I've got lemon trees and will never tired of making lemon recipes. Again yours is the best, no more tempering of yolks.
If I were to guess what kind of dessert the hubby would rank second to chocolate, I'd have to say lemon. He swoons over lemon bars and tarts. Desserts like my luscious Lemon Bars are right up his alley!
When I realized I hadn't baked my favorite lemon meringue pie in years, I quickly put it on our weekend menu. With two very picky palates in our household, this was a rare dessert that all five of us enjoyed. Let me tell you, that doesn't happen very often!!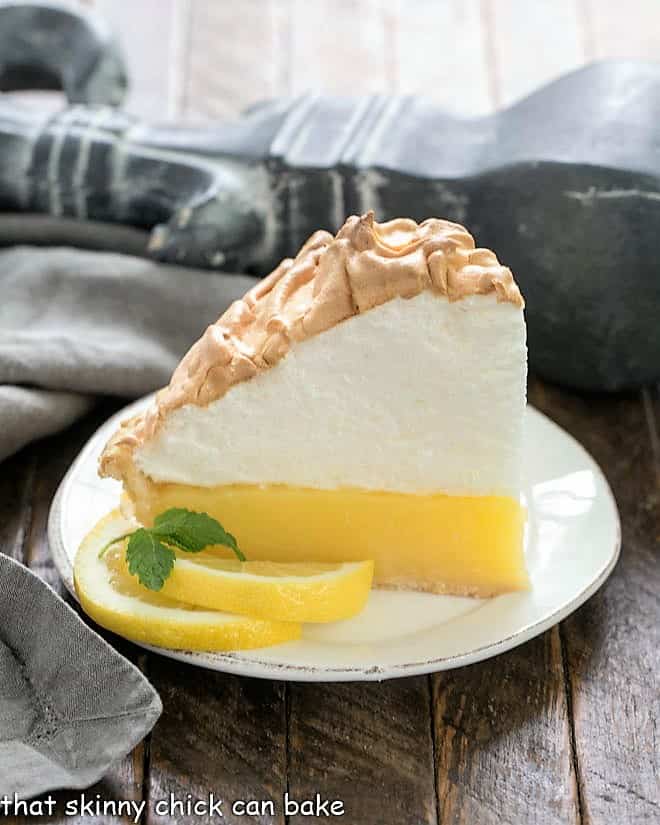 The BEST Lemon Meringue Pie Recipe
I've been using this Southern Living recipe for eons. The whole pie is baked for nearly a half-hour so the meringue is perfectly cooked. Instead of just broiling it, as some recipes prefer, this method prevents you from eating under-cooked egg whites.
Although you can use just four egg whites, you have the option of making a "Mile High" lemon pie by increasing your whites to six. Follow my tips and your whites will whip to perfection and form a gorgeous cloud atop the sweet-tart lemon filling.

Recipe Tips
So if you're looking for the perfect lemon meringue pie recipe, I've got you covered! This is the perfect dessert any time of year. Go ahead and treat the lemon lovers in your life to one marvelous pie! If you're going to make a lemon pie, go BIG with this Mile High Lemon Meringue Pie!
Always use fresh lemon juice and zest. You will be disappointed if you use bottled juice and/or dried lemon zest from a jar.
PRO-Tip: Separate your eggs while they are cold to minimize yolk breakage. And always separate the whites into an empty bowl because each has a chance of being contaminated with some yolk if the yolk breaks. If that egg white is without any yolk bits, then pour it into another bowl used to collect all the whites.
PRO-Tip: Egg whites whip best at room temperature. So after you separate your eggs, cover each bowl with plastic wrap and let them come to room temperature (mainly for the whites for the best meringue volume). If you're in a hurry, you can set the bowl of whites into a larger bowl of warm (not boiling as that will cook the eggs) water.
PRO-Tip: Make sure your beaters and bowl are scrupulously clean. Any grease on either or egg yolk in your whites will prevent the whites from whipping into a fluffy meringue.
Add the sugar slowly (use superfine sugar for easier incorporation).
Cream of tartar stabilizes the egg whites, so do not omit this ingredient.
For the filling, if you want to taste it, use a spoon. I haven't found documentation, but when I made this pie when I was in high school, I was told that saliva can prevent the filling from thickening.
PRO-Tip on How to Cut a Lemon Meringue Pie: To cut cleanly through a meringue topping for perfect slices, my mom taught me to use a knife dipped in hot water. Shake off the excess water and slice. You'll be amazed how slick this trick works! Give it a try.
How to Make: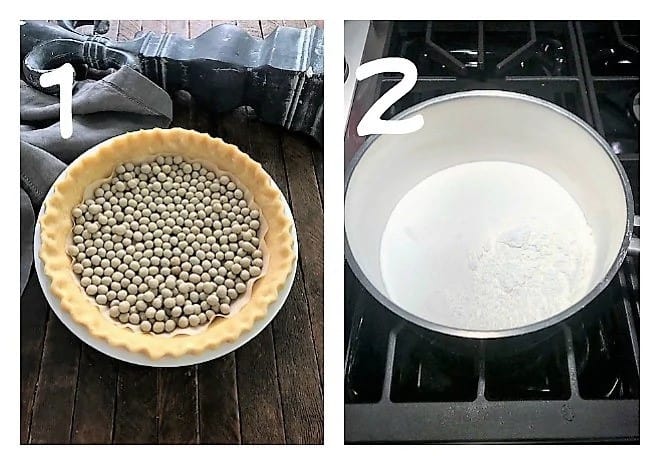 Blind bake pie crust using pie weights to keep the bottom of the crust flat.
Start making pie filling by mixing together the sugar, cornstarch, and salt in a large saucepan.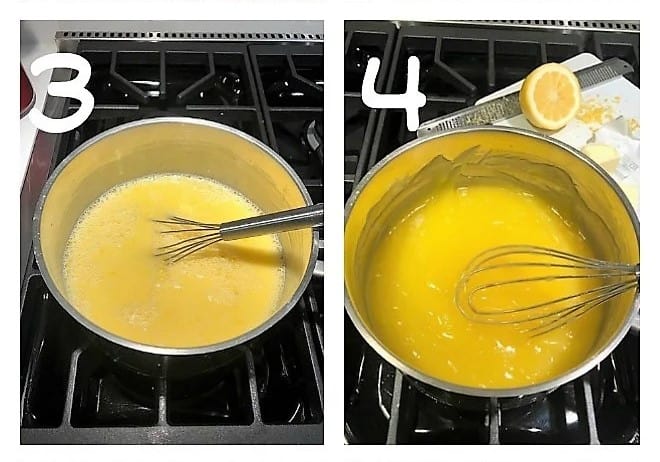 Combine yolks, water, and juice and add to the saucepan.
Cook over medium heat until the mixture thickens, stirring regularly. Once it boils, let it boil for one full minute.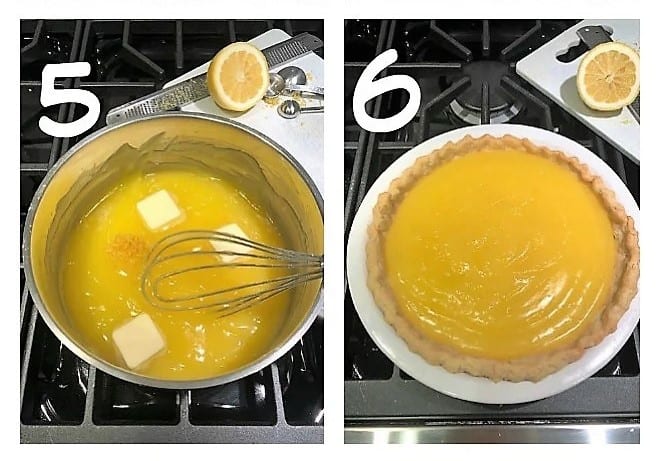 Stir in Butter and Lemon Zest.
Scrape into Baked Pie Crust.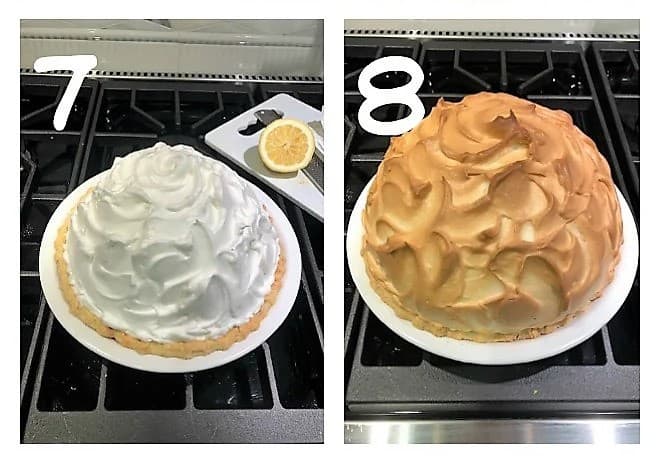 Make the meringue (I used 6 egg whites for a massive meringue topping), and top the pie.
Toast Meringue in the oven until browned.
Frequently Asked Questions
Who Invented the Lemon Meringue Pie
Mrs. Elizabeth Goodfellow of Philadelphia, a 19th-century pastry chef who ran America's first culinary cooking school, invented this dessert. She took the leftover egg whites from making a lemon pudding and topped it with meringue.
The recipe first appeared in an 1847 cookbook and by the 1860s, it was in numerous cookbooks.
Can You Make This Pie Ahead of Time?
It's best on the day it's made, but you can bake the crust ahead of time. The meringue bakes best when it's placed on a warm filling from edge to edge, so it's recommended to fill and bake the meringue on the day you plan to serve it.

You May Also Like:
Stay in touch through social media @ Instagram, Facebook, and Pinterest. Don't forget to tag me when you try one of my recipes! And if you love the results, please give it a 5-star rating in the recipe card. Note: As an Amazon Associate, I earn from qualifying purchases. Visit my Amazon Store for my favorite products.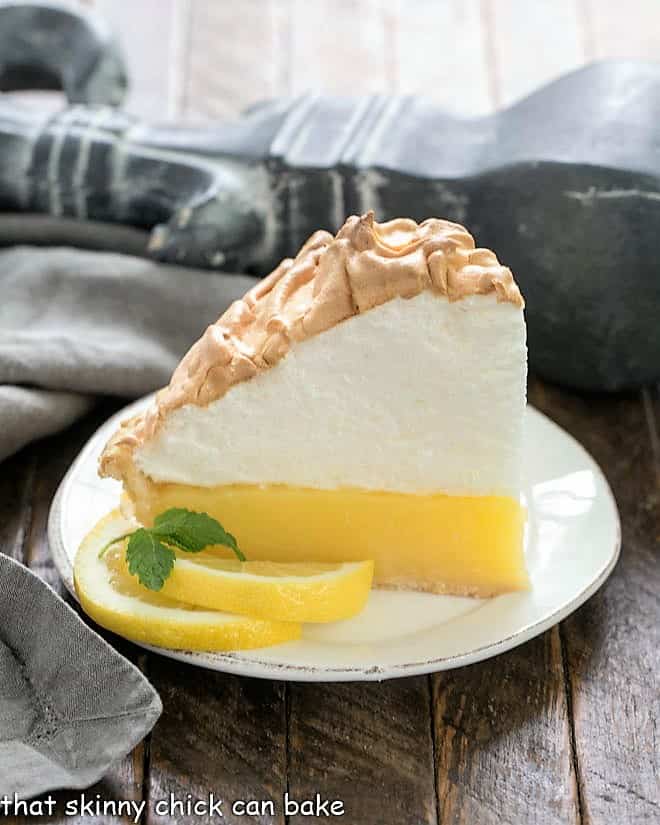 The Recipe:
Lemon Meringue Pie Recipe
Prep Time 30 minutes
Cook Time 33 minutes
Total Time 1 hour 3 minutes
Yield 8 servings
A classic lemon meringue pie  with a generous meringue topping!
Ingredients
1 baked and cooled 9-inch pastry shell
For the lemon filling:
1 1/2 cups sugar
1/2 cup cornstarch
1/8 teaspoon salt
4 egg yolks (save the whites for the meringue!)
1 3/4 cups water
1/2 cup fresh lemon juice (from 3-4 lemons)
3 tablespoons butter
1 teaspoon fresh lemon zest
For the meringue:
4-6 egg whites, at room temperature
1/2-3/4 teaspoon cream of tartar (depending on the number of egg whites used)
1/2 cup sugar, use superfine sugar if you have it
1/2 teaspoon vanilla
Instructions
Preheat the oven to 325º.
Combine the first three ingredients in a saucepan; set aside.
Combine yolks, water, and juice, and stir into the sugar mixture. Cook over medium heat, stirring constantly till the mixture boils and thickens. Boil for one minute, stirring constantly.
Remove from heat. Stir in butter and zest. Pour into the baked pastry shell.
Beat whites and cream of tartar on high speed with an electric mixer until foamy. Gradually add sugar, one tablespoon at a time, until stiff peaks form and sugar is dissolved, about 2-4 minutes. Add vanilla and beat well.
Spread meringue over hot filling, making sure meringue covers all filling.
Bake for 25-28 minutes.
Notes
For a true mile-high lemon meringue pie, you'll want to use the two additional egg whites.
Place the pie on a rimmed baking sheet for easy transfer in and out of the oven.
Adapted from Southern Living
Recommended Products
As an Amazon Associate and member of other affiliate programs, I earn from qualifying purchases.
Nutrition Information:
Yield:
8
Serving Size:
1 slice
Amount Per Serving:
Calories: 366
Total Fat: 9g
Saturated Fat: 5g
Trans Fat: 0g
Unsaturated Fat: 3g
Cholesterol: 109mg
Sodium: 151mg
Carbohydrates: 67g
Fiber: 1g
Sugar: 52g
Protein: 6g
Note: This post may contain affiliate links; view
my Disclosure Policy
for details. I earn a small percentage from any purchase you make by clicking on these links at no extra cost to you.