Meringue cookies are incredibly light, ethereal cookies made from whipped egg whites and sugar. These simple meringue cookies will melt in your mouth and tantalize your sweet tooth!
This easy meringue cookie recipe will become one of your favorites. Make a batch with your next leftover egg whites!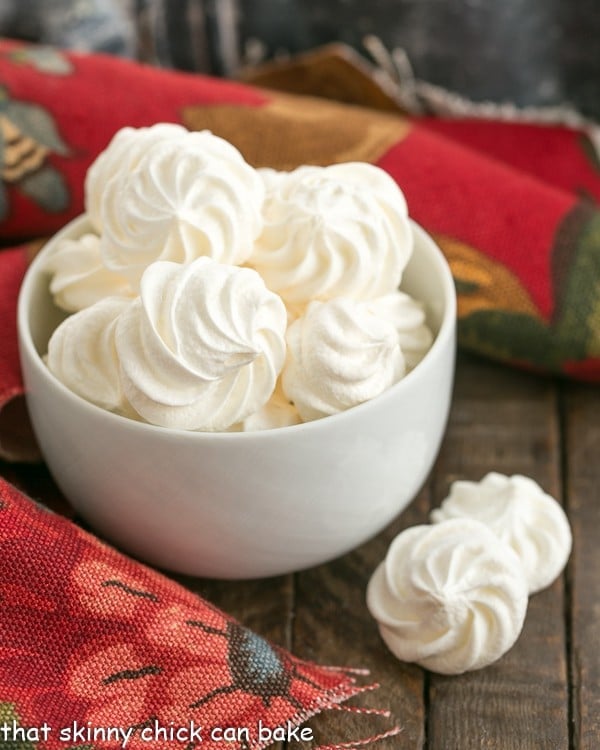 Simple Meringue Cookies
This meringue cookie recipe can be jazzed up with food colors and flavorings, but these are the most basic, simple meringue cookies. Only 4 ingredients and a few steps and these melt in your mouth gems will be ready to eat! Spotting this elegant Strawberry Meringues Recipe from Pint Sized Baker reminded me that an ordinary meringue cookie recipe can be the base for an amazing dessert as well as scrumptious cookies!
A Versatile Easy Meringue Cookies Recipe
These meringue cookies will be incorporated into a fabulous Strawberry Eton Mess dessert to be revealed on Sunday, so I didn't add any vanilla to keep them a beautiful, pure white color. But just think of all the options with these egg white cookies: green for St. Patrick's Day, pink with peppermint extract for Valentine's Day, pastel colors for Easter! A fun cookie any time of the year!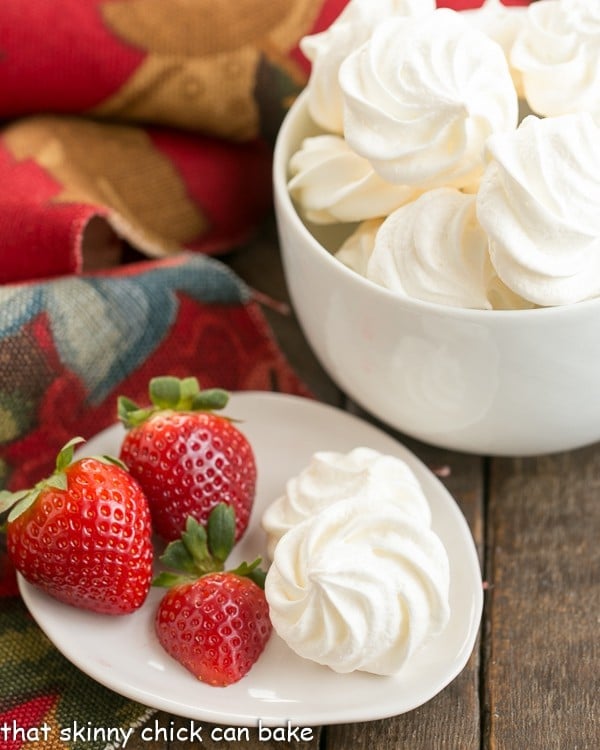 Tips for Making the Best Meringue Cookies
I've been making meringue since I was a teen. Lemon meringue pie was one of my specialties, and my family was brave enough to eat it! I'm not certain I knew all the tricks for the making the best meringues in those days, but I have learned a few tips along the way. Use these guidelines for your own simple meringue cookies as well as to top cream pies and more!
Room temperature egg whites will give your meringue cookies more volume and help the sugar dissolve more easily.
Superfine sugar will dissolve more easily than regular granulated sugar. If you don't have any in your pantry, just whiz up some regular sugar in your food processor (not so much that it becomes powdered sugar, though).

For perfect meringues, add the sugar slowly. Don't rush the process.
PRO-Tip: Make sure your mixing bowl and beater are scrupulously clean. Any speck of oil (this includes any egg yolk) will prevent the whites from becoming white and billowy.

So that you don't get any egg yolks in your whites when separating your eggs, make sure to crack them on a flat surface (not the edge of your bowl) and separate them while cold (right out of the refrigerator).
It's also wise to not separate them over a bowl of egg whites as that almost always guarantees that a little yolk will contaminate the other whites and you 'll have to start over!
To keep them your vanilla meringues a pristine white, not even a splash of vanilla was added, but feel free to include a little if that's your preference. Vanilla meringue cookies are also wonderful to eat on their own or use in a recipe!
Cooled Vanilla Meringue Cookies can be stored up to 3 weeks and probably longer if they're in an airtight container.
What to Make with Leftover Egg Yolks:
You can always add some extra yolks to a big batch of Sunday morning scrambled eggs, but here are some more egg yolk recipe ideas for you. Any creme brulee recipe will work like my Classic Creme Brulee which uses 7 egg yolks or my White Chocolate Creme Brulee which uses 4 yolks. Irish Cream Pots de Creme use 6 egg yolks. You'll be set with two marvelous desserts if you make these simple meringue cookies, then a rich dessert made with the leftover yolks!
What to Serve with These Simple Meringue Cookies
More Meringue Dessert Recipes
Print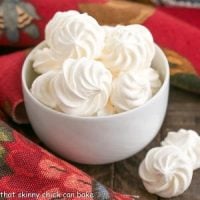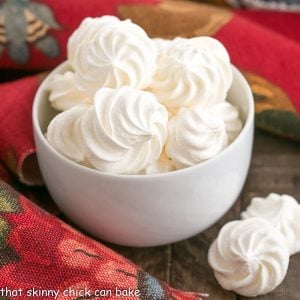 Simple Meringue Cookies
Sweet, ethereal, easy meringue recipe made with just 4 simple ingredients.
Author:
Prep Time: 15 mins
Cook Time: 45 mins
Total Time: 1 hour
Yield: 24 cookies 1x
Category: Dessert, Cookies
Method: Baking
Cuisine: American
Ingredients
2 egg whites, at room temperature
1/4 teaspoon cream of tartar
A pinch of salt
1/2 cup sugar, superfine preferred, but not necessary
Instructions
Preheat oven to 225º Fahrenheit. Line a baking sheet (or two) with parchment paper.
Place egg whites into a mixing bowl and beat until frothy. Add the cream of tartar, the pinch of salt, and beat until soft peaks form. With mixer running, slowly add sugar, one tablespoon at a time until sugar is dissolved and stiff peaks form.
Pipe or scoop tablespoons of the meringue onto the prepared baking sheet, spacing approximately 2 inches apart.
Bake for 45 minutes, then turn oven off. Without opening the door, let stand in oven for 1 hour (so the total time in the oven is 1 hour, 45 minutes but it's only turned on for the first 45 minutes).
Notes
Once your meringues have cooled to room temperature, store in an airtight container.
Yield varies depending on the size of your meringue cookies.
Note: This post may contain affiliate links; view
my Disclosure Policy
for details. I earn a small percentage from any purchase you make by clicking on these links at no extra cost to you.