Fresh Strawberry Meringue Cake
Strawberry Meringue Cake combines four crispy meringues, luscious strawberry slices, and sweet, decadent mascarpone cream for the ultimate spring dessert!
I'm always certain of a hit when I bake up a strawberry and cream dessert recipe like this one. This Strawberry Cream Cake was a winner!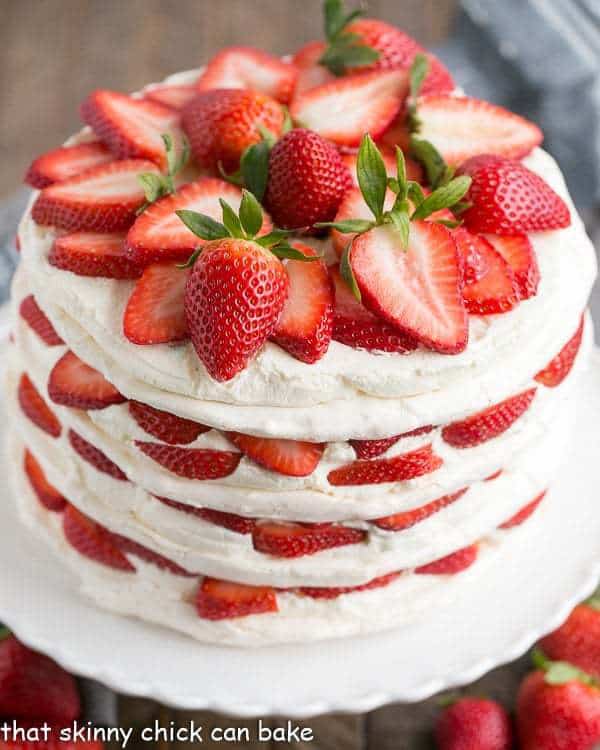 Why You Must Make
My family loves all things meringue! From crisp meringue cookies to meringue topped pies to desserts like this dreamy Strawberry Pavlova, Strawberry Vanilla Cream Pie and this Strawberry Filled Meringue Roulade. Raspberries and blueberries are definitely not at their peak in early spring, but I've found some incredibly fragrant and sweet strawberries at the market. There's no better way to usher in the spring season than a sinful strawberry and cream dessert like this strawberry meringue cake.
This fresh strawberry cake is a showstopper! The contrast between the ripe red strawberries and the white meringues and whipped cream will make jaws drop as you bring it to the table.
This dessert tastes amazing!! The textures and flavors are simple but irresistible. Crispy meringues, sweet, luscious whipped cream, and juicy fragrant strawberries dazzle your taste buds with every bite.
It can be made in stages. Make the meringue shells the day before and store them in a cool dry location. Then you can assemble it on the day you plan to serve it.
Reader Review:
Via Pinterest: Oh, wow! This is AMAZING! I had a little difficulty cutting it into servings… everyone sort of got a 'pile' of dessert, lol! Afterward, I read a tip that said meringue should be cut with a warm, wet knife. Either way, this recipe was easy to make, it's delicious, and I'm so glad you shared it. Thank you!!
Ingredient Notes:
A few tips about what you need and what to look for with your ingredients:
Egg whites – Separate the whites from the yolks when the eggs are cold to minimize breakage, but let them come to room temperature before whipping for the best results. Never separate an egg over your bowl of egg whites in case the yolk breaks. This prevents any yolk from contaminating the whites.
Cream of tartar – The acid helps stabilize the meringue. An equal amount of lemon juice can be substituted in a pinch.
Mascarpone cheese – Adds richness and stability to the whipped cream
Vanilla extract – Classic flavoring for whipped cream
Whipping cream – Always look for heavy whipping cream on the label.
Fresh strawberries – Look for fragrant, shiny red berries without blemishes or green areas around the stem for the tastiest berries.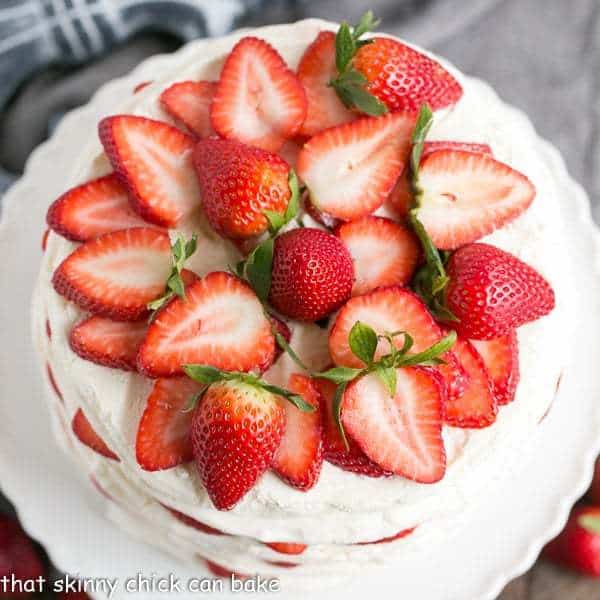 How to Make
Four layers of meringue are filled with a sublime, doctored-up whipped cream and sliced berries. Yes, this strawberry dessert is as incredible as it sounds. We all licked our plates clean.
Make the meringue shells first, using a template drawn on parchment to help make all 4 the same size. Bake and let cool in the oven.
Once the shells are cooled, make the mascarpone whipped cream filling.
Place one shell on the serving dish, add 1/4 of the cream then 1/4 of the berries. Repeat three more times, then add a few halved berries with the leaves on to garnish, if desired.
Once a few slices are removed, keep an eye on your masterpiece. My leaning tower of cake threatened to collapse but held its own overnight. Save this Fresh Strawberry Meringue Cake recipe for the next time you spot gorgeous, ripe strawberries in the market. See the evidence below that this cake can be sliced (photo circa 2014).
Expert Tips
Learning how to make meringue opens up a world of dessert options. A few tips will help you make perfect meringues every time.
The ingredients are simple: egg whites, sugar, and an acid, like lemon juice or cream of tartar, which will add stability to your meringue. Flavorings like vanilla are optional and depend on the recipe.
Note that egg whites whip best when they're at room temperature, but the most important takeaway is to use a bowl and beaters free from any grease, oil, or egg yolk or your whites will not whip properly.
Check out this Simple Meringue Cookie recipe for tips on how to make the perfect meringue, especially if this process is new to you.
Use leftover egg yolks to make puddings, custards, or creme brulee.
Frequently Asked Questions
How Do You Cut a Meringue Cake?
PRO-Tip: I suggest using a serrated knife (affiliate link) with a sawing motion. But once the meringues get a little "squidgy" (Nigella's term) or soft, you may give up on anything beyond getting some of the cake onto a plate.
Also, if you heat your knife blade by running it under hot water, the meringue will be easier to cut. You will need to reheat the knife as needed. And it works best if you don't dry it.
How Do You Store a Meringue Cake?
This dessert should not be left at room temperature for more than 2 hours due to the mascarpone whipped cream filling. It's best eaten on the day it's made, but leftovers can be stored in the refrigerator, covered with plastic wrap for a day or two. It's definitely still swoon-worth the next day.
Can Any Components Be Made Ahead of Time?

Yes, the meringue shells can be made the day before as long as they're stored in a cool dry place. The oven is the perfect spot, but put a post-it on the front so you don't accidentally turn it on the next day!

The strawberries and cream filling can be made earlier in the day you're serving this and assembled a couple of hours before your company arrives.
You May Also Like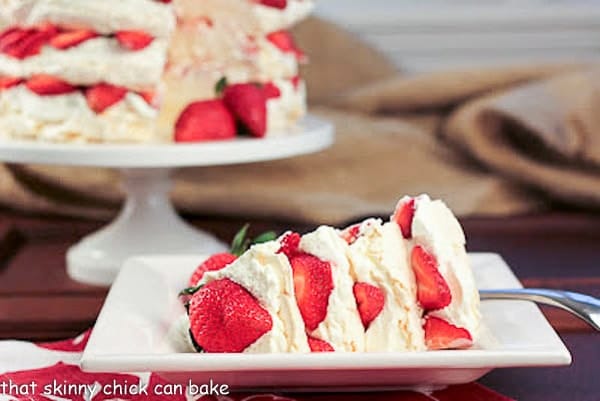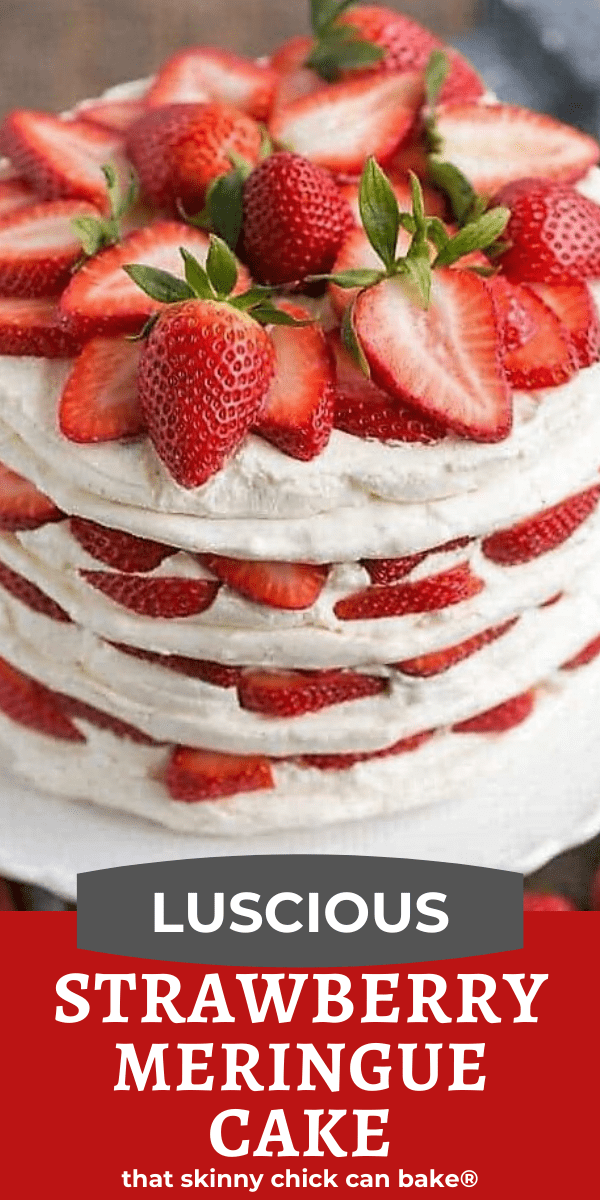 Stay in touch through social media @ Instagram, Facebook, and Pinterest. Don't forget to tag me when you try one of my recipes! And if you love the results, please give it a 5-star rating in the recipe card. Note: As an Amazon Associate, I earn from qualifying purchases. Visit my Amazon Store for my favorite products.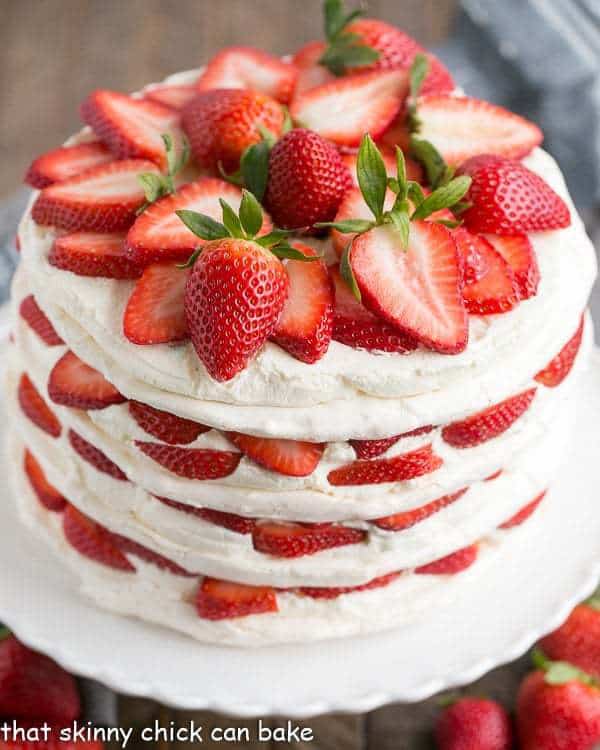 The Recipe:
Strawberry Meringue Cake Recipe
Prep Time 40 minutes
Cook Time 1 hour
Total Time 1 hour 40 minutes
Yield 12 servings
Layers of meringue filling with fresh strawberries and mascarpone whipped cream!
Ingredients
2 tablespoons cornstarch
⅛ teaspoon salt
2 cups sugar, divided
7 egg whites, at room temperature
½ teaspoon cream of tartar
16 ounces mascarpone cheese
2 teaspoons vanilla extract
3 cups whipping cream
4 ½ cups sliced fresh strawberries, plus some halved berries to garnish the top of the cake
Instructions
Preheat oven to 250°.
Cover 2 large baking sheets with parchment paper. Draw 2 (8-inch) circles on each piece of paper. Turn the parchment over and use masking tape to adhere it to the sheets.
Beat egg whites and cream of tartar at high speed with an electric mixer until foamy. Add salt and cornstarch. Gradually add 1½ cups of the sugar, 1 tablespoon at a time, beating at medium-high speed until stiff peaks form and the mixture is glossy, about 4 minutes.
Place one-quarter of the egg white mixture onto circles drawn on parchment paper (about 1½ cups mixture per circle), spreading to cover each circle completely.
Bake at 250° for 1 hour, turning the baking sheets after 30 minutes. Turn the oven off; let meringues stand in a closed oven with the light on 2 to 2½ hours or until the surface is dry/not sticky.
To assemble, beat together mascarpone cheese and vanilla in a large bowl just until blended.
Beat whipping cream on low until foamy, then increase speed to medium-high, and gradually add remaining ½ cup sugar, beating until stiff peaks form. Gently fold whipped cream into the mascarpone mixture.
Carefully remove 1 meringue from parchment paper; place it on a serving plate. Spread a quarter of the mascarpone mixture (about 2 cups) over the meringue, then top with a third of the berries (1½ cups).
Repeat layers 2 times; top with remaining meringue, mascarpone mixture, and finally the halved strawberries. Serve immediately, or chill for up to 2 hours. Cut with a serrated knife.
Notes
Recipe adapted from Southern Living.
If your egg whites are contaminated with grease from the beaters or bowl or any egg yolk, they will not whip properly.
I use an 8-inch cake pan as a template to draw circles on the parchment paper.
Helpful Tools (As an Amazon Associate and member of other affiliate programs, I earn from qualifying purchases).
Non-Stick Baking Parchment Sheets
Nutrition Information:
Yield:
12
Serving Size:
1
Amount Per Serving:
Calories: 562
Total Fat: 40g
Saturated Fat: 24g
Trans Fat: 1g
Unsaturated Fat: 12g
Cholesterol: 123mg
Sodium: 250mg
Carbohydrates: 47g
Fiber: 2g
Sugar: 42g
Protein: 6g
Note: This post may contain affiliate links; view
my Disclosure Policy
for details. I earn a small percentage from any purchase you make by clicking on these links at no extra cost to you.