Vanilla Bean Panna Cotta
Vanilla Bean Panna Cotta is not much tougher than making a box of jello, but is so much more elegant, impressive, and delicious!
Don't you just love desserts with visible vanilla bean seeds? Like homemade creme brulee or this splendid Panna Cotta Recipe? This beautiful layered custard dessert will have jaws dropping from its gorgeous presentation and its dreamy flavor and texture.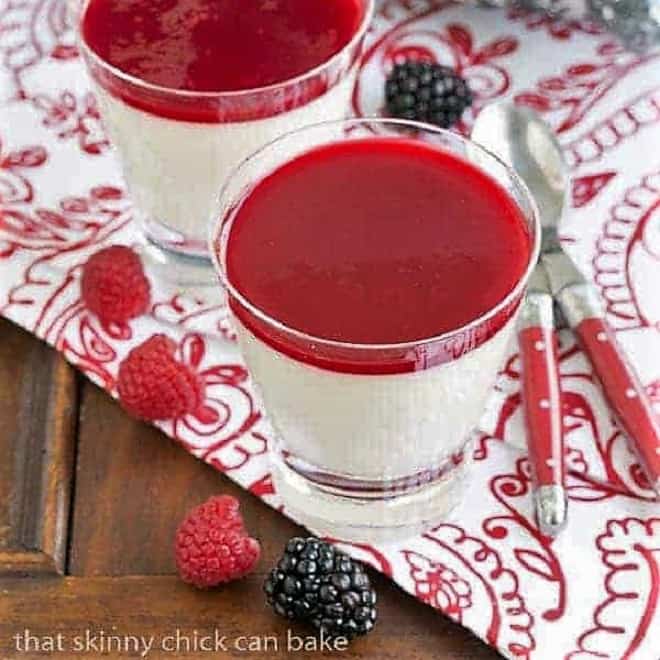 Vanilla Bean Panna Cotta
It was The Daring Bakers group that encouraged me to make my first panna cotta years ago. I had never eaten this Italian dessert, which translates to cooked cream, until I created my own.
For this recipe, the silky, egg-free custard that characterizes panna cotta, was thickened with gelatin and flavored with white chocolate and Vanilla Bean Paste. Half of the panna cotta was topped with a raspberry sauce and the others with fresh berries and mint. A veritable hit with the two pickiest members of the household!
Panna Cotta Recipe
Our family took a holiday to New Zealand over Nick's college break. One of our favorite meals was at a tiny, family-owned restaurant in Rotorua called Leonardo's. We stuffed ourselves silly with bruschetta, lamb, and pasta.
I'm certain the boys ordered something chocolate for dessert, but it was their raspberry topped panna cotta that caught my attention. I remember my previous attempt being more like jello than custard, and their version was quite the opposite.
Sweet and juicy macerated raspberries spilled across the top of the inverted custard and made for a memorable presentation. I was inspired to make a White Chocolate Panna Cotta.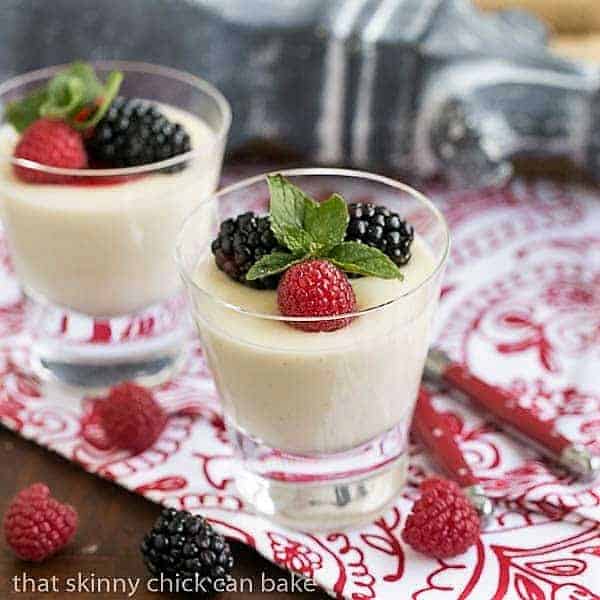 What Is Panna Cotta?
Panna Cotta is a chilled, creamy, molded Italian dessert that's also known as Cooked Cream. Using gelatin to solidify the shape, it can be infused with all sorts of delicious flavors and garnished with beautiful toppings. Since it needs time to gel in the refrigerator, panna cotta is a terrific make-ahead dessert.
How to Make a Panna Cotta Recipe
To allow the panna cotta to gel properly, plain gelatin has to be dissolved in a warm liquid. For this recipe, the cream, sugar, and salt are heated in a saucepan. The gelatin is allowed to soften in a few tablespoons of water, then added to the warm cream mixture. Other flavorings are added, then the panna cotta is poured into molds or serving dishes and chilled for 4 hours or longer.
PRO-Tip: After whisking the gelatin into the cream, rub a bit of the liquid between your fingers to make sure the gelatin is dissolved before continuing. If the gelatin does not melt, the panna cotta will be loose instead of setting properly.
The right amount of butterfat in your recipe is also key to having the most delicious results. This recipe has a combination of yogurt and cream. Others have milk and cream or milk and half and half. It is usually OK to substitute some lighter cream or half and half for the heavy cream, but using all milk will not produce the right mouthfeel and creaminess.
Don't be tempted to add more sugar. Panna cotta is not a super sweet dessert. American palates are used to more sugar, but this panna cotta recipe reflects the traditional sweetness.
How to Unmold Panna Cotta
Dip your molds into a dish of hot water for about 3 seconds, according to Bon Appetit. Use a thin knife to run around the perimeter of the dish, allowing the panna cotta to loosen. Carefully flip onto a dessert plate. It's also fine to serve these right from individual dishes.
You will not see my results from the mini panna cotta experiment in brioche molds. I dipped the exterior of one of these in hot water in an attempt to release the dessert from its metal form. It wouldn't budge. And then I dipped it again and flipped it over onto a serving plate where it sank into a blob. Too much heat and not enough gel yielded a sloppy mess. Oops. Maybe next time.
Thank goodness I had predicted this possible scenario and divided the rest of the custard mixture into glassware as Plan B. Proper refrigeration and no dipping allowed these to firm up just right. The vanilla bean paste perfectly complemented the white chocolate as the flavorings for this dessert. I think I hit a home run with these babies!
You might also enjoy: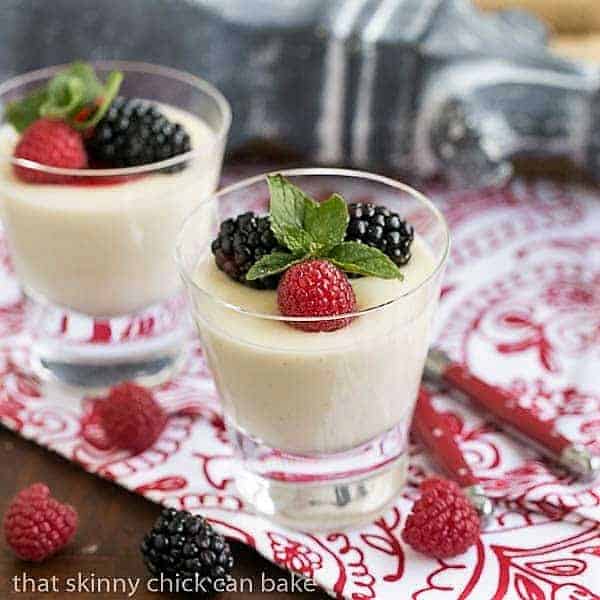 The Recipe:
Vanilla Bean Panna Cotta
Prep Time 20 minutes
Cook Time 7 minutes
Total Time 27 minutes
Yield 6 servings
White chocolate and vanilla bean paste flavor this luscious panna cotta
Ingredients
1 cup whipping cream
1/2 cup sugar
1/4 teaspoon kosher salt
1 teaspoon Vanilla Bean Paste
1 package of unflavored, powdered gelatin
3 tablespoons water to bloom the gelatin
1-1/4 cups plain Greek yogurt
10 ounces white chocolate, chopped
Raspberry sauce or fresh berries to garnish, optional
Instructions
Add the cream, sugar, and salt to a large saucepan. Bring to a simmer over medium-high heat. Once the liquid is heated through and sugar is dissolved, remove from heat and stir in vanilla bean paste. Sprinkle the gelatin over a small bowl containing 3 tablespoons of water and as soon as it softens, whisk the gelatin mixture into warm cream mixture till dissolved. Whisk in yogurt.
Gently melt the chocolate in a microwave-safe bowl, stopping to stir at 30-second intervals till smooth and melted. Let cool a bit before adding it to the cream mixture. Whisk till well combined.
Carefully pour into glasses or ramekins. Chill at least 4 hours or overnight before serving.
Garnish with raspberry sauce, berries and mint if desired.
Nutrition Information:
Yield:
6
Serving Size:
1
Amount Per Serving:
Calories: 602
Total Fat: 30g
Saturated Fat: 18g
Trans Fat: 1g
Unsaturated Fat: 9g
Cholesterol: 62mg
Sodium: 209mg
Carbohydrates: 60g
Fiber: 2g
Sugar: 56g
Protein: 25g
Note: This post may contain affiliate links; view
my Disclosure Policy
for details. I earn a small percentage from any purchase you make by clicking on these links at no extra cost to you.