Best Carrot Cake with Pineapple, Coconut and Pecans
This Best Carrot Cake Recipe chock full of carrots, nuts, and pineapple is my absolute favorite dessert. With a delectable cream cheese frosting, it's impossible to resist! A birthday favorite.
My mom introduced me to a new dessert craze WAY back in the 1970s. She and my dad had devoured slices of moist carrot cake with pineapple a trip to St. Paul, then brought home the recipe to try in our kitchen.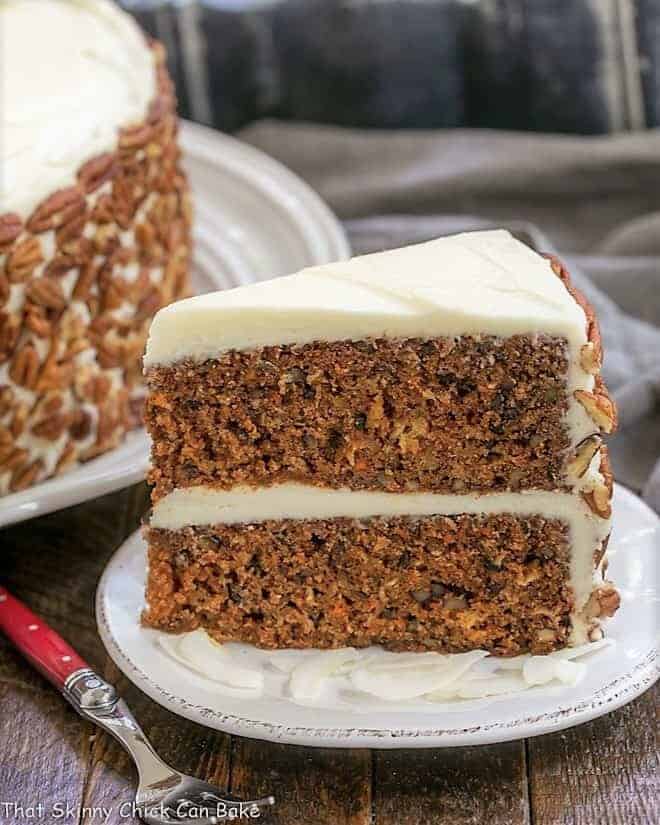 Why You Must Make this Carrot Cake
This is the recipe my mom started making in the early 1980s. I've never found a tastier carrot cake!
Made with oil, it's super moist and perfectly dense.
It's chock full of carrots, coconut, pecans, and crushed pineapple. SO good!
And just three more words: Cream Cheese Frosting!!!!
My rendezvous with carrot cake began with one innocent bite. As a teen, I wasn't sure about a dessert named after a vegetable. But my mom had turned us on to exotic fare (at least for Iowa) like paella, baklava, wontons, and more. My hesitancy only lasted only a brief second This carrot cake recipe quickly became my new favorite dessert.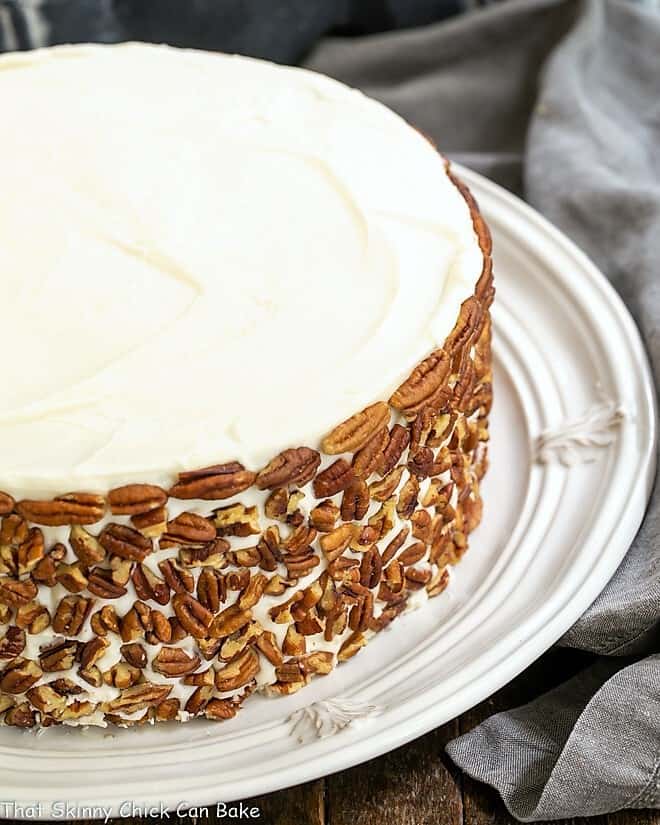 Best Carrot Cake Recipe
One of the carrot cake recipes my mom tested on us back in the 1970s was from The New Basics Cookbook. It became the gold standard in my eyes. I've taken this old-fashioned carrot cake to a retreat in Harbor Springs, Michigan, a massive Halloween party in Brown County, Indiana, a dear friend's 50th birthday party, and to the cardiac cath lab where Bill works.
Whether I bake up a half batch of this Classic Carrot Cake with Pineapple, Coconut, and Pecans in a 9 x 13 or go all out with this layered gem, it's well-loved by all those who indulge. To make those long trips, I freeze the cake and place it in a cooler for the trek. The recipients are always delighted I went to the extra effort. The pictured carrot cake stayed right in my fridge until I served it to our friends and family at our annual 4th of July cookout last night. A few lucky guests even took some slices home.
More Carrot Cake Recipes You'll Love:
If you love carrot cake AND caramel, this Caramel Filled Carrot Cake will rock your world! Save this recipe for Easter or a special occasion. But if cheesecake is more your thing, how about this Carrot Cake Cheesecake from Taste and Tell? It looks fabulous!
Or if something more bite-sized is appealing, I'd recommend these Giant Carrot Cake Cookie Cups from Wishes and Dishes. These Carrot Cake Scones with Maple Cream Cheese Glaze from A Beautiful Plate are a way to eat carrot cake for breakfast or brunch and my Carrot Cake Whoopie Pies are a yummy portable carrot cake dessert!
Tips for Making a Moist Carrot Cake Recipe
As a self-proclaimed carrot cake aficionado, this is the best carrot cake out of all I've tasted. Dense, moist, and filled with just the right amount of nuts, coconut, and pineapple, it always gets rave reviews.
PRO-Tip: Toast the nuts to bring out the natural oils, which makes them more flavorful. If you don't like or have an allergy to nuts, they can certainly be omitted.
This cake calls for cooked puréed carrots, which allows them to be evenly distributed throughout the batter. I cook and drain about 2 cups of sliced carrots, drain and puree for the 1 1/3 cups needed in the recipe. If your recipe calls for grated carrots, grate them finely as that will encourage them to be dispersed well, compared to coarsely grated.
Pineapple might sound like a weird addition if you're new to carrot cake, but it works well. It adds sweetness, moisture and also contains an enzyme that tenderizes proteins, which certainly won't hurt!
Using vegetable oil instead of butter makes for a super moist cake. There's enough flavor from the other ingredients that the lack of butter does not hamper the flavor.
This is a rare cake that always bakes up flat for me, making it super easy to layer and frost.
Carrot cake, either frosted or unfrosted, freezes well. You can freeze the unfrosted layers, well wrapped, for up to 3 months, but it will probably last longer.
A frosted cake freezes well, too. I'd suggest putting the frosted cake in the freezer for a few hours to let the frosting harden, then wrap well with plastic wrap and freeze. You'll want to defrost in the refrigerator.
More Delicious Layer Cakes
When it comes to celebrations like birthdays or anniversaries, a layer cake is perfectly apropos. Carrot cake would be my first choice if I didn't have to bake my own birthday cake, but the rest of my family prefers chocolate or red velvet. Here are some of our favorite layer cake recipes: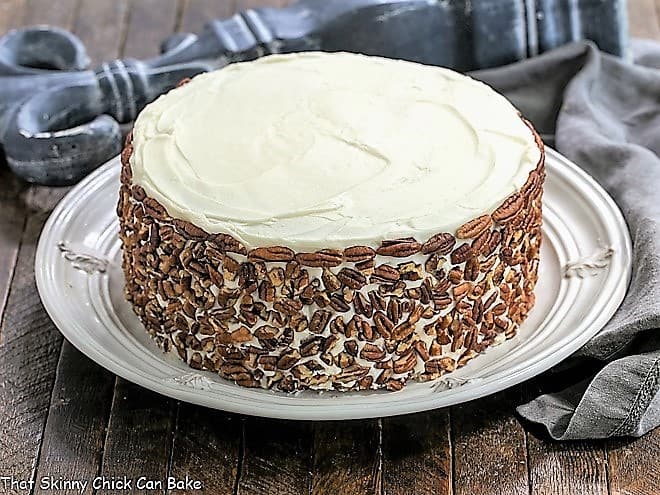 The Recipe:
Classic Carrot Cake Recipe
Prep Time 20 minutes
Cook Time 1 hour
Total Time 1 hour 20 minutes
Yield 16 servings
A loaded two layer carrot cake with a dreamy cream cheese frosting
Ingredients
Cake:
3 cups flour
3 cups sugar
1 teaspoon salt
1 tablespoon baking powder
1 tablespoon cinnamon
1 1/2 cups vegetable oil
4 eggs, beaten slightly
1 tablespoon vanilla
1 1/2 cups well chopped pecans (plus more to garnish if desired)
1 1/2 cups shredded coconut
1 1/3 cups pureed cooked carrots*
3/4 cup drained crushed pineapple
Frosting:
8 ounces cream cheese at room temperature
6 tablespoons butter at room temperature
3 cups powdered sugar
1 teaspoon vanilla
Instructions
Preheat oven to 350º. Grease two 9 inch cake pans; line with parchment. Grease parchment.
Sift or whisk dry ingredients in a large bowl. Add oil, eggs, and vanilla. Beat till well combined. Mix in nuts, coconut, carrots and pineapple.
Pour into prepared pans. Bake 30-40 minutes (I have really heavy cake pans and mine take closer to one hour). Edges should pull away from sides of pan and toothpick inserted into center of cake should come out clean. Cool 10 minutes, then remove to cooling racks. Cool about 3 hours before icing.
To make frosting, beat cream cheese and butter till smooth. Sift powdered sugar into bowl and mix well till no lumps remain. Add vanilla and mix well.
Notes
Adapted from The New Basics Cookbook
Cook 2 cups of sliced carrots, drain and puree to make 1 1/3 cups pureed carrots.
Recommended Products
As an Amazon Associate and member of other affiliate programs, I earn from qualifying purchases.
Nutrition Information:
Yield:
16
Serving Size:
1 slice
Amount Per Serving:
Calories: 720
Total Fat: 41g
Saturated Fat: 10g
Trans Fat: 1g
Unsaturated Fat: 28g
Cholesterol: 72mg
Sodium: 383mg
Carbohydrates: 86g
Fiber: 3g
Sugar: 64g
Protein: 6g
Note: This post may contain affiliate links; view
my Disclosure Policy
for details. I earn a small percentage from any purchase you make by clicking on these links at no extra cost to you.