German Chocolate Cake
This Homemade German Chocolate Cake is a multilayered cake filled & topped with a gooey coconut pecan filling, & if you're lucky, iced with chocolate frosting!
This quadruple-layer, homemade German Chocolate Cake Recipe is doused with rum syrup and garnished with a to die for chocolate ganache icing to make an outrageously delicious dessert.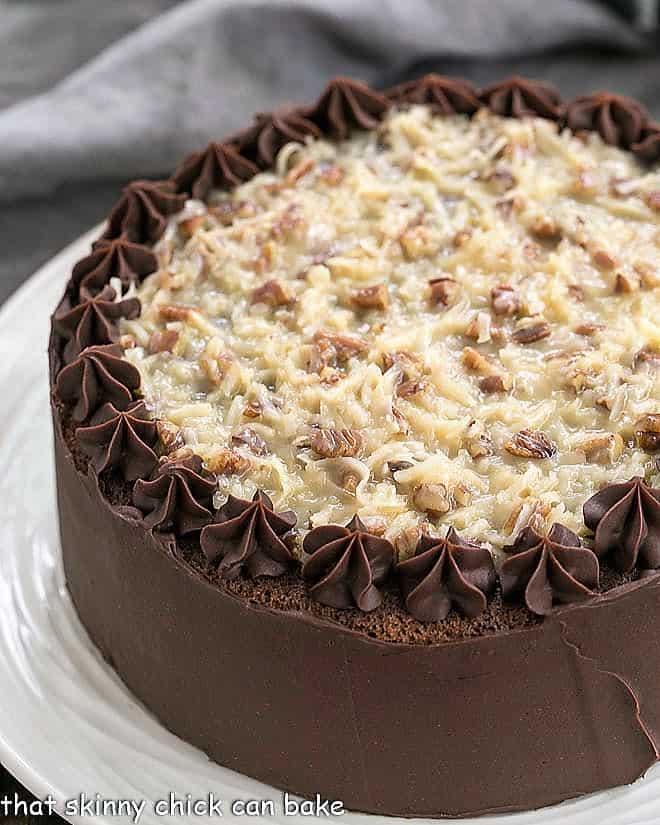 Why You Must Make
When my incredible friend, Pam, requested a German chocolate cake for her birthday a decade ago, it was my pleasure to bake a memorable cake from her childhood. Fast forward 10 years and a close-knit bunch of friends are taking her out for a birthday lunch. Guess what dessert I'm making? Yup, another German chocolate cake with the classic caramel, pecan, and coconut frosting!
This is the perfect birthday cake for those who love chocolate and coconut!
The four layers plus coconut and chocolate frostings make it a special, memorable dessert!
It looks like it came from a bakery, so your friends and/or guests will be in awe of your baking skills.
Plus, it's delicious!!
Thankfully, my friends' palates are more refined than my family's. You see, my family likes pure unadulterated chocolate cakes, so I'd never tried a German chocolate cake from scratch before. Nuts and coconut are blasphemous ingredients at my house. I searched the Internet to find this David Lebovitz masterpiece. Boy is his German Chocolate Cake Frosting to die for! David's tricks include a rum syrup that moistens even a slightly overbaked cake. This homemade German chocolate cake recipe is definitely a winner!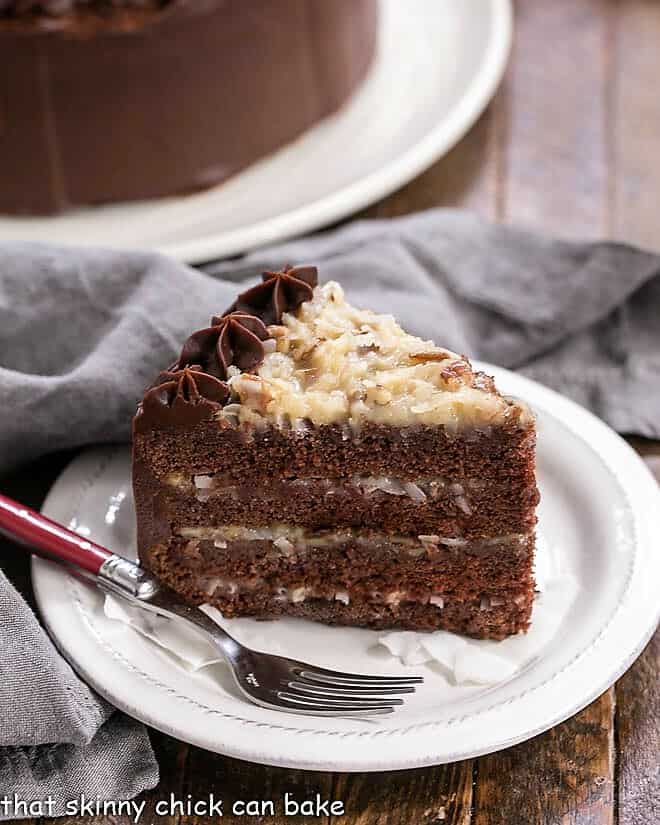 Ingredient Notes
Kitchen Staples – Sugar, Room Temperature Butter and Eggs, Sugar. Flour, Baking Soda, Salt
Vanilla Extract – Real vanilla, never artificial
Semisweet Chocolate – Chopped for both cake and frosting
Unsweetened Chocolate – Chopped
Baking Powder – Baking powder usually expires before you use it all. Check the date and test if you're unsure of its potency. Just put a spoonful in a bowl of very hot water. If it's active, it will bubble vigorously.
Buttermilk – at room temperature
Egg Yolks – Besides whole eggs, you'll need egg yolks. Note that eggs separate best when cold. The yolks are less likely to break.
Pecans – Toasted to bring out their essential oils, and finely chop.
Coconut – Toasted to refresh and bring out its nutty flavor.
Dark Rum – Used in the syrup to moisten the cake. Alcohol, like salt, is a flavor enhancer.
Light Corn Syrup – Adds gloss to the chocolate frosting.
Heavy Cream – Adds richness to the chocolate frosting.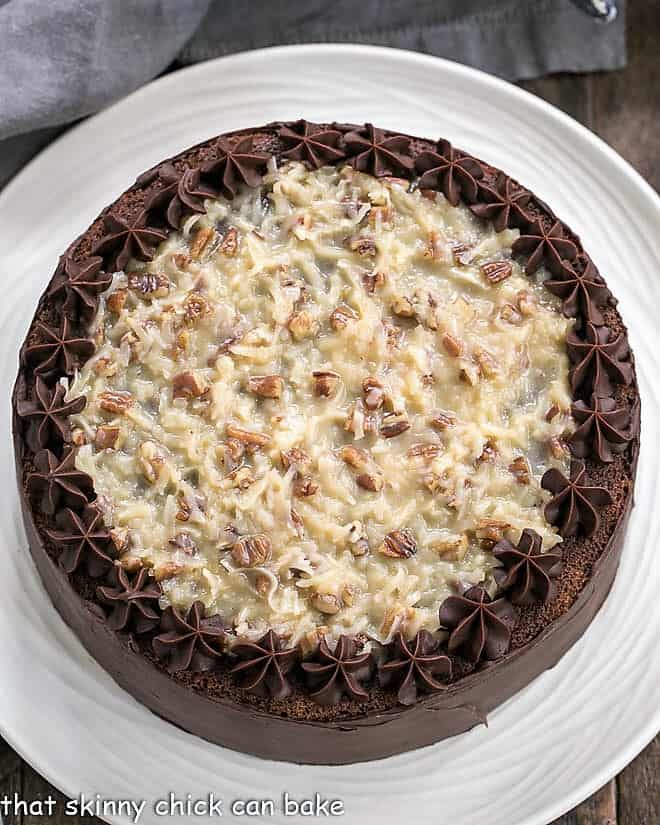 Recipe Tips
There are two techniques utilized in this cake recipe that may be new to you. First is cutting both layers in half, horizontally, so there are four layers. The second is moistening the layers with a sugar syrup enhanced with rum.
If you've made cakes from scratch before, the process will be familiar. Having room-temperature butter, eggs and buttermilk are important. They will incorporate into the batter better when they're not fresh out of the refrigerator.
PRO-Tip: If you don't have buttermilk in your fridge, you can make your own by putting 1 tablespoon of a neutral-colored vinegar (white or apple cider) in a 1 cup liquid measuring cup, then filling it will milk to the one cup mark. Let sit a few minutes, stir and use as needed.
Egg whites are beaten to lighten the cake batter and there are a few pointers for making this go smoothly. PRO-Tip: Your egg whites must not be exposed to any grease. That includes oils, butter, and even egg yolks. So when you crack your eggs, if you get any egg yolk into the whites, they will not whip to peaks. So be cautious, use 3 bowls instead of two to separate your eggs, and make sure all your utensils are scrupulously clean.
PRO-Tip: Use one bowl to collect all yolks, one to collect each white as it is separated, then a third bowl to collect all the whites from bowl number two.
The chocolate for the cake is melted with water. An alternative is to melt it with the same amount of leftover coffee. PRO-Tip: One reader commented that German chocolate cake should have coffee in the batter. Coffee does help enhance the chocolate flavor of desserts so give it a try, if you'd like!
Most of the rest of the cake mixing is self-explanatory. Once the cake batter is made, I divide it into two prepared cake pans. I like to weigh them on a kitchen scale so my layers are the same size. You can always eyeball it if you don't have a kitchen scale.
When the cakes are baked, removed, and cool, you can cut them each in half. PRO-Tip: To make cutting the layers easier, I take toothpicks and poke them into each cake layer around the perimeter, a touch below the halfway point on the sides. This is a guide for my knife.
Use a long serrated knife, and start by gently sawing the knife around the cake right above the toothpicks. After working around the cake, start slicing inwards until the cake is sliced in half.
To ensure the cake stays moist, make the sugar syrup which is simply sugar dissolved in hot water. Dark rum is added for flavor, but if you do not want to add liquor, a teaspoon or two of vanilla extract will do.
Use a pastry or (affiliate link) basting brush to apply the sugar syrup to the cut side of each layer. I did not use all the syrup.
If you've only tasted canned frosting, you must try this homemade German chocolate frosting recipe. The nuts and coconut are gently toasted first (at 350º for about 5 minutes, stirring a couple of times and watching so they don't burn), then mixed into a cooked custard of heavy cream, sugar and egg yolks.
Once the mixture has cooked and thickened, it's poured over the butter, pecans, and coconut. Once mixed, cool before spreading onto the cake layers.
Layer, fill and frost as directed. You can pipe chocolate stars around the top of the cake. Next time, I'll make them larger to cover every speck of the cake that is revealed. I used a (affiliate link) large open star tip to pipe the stars.
To streamline your cake-making, you can make, cool, and wrap the cake layers in plastic wrap ahead of time. If you freeze the layers, also wrap in foil and defrost in the refrigerator before continuing. The sugar syrup can be made ahead of time and stored in the refrigerator.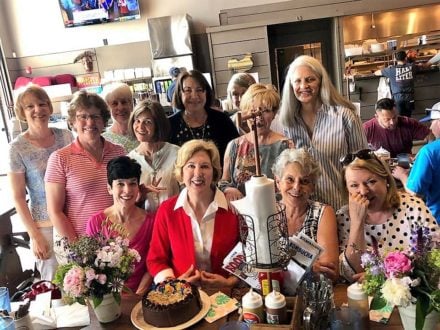 This Homemade German Chocolate Cake recipe was originally shared in June 2010 since I had photos from a friend's birthday party. Photos and text were updated in 2019 when we celebrated her birthday again.
Frequently Asked Questions
How Does a German Chocolate Cake Differ from a Chocolate Cake?
Typically, a German chocolate cake is 3 layers filled with a caramel frosting that may contain coconut and pecans. The sides are often left unfrosted to reveal the layers and gooey filling. If desired, a chocolate frosting can ice the sides as well as garnish the top of the cake. I went the full mile and added the chocolate frosting. The cake layers are often lighter, due to the whipped egg whites, dryer, and less sweet than a traditional chocolate cake.
What Makes a German Chocolate Cake German?
Back in the 1850s, a new type of sweet baking chocolate was developed by Samuel German for the Bakers Chocolate Company. Nearly 100 years later, a recipe for German's Chocolate Cake was printed in the Dallas paper featuring Baker's German Chocolate. In my recipe, there's no need to hunt down this special chocolate as a mix of semi-sweet and unsweetened chocolate works just fine. Now you know the rest of the story. The German Chocolate Cake has no roots to Germany but instead filters back to a man named German who developed a type of baking chocolate.
Does a German Chocolate Cake Need to Be Refrigerated?
You can store a German chocolate cake at room temperature for 2-3 days as long as you cover any cut surfaces with plastic wrap so the cake doesn't dry out. After that, keep it refrigerated for a couple more days. It can be frozen, if wrapped airtight, for 2-3 months. Just defrost overnight in the refrigerator before serving.
You May Also Like:
Stay in touch through social media @ Instagram, Facebook, and Pinterest. Don't forget to tag me when you try one of my recipes! And if you love the results, please give it a 5-star rating in the recipe card. Note: As an Amazon Associate, I earn from qualifying purchases. Visit my Amazon Store for my favorite products.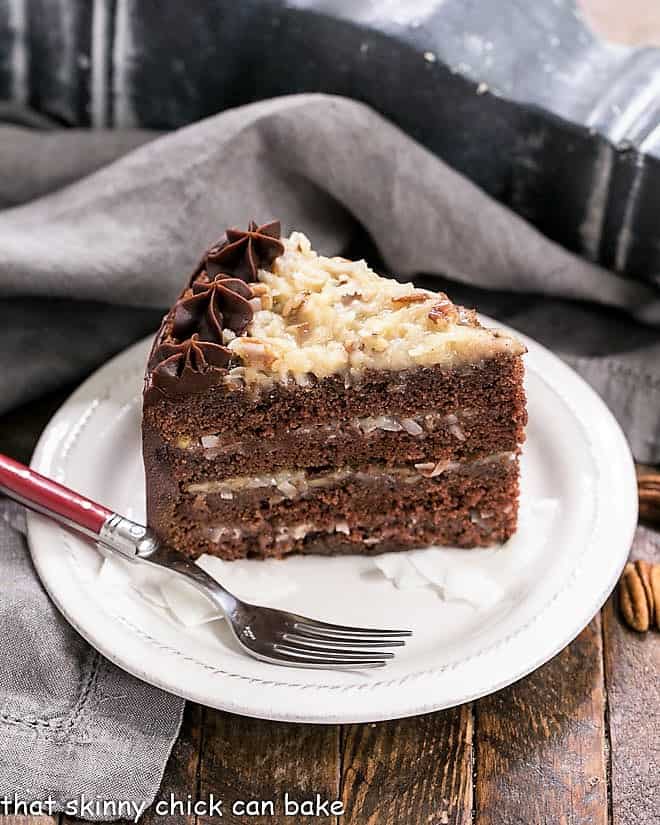 The Recipe:
German Chocolate Cake Recipe
Prep Time 30 minutes
Cook Time 55 minutes
Total Time 1 hour 25 minutes
Yield 16 servings
The ultimate German Chocolate Cake with 4 layers, caramel, coconut, pecan filling and a luscious chocolate frosting!
Ingredients
For cake:
2 ounces semisweet chocolate, chopped
2 ounces unsweetened chocolate, chopped
6 tablespoons water or coffee
2 sticks butter, at room temperature
1 ¼ cup + ¼ cup sugar
4 eggs, separated
2 cups flour
1 teaspoon baking powder
1 teaspoon baking soda
½ teaspoon salt
1 cup buttermilk, at room temperature
1 teaspoon vanilla extract
For filling:
1 cup heavy cream
1 cup sugar
3 egg yolks
6 tablespoons butter, cut into small pieces
½ teaspoon salt
1 cup pecans, toasted and finely chopped
1 1/3 cups coconut, toasted
For syrup:
1 cup water
¾ cup sugar
2 tablespoons dark rum
For icing:
8 ounces semisweet chocolate, chopped
2 tablespoons light corn syrup
3 tablespoons butter
1 cup heavy cream
Instructions
Butter two 9-inch cake pans, then line the bottoms with rounds of parchment and set aside. Preheat the oven to 350°.
Melt both chocolates with the 6 tablespoons of water (or coffee) in the microwave. Heat for 30-second increments until mostly melted. Whisk until smooth, then let cool to room temperature.
In the bowl of an electric mixer, beat the butter and 1 ¼ cup of the sugar until light and fluffy, about 5 minutes. Beat in the melted chocolate, then the egg yolks, one at a time.
In a medium bowl, whisk together the flour, baking powder, baking soda, and salt. Mix in half of the dry ingredients into the chocolate mixture, then the buttermilk and the vanilla, followed by the rest of the dry ingredients.
Beat the egg whites until they hold soft peaks. Beat in the ¼ cup of sugar until stiff. Gently fold about one third of the egg whites into the cake batter, then fold in the remaining egg whites and mix just until the egg whites are incorporated
Divide the batter into the 2 cake pans, smooth the tops with an offset spatula, and bake for about 45 minutes, until a toothpick inserted into the center comes out clean. Cool cake layers completely.
While the cakes are baking and cooling, make the filling, syrup, and icing.
To make the filling, mix the cream, sugar, and egg yolks in a saucepan. Put the 6 tablespoons butter, salt, toasted coconut, and pecan pieces in a large bowl. Heat the cream mixture and cook, stirring constantly until the mixture begins to thicken and coats the spoon.
Pour the hot custard immediately into the pecan coconut mixture and stir until the butter is melted. Cool to room temperature.
In a saucepan, heat the sugar and water until the sugar has melted. Remove from heat, and stir in the dark rum. Set aside.
To make the frosting, place the 8 ounces of chopped chocolate in a bowl with the corn syrup and the 3 tablespoons of butter. Heat the cream until it starts to boil. Remove from the heat and pour over the chocolate. Let stand about a minute, then whisk until smooth. Let cool to room temperature.
Remove the cake layers from the pans and cut both cake layers in half horizontally, using a long, serrated bread knife. Set the first cake layer on a cake plate. Brush well with syrup. Spread ¾ cup of the coconut filling over the cake layer, making sure to reach to the edges. Set another cake layer on top.
Repeat, using the syrup to brush each cake layer, then spreading ¾ cup of the coconut filling over each layer, including the top.
Frost the sides with the chocolate icing, then if desired, pipe a decorative border of chocolate icing around the top, to circle the coconut topping.
Notes
Adapted from David Lebovitz.
Cake may be stored at room temperature for a day or two, then refrigerate.
Recommended Products
As an Amazon Associate and member of other affiliate programs, I earn from qualifying purchases.
Nutrition Information:
Yield:
16
Serving Size:
1 slice
Amount Per Serving:
Calories: 644
Total Fat: 45g
Saturated Fat: 26g
Trans Fat: 1g
Unsaturated Fat: 17g
Cholesterol: 163mg
Sodium: 466mg
Carbohydrates: 58g
Fiber: 3g
Sugar: 41g
Protein: 7g
Note: This post may contain affiliate links; view
my Disclosure Policy
for details. I earn a small percentage from any purchase you make by clicking on these links at no extra cost to you.