German Chocolate Brownie Cupcakes
German Chocolate Brownie Cupcakes: When fudgy brownies meet German chocolate frosting! A decadent, individual treat for lovers of chocolate and gooey coconut filling.
This twist on the German chocolate cake makes personal-sized desserts. And if you love brownies, you'll go crazy for Brownie Cupcakes!!
Why You Must Make
If you love German Chocolate Cake, these cupcake brownies will hit the spot!
The surprise gooey, coconut and pecan filling is irresistible.
You will be happy for the built-in portion control.
I could eat the gooey, coconut and pecan filling you find in a typical German chocolate cake with a spoon. Every January my dad, who always said he didn't care for sweets, would have a huge slab of said cake for his birthday. My mom would pick one up at the local Randall's supermarket and it disappeared quickly. So as a trip to Denver to visit my parents approached, I brainstormed how to get this cake in my suitcase and to my dad. I decided to whip up some German chocolate cupcakes and crossed my fingers that this experiment would be successful.
Ingredient Notes
Kitchen Staples – Butter, Brown Sugar, Sugar, Flour, Salt
Semisweet Chocolate Chips – Ghirardelli is my favorite, but Nestles works well, too.
Semisweet Chocolate Bars – Again, use Ghirardelli bars if available.
Real Vanilla Extract – If you're not sure if your brand is real or artificially flavored, check the label. Real vanilla extract has a much better flavor.
Eggs – 2 whole, 2 egg yolks. The egg yolks will have less chance of breaking if you separate them when they are cold.
Heavy Cream – 36% Butterfat
Coconut – Sweetened Angel Flake Coconut
Pecans – Toast to bring out their essential oils, which makes them more flavorful
Brownie Cupcakes for the Win!
Besides a little shrinkage in the center of the brownie cupcakes, my first attempt at baking these babies went well. These divots were nothing that a little dollop of chocolate ganache couldn't disguise. I took all but three to my summer book club gathering to get some feedback. Well, every crumb disappeared from the platter. A stellar review, don't you think?
The room grew quiet after the group chose from the three desserts on the buffet: my French Silk Pie Bars, a lovely blueberry cake with lemon sauce, and my German Chocolate Brownie Cupcakes. Most folks, like me, took samples of all three. I cut these in half so everyone could sample and the extras were snatched up for "husbands." That is if they weren't eaten on the ride home!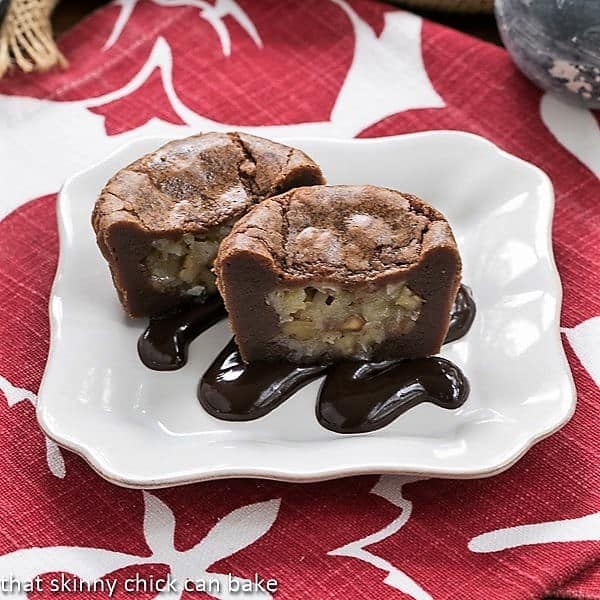 The remaining three were packed into my suitcase and flown cross country to Colorado. On Sunday afternoon, we grilled hot dogs and hamburgers at my sister's house. My dad, always game for an outing, joined us for the day. The weather was picture-perfect and we ate al fresco in the shade of a fruit-bearing Colorado peach tree.
The Dude, as we lovingly call my dad, had a voracious appetite for an 80-year-old. After a burger with the works and a mountain of potato salad, my sister offered him half a cupcake. A few minutes later, he asked where the rest of that cake was…and then after finishing his treat, asked for a hot dog. I'm thinking he had a good time! You will, too, if you add these German Chocolate Brownie Cupcakes to your menu.
Frequently Asked Questions
Did German Chocolate Cupcakes originate in Germany?
No, this sweeter baking chocolate bar was invented by Sam German in 1852. Baker's Chocolate Company named it after him.
What Makes German Chocolate Cake Different?
Besides being made with a sweeter chocolate bar, the frosting is made of a cooked custard with coconut and pecans.
How Do You Store German Chocolate Desserts?
German chocolate cake and cupcakes can be stored at room temperature for 3-5 days. They also can be frozen for up to 3 months. To freeze, first place the dessert in the freezer uncovered to let the frosting solidify. Then wrap well and freeze.
You May Also Like:
Stay in touch through social media @ Instagram, Facebook, and Pinterest. Don't forget to tag me when you try one of my recipes! And if you love the results, please give it a 5-star rating in the recipe card. Note: As an Amazon Associate, I earn from qualifying purchases. Visit my Amazon Store for my favorite products.
The Recipe:
German Chocolate Brownie Cupcakes Recipe
Prep Time 30 minutes
Cook Time 20 minutes
Total Time 50 minutes
Yield 14 cupcakes
Cupcake sized brownies filled with gooey coconut filling
Ingredients
Brownie Batter:
2 sticks (1 cup), butter
3/4 cup brown sugar
1/2 cup sugar
1 1/4 cups semi-sweet chocolate chips
2 eggs,
2 teaspoons vanilla
1 1/4 cups flour
1/2 teaspoon salt
Filling (there will be some leftover. Feel free to use on top of cupcakes to garnish):
2/3 cup sugar
2/3 cup cream
2 egg yolks
1/4 cup butter, cut into 4 pieces
2/3 plus 1/4 cup coconut
2/3 cup chopped toasted pecans
Pinch of salt
Optional ganache:
2 ounces semi-sweet chocolate, chopped
1/4 cup cream
Instructions
To make the filling, whisk together sugar and cream in a small saucepan. Whisk in egg yolks, then whisking constantly cook over medium-low heat till mixture bubbles and thickens. Remove from heat and add butter and mix till melted.
In a medium bowl, mix together coconut, pecans, and a pinch of salt. Pour egg mixture over coconut mixture and mix till combined.
Chill for an hour, then scoop out approximately 2 teaspoons of filling and place mounds on a parchment-lined baking sheet. Freeze for a few hours or overnight.
When a filling is very cold, roll mounds into spheres and return to the freezer while preparing the brownie batter.
Preheat the oven to 350º. Line a 12-capacity muffin tin with paper liners or spray with non-stick cooking spray. Set aside.
Microwave the butter and the two sugars in a heat-safe bowl for about a minute, stir and microwave up to another 1½ minutes or till all the butter is melted and the mixture is starting to bubble. Carefully remove the bowl to your work surface.
Whisk in chocolate chips till melted. Whisk in eggs and vanilla. Stir in flour and salt just till combined. Remove the filling from the freezer and using your fingers, shape it into round balls (the diameter should be less than the size of the bottom of the muffin tin).
Place about 2 tablespoons of brownie batter into the bottom of each muffin tin, then add the filling and follow with another scoop of batter.
Bake 18-20 minutes. Let cool in pans before removing the cupcakes to a cooling rack.
Make the ganache by microwaving chocolate and cream for about 1 minute. Allow to sit till chocolate is melted, then whisk till smooth. If the chocolate is not completely melted, microwave another 30 seconds.
Allow to cool, till thickened, but still pourable. Spoon a bit onto the center of each cupcake. Let the ganache firm up before serving.
Notes
Because of the gooey filling, you won't be able to use a toothpick to check if your cupcakes are done. You can always bake one cupcake as a test run to see if they're done baking after 20 minutes.
The cupcake recipe is from my friend, Betsy of Desserts Required.
Recommended Products
As an Amazon Associate and member of other affiliate programs, I earn from qualifying purchases.
Nutrition Information:
Yield:
14
Serving Size:
1 cupcake
Amount Per Serving:
Calories: 493
Total Fat: 33g
Saturated Fat: 19g
Trans Fat: 1g
Unsaturated Fat: 13g
Cholesterol: 114mg
Sodium: 239mg
Carbohydrates: 49g
Fiber: 2g
Sugar: 38g
Protein: 4g
Stay in touch through social media @ Instagram, Facebook, and Pinterest. Don't forget to tag me when you try one of my recipes! And if you love the results, please give it a 5-star rating in the recipe card. Note: As an Amazon Associate, I earn from qualifying purchases. Visit my Amazon Store for my favorite products.
Note: This post may contain affiliate links; view
my Disclosure Policy
for details. I earn a small percentage from any purchase you make by clicking on these links at no extra cost to you.