Homemade Monkey Bread Recipe
This scrumptious Homemade Monkey Bread Recipe is an outstanding, 5-Alarm breakfast or brunch treat that will thrill your family!!
Much as I love my easy monkey bread or bubble rolls made with a box of pudding mix, this scratch Cinnamon Bread Recipe is worth the effort! Brown sugar and butter coat each delectable nibble with a caramel glaze.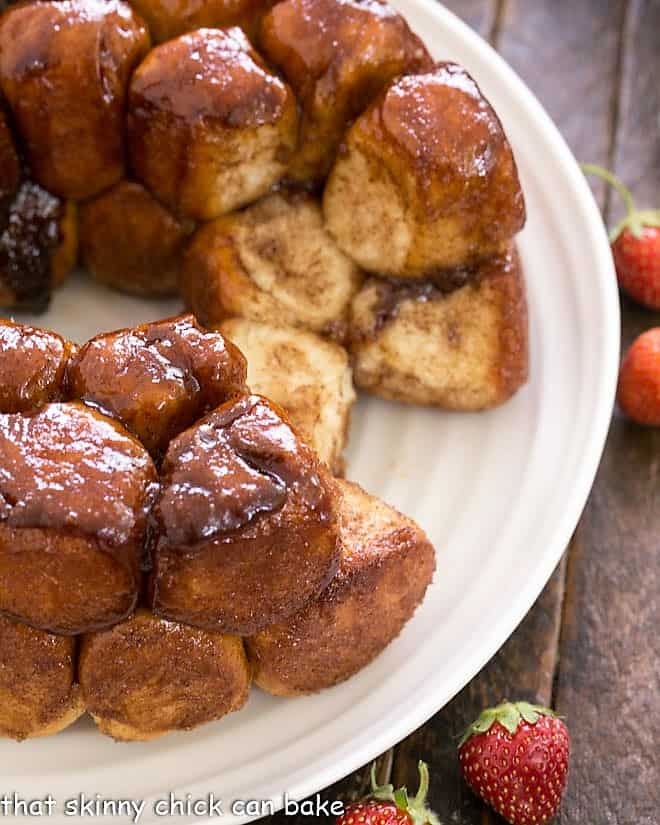 Why You Must Make
It's super fun to eat! Made of individual rolls, it's a pull-apart bread that's addictive!!
Every roll is encased in sweet, gooey caramel sauce. If you love sticky buns, these will rock your world.
I love making an easy version with roll dough, but this homemade version trumps it by a mile!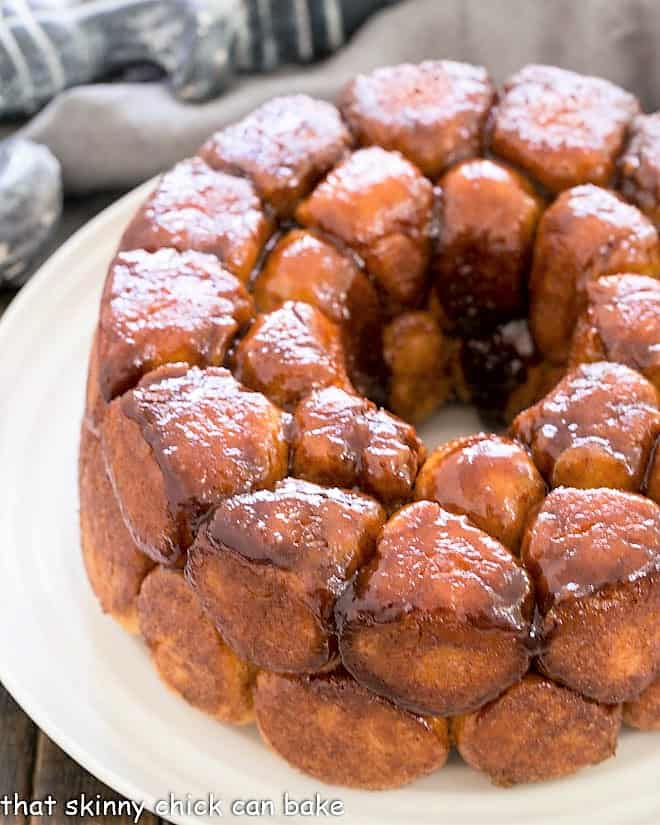 What is Monkey Bread?
Monkey Bread, also known as Bubble Roll, Bubble Loaf, or Bubble Bread, is a "sweet yeast bread formed by arranging small clumps of dough (which are usually dipped in butter) in 3 or 4 overlapping layers in a pan." It can be sweet or savory.
It got its name since it's a pull-apart food, and you eat it as a monkey would, with your fingers. You'll love this fun twist on a cinnamon bread recipe!
How to Make Monkey Bread from Scratch
My first tip on how to make monkey bread is to use a Bundt or Angel Food Cake Pan with a solid bottom. If your pan has a removable bottom, there will be a big mess in your oven after baking. Or even a fire! There is an Amazon link in the recipe for a one-piece tube pan (affiliate link).
A non-stick pan is nice, but no need to buy one just for this recipe.
Next, do not force the dough to rise in a too-hot oven. 85º is the goal. My new oven has a proofing setting which is set at 85. Placing a bowl of very hot water into your oven can also gently raise the temperature, but double-check with an oven thermometer.
Forcing the dough to rise will compromise the flavor and texture.
Let the monkey bread cool on a rack for at least 5 minutes before inverting. This allows the caramel topping to cool a bit so it doesn't all slide off the bread. If there's any topping left in the pan, scrape it out over the rolls.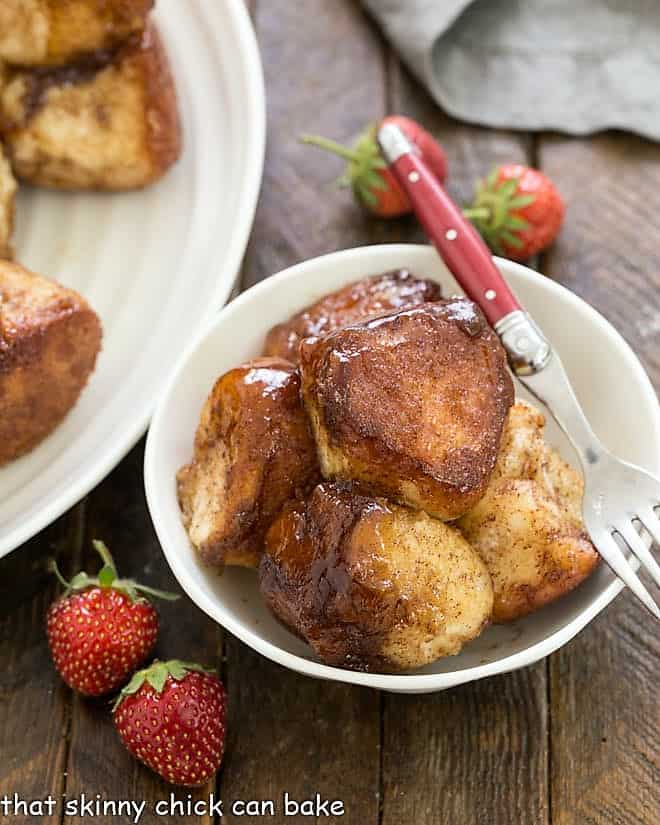 Expert Tips
64 balls of tender dough were dipped in melted butter and rolled in a mixture of brown sugar and cinnamon to create a gooey coating over every piece of bubble roll. You can't stop at just one. Or two. This is one addicting brunch treat.
Can you see why this is called monkey bread? Just like a monkey, you'll be pulling off piece after piece and savoring every bite!!
The bread dough is made with yeast. PRO-Tip: Be careful not to add liquid over 120 degrees to the mixture as you do not want to kill the yeast. 110-120 degrees is ideal.
Yeast is a living organism and will produce carbon dioxide when fed with sugar and provided with a warm environment.
I love using my stand mixer and dough hook to knead the dough. I have a heavy-duty version, but if you do not, make sure to feel the motor area of your mixer as the vigorous workout from kneading could overheat the motor, even rendering it inoperable. Kneading by hand is always an option.
PRO-Tip: Forming your dough into an 8 x 8-inch rectangle and cutting it dividing it into 64 1 x 1-inch pieces is a great trick for getting evenly sized dough balls.
PRO-Tip: It's best to proof your dough in a warm humid environment. The temperature ideally should be between 80 and 90 degrees. Any hotter will cause the dough to rise too quickly and affect the quality of the results.
To ice is up to you. My family's motto is "Everything tastes better with frosting!" So a simple powdered sugar glaze sealed in the moisture as well as dried into another melt-in-your-mouth component. I heard no complaints about this decision!
Frequently Asked Questions
Why Is This Bread Called Monkey Bread?
This sweet yeast bread is made of small pieces of dough that are coated with melted butter, then dipped in either cinnamon and sugar or savory ingredients. The dough balls are layered in a tube pan and baked.
To eat, you pluck a piece of dough from the loaf, like a monkey grooming another monkey.
What Are Other Names for Monkey Bread?
The first recipe I made was from a small cookbook I got in Sedona, Arizona. The recipe was called Bubble Roll, so that name stuck with our family. Other names include bubble bread, bubble loaf, pull-apart bread, jumble bread, and pinch-me-cake to name a few.
Are There Any Health Benefits to Cinnamon?
Cinnamon can have an effect on blood sugar, lowering the body's insulin resistance and possibly beneficial to those who are categorized as pre-diabetic.
Loaded with healthy antioxidants, cinnamon can help protect your body from free radicals which can cause cell damage.
Cinnamon may improve your good cholesterol, bad cholesterol, and triglyceride numbers.
Full of antibacterial properties, cinnamon may help decrease plaque development on teeth. Cinnamon oil is also great for helping with tooth pain until you can see your dentist.
You May Also Like:
Stay in touch through social media @ Instagram, Facebook, and Pinterest. Don't forget to tag me when you try one of my recipes! And if you love the results, please give it a 5-star rating in the recipe card. Note: As an Amazon Associate, I earn from qualifying purchases. Visit my Amazon Store for my favorite products.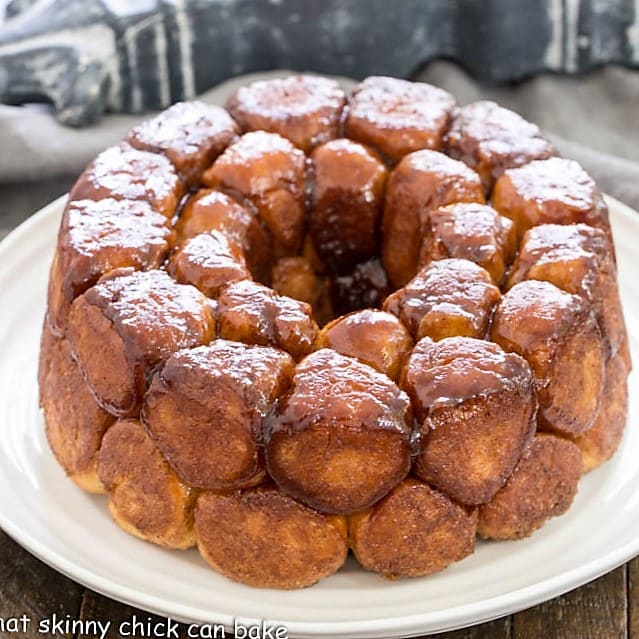 The Recipe:
Homemade Monkey Bread Recipe
Prep Time 30 minutes
Cook Time 35 minutes
Total Time 1 hour 5 minutes
Yield 8 servings
Yeast rolls rolled in cinnamon sugar and baked with a caramelly glaze for a magnifent breakfast or brunch treat.
Ingredients
Dough
4 tablespoons butter, divided, 2 tablespoons softened (to grease the Bundt pan) and 2 tablespoons melted
1 cup warm milk (about 110 degrees)
⅓ cup warm water (about 110 degrees)
¼ cup sugar
1 package rapid-rise yeast (or instant)
3 ¼ cups all-purpose flour, plus extra for work surface
2 teaspoons salt
Cinnamon Coating
1 cup brown sugar
2 teaspoons cinnamon
8 tablespoons butter (1 stick), melted
Optional glaze:
1 cup confectioners' sugar (sift for a smooth glaze)
2 tablespoons milk
Instructions
Preheat oven to 200º, then turn it off. Grease a Bundt pan with the softened butter. Set aside.
In a large measuring cup, mix together milk, water, melted butter, sugar, and yeast. Mix flour and salt in a standing mixer fitted with the dough hook. Turn your mixer to low and slowly add the milk mixture. When the dough comes together, increase the speed to medium and mix for 6 to 7 minutes.
Remove from the mixer bowl, and place in a large bowl coated with cooking spray. Cover bowl with greased plastic wrap and place in a warm oven (85º) until dough doubles, about an hour.
While the dough is rising, mix brown sugar and cinnamon together in a bowl. Put melted butter in a second bowl.
Pat dough into an 8-inch by 8-inch square. Cut dough into 64 pieces.
Roll each dough piece into a ball, then coat the balls in melted butter, one at a time. Roll them in the brown sugar mixture, then place the balls into the greased Bundt pan. Try to place the second layer of dough balls over the seams of the first layer...it makes a better presentation.
Cover the pan with plastic wrap and place in your slightly warm oven (about 85º) for about an hour or till the dough rises about an inch above the sides of the pan.
Remove pan from oven and preheat oven to 350º. Bake until the top is deep brown, about 30 to 35 minutes. Cool for 5 minutes, then turn out onto a plate and let cool for about 10 minutes before icing.
While the bread cools, whisk the icing ingredients until smooth. Drizzle glaze over warm monkey bread. Serve warm.
Notes
Adapted from Cook's Illustrated
Total time does not include proofing time.
Recommended Products
As an Amazon Associate and member of other affiliate programs, I earn from qualifying purchases.
Nutrition Information:
Yield:
8
Serving Size:
1
Amount Per Serving:
Calories: 523
Total Fat: 18g
Saturated Fat: 11g
Trans Fat: 1g
Unsaturated Fat: 6g
Cholesterol: 49mg
Sodium: 692mg
Carbohydrates: 84g
Fiber: 2g
Sugar: 42g
Protein: 7g
Photo courtesy of my son, Tom, who loves to document our family foibles.
Story Behind the Fire Truck
Have you ever had a firetruck, with its lights flashing and sirens blaring, race down your quiet street and stop in front of your house? Not once, not twice, but at least 3 times? Granted, this has been over a couple of decades, but the initial episode was the most memorable. I was baking my first Cinnamon Monkey Bread Recipe.
We had been to Sedona, Arizona, and I had purchased a mini-cookbook from our bed and breakfast for Bubble Roll. It was made with frozen roll dough, a box of butterscotch pudding, butter, and LOTS of sugar. I arranged the bread dough in the pan, topped with the dry ingredients, let it rise, and popped it in the oven. Well, little ol' me didn't realize that the 2 piece angel food pan I had used would leak the sugar syrup ALL over the bottom of the oven. Whoops. Well, the problem could easily be solved. I turned on the self-cleaning oven and went on with my day.
It was shortly after when one of the kids reported there was smoke coming from the kitchen, then the hubby suggested there might be flames in our oven. The queen of denial said no way until the smoke alarm started blaring thus notifying our fire department that our home was in jeopardy.
I was just baking, I told the fireman, sheepishly, when he walked up our driveway. Eventually, I learned my lesson. When something starts smoking in my oven (which happens more than I care to admit!), I call my alarm company and instruct them to ignore any smoke signals from us that come their way. But you're smarter than I am, and when you make this delicious cinnamon monkey bread, it will go off without a hitch! If you're curious about my first attempt, it was an Easy Monkey Bread, made with a box of butterscotch pudding mix.
Note: This post may contain affiliate links; view
my Disclosure Policy
for details. I earn a small percentage from any purchase you make by clicking on these links at no extra cost to you.