A Curried Turkey Salad Sandwich is a delicious way to enjoy leftover Thanksgiving turkey for lunch. But I won't fault you if you want it for breakfast or dinner!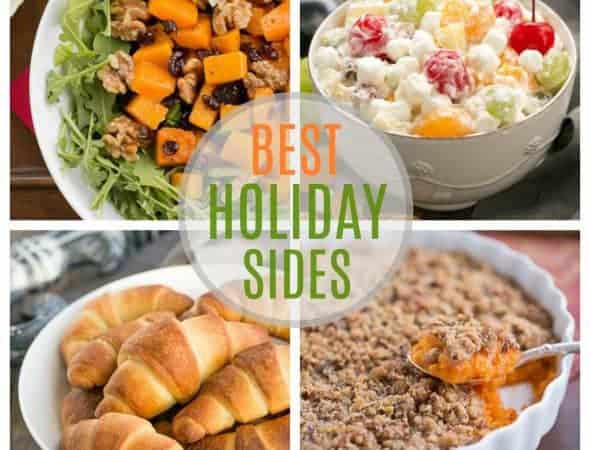 Try one or more of these Best Holiday Side Dish Recipes to shake up your menu! Get out of your rut with a delicious new dish!
I dug out my mom's old, tried and true recipe for Black Bottom Cupcakes with a dreamy cream cheese filling and jazzed them up with a delectable Cream Cheese Frosting. These gems were called "Filled Rich Chocolate Cupcakes" back in the 70's, but no matter the name, they're still finger lickin' good! Thanks to our generous  gold […]
I started baking these incredibly delicious, flaky, Buttery Homemade Crescent Rolls years ago. My kids (including the big kid, my hubby) have always loved those crescent rolls in a can. This made from scratch version trumps those by a mile!!!
Have neighbors been leaving bags of zucchinis at your doorstep? This double chocolate Zucchini Bundt Cake will be the tastiest treat you'll make with your summer squash supply! Will I Finally Get the Hubby to Eat Zucchini??? This week's Sunday Supper theme is squash! You may recall that the hubby avoids zucchini like the plague. […]
This moist, dense chocolate cake is a snap to fix. Kahlua Bundt Cake is still my go-to recipe when I need a quick, yet decadent, dessert. Kahlua Bundt Cake I know "semi-homemade" conjures up some bad images for many of my foodie friends: less than gourmet dishes, gloppy casseroles with canned soups, boxed "helper" meals, etc. […]
These Cookies and Cream Cookies are packed full of chocolate chips, cocoa powder and Oreo crumbs! Don't they sound dreamy??? Cookies and Cream Cookies We have a new coordinator for my Secret Recipe Club group, and I was lucky enough to get her, our fearless leader, Debbi Does Dinner, for my blog assignment. Debbi's original blog […]
I'm starting a new feature to showcase some of my favorite finds for cooking, baking and entertaining.    My dear friend, Shelli, shared some of this phenomenal Dish D'Lish French Seasoning Salt with me for my blog anniversary.  When my sisters were visiting, we put what we quickly dubbed "crack salt" on absolutely everything.  I have […]
Due to the wacky spring weather, our local strawberry season was barely a week long…so I made this salad when these tiny beauties were at their peak.  We were having company for dinner, so instead of slicing a fresh mozzarella ball, I purchased the smaller bocconcini….and made a composed salad versus plating individually.  I served […]